DynaVap VapCap
4.5

5

1

(

30

)
The DynaVap VapCap "M" is a small flame-fuelled vape pen that's very efficient and produces incredibly flavourful vapour. The 2020 model features several improvements and a new classy design.
In stock
You will be notified as soon as the product returns to stock
Product accessories: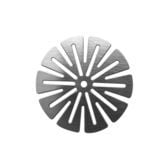 VapCap Screens
VapCap Replacement Cap
Check all accessories
More info
This Vaporizer can be used with:
DynaVap - VapCap M: Ultra-Small, Super-Flavourful
The VapCap "M" by DynaVap is a small, ultra-portable vape pen that delivers top flavour and is very easy to use. This is DynaVap's latest 2020 version from their VapCap series, which improves on the already great previous model.
Made in the USA, DynaVap vapes are getting hugely popular, and not without good reason. These pens produce an incredibly flavourful vapour that puts many other vapes on the market to shame. You can use the device to vape both herbs and resins.
DynaVap designed the VapCap M to provide vapers with a device that impresses with its quality and vaping performance—and last but not least, with its very reasonable price. The VapCap M is manufactured from 100% medical-grade stainless steel to the dimensions of the Original DynaVap VapCap.
What makes the M series stand out, among other features, is their signature temperature-indicating cap. When the vape has heated up sufficiently, the cap lets you know with a clicking sound.
DYNAVAP VAPCAP M 2020 — WHAT'S NEW?
The 2020 version of the VapCap M packs some seriously impressive improvements. The new—and somehow sleeker—design features Captive Cap functional geometry. The medical-grade stainless steel body now boasts a faceted tip and an adjust-a-bowl feature. The chamber size can be changed from full-size to half-size by simply sliding the tip up and down. This makes it easy to set up a heavy hit or a strategic microdose.
The mouthpiece end features a new 10mm taper, allowing users to snugly slot the device into any 10mm glass rig. An additional groove inside the mouthpiece allows the condenser to fit inside much more securely.
An upgraded chiral air port allows for improved air:vapor ratio adjustment and calibrated air injection. Users can adjust the amount of air they infuse with each hit, making for a lighter experience or a much fuller one.
The new grip is even more tactile than previous models. The spiral design clings to the hand and makes the VapCap M 2020 sit safely and securely. Speaking of security, the cap—or "Captive Cap"—now has its own cap! It won't fall off when you let go, thanks to small indents on each side that help it snap into position.
DYNAVAP VAPCAP M 2019 - WHAT'S NEW?
Inline with DynaVap's tradition of annual updates, 2019 brings a range of changes to the VapCap M. While you may think many of the amendments are purely cosmetic, the team at DynaVap have been hard at work fine-tuning the VapCap M's overall design.
A new tactile profile has been etched into the body of the VapCap M that gives it a more impressive finish and improves grip. There are also more pronounced ridges closer to the tip to help identify when your fingers are creeping into the danger zone. The tip itself has also been re-worked, featuring a serpentine groove that improves airflow compared to the 2018 helix pattern. Finally, the air hole has been re-bored and the grooves surrounding it re-shaped. This is again so that the crucial parts of the VapCap M can be felt instinctively between your fingers without the need to continually look down.
Although subtle, all of the 2019 updates have been made with functionality and usability in mind. If you are still using your 2018 VapCap M, don't panic, as the modular design means that the re-worked tips are interchangeable between models.
DYNAVAP VAPCAP M 2018 - WHAT'S NEW?
Now features a double-grooved triple helix for even better airflow
Now features textured grip that makes it easy to hold as the device heats up
Now features a larger carb hole
HOW TO USE THE DYNAVAP VAPCAP M
The VapCap M is very easy to use:
Remove the metal cap and load the VapCap with ground material or small pieces of resin. Close the cap again.
Use a lighter and apply heat to the side of the cap while rotating the device. A torch lighter works best. When you feel or hear the "click", you are ready to vape! Enjoy your super-flavourful draws! When the VapCap has cooled, it will click again. When you're vaping resin, make sure to remove residue after each vaping session.
DYNAVAP VAPCAP M CHARACTERISTICS
Suitable for plant material and resin
Super-small and portable
Made from high-quality materials
Midsection: stainless steel
Condenser: standard
Mouthpiece: stainless steel
Total length: 92mm
The DynaVap VapCap M comes with a two-year manufacturer's warranty on defects and craftsmanship.
DynaVap VapCap data sheet

| | |
| --- | --- |
| Brand | Dynavap |
| Type | Portable |
More information related to this product:
Reviews (30)
19/Feb/2021

Superb vape on the go.
This thing is magic. All my friends love it and would love to buy one as well. It is the most economical way to consume your herb. With this device just a little bit of herb will do the trick. Also good for hash.

02/Feb/2021

Legitamately best vape I've had
I've had a couple of electronic vapes (flowermate and another brand that i forgot and eventually gave away). Having tried to quit combustion for awhile, I'm now 3 weeks smoke-free. All in all this is an amazing vape. Being big on hash - one of the main reason I went for the vapcap - I immediately got some vape(hemp) wool to go with it and in all honesty flavour is just delicious and a clean and clear high to go with it. Weed obviously is great in it too. It's practical and versatile and I love the fact that its mechanical - you're never out juice, and you can literally light it with anything... Granted there is a bit of a learning curve to get the hang of it, but if you go through the tube it's well explained by other users as well as the company itself. I can't recommend this vape enough - bombproof and discrete, amazing flavour and if you're a cloud-chaser it's got you cover too. I've jumped on the dynavap bandwagon and am not looking back! My only advice to new users, RESPECT the 'click'.

22/Jan/2021

Happy
Happy with my purchase.

29/Nov/2020

Great purchase
Exquisitely machined and fun to use device. Friends are always impressed by it, and the vaping experience is perfect! Fully recommend!

17/Oct/2020

Awesome !
That's an amazing device, really smoothy smoking session. I recommend it for those who wants to smoke herbs without any tobacco and combustion. Thanks Zamnesia !!

14/Oct/2020

Bien pour commencer
Super produit, j'ai jamais vaporiser avant, C'est à la fois un modèle très abordable (voir le moins chère) et très pratique (tant qu'on à du gaz) tout en étant très résistant. Il demande de la pratique, avec le temps on s'en sort de mieux en mieux Résine, herbe sans problèmes, Permet de réduire fortement les quantités pour les effets, ça permet de réduire ses coûts de consommables tout en se faisant moins mal à la santé, juste wow. Je suis conquis !

24/Sep/2020

Bon produit mais marketing à revoir
Pour the "M", rien à redire Dynavap fait ici aussi de l'excellent travail comme ils nous y ont habitué. En revanche, parler d'expédition rapide c'est autre chose, on vous dit que votre colis est expédié sans suivi ni rien et 4 jours après on vous dit "hey il vient d'etre expédié". C'est un peu frustrant et pas forcément utile, prenez le temps qu'il vous faut, c'est normal, faire un colis ça prend du temps, préparer les étiquettes etc... Mais ne mentez pas, c'est pas sérieux !!

18/Sep/2020

Love at first light
I got my eye on a vaper ever since I had the pleasure of enjoying a session with an (electronic) one a while back. However, I was never convinced of the concept of depending on a battery and something with a firmware. So when I first heard of these types of vapers and saw what DynaVap was putting on the market I was intrigued. But it took some time until I came to my senses and hit that buy button. Shortly after I held this beauty in my hand and was petrified by how well made it is. Beautiful semi-polished steel that catches the eye, especially when the sun shines on it. To be honest, I expected it a bit bigger though. Reminder to think about that size-related joke you surely heard. Anyway, the VapCap M knows how to impress with less. Actually, the size is just perfect, small and stealthy, lightweight, easily fits into a pocket or a blunt tube. You still need to carry a jet-lighter tho, so that might be taken into consideration. But onto the most important thing: it tastes heavenly. After a few sessions I got the hang on it, how I get the flavour and vapor out of it just like i want it, and to fully enjoy it. I've never consumed in a tastier way. It just blows me away every time I take a hit, the aromas fill your mouth, the vape is smooth, relatively cool and just goes down smoothly. Never have I had this experience with an electronic vaper, I am just happy I got my hands on this shiny stainless steel pipe! Cleaning is easy, straight forward, there's just one ridge at the end of the chamber where loads of resin/residues accumulate. But no problemo to get that cleaned in no time. I love it, I recommend it.

21/Aug/2020

Bon produit pour débuter
Package sobre, le produit à l'air pratique et indestructible entretient facile et rapide.

17/Aug/2020

My first. My everything.
My first vape pen, so i have nothing to compare to. But that being said, i am over the moon with satisfaction. The design is a guarantee for good function and long life. I'm not even sure i could break it even if i tried. I vape small doses as i am sensitive to cannabis, and this device is perfect for that. At first i tried to use it with a regular gas-lighter, but it didn't work that well. Soon i bought a small gas-torch, and everything fell into place. Takes a few days of practise, but very, very easy to use after that. The draw is very tight, but i guess it is to prevent the chamber from cooling down immediately. I love it.

You cannot post a review because you have not purchased this product
Restrictions
Please note that if your country is not on our general shipping list, we're unable to ship any item on our website to it. For more information check out the list here: Ordering & Shipping
Video (1)
Video: Dynavap Vapcap M Overview

The DynaVap VapCap M is a small, combustion-driven vaporizer pen. This vape pen is very efficient and produces a fantastic, tasty vapor. This is the very latest, 2018 version from DynaVap. The VapCap has been improved on various points and provided with a new, stylish design.