Resin Seeds is a seedbank founded in Barcelona, in 2008. Since then they have gone on win two Hightimes cannabis cup awards—in 2008 and 2013. Not only that, but they have a number of other high profile awards under their belts too, making them a force to be reckoned with. Their main focus is on growing CBD-rich strains. In fact, their strain Cannatonic provides the genetic basis for almost all CBD strains in the world today.
Who Are Resin Seeds?
Resin Seeds was founded by Jaime and Juanma. Their journey began in 1998 when Jaime opened his first cannabis grow shop, a part of the Spanish grow scene. Inspired by the medical marijuana users he encountered, he felt compelled to explore CBD-rich cannabis strains, and eventually to breed cannabis devoted to this. What followed has been incredibly successful.
Resin Seeds: Founders Of The CBD Movement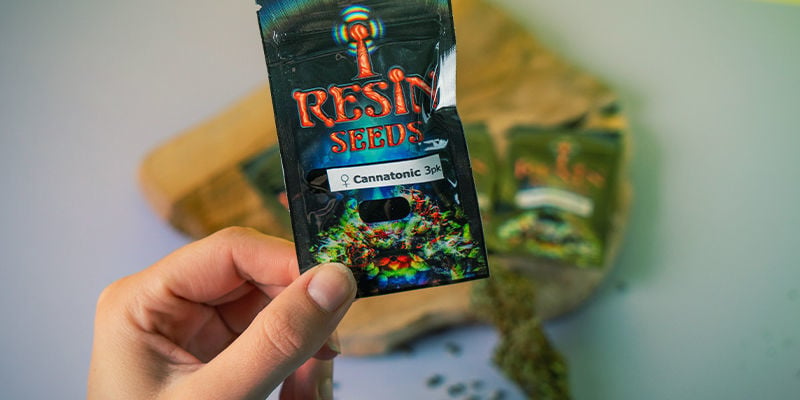 We've all heard of CBD by now. Well, it was Resin Seeds who begun focusing on CBD. Identifying CBD as being a potentially worthwhile property in cannabis, they set out to breed CBD-rich strains. And they succeeded. Not only did they start the movement, but the genetics of almost all CBD strains in the world can be traced back to Cannatonic.
Cannatonic: Resin Seeds' Flagship Strain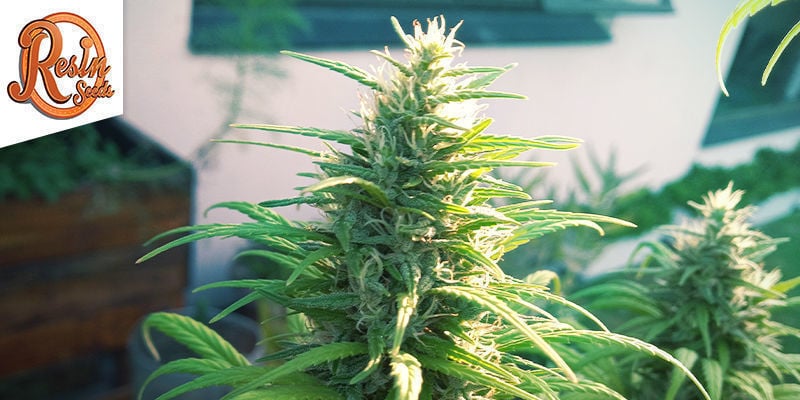 Most people have heard of Skunk #1 or Gorilla Glue. There are just some strains that have such a big impact that people know about them. Well, Cannatonic is arguably as important (if not more important) than these strains. This was the first stabilised strain with concentrated amounts of CBD present in it. It is the mother of the CBD movement. With a 1:1 THC:CBD ratio, Cannatonic won't get you blazed, but it will bring maximum bodily relaxation.
It's a perfectly balanced hybrid with 50% indica genetics and 50% sativa. The parents of this beauty? MK Ultra and G13 Haze—two impressive cannabis strains in their own right. It should take between 9 and 10 weeks to complete the flowering phase, and yield up to 500g/m² when grown indoors. If grown outdoors, you can expect up to 400g/plant. Satisfying indica yields like these should be enough to satisfy all but the greediest of growers.
Resin Seeds: Only Feminized Cannabis Seeds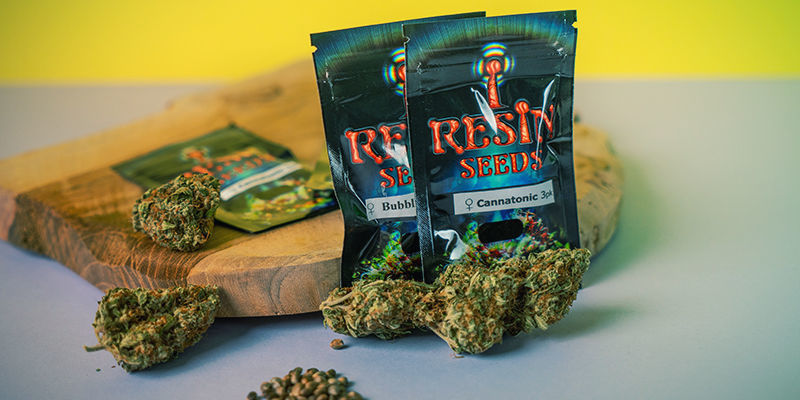 At current, the Resin Seeds catalogue is only available in feminized varieties. This means that every seed which grows into a plant will be female and produce high yields of THC and CBD-rich bud. For most, males are only a hindrance as they don't yield flowers, and if they pollinate the females, leaving you with cannabis seeds instead of bud. So unless you're into breeding, stick with fully feminized seeds!
Most Popular Cannabis Seeds By Resin Seeds
Cannatonic is the most well known, and the most popular cannabis strain by Resin Seeds. But it is by no means the only one worthy of mention. So we've put together a list of our 3 favourite strains from Resin Seeds.
Critical Haze
This is a genius bit of crossbreeding to bring your favourite characteristics from the sativa-dominant Amnesia Haze into line with the huge indica yields of Critical Mass. With cerebral, almost psychedelic effects, Critical Haze will elevate you to a place of focus and joy—with just enough stimulation to keep you active. But with 22% THC, go steady as it's pretty powerful stuff!
Taking between 10 and 11 weeks to finish flowering, it's a bit of a slow-burner, but well worth the wait. With yields of up to 500g/m² indoors and 400g/plant outdoors, it's got huge yields for a plant with sativa effects.
Bubblicious
Bubblicious is a 70% indica, 30% sativa strain with some potent flavours. A crossbreed of Bubblegum x Lavender, you can imagine how fragrant and floral those scents and aromas are going to be. The effects match the wholesome nature of these smells. Being indica-dominant, they are relaxing and long-lasting, making for a great evening smoke.
It's fairly fast, taking between 8 and 9 weeks. At the end of this period, you should be looking at somewhere between 400–500g/m² indoors and up to 400g/plant outdoors.
L.A. Ultra
Being 80% indica, L.A. Ultra will cause a deep stone, sinking you into your sofa. Expect long-lasting highs with a big grin on your face. Just don't smoke it if you have a lot to do, as you may find you fail to do it. The THC sits at 23%, making it strong without being outrageous. Not far off though.
Interestingly, Resin Seeds will not say what the genetic lineage of L.A. Ultra is—they prefer to keep it secret. If this doesn't indicate what a special plant this is then, then what will? Try growing some yourself and you'll see the name doesn't disappoint. This is a speedy one, taking as little as 7 weeks to reach maturity once it begins to flower. So for the impatient among you, perhaps this is the strain to choose.
How Are Resin Seeds Cannabis Seeds Packaged?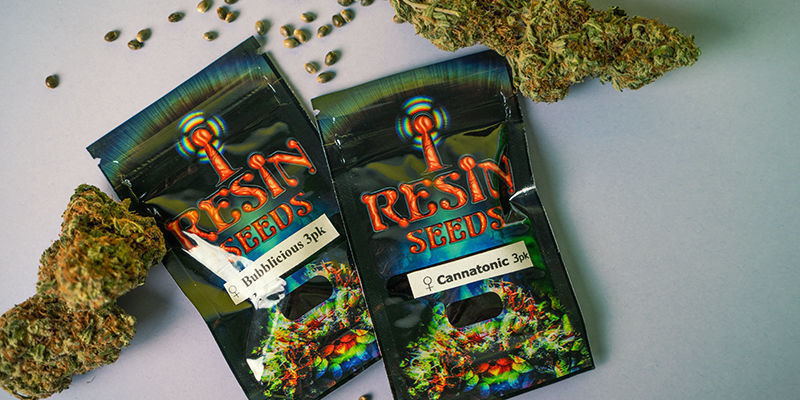 Seeds come packaged in Resin Seeds' own branded packaging. The package comes heat-sealed with an inbuilt ziplock for ensured freshness. This ziplock is also useful if you intend to stagger the germination, so you can keep some cannabis seeds sealed until the time is right.
What Makes Resin Seeds Special?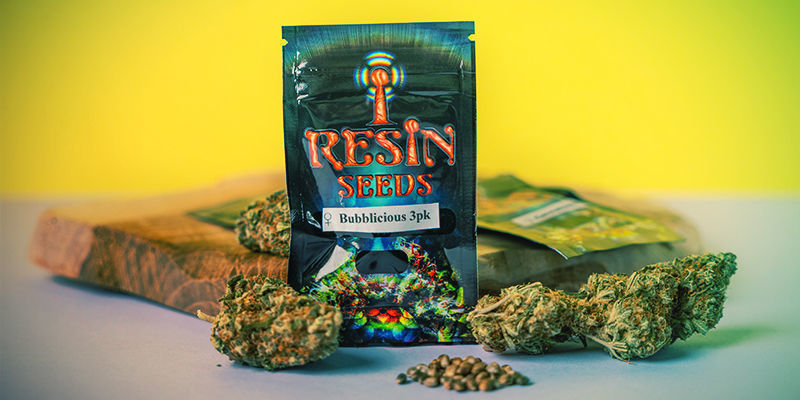 Resin Seeds are a fairly exceptional cannabis breeder. Whilst they do make some very strong strains that can compete with other breeders, their speciality lies with high CBD strains. And they excel at it. There's no other breeder to head to if you're after equal CBD:THC ratios, or just something that's a little more relaxing, to ease and chill.
Resin Seeds: Questions & Answers
👨🏽‍⚕️ Who are Resin Seeds?

Resin Seeds is a Spanish seedbank founded by friends Jaime and Juanma. Although Resin Seeds was founded in 2008, their growing expertise reaches back to the late nineties. Their focus lies on breeding CBD-rich cannabis strains.

💎 What are the best cannabis seeds by Resin Seeds?

Resin Seeds is very well known for their Cannatonic, the cannabis strain that sparked the CBD movement. Bubblicious, L.A. Ultra and Critical Haze are three other strains by Resin Seeds that are in high demand.

🎁 How are Resin Seeds packaged?

Resin Seeds' packages are heat-sealed with an inbuilt ziplock for ensured freshness.

🩺Why buy Resin Seeds?

The breeders at Resin Seeds are true experts when it comes to CBD-rich cannabis strains. There's no other seedbank to turn to if you're after interesting CBD:THC ratios.
---