Storm Vaporizer
4.5

5

1

(

119

)
Put simply: Storm Vaporizer - sturdy, discreet, and incredibly simple to use, highly versatile and reasonably priced. Herbs or concentrates, this is one of the very few portable vaporizers, that works with all of those. All functions are accessible by pressing a single button and within only one minute it is ready for use. The isolated air path ensures for pure and incredibly tasty vapour.
Product accessories: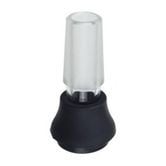 Storm Water Tool Adapter
Check all accessories
More info
This Vaporizer can be used with:
Storm Vaporizer - Small yet powerful high-quality engineering marvel
This small yet powerful high-quality engineering marvel combines affordability with unrivaled quality and versatility. The Storm vaporizer pen is one of the very few portable vaporizers that works with herbs and oils - and if they do, they cost twice as much.
The Storm vaporizer pen definitely stands out when it comes to the casing, because unlike other vaporizers of a similar style it is housed in an aluminium casing and not in some kind of hard plastic, making it sturdy, sleek and stealthy.
Using the Storm vaporizer pen is dead easy - all functions are accessible by pressing a single button (as explained further in the manual). Upon power-up, it starts heating up to the selected temperature - selectable from 5 factory-set temperatures, ranging from 180 to 220°C. To preserve battery life, the automatic shutoff turns off the unit after 5 minutes of inactivity. The Storm is powered by a removable and replaceable battery, which provides enough juice for up to an hour of vaping, depending on the temperature setting used.
The Storm has a ceramic chamber and its air path is completely isolated from all electronics, which results in pure and incredibly tasty vapour. Sturdy, discreet, and incredibly simple to use, highly versatile and reasonably priced - what more can one ask for?
Contrary to the official Storm manual we highly recommended draining the battery completely before charging the first time.
Please note, despite its packaging/manual, Storm Vaporizer no longer provide mains adaptors with their USB charging cable. You can use the supplied USB charging cable to charge from a USB power supply.

This was a decision made by the manufacturer.
Scope of delivery
Storm vaporizer pen
Glass mouthpiece
Rubber mouthpiece
Screens
Battery
Stainless steel wax chamber
Cleaning brush
Packing tool
Tweezers
USB charging cable
User manual
2 Year manufacturer's warranty
Storm Vaporizer data sheet

| | |
| --- | --- |
| Brand | Storm |
| Type | Portable |
More information related to this product:
Reviews (119)
03/Mar/2021

Great vape
Nice vape, does the job good. You most charge it often, and clean the mouthpiece filter often. But very good on the go. Works great with green and herbs, but there is not proper air flow with hash and concentrates.

10/Feb/2021

Pratique
Pratique et efficace. Il faut essayer plusieurs fois avant de trouver la bonne température.

05/Feb/2021

Nice!!!
Works perfect,love it!!!

03/Feb/2021

10/10
10/10 for both the product and service

01/Feb/2021

Petit vapo bien efficace.
Je le conseil vraiment car il et compact et vaporise très bien.Jai eu un peu de mal à trouver les températures idéal en fonction du produit consommé,mais après tout vas bien.Il et sobres avec deux embout tiens bien dans la poche.Je suis très satisfait de se produit.

28/Jan/2021

ok
le seul problème c'est le mode d'emploi (nul) il faut deviner le fonctionnement pour le prix il aurait pu utiliser leurs faculté afin d'améliorer le maniement 8/10 TO

14/Jan/2021

Ingewikkeld als je stoned
Best goed vapen maar ook ingewikkeld in gebruik, zeker als je stoned bent snapte ik er geen ruk meer van.

07/Jan/2021

Molto bello
Il vaporizzatore mi è arrivato molto velocemente è molto bello facilissimo da usare ed usarlo è molto piacevole regolare le varie temperature permette di assoporare i diversi sapori delle erbe che si vaporizzano consigliatissimo grazie Zamnesia per il pacco sorpresa molti regalini utili e simpatici

29/Dec/2020

Good value for money
This vaporizer does its work well, its well build, compact and easy to operate. The only downside I found is that the temperature control does not seem precise. The body gets really hot after some time, even in the lowest temp setting, which makes the smoke a bit harsh some times, especially if using the rubber mouthpiece.

22/Dec/2020

J.P.
Zeer tevreden want hij doet hij beloofd. Makkelijk te bedienen en te reinigen. Zelf ook het bubbler mondstuk erbij gekocht wat nog prettiger rookt. Was wel mijn eerste vaporizer dus heb geen vergelijk, maar ben zeer tevreden met het resultaat!

You cannot post a review because you have not purchased this product
Restrictions
Please note that if your country is not on our general shipping list, we're unable to ship any item on our website to it. For more information check out the list here: Ordering & Shipping
Video (1)
Video: Storm Vaporizer Review

In this video we are reviewing the Storm vaporizer. The Storm vaporizer pen is a simple, high quality and well build vaporizer for your dry herbs, Resins and oils. The storm has a replaceable battery which gives you roughly 1 hour of constant vaping. Now go ahead and check the video to see it all in action!