Storm Vaporizer
4.5

5

1

(

139

)
Put simply: Storm Vaporizer - sturdy, discreet, and incredibly simple to use, highly versatile and reasonably priced. Herbs or concentrates, this is one of the very few portable vaporizers, that works with all of those. All functions are accessible by pressing a single button and within only one minute it is ready for use. The isolated air path ensures for pure and incredibly tasty vapour.
Product accessories: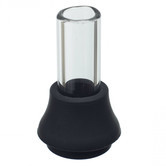 Storm Glass Mouthpiece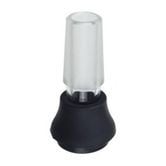 Storm Water Tool Adapter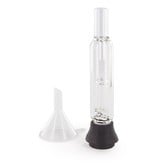 Storm Bubbler Mouthpiece
Check all accessories
More info
This Vaporizer can be used with:
Storm Vaporizer - Small yet powerful high-quality engineering marvel
This small yet powerful high-quality engineering marvel combines affordability with unrivaled quality and versatility. The Storm vaporizer pen is one of the very few portable vaporizers that works with herbs and oils - and if they do, they cost twice as much.
The Storm vaporizer pen definitely stands out when it comes to the casing, because unlike other vaporizers of a similar style it is housed in an aluminium casing and not in some kind of hard plastic, making it sturdy, sleek and stealthy.
Using the Storm vaporizer pen is dead easy - all functions are accessible by pressing a single button (as explained further in the manual). Upon power-up, it starts heating up to the selected temperature - selectable from 5 factory-set temperatures, ranging from 180 to 220°C. To preserve battery life, the automatic shutoff turns off the unit after 5 minutes of inactivity. The Storm is powered by a removable and replaceable battery, which provides enough juice for up to an hour of vaping, depending on the temperature setting used.
The Storm has a ceramic chamber and its air path is completely isolated from all electronics, which results in pure and incredibly tasty vapour. Sturdy, discreet, and incredibly simple to use, highly versatile and reasonably priced - what more can one ask for?
Contrary to the official Storm manual we highly recommended draining the battery completely before charging the first time.
Please note, despite its packaging/manual, Storm Vaporizer no longer provide mains adaptors with their USB charging cable. You can use the supplied USB charging cable to charge from a USB power supply.

This was a decision made by the manufacturer.
Scope of delivery
Storm vaporizer pen
Glass mouthpiece
Rubber mouthpiece
Screens
Battery
Stainless steel wax chamber
Cleaning brush
Packing tool
Tweezers
USB charging cable
User manual
2 Year manufacturer's warranty
Storm Vaporizer data sheet

| | |
| --- | --- |
| Brand | Storm |
| Type | Portable |
More information related to this product:
Reviews (139)
12/Sep/2021

Prima vaper.
Zeker positief over dit product. Ik had hem bijna twee jaar nauwelijks aangeraakt, maar heb deze weer gevonden. Zeer efficiente manier om je weed en ook hasj!! te nuttigen. Het enige minpuntje is dat ik zie dat de batterij achteruit is gegaan. Vermoedelijk had ik dit kunnen voorkomen door bij lang niet gebruiken de batterij er uit te halen. Ik moet nu de oplader erbij houden. Weet niet wat zo,n batterij kost, maar als dit niet al te gek is , dan is het voor deze viper de moeite wel waard. Heb overigens geen ervaring met andere vapers, maar handzaam is voor mij ook erg belangrijk. die is prima. Vormgeving is ook top!

28/Aug/2021

great little device
great little device, standard batteries (I have the same 18650 in my ecig)

27/Aug/2021

Super
Super goede vaporizer dit is nr 2 heb er al een paar jaar

24/Aug/2021

Ottimo
Il mio primo vaporizzatore che mi permette di assumere cannabis senza fumare e questo per me è molto importante dato che odio il tabacco per tutto il male che fa, ormai lo uso da 1 anno e avendo paura che si rompa o chissà che, ho deciso di prenderne un'altro di riserva, lo consiglio a tutti sopratutto per chi come me, non fuma

09/Aug/2021

Prodotto di pessima qualità
Manuale incompleto, prodotto mediocre e difficoltà a chiedere il reso al fornitore (non si capisce nemmeno dove andare a cercare). Non lo consiglierei. In più ci sono pezzi che risultano incomprensibili a chi non conosce i vaporizzatori. Mai più da Zamnesia.

07/Aug/2021

Good vape - easy use but...
you have to discover the tricks in order not to clog when puffing stronger, not to press the herb too much at first...an extra battery would be usefull!

11/Jul/2021

My First Vaporizer
This is my first vaporizer for dry herbs. Until now I never tried vaping my weed, now im sold. No more combustion and no more tabaco! It heats up pretty fast and is clear how to use. I use it with the glass mouth piece that came with it and I love it. The rubber piece on the mouth piece could've been made from other material, now its sometimes a little hard to get in. Also the first time using it, it is advised to charge it but when i plugged it in there was no indication LED, wich was confusing. This just meant it was fully charged. I recommend this product!

06/Jun/2021

Très bien !
Il marche très bien, il brûle pas la bouche, esthétiquement il est vraiment stylé avec son bouton unique avec l'éclair et les 5 led multicolores, on dirait une technologie extra-terrestre, heureusement simplissime à prendre en main. ça chauffe assez vite, c'est rapide à vider et à recharger, ça tartine bien la tronche. Le seul petit reproche que je pourrais faire, c'est l'autonomie, surtout en chaleur max, qui est un peu courte, mais pas génante. Sinon j'en suis très content :)

20/May/2021

vapo moyen
Après quelques soucis techniques avec la charge initiale, aucun voyant allumé lorsque l'appareil est branché sur le secteur, il ma fallu décharger totalement la batterie pour obtenir un fonctionnement satisfaisant. L'appareil est esthétique et semble robuste, mais je m'attendais à mieux niveau de son fonctionnement, comme de son utilisation.

14/May/2021

pratique mais... assez moyen en soit
l'appareil visuellement est sympathique, il fait bien son taff, bon vapo pour débuter quoi, mais on va rentrer dans le sujet négatif, le vaporisateur doit charger entre 2 et 3h quand il est vide ce qui est logique, sauf que, la batterie ne dur même pas 10 minute, je prends l'appareil il est en point blanc (batterie pleine) je fais 4-5 taff dessus et je me retrouve déjà en point vert (parfois ça s'éteint avant même 5 minute) donc je reste constamment en chauffe minimum (rouge) car j'ai remarqué que quand je passe du minimum au maximum, il s'arrete aussi des que l'appareil est un peu trop chaud, je l'utilise pour la cbd personnellement et je trouve que la chambre pour mettre l'herbe est quand même super petite (à peine l'équivalent d'une pincée de sel) certe c'est économique, mais en 4-5 taff ça a déjà un gout un peu charbon qui fait tousser, le cbd colle aussi beaucoup à la grille qui bloque la vapeur (même quand c'est peu charger) dû à l'inspiration. par exemple aujourd'hui: je l'ai chargé de 16h à 18h je viens de l'utiliser pendant 5 minute (avec de la cbd banana) et re 5 min 1h apres et je suis déjà en batterie faible lol, mais sinon ça reste un bon appareil c'est juste que je ne peux pas l'utiliser dehors quoi.

You cannot post a review because you have not purchased this product
Restrictions
Please note that if your country is not on our general shipping list, we're unable to ship any item on our website to it. For more information check out the list here: Ordering & Shipping
Video (1)
Video: Storm Vaporizer Review

In this video we are reviewing the Storm vaporizer. The Storm vaporizer pen is a simple, high quality and well build vaporizer for your dry herbs, Resins and oils. The storm has a replaceable battery which gives you roughly 1 hour of constant vaping. Now go ahead and check the video to see it all in action!