What Are Rolling Papers?
Rolling up herbs to smoke is a long-held tradition. With the first recorded use dating back to 16th-century Spain, rolling paper has evolved from a crude invention into a huge industry. Papers are used to enclose contents such as cannabis, tobacco, and other herbs, and act as a sort of burnable skin. By enclosing cannabis in the paper, it allows the smoker to easily puff from one end while the burning end slowly works its way closer.
As opposed to vaping or eating your weed, smoking is seen as a stoner rite of passage, and it eliminates the frills associated with modern technology. Moreover, the ritual of carefully grinding your herb, wrapping it up into a perfect cone, and sticking a filter tip in the end before blazing is a beloved communal and solo act alike.
What Is Rolling Paper Used For?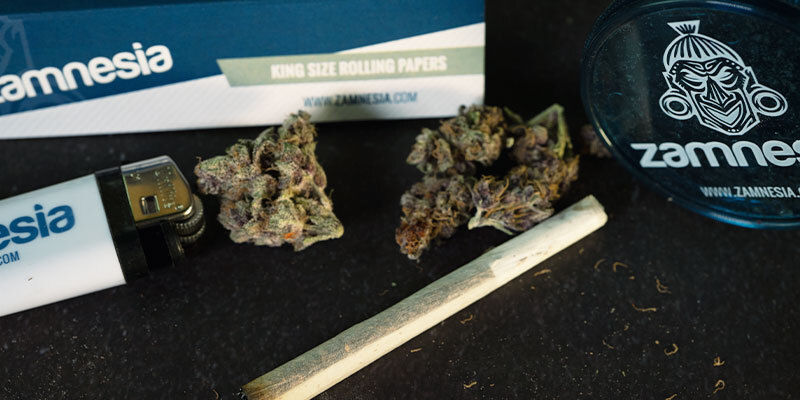 Joint: A joint is a rolling paper containing pure cannabis. Though, in practice, joint and spliff are used interchangeably, along with an almost infinite number of other names. A joint is usually small (containing 1g or less of cannabis) and burns quickly.

Spliff: A spliff is like a joint, but with tobacco mixed in. Usually, it is larger and burns more slowly. Spliffs are great for sharing, and they allow you to stretch your weed supply out for a longer period.

Blunt: A blunt is not technically a rolling paper, per se. It is instead a wrap made of tobacco. This wrap is then filled with cannabis—like a cannabis cigar. Usually very big and encompassing lots of weed (well above a gram), blunt wraps will get you very stoned.
What are rolling papers used for?
Rolling papers are used to roll cannabis/tobacco into joints and spliffs. These can then be lit and smoked, allowing the user to inhale the substance inside.
Joints and Spliffs as Art
Some people say stoners are lazy. But, when you see some of the ingenious things they've managed to do with rolling papers, you'd have to question this. From cross joints through to tulips and full-blown dinosaurs, there's some seriously impressive smokeable origami out there!
How Are Rolling Papers Made?
Rolling papers are made from fibres extracted from non-wood plants. These come out as more lightweight than paper made from wood. Otherwise, you'd be smoking thick sheets of paper every time you wanted a joint—and that would hurt like hell!
Papers can be made from many different plants, such as rice straw, hemp, flax, sisal, and so on. These fibres are compressed into flat, thin sheets. A strip of cellulose glue is then added to one edge to allow it to be stuck down, lest everything fall out part-way through.
The lightweight, thin properties of plant (rather than wood) based paper means that it burns slowly and evenly. They are also strong enough to hold a decent amount of material, especially in their conical form.
Who Invented Rolling Papers?
The oldest record of rolling papers comes from the 16th century. It is reported that French soldiers returning from Spain had them, so it seems they originated at some point during the early-to-mid 16th century in Spain.
The Lacroix family began producing papers in 1660. Eventually, this company would become the famous Rizla. This is the first recorded production of rolling papers, but, whether individually or industrially, they were being used by others prior to this. In fact, the first official rolling paper company was Pay-Pay, established in Spain in 1703.
Rolling Papers Come In All Shapes And Sizes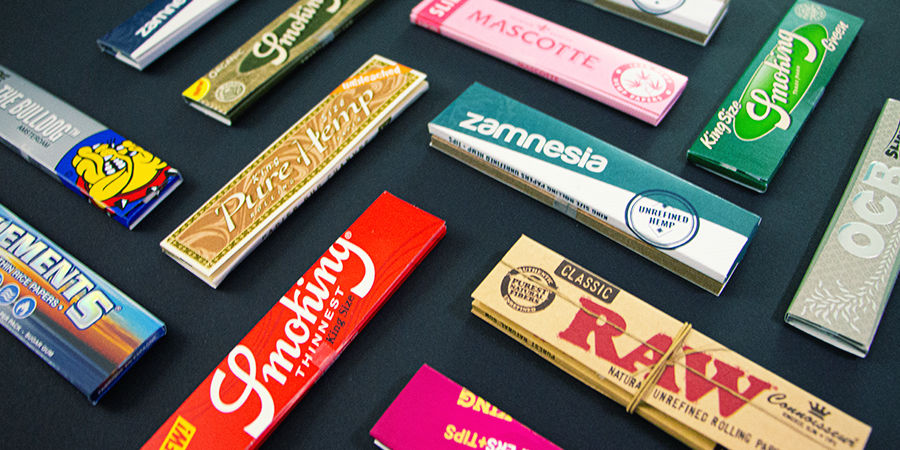 Rolling papers form the body of every joint. This critical piece of equipment—invented a long time ago in Spain—comes in all shapes, sizes, colours, and flavours. Thanks to the diversity of rolling papers, every single option offers a unique smoking experience.
Some weed lovers prefer to roll small and stealthy pocket rockets that burn down instantly—ideal for smoking out in public. Others prefer to spend more time crafting a joint than smoking it. Skilled rollers use several sheets to craft tulips, spirals, and diamond joints, creating smokable art. However you prefer your joints, there are papers out there to facilitate your taste.
Rolling Paper Sizes — Which Is Right for Me?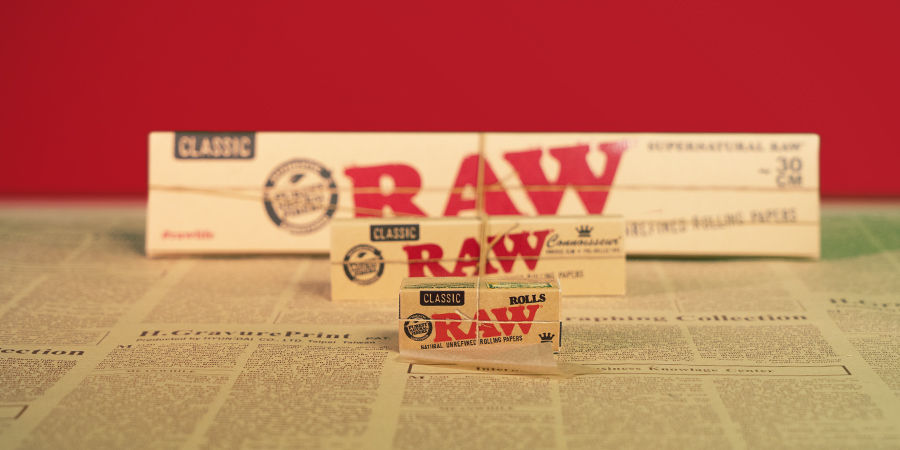 Self-rolled cigarettes in Europe initially began as cigar ends rolled up to be smoked by those who could not afford cigars. In time, the ink and colourings in the paper had very ill effects on people. So, purpose-built papers were created. There are quite a few different sizes of rolling paper available. So, where to start? Whether you want to roll a secretive little joint or a monster spliff will dictate which size is most appropriate. Here are the most common sizes.
What size of rolling paper is right for me?
That depends on what you're smoking! If you just want a cigarette, stay small. If you want to smoke a joint with a group of friends, try king size or even larger.
Single Wide

These are the smallest papers available. Measuring 68–70mm in length and 34–36mm in width, they're more suited to cigarettes than joints. However, they can be useful for little, personal smokes.

Double Wide

As the name suggests, these are double the width of a single wide. Better suited to spliffs, you can pack a lot more into these. Just make sure you have enough to fill them, or you'll be smoking a whole lot of paper.

1¼

These are 45–48mm in width, and a normal length. This is around the size of a standard pre-rolled cigarette.

1½

With a 50% increase in width compared to a single wide, these are usually made of thicker paper and will burn more slowly than a single wide. Good when you need a little extra strength.

King Size

Usually made of thinner paper (for taste), these are 100–110mm in length and 42–60mm in width. Perfect for a nice big spliff with mates, these are the standard for smoking cannabis.

XXL

There are many novelty and extra-large papers available too. From giant cones to metre-long strips, you can customise and roll huge spliffs if you really want to. However, this takes a little practice.
Different Rolling Paper Materials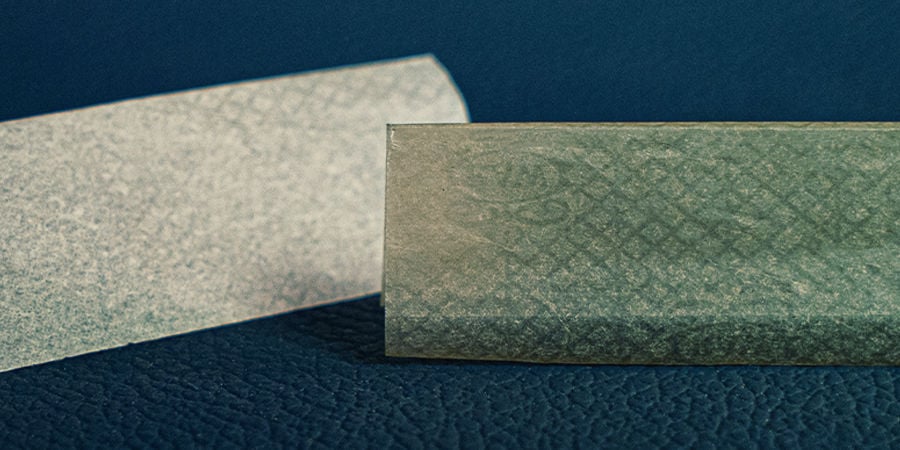 When we say "papers", we're really referring to rolling "sheets". Sure, most rolling products are actually made of paper, but others are crafted from a range of other natural materials. Zamnesia Unbleached Rolling Papers offer a basic material—free of chlorine—that burns evenly and slowly.
OCB X-Pert Slim Fit papers offer a similar smoking experience. These ultra-thin sheets combust less paper and allow the taste of terpenes to really shine through.
Smokers in tropical regions of the world often skin up using banana leaves, and many smokers all over the world roll up their herb in dried cannabis leaves. Some manufacturers have set about developing natural rolling sheets on a large scale, making it easier for all smokers to access these alternatives.
RAW Rolling Papers are crafted from 100% organic hemp and provide a smooth, natural, and slow-burning experience. Smoking cannabis using cannabis just feels good!
Kingpin Hemp Wraps utilise the versatile hemp plant in all-natural, tobacco- and nicotine-free wraps that burn at a delightful pace. Roll up using these on a lazy afternoon and really take your time.
Coloured Rolling Papers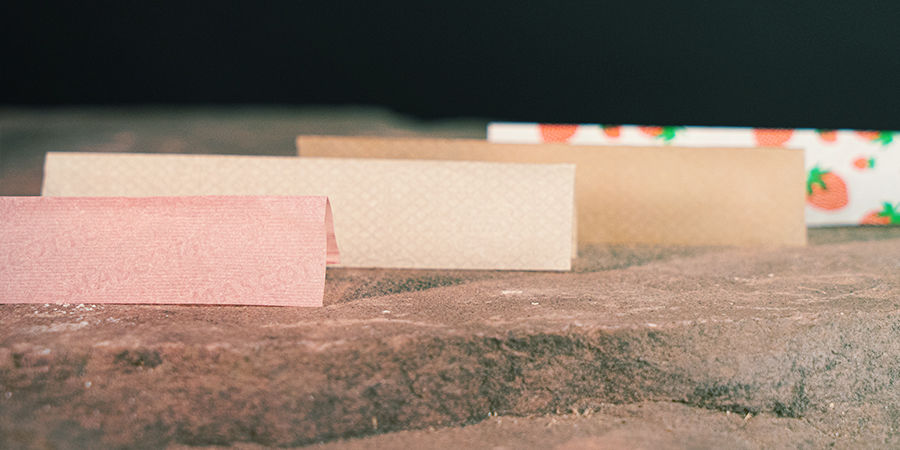 Using your mind's eye, what do you see when you think of a joint? Probably a large, white cone, right? Well, that's about to change! Papers come in all manner of different colours, from dark shades of black all the way to bright pinks and baby blues. Spice up your smoking sessions and bring a smile to your buddies by rolling joints in different colours.
Are you planning on smoking at that upcoming party? Bring some Mascotte Slim Size Pink Edition rolling papers to add some colourful vibes. These vibrant papers will get you noticed and strike up some interesting conversation.
Clear Rolling Papers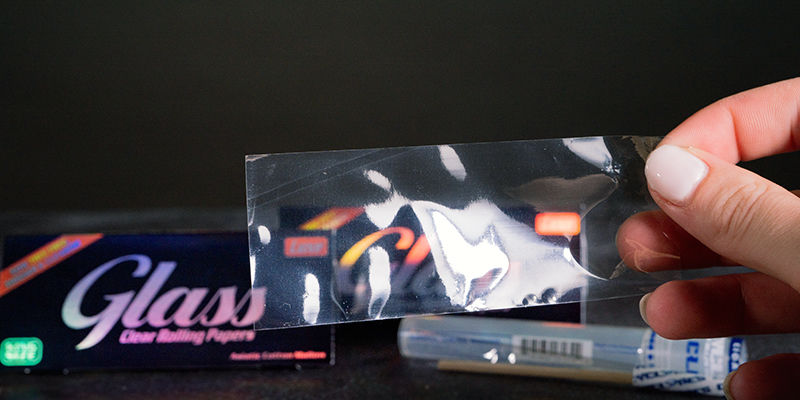 Clear rolling papers look pretty cool. As they are completely transparent, you can see the contents of your spliff burning while you smoke it. While this adds little practical value, if you want to try them out, they're worth a shot.
What Is Clear Rolling Paper Made Out Of?
This type of rolling paper is made from glycerine, water, and plant-based cellulose—essentially organic plastic. Like all combustible papers, they produce carcinogens. Some claim they are healthier than standard papers, others less so. If you're after a healthy alternative, you want to avoid papers altogether. Ultimately, inhaling smoke is bad for you.
Flavoured Rolling Papers By Juicy Jay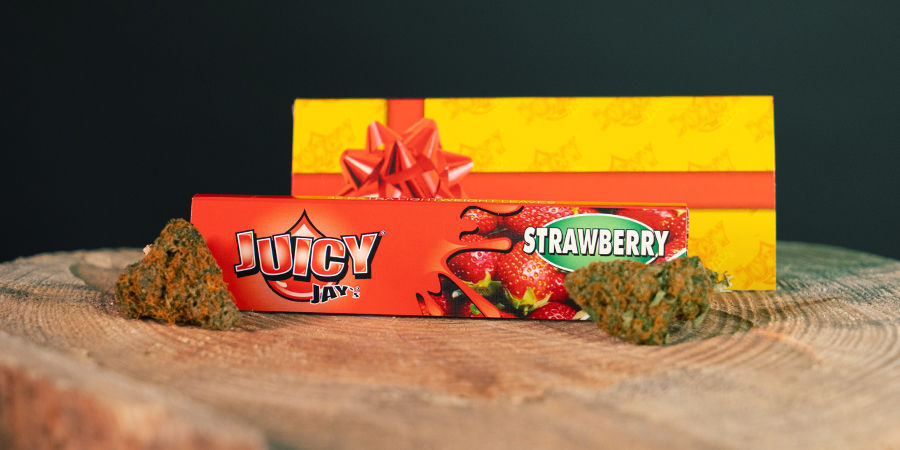 As one of the tastiest herbs on Earth, cannabis produces an array of aromatic molecules. Some strains are more fruity in nature, some are earthy, and others extremely floral. Whatever the taste, Juicy Jay Papers offer a flavour that will go hand in hand with the bud you're smoking.
These slim papers are made from pure hemp and come in an assortment of different flavours. Choose from Green Apple, Blackberry Brandy, Blueberry, Very Cherry, Double Dutch Chocolate, Bubble Gum, Watermelon, and more.
Rolling Paper Rolls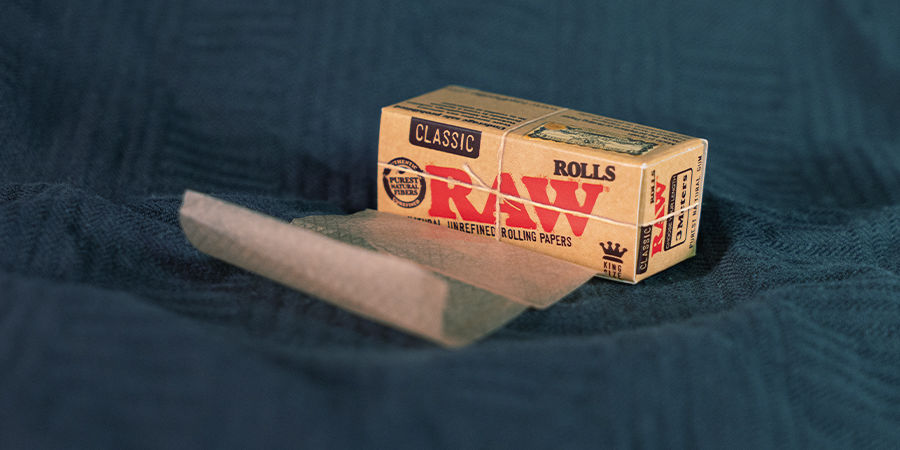 Rolling paper rolls allow smokers to customise the size of their sheet with every smoke. Simply tear off the amount of paper you need, and you're good to go. Make tiny joints for your commute, or massive cones when you feel like truly blasting off.
Smoking Deluxe Rolling Paper Rolls feature a paper width of 44mm, perfect for skinnier, longer joints. RAW On Roll papers are vegan-friendly and 100% chlorine-free. With a total length of 3 metres, they enable you to let loose and get creative.
Blunt Wraps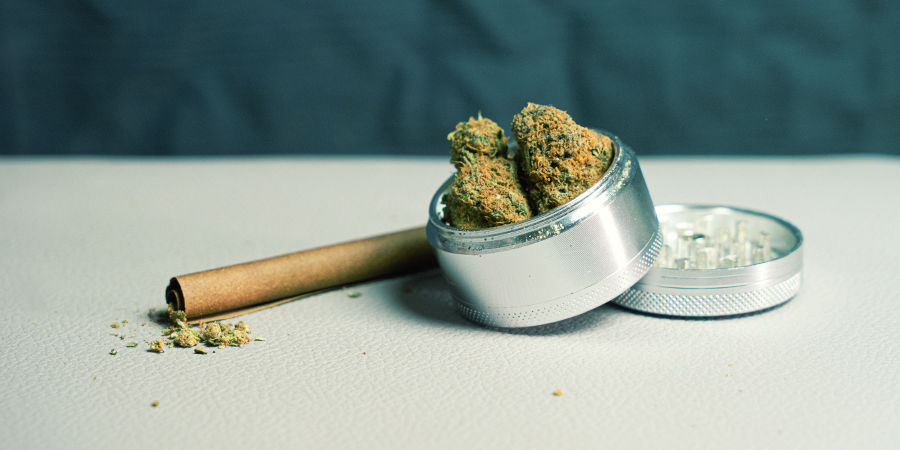 Joints are good for the mind, but blunt wraps soothe the soul. Blunts burn slow, taste phenomenal, and deliver big lungfuls of cannabinoids and terpenes with every single hit. Blunts are great for passing around with friends or smoking in solitude to reach another level of high.
Kingpin Hemp Wraps are all-natural, nicotine-free, and burn like a dream. These creamy and smooth wraps are available in Purple, Blue, and Original flavours. Plus, the resealable packaging keeps them completely fresh.
Juicy Hemp Wraps are also made from pure hemp. Upgrade the taste of your terpene-rich weed with flavours of Blue, Purple, Red Alert, Original, and Manic.
Which Rolling Papers Are the Healthiest?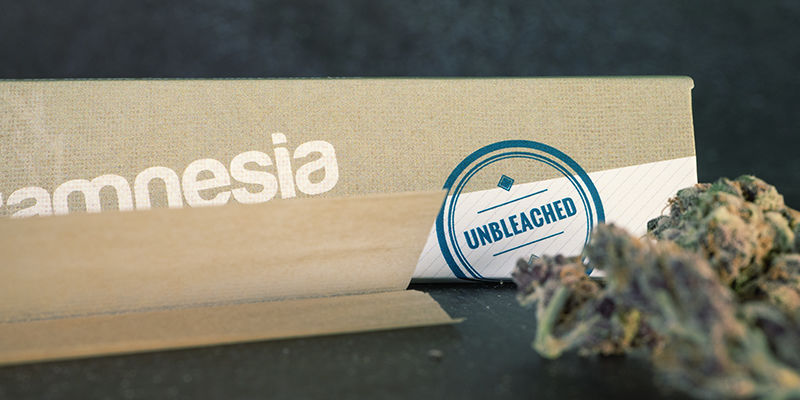 Again, inhaling smoke is bad for you. It's unfortunately as simple as that. There is no magical paper that is healthy. However, some may be less bad for you than others. Here's how to determine where different types of rolling paper stand on the health spectrum.
Which rolling papers are the healthiest?
No rolling papers are "healthy". However, it may be that additive-free ones, made of organic plant matter, are healthier than heavily treated, synthetic alternatives.
1. Find Out Which Materials Were Used
Organic materials may contain fewer toxic chemicals than non-organic ones, so it's worth verifying what the papers are made from.
2. Avoid Dyed/Bleached Papers
Many companies bleach or dye their papers to make them look more or less natural. As these are additional chemicals, you're best off staying away from them. Most papers will clearly advertise if they are undyed or unbleached.
3. Watch Out for Paper Treated With Chemicals
Many papers are treated to burn more slowly, but this could come at a cost. Again, untreated papers will advertise themselves. Best to opt for these.
Why Won't My Rolling Papers Stick?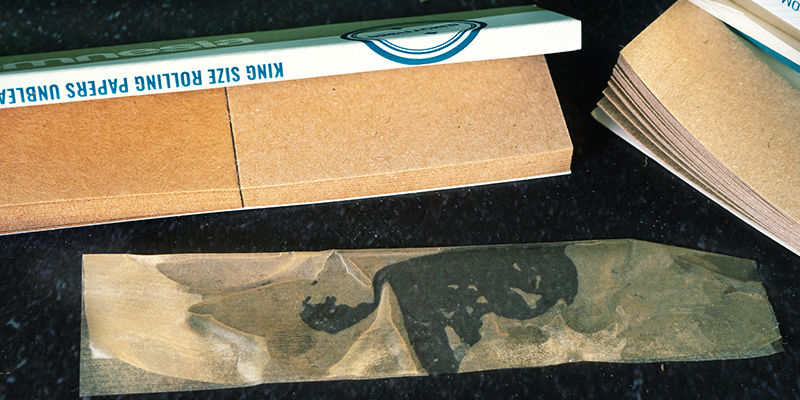 Unfortunately, you can often have too much of a good thing. This is true of saliva and glue. Lightly moisten your papers, and the glue will stick. If you've ever gotten a little damp and found a whole pack stuck together in your pocket, you'll know how sensitive they are.
Get your paper too wet, and the whole thing may fall apart. You may also just soak one side of it, leading to an uneven burn.
Also, some papers are simply of a higher quality than others, or you may have a dud pack. If you find that one brand consistently lets you down, try another. Most are pretty reliable.
Can Rolling Papers Expire?
Likewise, they may have expired. Over time, the glue on your papers can lose its adhesive properties. If this happens, the glue layer is usually more apparent but less shiny. While an expired rolling paper likely won't get you sick, it may make the rolling process quite difficult.
Not Able Or Don't Feel Like Rolling?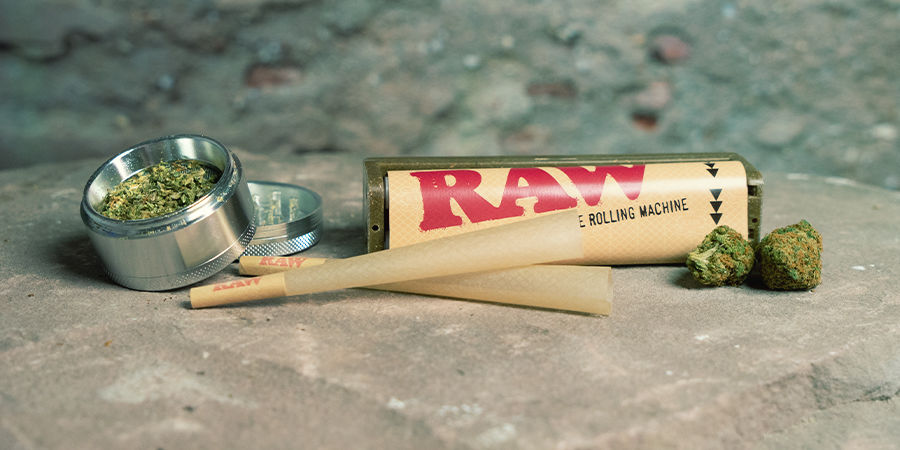 Rolling a joint isn't always an option. Some smokers simply never learn the skill; others end up getting far too baked and lose dexterity halfway through a smoking session. Fear not! There are other means of creating cones.
Try A Joint Roller
Rolling machines can save the day when everyone becomes too high to roll. These cool little devices do all the hard work for you. Simply load your joint roller with weed, close the tube, slide in some paper, give the glue a lick, and roll. Easy!
Use Pre-Rolled Cones
Pre-rolled cones are another easy way to sidestep the rolling process. Grind your weed and empty it into RAW Cones for instant, on the spot joints. Be sure to use the RAW Classic Cone Loader or the RAW Cone Filler so you don't spill any of your bud.
Fancy tripping your friends out? Load your weed into these awesome Cyclones Clear Cones and enjoy the look on their amazed, stoned faces.
Don't Forget Your Tips And Filters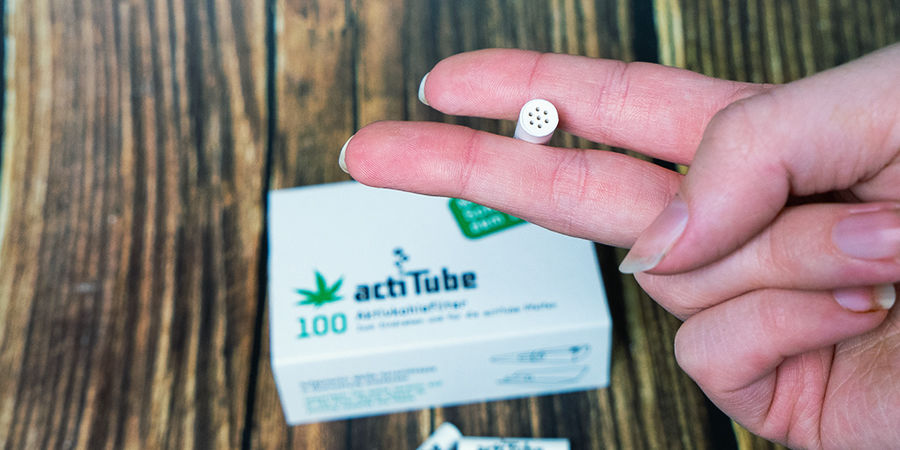 Joints and blunts consist of two major parts: sheets and filter tips. You can roll a joint without the latter, but you'll end up wasting small amounts of weed, and even risk burning your fingers. Check out some of the best filter tips below to customise your joints.
Traditional Tips
Smokers often craft makeshift filter tips out of the cardboard flap on their book of papers. This works just fine, but means the papers on the top of the pile might get damaged. Luckily, Zamnesia Hemp Rolling Papers come with tip sheets so you don't have to shred your booklet to pieces.
Are tip sheets not enough for you? How about pre-rolled filter tips?! RAW Connoisseur Rolling Papers come with a slide-out tray filled with them.
Cotton Filters
Although relaxing, smoking joints does come along with a lot of combustion. RAW Cotton Filters help filter excess tar and other substances, making each hit much more smooth.
ActiTube Activated Carbon Filters
ActiTube Activated Carbon Filters take things one step further when it comes to removing nasty chemicals from joint smoke. Go easier on your lungs and experience buttery smooth smoke every time you toke.
Glass Tips
Add some sophistication to your roll-ups with glass filter tips. Not only do they look and feel better, but they're also reusable and better for the environment. RAW Glass Tips help prevent soggy joint filter tips, and feel great between the fingers.
Black Leaf Glass Tips come in three different diameters, allowing you to use glass no matter what size joint you roll. Highly resistant to heat, the borosilicate glass won't break any time soon. Plus, they'll arrive in an aesthetic metal case!
Wooden Filters
The combination of hemp papers, wooden filter tips, and organic weed feels like you're harnessing the power of nature in your hands. Roll up a fat joint using G2 Cannagar Wooden Tips and head out into the forest to commune with Mother Earth.
Where To Buy Rolling Papers
You can pick up rolling papers for cigarettes almost anywhere, but if you want a huge selection suited for cannabis, get a load from Zamnesia and stock up for months to come. Whether you want to make little invisible joints or mega spliffs that taste like cherries, we've got you covered!
Where can I buy rolling papers?
What Age Do You Have To Be To Buy Rolling Papers?
This depends on which country you reside in. However, Zamnesia will not sell smoking products to anyone below the age of 18.
Rolling Papers: Questions & Answers
📜 What are rolling papers used for?

Rolling papers are used to roll cannabis/tobacco into joints and spliffs. These can then be lit and smoked, allowing the user to inhale the substance inside.

❓ What types of rolling papers are there?

Rolling papers are available in all shapes, sizes, colours, and flavours. Take a look around our shop to get an idea of just how great the variety is!

📏 What size of rolling paper is right for me?

That depends on what you're smoking! If you just want a cigarette, stay small. If you want to smoke a joint with a group of friends, try king size or even larger.

🩺 Which rolling papers are the healthiest?

No rolling papers are "healthy". However, it may be that additive-free ones, made of organic plant matter, are healthier than heavily treated, synthetic alternatives.

💰 Where can I buy rolling papers?

Find the best rolling paper right here, at Zamnesia. Just make sure you're old enough!
---