There's no doubt that CBD's presence is felt in everyday life today. From CBD capsules to specially bred CBD-rich strains, it's no surprise that this superstar cannabinoid has found its way into the vaping scene. While it does not cause a high, CBD vape oil is renowned for retaining flavour and promoting a host of benefits to users.
With the rise in popularity of CBD vaping, demand for high-quality CBD vape liquid has been met. Consumers now have access to highly concentrated CBD vape oils that feature unprecedented ease and user-friendliness. Not only this, but CBD vape oil (aka CBD e-liquid) offers the portability, discretion, and sophistication that has long been sought after by CBD enthusiasts.
Continue reading to find out everything you need to know about CBD vape oil, from how it is derived from industrial hemp to the best ways to inhale it.
What Is CBD Vape Oil?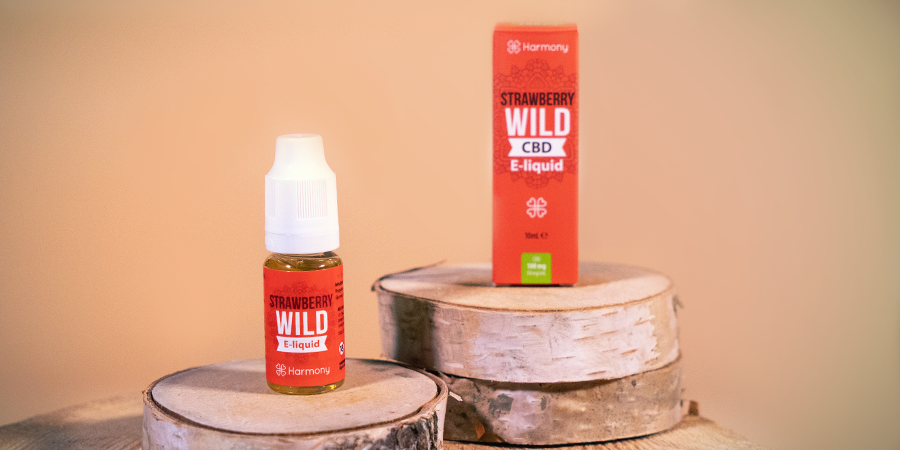 CBD vape oil provides the flavours and aromas you've come to expect from e-liquids, but with an added dose of CBD. This allows users to enjoy a nicotine-free hit at any time of day, without any psychotropic effects.
Are CBD Vape Oil and CBD Oil the Same Thing?
While on the surface they may seem like the same product, CBD vape oil and conventional CBD oil are not the same. And it's certainly not worth loading your vaporizer with CBD oil to find out.
CBD oil products such as capsules and concentrated oils are meant for oral or sublingual (under the tongue) intake, but CBD vape oil is a little different. For those taking their first steps into vaping, it's worth knowing that CBD vape oil is also referred to as CBD vape juice or CBD e-liquid.
This is because, although dubbed as "oil", CBD vape oil does not actually contain any oil, making it perfect for vaping. However, regardless of your preference of name, you can rest assured that you won't be making a mistake if picking up vape oil or vape juice for your vaporizer.
Is CBD vape oil the same thing as CBD oil?
While they are similarly named, CBD vape oil (aka CBD vape juice) doesn't actually contain any oil. CBD oil, however, is a hemp derived extract mixed with a carrier oil, such as hemp oil. CBD oil should NOT be vaped.
How Is CBD Vape Juice Made?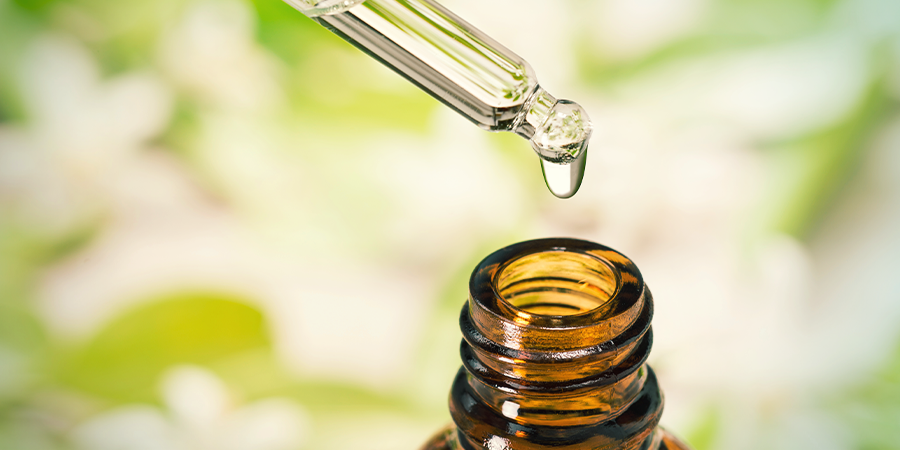 CBD e-liquid can be purchased in preloaded vaping cartridges or poured into refillable carts that allow you to enjoy CBD wherever and whenever it suits you.
Using industry-leading technology, the process of creating CBD vape juice allows for great flavours and high levels of CBD in the end product. But this isn't all down to chance; there are a few key ingredients and components that are needed to create the ideal consistency and flavour, as well as to extend the shelf-life.
Key Ingredients in CBD Vape Juice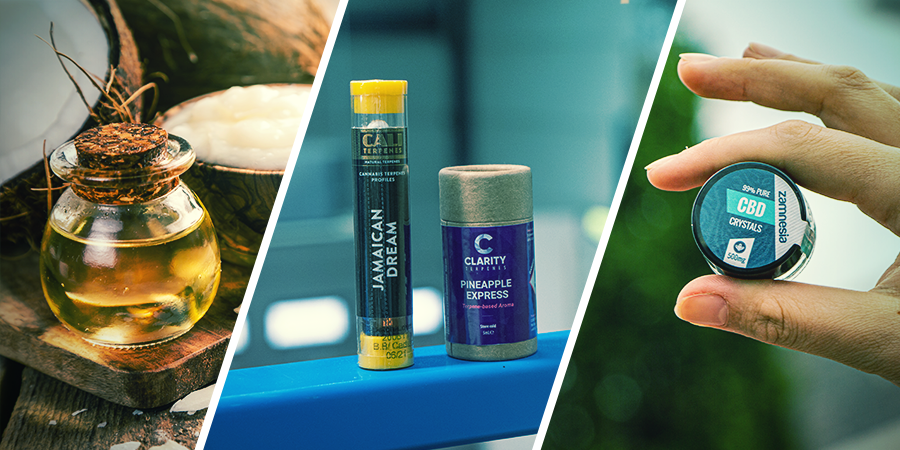 Carriers
Every CBD vape oil formula requires a carrier to bulk out the cartridges and produce a thick plume of vapor. The most commonly used carriers include:
Vegetable glycerine: This sugar alcohol provides a thick hit and a sweet, odourless vapor. It provides a slight "harshness" that many users actually enjoy, as it replicates smoking to some degree. As a hypoallergenic substance, VG serves as a safe choice for most users.

Propylene glycol: This alcohol outperforms VG in some respects. It manages to hold on to flavour much better than VG, but doesn't offer the harshness. As a preservative, PG helps to extend the shelf-life of some formulas. It's not uncommon for CBD liquid to feature varying ratios of both PG and VG, allowing consumers to benefit from both substances.

MCT oil: A fatty oil derived from coconuts that possesses almost no flavour or odour, perfect for bringing out the desired flavours.
Terpenes
Speaking of flavours, some CBD vape liquid manufacturers have taken to prioritising the terpene profile of their products. Terpenes are aromatic molecules found throughout nature, including in cannabis flowers, and are responsible for providing strains with their strong aromas. Aside from underpinning the herb's signature smells, the terpene profile also modulates the effects of cannabinoids via the entourage effect.
CBD
Understandably, CBD itself plays the most vital role in a CBD vape juice formula. Manufacturers typically use pure CBD crystals (aka CBD isolate) that have been extracted from industrial hemp flowers using supercritical CO₂ technology. This, in turn, allows for the utmost purity and dosing accuracy.
What Are the Benefits of Vaping CBD Vape Juice?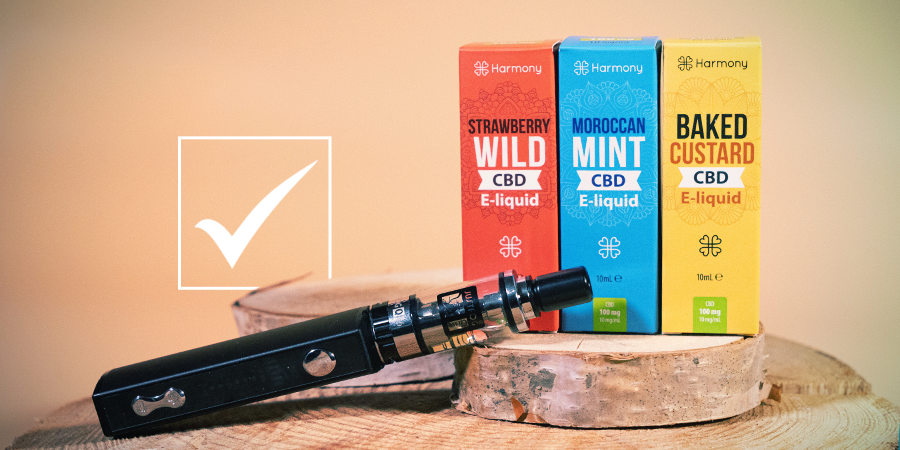 Many of the potential benefits of CBD have yet to be confirmed by clinical research, so experience and testimonials are our main source of information. And, though preferences will vary among CBD users, those looking for a discreet way to ingest the cannabinoid needn't look any further than CBD vape juice.
As there is no THC present (and thus no high), you may not feel any immediately noticeable changes after vaping CBD.
Temperature is the most important distinction when it comes to smoking vs vaping. While smoking bongs and blunts involves combustion and the creation of carcinogenic compounds, vaporizing forgoes this by using a conduction or convection heating element (some vaporizers feature both.)
This allows the vape juice to be heated at lower temperatures compared to smoking. Instead of combusting the molecules, they reach their boiling points and vaporize, making for a smoother, more flavourful, and, most of all, more efficient way to ingest CBD.
What does CBD vape oil do?
Much like other CBD products, CBD vape oil works with the endocannabinoid system in the body. CBD has the potential to offer numerous benefits.
Because different cannabinoids and terpenes have different boiling points, modern vaporizers allow much more freedom with programmable temperature settings.
Lastly, CBD vape juice offers a more discreet way to enjoy CBD. Although a CBD-rich cannabis strain won't contain any THC, lighting up a joint will still have the aroma that is synonymous with weed.
Loading a cartridge of CBD vape oil into a vaporizer, however, will not only offer great flavours and aromas, but will smell much more discreet. It's certainly not uncommon to see people using portable vaporizers for CBD e-liquid, allowing for a much more low-key method that won't turn any heads.
What Do You Need to Vape CBD?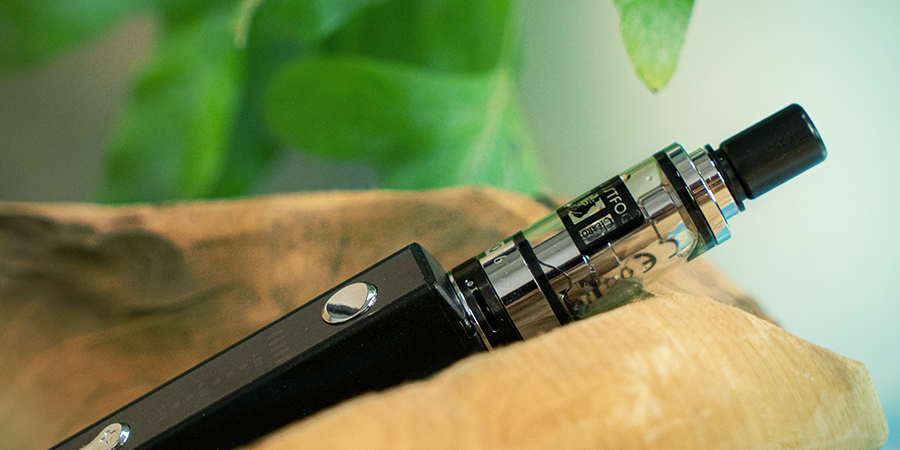 The beauty of vaporizing CBD is that there is very little equipment required. We've put together a shortlist of what you'll need.
Vape Pen
Arguably the most crucial tool needed to vaporize CBD is the vape pen. There are various models of vaporizers on the market, some of which are designed for use with flower and extracts, whereas others are specifically compatible with e-liquid. You'll need a vape pen of the latter type, otherwise known as an e cigarette, to successfully inhale CBD vape juice.
Typically, devices feature four major components: a mouthpiece, a battery, a heating element, and a cartridge. More high-tech models feature LED displays and allow users to change temperature and other parameters. Other devices are more simple and streamlined, containing little more than a single button for use.
CBD Vape Juice
Of course, CBD vape juice plays a key role, just like the vape pen. Users have several options when it comes to how they want to inhale. You can make your own, or purchase pre-filled or refillable cartridges.
Option A: Pre-Filled CBD Vape Juice Cartridges
These disposable cartridges are easy to use, require no maintenance, and take no effort to set up. They're available in a wide range of concentrations and flavours, and some companies even include terpenes from classic cannabis strains to provide more of an authentic experience.
Option B: Refillable Cartridge With Pre-Made CBD Vape Juice
Refillable vape cartridges are built to last. Varying in size and capacity, users can purchase pre-made CBD vape juice formulas to keep topping-up their cartridges when running low. Pre-made formulas come in a variety of strengths and flavours.
Option C: Adding a CBD Base to Your Favourite E-Liquid
If you're already an avid vape enthusiast, chances are you've got your favourite e-liquids and preferred vaporizer at the ready, which means you're basically ready to go! Without the need to purchase any additional equipment, you can simply add a pure CBD base to your e-liquid for an added cannabinoid kick.
How to Use CBD Vape Oil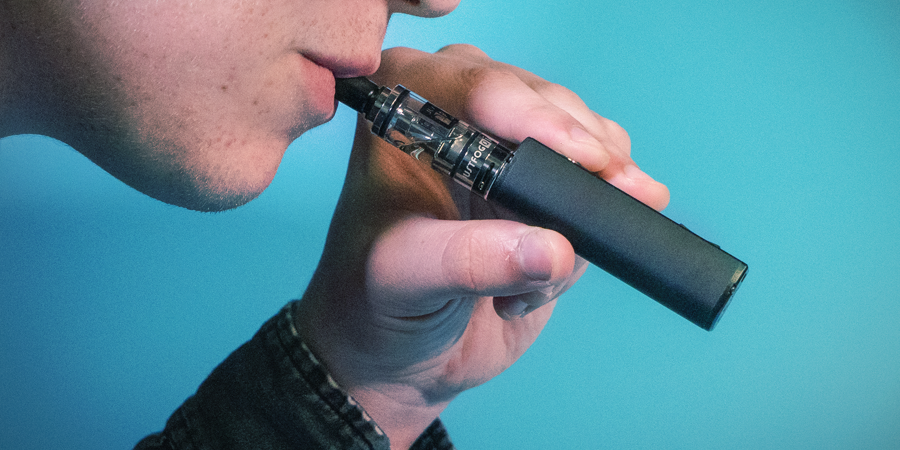 If you've smoked or vaped tobacco, cannabis, or other herbs before, you'll have no issues with inhaling CBD vape juice. It's as simple as holding down a button and taking a hit.
Of course, if you're new to CBD, we advise taking things low and slow. Start with a low concentration of CBD vape juice and take breaks in between hits. As mentioned, CBD affects everyone differently.
While the hits won't provide any kind of high, it's important to note any subtle changes in mindset before taking another draw. Just kick back, and enjoy the flavours and concentrated CBD content.
Vape CBD liquid at home to find your "sweet spot" CBD dosage before integrating the cannabinoid into your regular routine. After a while, you can look to increase or decrease the CBD level as you see fit.
How do you use CBD vape oil?
You can purchase either pre-filled or refillable cartridges of CBD vape oil that slot into vaporizers and e-liquid pens with ease. The vape oil is then heated by the vape pen, allowing you to inhale the CBD vapor with ease.
What Are the Effects of CBD Vape Oil?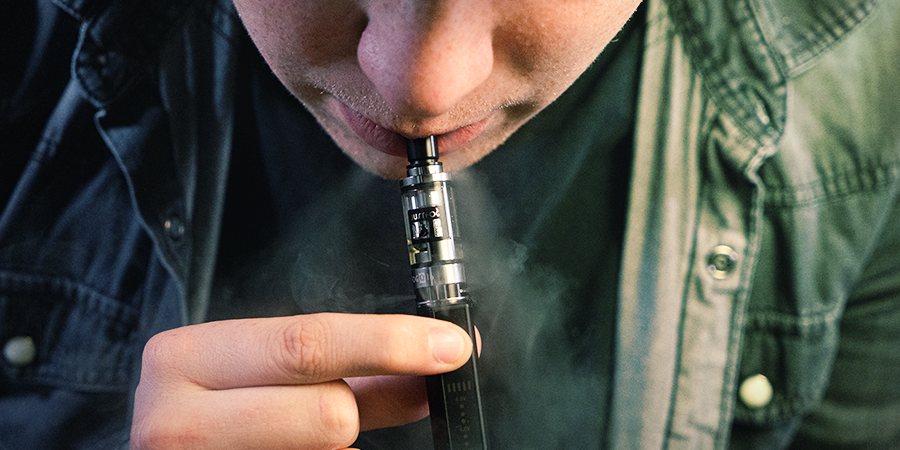 Now that you've got your vape pen, and it's loaded up with your chosen vape liquid, what kind of effects are you in for? As it is with any CBD product, it's important to note how you feel before, during, and after ingesting CBD e-liquid. This is the perfect way to keep track of any potential benefits CBD provides.
CBD is subtle in nature and relies heavily on the endocannabinoid system and other molecular pathways to induce its broad range of effects. Everyone's experience with CBD is unique, and there's no single effect or outcome in order for the cannabinoid to "work".
Will CBD Vape Oil Get Me High?
CBD is non-psychotropic, meaning it doesn't produce a high. No matter how much you vape, you won't get stoned—as long as you're inhaling an untainted product with negligible levels of THC. Overall, these qualities make CBD vape oil something you can enjoy at any time of day, without the worry of any physical or mental impairment.
Does CBD vape oil get you high?
Because CBD vape oil does not contain any THC, there are no psychotropic effects brought on by its usage.
What About Overdosing on CBD?
Overdosing on CBD isn't something to worry about. According to a comprehensive 2018 review by the World Health Organisation, CBD has a good safety profile and is well tolerated. Researchers administered doses of up to 1500mg per day during clinical studies and encountered no dangerous side effects.
With that said, you should talk with your doctor if you have any concerns before taking CBD, particularly if you're on prescription medication, as some interactions can occur.
Will CBD Vape Oil Make Me Fail a Drug Test?
This is always going to be a concern among recreational users of both THC and CBD vape oils. To avoid any issues concerning drug testing, be sure to purchase CBD vape oils that do not contain any remnants of THC—only pure CBD isolate. The influence of any additional THC in CBD vape oil can cause a drug test result to be positive. So, source your vape juices from reputable and established companies, such as Zamnesia.
How to Best Store CBD Vape Oil
With a long shelf-life, storing CBD e-liquid couldn't be easier. Overall, vape juices and oils will last one to two years after purchase. However, if you plan on storing cartridges for longer periods of time, place them in a cool, dark place to prevent the valuable phytochemicals from degrading.
CBD vape oil will last 1–2 years. However, each bottle will have its own use-by date and instructions on how to store and get the most from your CBD vape oil.
CBD Vape Oil: Important Factors to Consider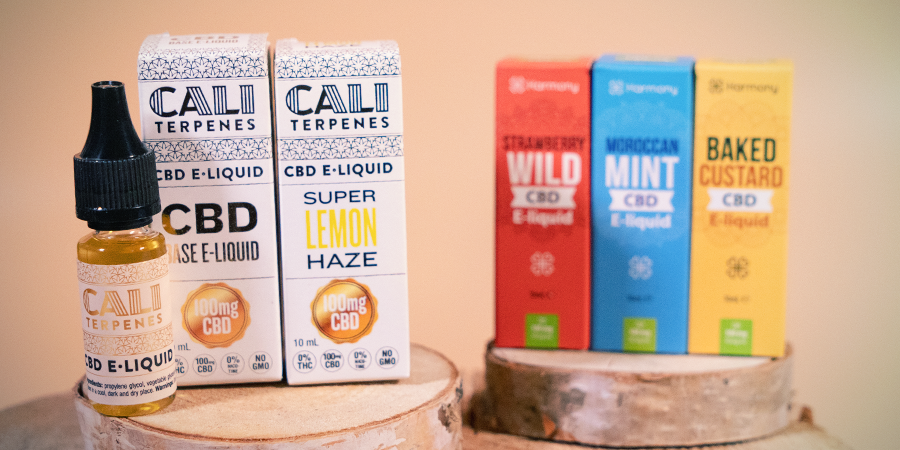 Inhaling CBD e-liquid is an easy and accessible way to introduce CBD into your system, both at home and on the go. However, before you get started with this simple method, there are a few factors to consider.
Determine the Strength of CBD Vape Liquid You Should Buy
We've often heard the term "less is more", and that is certainly the case with CBD vape juice. Starting with the lowest dose will allow you to acquaint yourself with CBD in a more controlled manner.
Take that first initial inhale, then wait. Take note of how you're feeling and give it a few minutes before you take another hit. Slow and steady is the way to go. After a couple weeks of this practice, you can look to increase the dose or even purchase another CBD vape oil that contains a higher CBD concentration.
As previously noted, finding your ideal dose will help you ease into your CBD journey. Taking a huge dose while at work or out in public might leave you feeling sensations you weren't expecting. Find your sweet spot in the comfort of your own home before making CBD vape juice a frequent feature of your daily life.
Side Effects
While there are no serious side effects involved with using CBD vape juice, it can produce some unwanted outcomes. As mentioned, it is always worth consulting with your doctor should you have any concerns about taking CBD.
Possible side effects of CBD vape oil include:
Dry mouth
Diarrhoea
Reduced appetite
Drowsiness
Fatigue
Check the Legal Status of CBD in Your Country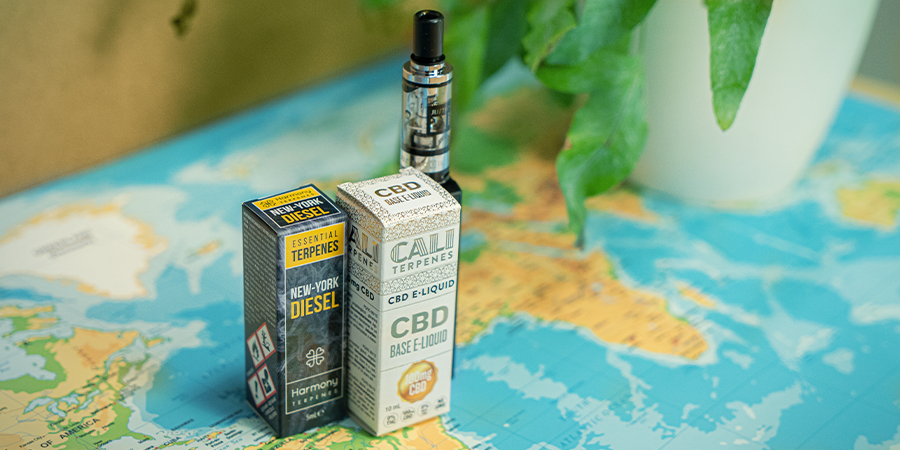 As we know, the legality surrounding cannabis extracts can be murky at the best of times, depending on where you live, so it is always advisable to verify your country's policies on CBD. The last thing you want is to be enjoying your brand new vape pen only to be given a fine (or worse) for public use.
Buy From a Reputable Brand
This part cannot be understated, as buying from a reputable brand will not only give you the best quality CBD extracts, but also peace of mind.
However, not all CBD products are created equal. Some vape liquids contain contaminants or high levels of THC that can have an impact on those conscious of avoiding psychotropic effects. Make sure to use a trusted brand such as Cali Terpenes or Harmony to ensure you receive a high-quality product. Whichever brand you choose, you can be sure Zamnesia has you covered when it comes to the best CBD vape oils around.
---