Best Cannabis Vape Pens For Everyday Use
3 min
Originally designed for cigarette smokers, vape pens were a way for people to enjoy nicotine without the unpleasant additives included in a cigarette. It didn't take too long before savvy stoners realised a vape pen would work just as well for enjoying THC or CBD. Here's a rundown of our favourite vape pens for everyday use.
There have been some health issues associated with unreliable, unregulated e-liquids, so we don't recommend using these. But for your bud and concentrates, vape pens let you control the temperature of your marijuana to support a potent and enjoyable experience. Why would you want this? The effects, flavour, and quality of each draw are dictated by the amount of terpenes and cannabinoids, which all have different evaporation points. The active constituents in a joint typically start to degrade at 232°C.
Yet, as a vape pen works by producing vapor rather than smoke, you can more easily control the temperature your weed or concentrate is exposed to. This means you don't waste valuable cannabinoids and terpenes in useless smoke. Not only that, but vape pens are portable, stylish, and don't require many extra accessories. All you need is your pen, a heat source, and your weed or concentrate.
THE BEST EVERYDAY VAPE PENS
Convinced? Here are our favourite cannabis vape pens for everyday use. Each selection is known to withstand some gentle wear and tear, and is backed by quality craftsmanship.
VAPONIC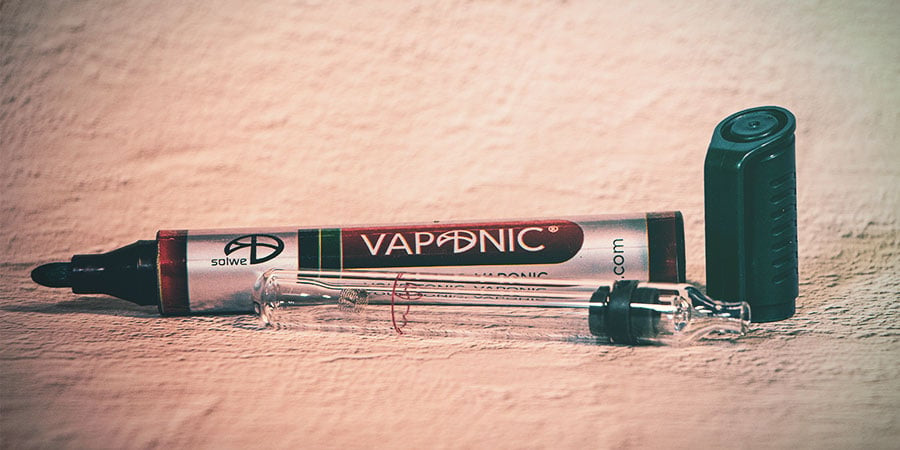 Good for: herbs, concentrates, and resins
The Vaponic shows off the incredible versatility that a vape pen affords. It's slim, stealthy, and sits in a magic marker pen to help prevent it from being damaged. This is also great if you'd like to move around with your weed undetected.
The Vaponic is composed of a suspended inner glass tube that holds your herb, concentrate, or resin, and an outer glass tube that connects to the mouthpiece. The huge advantage is that you can actually see the herb as you heat it, so you can visually judge when your bud is done. Plus, you'll never have to worry about this device running out of battery; it's an "analog" vape that requires heating the herb chamber with a torch lighter for around 10 seconds to release a smooth and steady stream of vapor. This means fast and discreet vaping wherever you are.
DYNAVAP VAPCAP M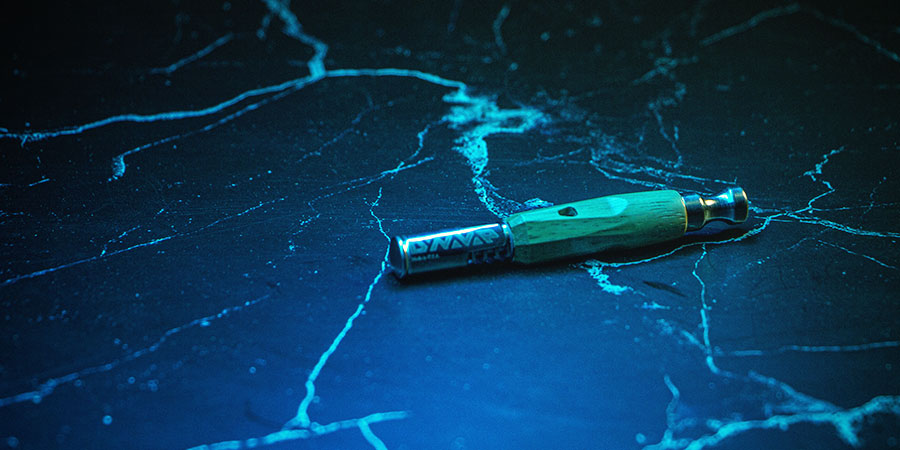 Good for: Herbs and Concentrates
One for fans of the show Doctor Who, the DynaVap "M" is an efficient flame-fuelled vape that produces flavourful vapor. DynaVap's latest 2019 model resembles the famous "sonic screwdriver", and serves up some improvements on earlier designs. We appreciate most that the bimetal thermostat inside the vape makes an audible click once it reaches the right temperature, clicking again when the temperature has dropped too far.
Just like the Vaponic, the magic of the DynaVap M is in its simplicity. No electrical parts, nothing that needs charging—this is the perfect portable vape pen. If you've got your concentrate and a lighter, you're good to go. Not to mention, the sleek, sophisticated design of the M means it fits comfortably in the hand, with just the right amount of weight to signify its durability. This is thanks to a stainless steel midsection that connects to the chamber and mouthpiece.
FLOWERMATE SLICK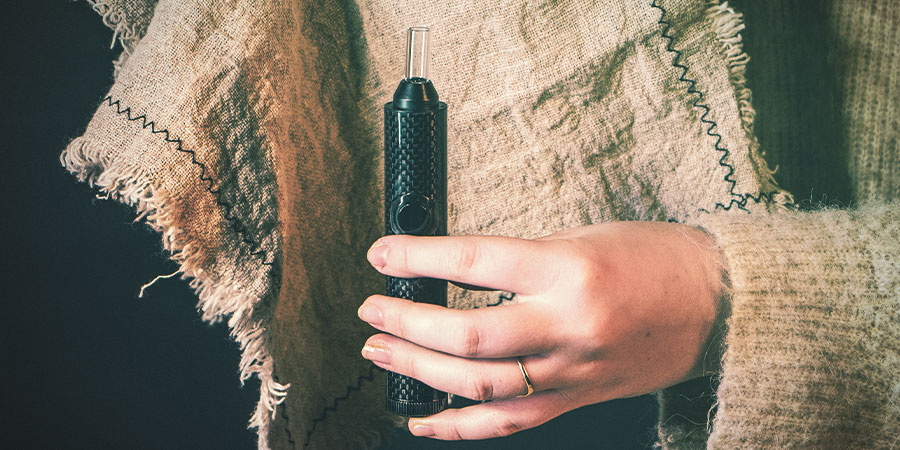 Good for: Herbs and concentrates
Flowermate has an impressive history of making dependable vape pens. The Flowermate Slick is a perfect example of this—a vape that is strong, sturdy, and stylish, with some lovely little tricks up its sleeve.
Perfect for a portable device, the minimalist cylinder comes in a great carbon fibre finish to protect it from scrapes, scratches, and accidental damage. Both the battery lid and the top cap are magnetically attached, so they won't come off in your pocket, but will make the device easy to clean and charge. A fully charged device can deliver around one hour of uninterrupted vaping (usually 10–12 sessions), supporting sustained vaping on the go.
Hands down, however, our favourite features of the Slick are the mouthpiece and the choice of three temperatures. The mouthpiece is made of borosilicate glass, which dramatically reduces any interference with the flavour of your weed or concentrate. The choice of temperatures is easily selected by clicking the power button, and allows you to choose between 196°C, 205°C, and 215°C.
STORM VAPORIZER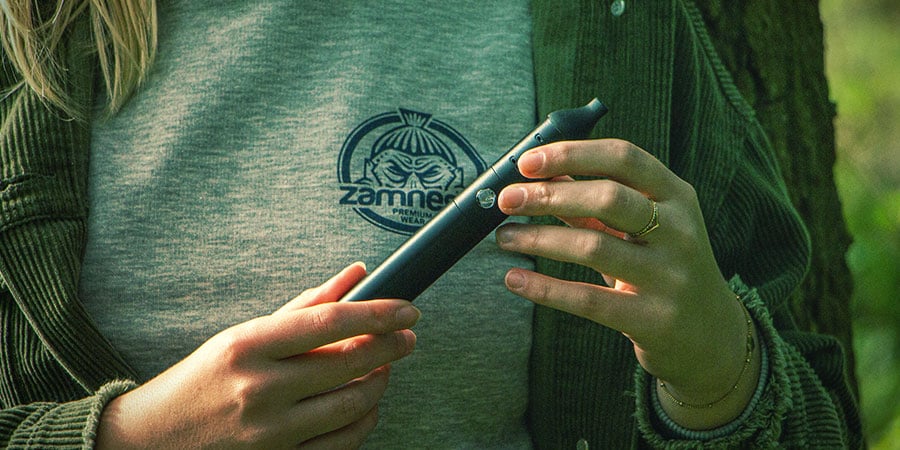 Good for: herbs and concentrates
In the eye of the Storm, life is pure pleasure. This small but formidable vape pen is simple, yet doesn't compromise on quality. Suitable for both herbs and concentrates, the Storm allows users to choose from five factory-set temperatures (180–220°C) with the click of a button!
In fact, the single button on the Storm is how all functions are carried out with this device, making it ultra-simple to turn on, heat up, enjoy, and turn off. Although the battery life on the Storm is respectable, the device turns off after five minutes of inactivity to prolong its single-charge lifespan. Moreover, the battery is rechargeable and removable, which means your device will always be in good working order.
In terms of make, a ceramic chamber, isolated airpath, and aluminum casing making the Storm look, feel, and work like a charm. Although more affordable than some of its competitors, the Storm prioritises quality where it really counts, meaning this is a vape you can depend on whether you're on the go or at home.