Arizer Extreme Q
5.00

5

1

(

21

)
The Extreme Q Vaporizer by Arizer is the latest and one of the greatest vaporizers on the market. It is the latest high-tech model by Arizer and will not disappoint. It boasts a multitude of functions not found in most vaporizers, making it a serious player and an ideal choice for those who love to vaporize but want nothing but the best.
Product accessories: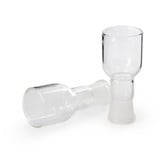 Arizer Glass...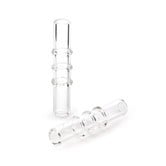 Arizer Whip Mouthpiece
Check all accessories
More info
This Vaporizer can be used with:
Arizer - Extreme Q: When you will not settle for anything but the best
The Extreme Q Vaporizer is the latest in vaporizing technology from Arizer. It has unique features rarely found anywhere else on the market. It offers users the option to enjoy their vapor with either a balloon bag or whip attachment. The Extreme Q Vaporizer employs a Cyclone Bowl that stand vertically to ensure an even and pleasurable distribution of vapor, allowing for full flavor and potency to be unlocked. It has automated fan speeds controlled by an inbuilt temperature activation system and the LCD display shows both the actual and preset-target temperature.
The glass used in this Canadian beauty is of the highest quality, adhering to strict production guidelines ensuring that your vapor is toxin taste free. It utilizes high-quality ceramic heating to ensure that toxins are burnt away and you are left with the finest and safest vapor possible.
The heating elements boast the ability to reach vaporizing temperatures within 2 minutes due to high-tech inbuilt heat sensors. It also has an auto shut feature that can be set just in case the quality of the high you reach causes you to drift off into sleep. The Extreme Q Vaporizer also has a handy remote control, so you can kick back and relax without having to worry about getting up – ideal for those couch locking highs.
All of this functionality also means it can serve as the perfect oil diffuser or aromatherapy vaporizer for those more spiritual amongst you. It is a great quality product for those looking for a top end vaporizer. You will not be disappointed by the great features and professional build of this machine.
The Extreme Q Vaporizer by Arizer comes with a lifetime warranty that covers defects related to the heating element - you know you are investing in a great quality piece of kit when the manufacturer is that confident in their product.
Scope of delivery
1x Arizer Extreme Q
1x Instruction Manual
1x Food-Grade Vinyl Tubing
2x Mouthpieces
2x Glass Cyclone Bowls
1x Glass Stir Tool
1x Additional Replacement Screens
1x Detachable Balloon System with 2 Balloon Kits
1x Potpourri/Oil Dish (Aromatherapy Bowl)
1x Remote Control
1x Aromatherapy Sample
1x Wall charger (including EU plug)
1x Arizer All-Glass Mini Whip
1x Arizer Tubing
Arizer Extreme Q data sheet

| | |
| --- | --- |
| Temperature range | 50°C - 260°C |
| Brand | Arizer |
| Type | Desktop |
More information related to this product:
Reviews (21)
08/Feb/2022

Wer jetzt noch raucht ist selber Schuld :)
Hochwertig verarbeitetes Gerät sowie Zubehör. Kinderleichte Bedienung. Würde ich wieder kaufen. Ein Ballon am Morgen vertreibt Kummer und Sorgen.

03/Jan/2022

Great thing
Awesome vaporizer. All the functions work really well, the taste is completely clean. At the beginning I wasn't too sure about the balloon functions, but after trying it on new years eve it has become my favorite function. You get the thickest clouds this way and the strongest high, as you can inhale a lot of vapor in a few puffs. It almost hits you like a bong if you empty it as fast as you can. This completely convinced me about vaporizers, before I'd always prefer a joint but now it the other way around. You need less material and get a much better experience. I can recommend this to anyone looking for a desktop vaporizer. It's a pain in the ass to transport though because of all the glass parts. The glass might be a problem if you're clumsy. Also the remote has a very short reach and you always have to point it directly at the machine. But those are the only "flaws" i found

05/Sep/2021

Super Teil
Ich bin voll und ganz zufrieden.

29/Jun/2021

Great product, but hard to clean
This is a great vaporizer. I like the flexibility it offers in term of temperature, which can be set up to 260c. The only downside is that it can be challenging to clean with the supplied cleaning tool.

11/May/2021

Finally I know what vaping is about
Extremely happy with this vape. No more rolling papers to buy and ashes to clean. The smoke is real smooth, but also very hard hitting if you want it to be.

21/Apr/2021

Had this for years...
... and I'm very happy with it. Using the whip is by far my favorite way of vaping. It doesn't give you that big hit like a joint or a bong would, and it take more time to get high. On the other hand this is way more healthy and cheaper on the long run. Can highly recommend.

22/Sep/2020

Fucking awesome
Love using the whip with the fan mode! Huge clouds. Great price for such a great product

01/Sep/2020

Good quality
The Vaporizer came on time and the overall quality is very good.

27/Dec/2019

Super vapo
Je l'utilise depuis quelques semaines maintenant et je ne regrette ps du tt cet achat! Je suis au max

You cannot post a review because you have not purchased this product
Restrictions
Please note that if your country is not on our general shipping list, we're unable to ship any item on our website to it. For more information check out the list here: Ordering & Shipping
Video (1)
Video: Arizer Extreme Q Review

The space age genies bottle styling of the Arizer Extreme Q is proven to be quite appropriate. It grants the wishes of the herb vaping enthusiast with accessible and straightforward digital controls, and a selection of delivery methods. You can whip it or inflate a pre-prepared balloon in blissful comfort. It even comes with a couchlock resistant remote control. Watch the vid to check out this top of the line unit.