MIGHTY
5

5

1

(

47

)
The MIGHTY is an easy to operate portable, battery-operated, high-performance vaporizer with precise control electronics. The air heater provides continuous heat during evaporation, while the radiation heat ensures that vapor is generated instantly at the first breath. The plus / minus buttons and the highly visible LED display make the operation of the MIGHTY self-explanatory.
Product accessories: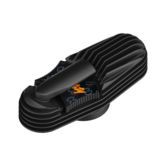 Cooling Unit by S&B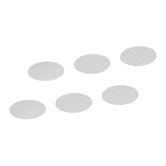 MIGHTY Screen Set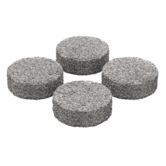 MIGHTY Liquid Pad Set
Check all accessories
More info
This Vaporizer can be used with:
The MIGHTY (Storz & Bickel): High-performance portable vaporizer
The MIGHTY is a portable, battery-operated, high-performance vaporizer with precise control electronics and an automatic shutoff - plus, it is easy to operate. The plus / minus buttons and the highly visible LED display make the operation of the MIGHTY pretty much self-explanatory. The MIGHTY utilizes two ways of heating; the heated air provides continuous heat during evaporation, while the radiation heat ensures that vapor is generated instantly at the first breath.
Switch on the device by pressing the orange ON/OFF switch for at least one second. The MIGHTY will respond with a short vibration. Set the desired temperature using the buttons to the left and right of the temperature display and the device will heat up quickly - signalizing it reached the set temperature with a short double-vibration. The temperature can be set between 40°C and 210°C (104°F and 410°F) - to switch between Celsius and Fahrenheit, simultaneously tap on the plus and minus button.
The automatic switch-off is used to save battery capacity so that the vaporizer can be used as long as possible without charging. The device switches off automatically two minutes after the last press of a button or the last application. The switching off of the vaporizer is indicated by a short vibration.
The MIGHTY is powered by 2 high performance lithium-ion batteries - this ensures for a long service life. When the batteries are discharged the MIGHTY can be operated via the power adapter.
With a size of 14 x 8 x 3cm and a weight of only 230g the MIGHTY is not as slim as a wand, but will still fit in most pockets.
The MIGHTY vaporizer is produced by Storz & Bickel; the same producer as the high quality Volcano vaporizer.
STORZ & BICKEL Vaporizer Comparison Sheet
Scope of delivery
1x MIGHTY Vaporizer
1x Power Adapter 240 Volt
1x Set of Spare Seal Rings
3x Spare Screen (approx. Ø 15 mm)
1x Liquid Pad (approx. Ø 15 x 5 mm)
1x Filling Aid
1x Herb Mill (approx. Ø 55 mm)
1x Dosing Capsule
1x Cleaning Brush
1x Instructions for Use
STORZ & BICKEL Vaporizer Accessory Overview
WARRANTY
STORZ & BICKEL offers a full 2-year manufacturers warranty on every purchased MIGHTY.
MIGHTY data sheet

| | |
| --- | --- |
| Brand | Storz & Bickel |
| Type | Portable |
More information related to this product:
Reviews (47)
18/Apr/2021

Wow
I have a few vaporizers but this is the best by far. This is a incredible efficient way of vaping your weed, when you do it correctly one dosing capsule could keep you stoned for most of the day if you like that. You start between 165c and the 175c do not set the temp higher in fist because your weed wil be gone in 2 rips the vapor wil be so thick your lungs wil not be able to take in al the thc so you are going to end up blowing them out and that is a shame then is your weed gone and you are not as high as you could be. Keep it on a lower setting and keep it there until you are noticing there is less vapor then you set the temp just 10 degrees higher and do that with every rip when the vapor is getting less until you reach 210C that is the max setting. The way of taking a rip is almost the same as taking a rip from a bong, exhale as much as possible than inhale as much as possible and exhale again like you did the first time, now when you lungs are empty you take a rip as deep you like. Between rips it is best to wait at least 15 min to let the effects sink in this way you are avoiding the point of getting to stoned (if that is a thing for you). Be aware the mighty can be smooth lover and keep you stoned for a long time with a small amount of weed but it can also give you a knockout punch when you are un careful or if you like.

27/Mar/2021

Grear kit
Smooth and tastes great. Rarely fire up the pax3 anymore.

24/Mar/2021

M
Top apparaat, geen tabak meer nodig. de Mighty , meer heb je niet nodig

18/Mar/2021

Best vaporizer
As a non-smoker, I was looking for alternatives to smoking and found the Mighty. It works extremely well and feels much better than other vaporizers. I mostly use it at home but I also took it with me when I visited friends. The Mighty itself has a lot of nice and handy features. It may be a little bigger than other vaporizers but it is still portable.

02/Feb/2021

tres bon produit
j'avais acheté un vapo moins cher avant celui ci et j'était déçu par le tirage et le manque de fumée.J'ai hésité avant de tenter un meilleur modèle.. et bien je ne suis pas déçu ce produit n'a rien à voir, la technique est au top de gros nuages et un gout bien plus prononcé et plus économique ... idéal pour les fumeurs qui veulent stopper le tabac .

29/Jan/2021

Echt een top vape
Echt aan te raden aan iedereen die eens graag de volle terps wil proeven en eens van een andere high wil genieten en natuurlijk veel gezonder

18/Dec/2020

SN
Toller Vaporizer, einfach und schnell zu bedienen. Auch die Größe ist perfekt, man kann ihn überall mitnehmen. Die Wirkung ist direkt und ausgewogen. Ich bin total zufrieden und kann ihn nur weiterempfehlen

16/Dec/2020

Tiptop
Top Gerät. Bin mehr als zufrieden.

16/Dec/2020

Baba
Super puissant efficat

15/Dec/2020

The best handheld vape
If you want the best handheld vape, you go with the mighty. There is not a single other handheld vape that works this good

You cannot post a review because you have not purchased this product
Zamnesia's Experience

The Mighty is an all-round excellent portable vaporizer and one of my favourites to date. It is extremely easy to use, well built, produces extremely high-quality vapour (both smooth and flavourful), and has one of the longest lasting batteries of any portable vaporizer on the market.

As long as its indiscreet size is not an issue, the Mighty will not fail you. It is larger than most of its rivals, but with increased size also comes increased quality and function. The Mighty is built to do one thing: vaporize weed, and it does that marvellously indeed.

You can check out my full in-depth review of the Mighty vaporizer on our blog here.

Pros:

 

Easy to use 
 

High-quality build
 

Superior vapour quality
 

Precise temperature control
 

Long battery life

Cons:

 Larger than most of its competition
 

Expensive
 
 
 
 
 
 
 

Written by: Josh
Writer, psychonaut and cannabis aficionado, Josh is Zamnesia's in-house expert. He spends his days nestled out in the countryside, delving into the hidden depths of all things psychoactive in nature.

 

 
 
 
 
Find out about our writers
 
Restrictions
Please note that if your country is not on our general shipping list, we're unable to ship any item on our website to it. For more information check out the list here: Ordering & Shipping
Video (2)
Video: The Mighty Vaporizer Unboxed

A Big brother to the Crafty, the Mighty Vaporizer by Storz & Bickel packs a lot of power. We have a rundown of what you get when you buy one, how easy it all is to use, and the quality of vapour it is able to produce. It is at the very top end of the market, but well worth it!