Considered by many to be one of the best breeders to come out of the UK, Big Buddha has built a reputation for producing the best Cheese strains money can buy. Yet despite this popularity and profound influence on the cannabis market, not too much is actually known about the masters behind the seeds. Here is what we do know:
Big Buddha Seeds is the brainchild of founder Milo Yung, who grew up in British suburbia appreciating the finer points of cannabis from a young age. However, it wasn't until he was 18 that this passion became fully ignited. With a cutting supplied by a friend, Milo attempted his first indoor grow, and it set in motion cannabis history. From this point, all free time was dedicated to honing skill and growing connoisseur level cannabis. Through work in the industry, and developing contacts, Milo eventually got his hands on an original Cheese clone, one of the most fiercely guarded and exclusive strains of the UK.
Having grown with the clone, and experiencing its quality himself, Milo knew exactly what he had to do – make it available for all the world to enjoy. Thus started Big Buddha Seeds.
Today, Big Buddha have refined and honed their original Cheese into one of the best varieties it is possible to get hold of, also using it to produce a number of top-shelf hybrids. The result is world recognition and many awards – making them well worth any grower's time.
Great examples of their work include Big Buddha Cheese, Blue Cheese, Buddha Tahoe, and Buddha Kush OG – all of which scream quality!
Packaging Big Buddha Seeds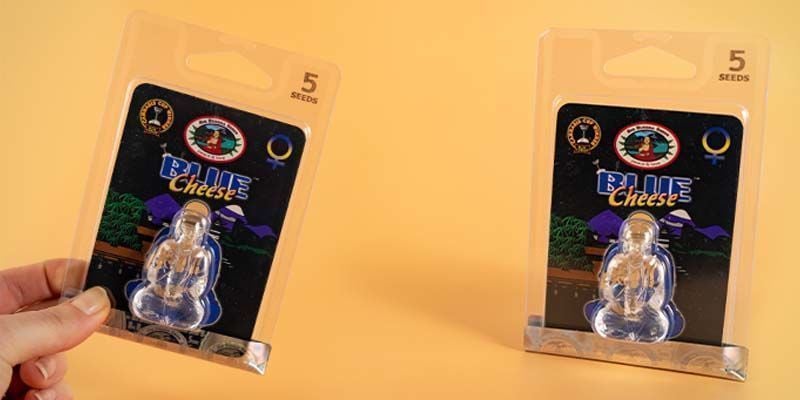 Big Buddha Seeds take packaging extremely serious. So much so that they have made a custom package producing machine in-house, and its ability to keep cannabis seeds safe is next to none.
Each set of seeds is housed in a shock, temperature, and moisture resistant Buddha, which in turn is carefully sealed in a blister pack along with a playing card that denotes the strain within. The Buddha itself has a resealable head, meaning seeds can be stored in the original packaging while not in use. However, as the Buddha is often transparent, be sure to store it in a dark place.
Big Buddha Seeds' cannabis seeds are available in quantities of 5, in feminized and automatic varieties.
Awards Big Buddha Seeds
As one of the premier producers of Cheese cannabis seeds, it is no wonder to hear that Big Buddha Seeds have won multiple awards over the years. Here are some of their top strains, and the awards they have won.
Big Buddha Cheese
---
Blue Cheese
---
Buddha Tahoe
---
Blue Cheese Automatic
---