The Best Vaporizers For Smoking Dry Herbs
6 min
Looking to vape dry herbs? Check out this list for an in-depth look at our best dry herb vaporizers. They will put a smile on any vaper's face.
The cannabis industry is a ripe breeding ground for innovation. One huge pioneering step in this domain was the advent of the vaporizer. No longer must individuals expose their lungs to harsh smoke and carcinogenic substances. Instead, vaporizers provide smooth hits, sensational flavours, and a healthier lifestyle.
Since the dawn of this technology, companies have developed some spectacular devices. Some are small, sleek, and can fit in a pocket; others are large desktop devices that can provide enough vapor for a room full of people. Many of them even feature LED screens and temperature control settings, and some can even be controlled via smartphone. Some users love to load their vapes up with high-grade concentrates, whereas others elect to keep it relatively old-school and vape dried buds instead. Below are some of the best models around for the latter.
THE BEST VAPORIZERS FOR SMOKING DRY HERBS
If you're looking to buy a new vaporizer, whether you're new to vaping or not, the below list of our top vaporizers for dry herbs will have the answer for you. Remember, all of these devices and plenty more are available via our online Vaporshop.
1. BOUNDLESS CFX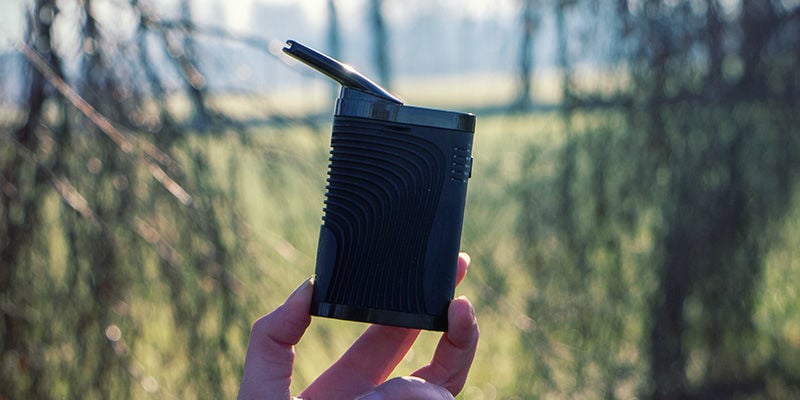 The Boundless CFX is one of the best all-round vaporizers on the market today. It combines great features with a sleek design and, most importantly, excellent performance.
One of the main reasons the Boundless CFX is on this list is because it produces great airflow. It also boasts ultra-fast heating times and a generously-sized chamber, especially compared to the original Boundless CF.
It's also worth noting that the Boundless CFX is one of the few portable vapes that offers individual temperature controls. This was previously exclusive to desktop vapes, and is really starting to set apart the top-shelf portable models from the rest.
While the Boundless CF also boasted 5 individual temperature settings, the CFX takes things a step further. With this model, you can freely select your temperature from anywhere between 38-220°C, offering you the freedom to heat your herb as you prefer. This is also great for smoking dry herb, which can be difficult to vape due to varying moisture levels.
This vape also boasts a stunning 1.7" OLED display that shows a session timer, battery life, and the temperature setting of the vape. And, adding to the sexy display is a stunning black design made from durable materials.
But what it really comes down to when buying a vape is performance. Well, thanks to the top-shelf technology inside the Boundless CFX, you can expect thick, powerful draws every time. This is a great mid-priced portable vape that delivers excellent results.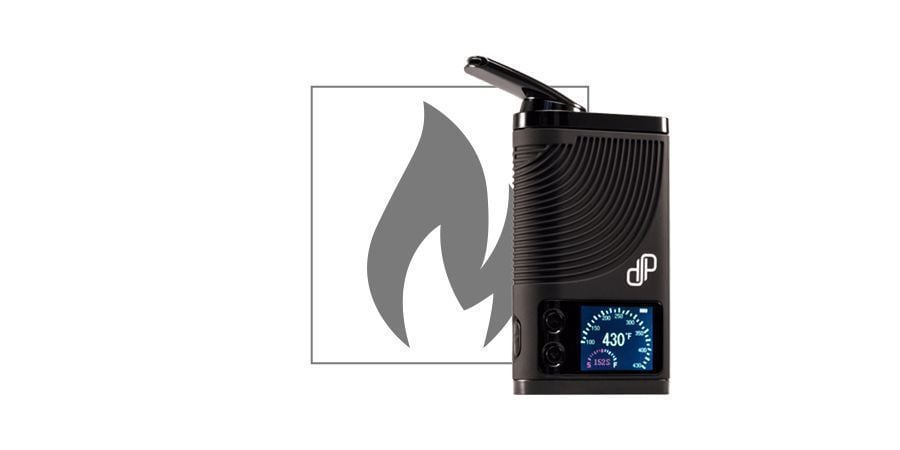 View product
2. STORM VAPE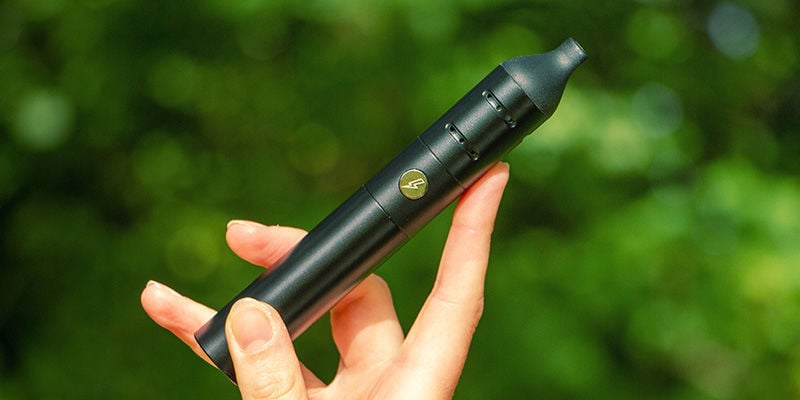 While the Boundless CFX offers complex features, a unique temperature control, and a flashy screen, the Storm Vaporizer offers simplicity and style without cutting back on performance or quality.
The Storm features a simple one-button operating system that allows you to control the vape with a simple press. This makes for an incredibly easy-to-use device that can offer great results, regardless of whether your vaping dried herbs, resins, or oils.
The Storm has 5 different temperature settings, all of which can be accessed using a single button. Temperatures range from 180 to 220°C and, despite not giving you complete control over temperature like the Boundless, still gives you enough flexibility.
It also boasts short heating times and is typically ready to use within 1 minute. The storm also comes with an automatic shutoff feature that kicks in after 5 minutes of inactivity in order to maximise battery life.
This vaporizer is also extremely durable. Whereas other portable vaporizers in this price range usually feature hard plastic casings, the Storm features a durable aluminium case for extra protection and style.
In terms of performance, the Storm is exceptional. Utilizing top-shelf vape technology and a reliable heating mechanism, you can expect great results every time. Plus, the isolated air path ensures for pure and incredibly tasty vapour, while the temperature settings allow you to personalize your session.
If you're looking for a simple, effective, yet affordable vaporizer that'll handle everything from oils to herbs and concentrates, this is one of your best options. The Storm is a great entry-level vape that doesn't cut back on features or usability.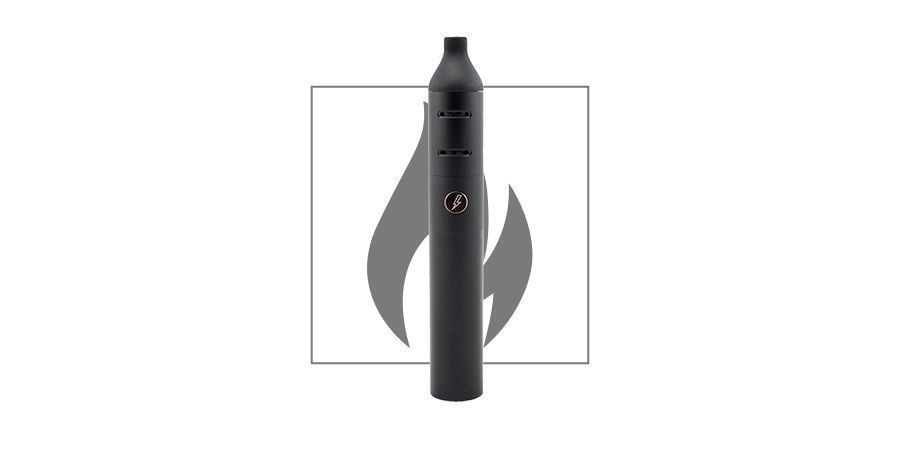 View product
3. MIGHTY VAPE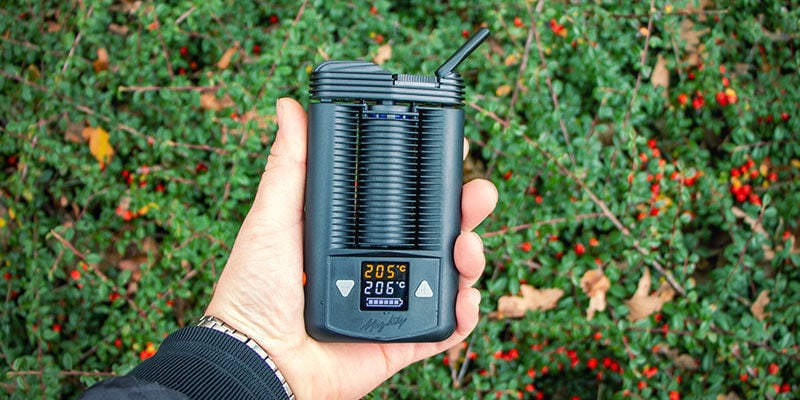 The Mighty is a portable vaporizer by Storz and Bickel. It's an incredibly high-performing vaporizer that has been specially designed for vaping dry herbs.
Like the Storm, it offers a very simple yet reliable operating system that relies on just 3 buttons. Just by looking at the device you'll have a clear idea of how to operate it, which is a welcome change compared to some more sophisticated and complex models.
The temperature range of the Mighty is extremely versatile, ranging from 40 to 210°C. The device also boasts a double heating mechanism that combines an air heater to provide continuous heat as well as a radiation heater that ensures vapour is generated from the first breath.
Like some of the other vapes we've covered before, the Mighty also offers short heating times. Simply hit the orange button on the side, set the temperature, and wait briefly until you feel a double vibration and you're ready.
Like the Storm, the Mighty also has an automatic shut-off feature that is designed to maximise battery life by automatically turning off the device after 2 minutes of inactivity.
Finally, the Mighty offers a nice, simple design that resembles a walkie-talkie and comes complete with a power adapter, liquid pad, spare screens, a cleaning brush, a grinder, filling aid, and spare seal rings.
This may not be a suitable vape for smaller budgets, but it definitely provides a complete solution that'll last you years to come.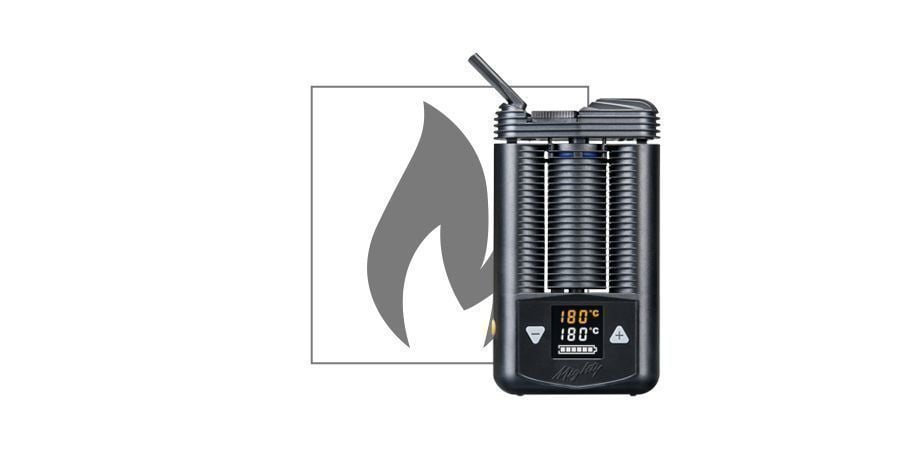 View product
4. PAX 3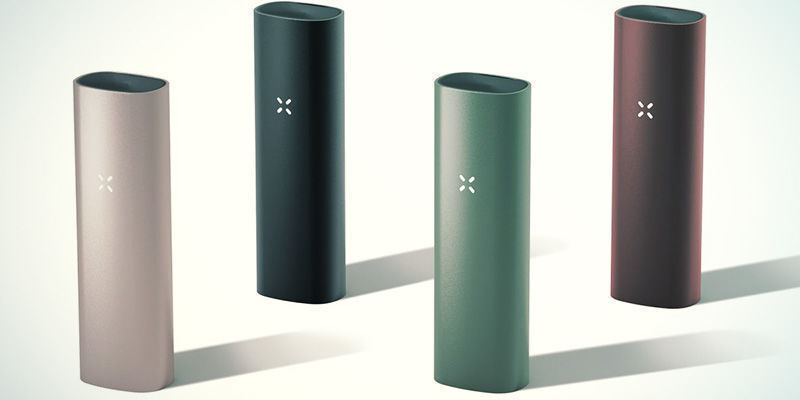 The Pax and Pax 2 vaporizers set high standards. But the latest addition to the Pax family, the Pax 3, sets the bar even higher.
The first thing you'll notice about this vaporizer is its sleek design. Like its predecessor, portability is still at the centre of the Pax 3's design, fitting easily into any hand, pocket, or bag. It also boasts a stylish glossy casing.
Next, you're probably wondering how to control this baby. The Pax 3, like The Storm, is operated with a single button that allows you to access all of the vape's features. Clicking the button once turns the Pax 3 on and off, while holding down the button for a few seconds brings you to the temperature settings.
The Pax 3 also features a "party mode" which uses low temperatures designed for sessions where you're passing the vaporizer around regularly to avoid combusting anything. It also features a light mode which turns the Plax 3 into a powerful light source.
One of the biggest changes this model offers from the Pax 2 is an improved heating system. The Pax 3 heats up in as little as 15 seconds, allowing you to discreetly vaporizer wherever you are with virtually no wait time.
It also comes complete with 3 different sized compartments that can work with herbs, concentrates, and resins. Finally, the Pax 3 also features Bluetooth, allowing it to connect to your smart device and be controlled via the Pax Vapor app. Set your temperature, change the colour of your device, or even lock your vaporizer if need be, all via your smartphone.
This isn't an entry level vape like the Storm. However, it offers an unbeatable vape experience.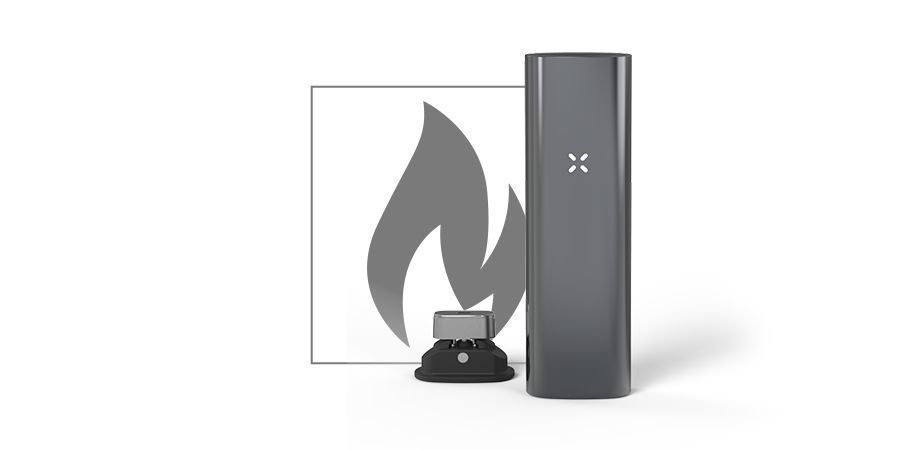 View product
5. FLOWERMATE V50S MINI PRO
As the name suggests, the Flowermate V5.0S Mini Pro has been specially designed to vaporize dry herbs. But, the Flowermate can also deal with other substances, including resins and concentrates.
This is an extremely simple unit that, once again, doesn't cut back on quality. Made from top-shelf materials and utilizing the best vaping technology, the Flowermate delivers reliable results session after session.
Its ceramic heating chamber, fully isolated vapour path, and borosilicate glass mouthpiece allow for a rich, clean and pure vapour - which is really remarkable for such a small and simple device.
The Flowermate also comes complete with a variety of unique features, including adjustable airflow. The entire device is controlled via 3 simple buttons, and all key info is displayed on the ultra clear OLED display.
Temperature is completely adjustable, ranging from 40-230°C. Again, this is an incredibly advanced feature for such a small portable device, and gives you the freedom to completely personalize your vaping experience.
Available in black or blue, the Flowermate also comes with a water pipe adaptor, a glass mouthpiece, a liquid/wax chamber, a stainless steel pod, stainless steel screens, a dabber packing tool, a cleaning brush, and a USB charging cable.
This is an unbeatable mid-priced vaporizer.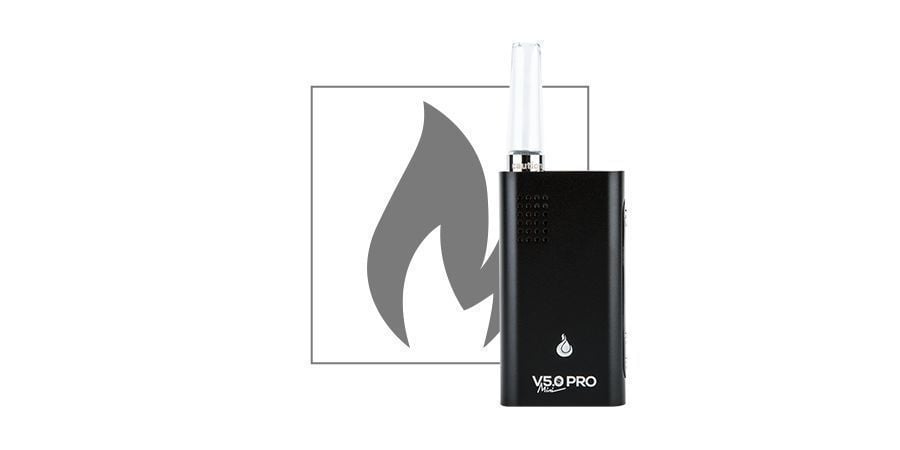 View product
THE BEST DESKTOP VAPORIZER FOR SMOKING HERBS
So far, we've only covered portable vaporizers in this list. And while portable vapes are loved for, well, their portability, some users just can't get passed a powerful desktop vaporizer.
VOLCANO HYBRID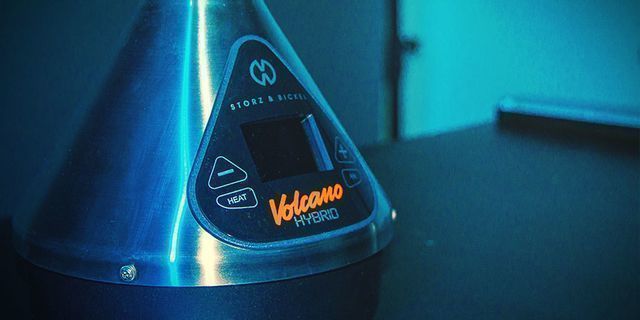 The Volcano Hybrid is the new and improved version of the legendary Volcano Digit. The Hybrid features all of the Digit's best traits, along with improvements to enhance the desktop vaping experience.
The Volcano Hybrid offers a controlled and customisable experience. The new model features integrated modern tech. Users can now control temperature settings remotely using a smartphone and the Storz & Bickel app, available on both Android and iOS devices. The app can be used to selectively adjust temperature between 40–230°C via Bluetooth connection. Such control enables users to target specific evaporation points of certain cannabinoids and terpenes. It also gives them control over the smoothness of their vaping experience.
The Hybrid also features a much shorter heating time of 1–2 minutes. The device comes with an EASY VALVE balloon adapter that works with pre-existing balloons. Balloons are a unique and social way to enjoy cannabinoids, and provide enough vapor for the entire room.
As a Storz & Bickel product, the Volcano Hybrid is crafted from high-quality materials by manufacturers in Germany. It maintains the sleek, mountainous shape and LED display screen. However, the designers replaced the harsh green and red colours with more mellow shades of orange and white.
PACKAGE INCLUDES:
Volcano Hybrid vaporizer
Instruction manual
Herb mill
Air filter set
Filling chamber (cap ring, normal screen set, drip pad, and cleaning brush)
EASY VALVE balloon with adapter
EASY VALVE balloon with mouthpiece
Power cord