Payment Methods
There are a number of payment options available on Zamnesia, all of which are guaranteed to be both discreet and secure. Whichever method you choose, Zamnesia ensures payment is easy, straightforward, and always conducted within the secure environment facilitated by our payment service provider.
---
CREDIT CARD 
We are able to accept a large selection of credit cards, but unfortunately, not all of them.
Should your payment fail the first time, you will automatically be redirected to a second payment page on which you can try again. If this doesn't work either, you can try once more by choosing "re-order" in your order history. 
In the unlikely event that your card still isn't accepted on the second attempt, we kindly ask you to choose a different payment method instead.
Please note that we do charge a small fee for payment by credit card. Furthermore, it's possible that your bank charges you another small fee. This is something we cannot influence.
---
IDEAL, GIROPAY, SOFORT BANKING AND BANCONTACT/MISTER CASH 
These payment methods offer a very simple way to pay for Zamnesia products that is both safe and anonymous. Simply place your order and you will be redirected to our provider's payment page. The payment service provider's name is the name that will appear on your bank statement.

---
BANK TRANSFER
You can also pay by bank transfer. After you place an order, you will receive an e-mail with our banking details:

Remember to mention your order number in the payment reference!
UK customers who don't want to be charged excessive bank fees also have the option to pay with Global Web Pay. Please don't forget to mention your order number in the GlobalWebPay payment reference!
---
CASH IN ENVELOPE 
Zamnesia accepts payments in cash. Simply place an order on our website; on the check-out page, select the option "cash in envelope".
Put the money in a sturdy envelope, make sure it is correctly stamped or franked, and send it to our P.O. Box. Make sure that you don't put any coins in the envelope. Don't worry! Overpayment will be compensated with store credit.
To make sure that the money is not visible through the envelope put it, for example, between two bits of cardboard.
Note that we will NOT ship your order if we don't receive the full order amount, including the shipping costs!
Shipping always remains at your own risk.
Lastly, for us to match your payment to your order in a timely fashion, include a note with your name and order number.
Send your envelope to the following address: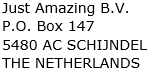 Please note we only accept cash in euros (€) and pounds sterling (£).
As soon as we receive your payment we will process it the same (working) day and notify you with a payment confirmation via email!
---
CRYPTOCURRENCIES
Bitcoin
Bitcoins are a completely digital currency. Customers can send bitcoins using client software on a personal computer, mobile device, or web application. Bitcoin payments are easier to make than debit or credit card purchases. Simply enter the recipient's address, the payment amount, and press send. You as a customer are in full control of the transaction; it is impossible for us as a merchant to force unwanted or unnoticed charges. Bitcoin payments can be made without any personal information tied to the transactions, offering strong protection against identity theft. Your payment is received almost instantly (about 10 minutes after you send it) so Zamnesia can start preparing your order ASAP. Please note: Chargebacks/refunds are impossible when using bitcoins as a payment option!
Click here for a more detailed explanation of how to make a payment to Zamnesia with Bitcoin.
Other cryptocurrencies
We accept payments from all major cryptocurrencies including: 
Ethereum
Litecoin
BCash
DigiByte
Ethereum Classic
GameCredits
PotCoin
Tether
Vertcoin
You can find more information here. 
---

---