Blog

4 min
Mascotte: The Perfect Smoking Sidekicks
4 min
Mascotte is no newcomer to the world of smoking, and they've managed to blaze their own trail in an ever-changing market for well over 160 years. No easy feat, we can assure you. But how did this come to pass? We take a look at the story behind Mascotte, as well as some of their most sought-after products that are available now.
With a history and reputation spanning over 160 years, it's safe to say that Mascotte has been around for some time. While some companies begin to rest on their laurels, Mascotte does the complete opposite. Dead set on providing superior innovation and functionality, their motto is "Experts Never Compromise". And this is something they're fully committed to. Boasting a perfected range of active filter, rolling papers, and other smoking accessories, let's take a look at what makes Mascotte so great.
Emergence of Mascotte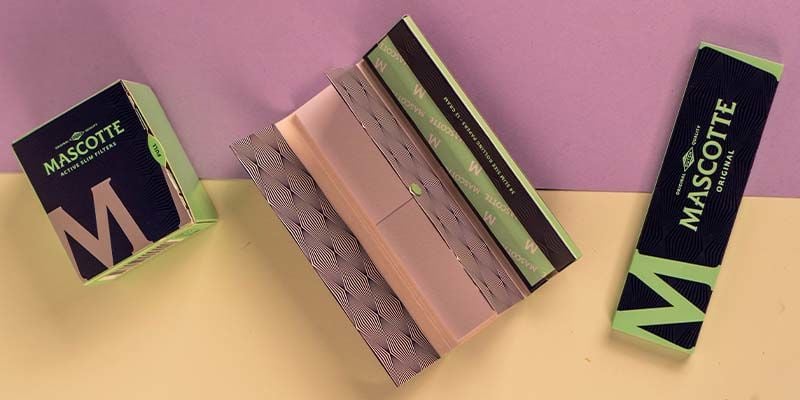 Based in the Netherlands, the story of this family-run business dates back to 1858. The company decided to switch gears when traditional rolling papers were in scarce supply—instead opting to develop finer, thinner papers that could burn evenly, efficiently, and most of all, for a long time. These rolling papers were initially made from the thin paper used for bibles at the time.
An instant hit, these papers have been continually refined, and a mainstay of the company ever since.
As of today, Mascotte still operates out of Eindhoven, and has long been the go-to brand for many a smoker and cannabis enthusiast, and for many great reasons. Mascotte continues to bring their patented touch of "Original Dutch Quality" to each and every product they make.
Mascotte — The Smoker's Choice
It goes without saying, but as with most things in life, there is no one-size-fits-all when it comes to a smoker's preferences. Mascotte recognised this long ago, and rose to the challenge by producing high-quality smoking accessories to suit all needs. From their Original King Size to their special-edition Slim Size Pink rolling papers, it's fair to say that they cater for all requirements. With that in mind, we've picked out a few hallmark products that really demonstrate what Mascotte is all about.
Rolling Papers — A Masterclass of Mascotte's Finest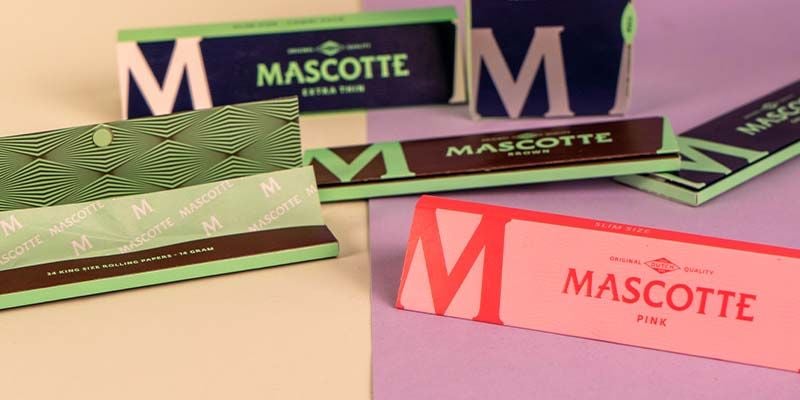 While there are many different varieties of rolling papers available from Mascotte, each with its own nuances, they all have one thing in common; premium quality. Let's take a look at some of the finest papers available today.
Original
Where better to start than with the "OG" of Mascotte's lineup? Original King Size rolling papers are lightweight, but don't mistake that for weakness! These papers have plenty of space to pack out with your favourite herb. And with 34 in each pack, there are enough to keep you going for a while. Most of all, these rolling papers provide an even and slow burn ideal for those moments when you don't want the good times to end.
Brown
Providing the same premium quality, these papers come in a resealable, pocket-sized booklet of 34, and are easy to take with you on the move. With ample space for your favourite herb, Brown papers provide the same even and slow burn you've come to expect from Mascotte. Unrivalled "Original Dutch Quality" at its finest.
Mascotte x Amsterdam Genetics
Being a popular choice among smokers has opened up some major opportunities for Mascotte, one of which is an exclusive collaboration with Amsterdam Genetics. Emblazoned with the logos of both companies, this pack is a beauty to behold. But it's what's inside that will really turn heads. Measuring at 107 × 53mm, each one of the 34 papers provides lots of room for herb. Moreover, each paper is adorned with a custom watermark, adding a touch of class you won't find anywhere else.
Filters — Maximum Flavour From Mascotte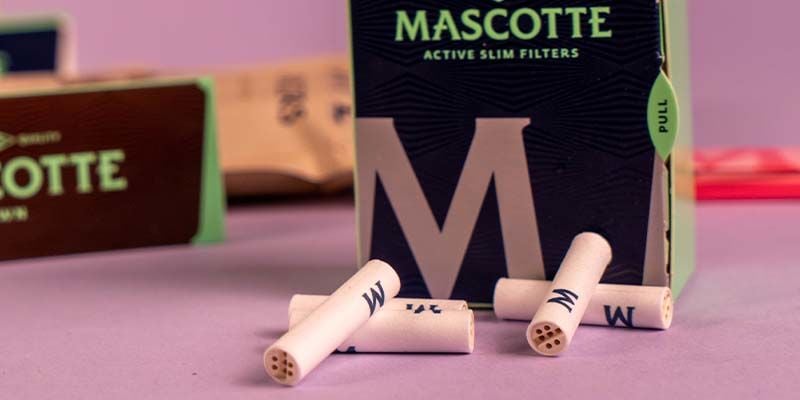 Mascotte provides a couple of different options when it comes to their ready-made filters. Both are easy to slip into your joint, and guarantee excellent airflow each and every time you reach for them. It really just depends on your preference!
Active Slim Filters
Set on providing a smooth and flavourful smoke, Mascotte's Active Slim Filters are made from natural coconut charcoal and provide great airflow, so each pull is outstanding from start to finish. Available in a pack of 34, they work effortlessly alongside your rolling papers and offer a hassle-free smoking solution while on the move. Unlike some other filters, these are effective in all temperatures and environments without fail, thanks to the ceramic caps. With no unwanted chemicals or additives, Active Slim Filters make the perfect addition to your smoking arsenal.
Hemp Active Slim Filters
The hemp active slim filters provide the perfect accompaniment for the environmentally conscious smoker. Measuring in at 19mm long with a diameter of 6mm, they don't take up too much room and are easy to slip into your joint. Much like the Active Slim Filters, these have some amazing filtration that won't get in the way of the fine flavours of your herb. Available in a resealable pack of 34, these filters are an excellent choice for both the smoker on the move and those looking to blaze from the comfort of their home.
Tips — Great-Quality Filters in Seconds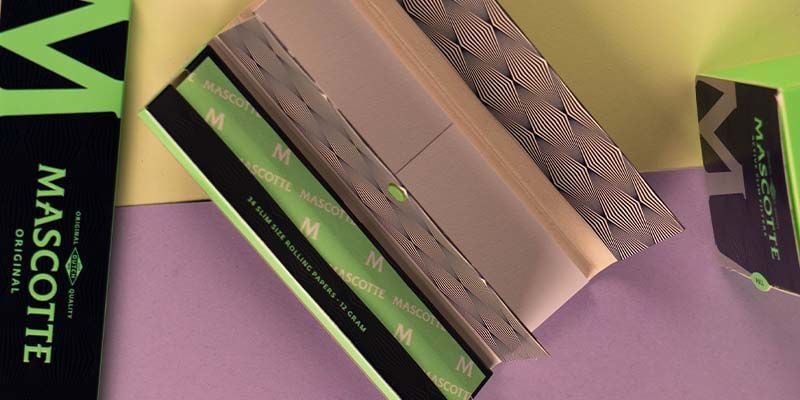 Of course, purchasing ready-made filters is one thing, but true experts prefer to make their own. While there was a time when anything would do, thankfully, experts are a little savvier these days. With these handy combi packs with papers and tips, it's never been easier to make the perfect joints.
Mascotte original and brown combi
For effortless filters, look no further than Mascotte Original Tips. Available in a combi pack with either Mascotte Brown papers or Mascotte Original papers. Simply remove the tip and roll tightly into a formation of your choosing, then insert into your rolling paper. While it may take a little practice to get down, it really is as simple as that. Following the lead of Mascotte's other flagship products, Original Tips don't have any unwanted additives or chemicals that taint the smoking experience, but all the while prevent any wayward herb or ash from entering your mouth. You can rest assured you're getting nothing but great flavours and maximum potency from these tips and papers.
Masterpieces From Mascotte: Available Now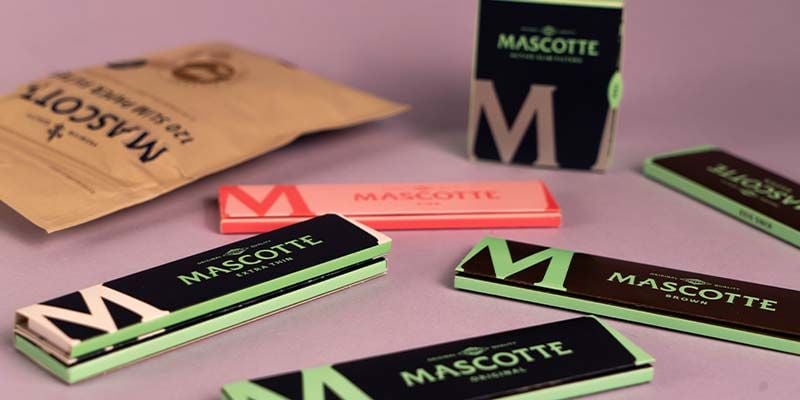 As you can see, Mascotte certainly doesn't "phone it in" when it comes to creating flawless smoking accessories. With each one developed with the savvy smoker in mind, their products are a true reflection of their target audience. Providing a wide variety to suit all needs and preferences, it's never been easier to find rolling paper or filters to match your personal style. Simply head over to the Zamnesia store and browse our selection of Mascotte products to discover your perfect smoking partner today.