Blog
2 min
SYQE Vaporizer - The Medical Vaporizer Of Tomorrow?
2 min
Considered the holy grail for satisfying legislative needs, controlled dosing is the future of precision medical marijuana delivery. Doctors will be able to prescribe exact dosages and strengths confidently.
MARIJUANA VAPORIZING IN THE NEAR FUTURE
It is the very near future. Recreational and therapeutic cannabis use is legally ratified and encouraged by the UN. Global legalization is enjoyed by everyone. Marijuana is the largest cash crop in the world next to rice and wheat.
Vaping technology has advanced considerably. Increased herb quality and diversified scientifically quantified terpene and cannabinoid profiles fractally combine for endlessly customizable cannabis products.
Taking a hit of marijuana or one of its many friendly extracts is no more trouble and attracts no more attention than using a bronchial type inhaler.
Gone are the days of carrying actual organic buds on your person. Just a discrete sleeve of reasonably priced "cannapods" that fit your choice of dispenser. Simply load your favourite no fuss vaping inhaler with a premade cartridge, press a button and inhale.
Of course there are one hit disposables that are infinitely recyclable. Squeeze, inhale and toss in the trash. You can choose from any number of hundreds of flavours and preparations personalized for your therapeutic or recreational needs.
CANNABIS - IMAGE IS EVERYTHING
In the present there is a clear need for devices that demystify cannabis as a medicine. If cannabis is going to be truly mainstream, then it needs to be presented in a form that is recognised as being medicinal. Certainly not some bizzare alienating process like dabbing or wrenching a bong.
Taking away the smoke and fire factor is a good thing. Tobacco smoking taboos are bleeding through into cannabis culture as an "all smoke is bad" mentality. In the new World wellness is not associated with smoke, but with discrete vaping.
The whole consumption process of marijuana needs to be "normal". A simple click in capsule of quality organic herb prepared for easy vaporisation should be all it takes. No grinding and fooling about with raw ganja. Just a precise, predetermined strength dose being guaranteed each and every time.
A patient would not be given a second glance in a hospital using an inhaler type of device. Where as a few quizzical and certainly many alarmed stares would be drawn if a patient was firing up a phat blunt or ripping into a bong in their recuperative bed. Therapeutically proven benefits or not!
THE SYQE VAPORIZER - THE FUTURE IS NOW
Syqe Medical is setting the new global standard in therapeutic cannabis delivery systems. The state sanctioned medical cannabis research institute in Israel has developed proprietary technology that delivers metred doses of medical cannabis.
Considered the holy grail for satisfying legislative needs, controlled dosing is the future of precision medical marijuana delivery. Doctors will be able to prescribe exact dosages and strengths confidently based on known data.
The Syqe medical vaporizer uses "vapour chips" - premade cartridges of organic cannabis with determined strengths and essential oil profiles down to as low as 100mg per precision dose.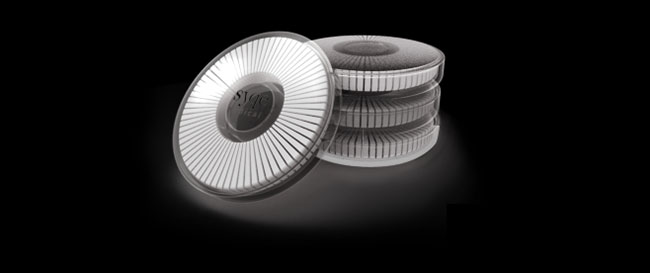 In a move for which future generations will be thankful, Syqe has built in smart tech. Linked to an app on your phone, your personalized device corresponds data to your managing physician about frequency of use and strength per dose. The accumulated data providing indispensable and concise scientific knowledge that will surely corroborate historical evidence of marijuana's efficacy as a medicine.
This methodologically sound accumulation of data is a boon of information for researchers. How often, strengths, constituent analysis and reportage of quality of life changes can all be monitored and collated as quantifiable data.
The SYQE boasts a design breakthrough. There is no need to press buttons or reheat elements. Simply applying negative pressure by sucking on the ergonomic mouthpiece activates the vaping process. For the first time delivery on demand of marijuana in a true pharmaceutical fashion is possible.
Will the format of the "vapour chip" be one of the format battles of the future? Echoing format battles of times gone by. VHS versus BETA. DVD versus DIGITAL. PS4 versus XBOX. GANJABIT versus CANNAPOD??
Whatever the nomenclature, the SYQE vaporizer has broken new ground and the future of medicinal and recreational marijuana consumption is unfolding before all of us cannabis aficionados. Quantified by humans, backed by science, hacked by technology and gifted by nature, cannabis is on the way to becoming a well researched premiere medicine.
(Fictitious product names cannapod and ganjabit are the proprietary property of the author)
Written by: Guest Writer
Occasionally we have guest writers contribute to our blog here at Zamnesia. They come from a wide range of backgrounds and experiences, making their knowledge invaluable.

Find out about our writers