Blog
2 min
Review: HempVAP CBD Vaporizer Pen
2 min
CBD is on the rise, and so are vaporizers. The latest kid on the block is the HempVAP, a vaporizer built to deliver CBD in the smoothest way possible.
CBD-rich oils are becoming mainstream as more people realize that natural products can help where prescription drugs overwhelm with sometimes severe side-effects. CBD is found in both cannabis and hemp and does not cause any psychoactive effects - which is why it is legal in almost every country. Those suffering from ailments such as chronic pain, epilepsy, anxiety, PTSD, arthritis, schizophrenia, and infections have used CBD to alleviate their condition sometimes so efficiently, that further allopathic medicine was longer needed. With the HempVAP there exists now an innovative way to medicate comfortably on the go.
The HempVAP starter kit comes with the actual vape pen (which includes the battery), a USB Charger and two atomizers. A HempVAP atomizer contains 1 gram of CBD-rich hemp oil and is available in three flavors: Strawberry, honeydew or papaya.
The Pen
The pen comes in a smooth black finish and is designed to look sleek and discreet - it is not much thicker than an ink pen, allowing for use without arousing attention from bystanders. If you have used an e-cigarette before, you already know how it works; it is pretty much self-explaining except for maybe the 5-click safety feature. To activate the heating element, push the button coming out of the side of the pen 5 times - a light at the bottom of the pen will come on, indicating the pen is now ready for use. And then you just press the button while inhaling through the mouthpiece to take a toke. Another 5 pushes of the button deactivates the heating element.
The Flavors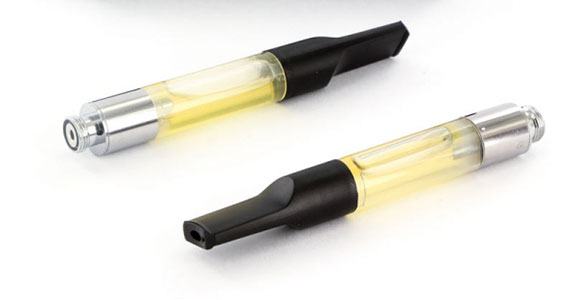 All of the three oils gave off a thick and very smooth vapor, easy on the throat and without any harshness on the lung, but the rest is a matter of taste. None of the flavors smells like a cannabis product on the exhale.
Strawberry - I really enjoyed this one, it pretty much captures the taste of a strawberry almost in its full authenticity, very fruity and sweet - it reminded me of hard candy. But, I am biased because I love the taste of strawberry...
Honeydew - This one ranked in at a close second because the melon flavoring felt true to the taste, not as sweet as the strawberry-flavored oil, but somewhat juicy.
Papaya - For my taste, this one just was just not as strong of a flavor, only mildly fruity. But, on the other hand, this could be a plus for people who dislike strongly flavored vapor.
Effect of the CBD
I didn't get high at all, which is a big plus in my book because my head must remain clear while I work (or else this review would take me the entire day to finish). After a few tokes I was pleasantly surprised to notice that my back-pain-indicator switched from red down to orange and a bit later to dark yellow - I suffer from double-major scoliosis, so dark yellow (without taking pain-killers) is damn great for me! Another plus for me is that it didn't affect the salivary flow - unlike smoking pot I had no dry mouth. A quick look into the mirror - no red eyes.
Conclusion
The HempVAP is a solid device that does what it needs to do. It is easy to use, very discreet and the flavor is great (provided your taste buds are close relatives of mine). I can highly recommend it.