WHat is kratom?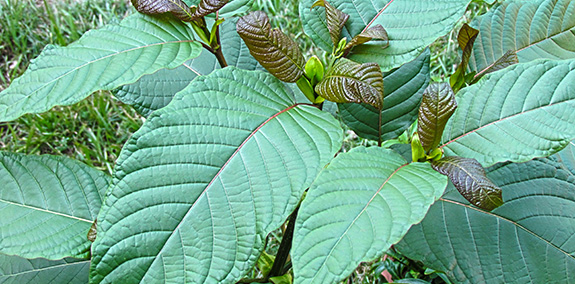 Kratom is a tree that grows in Southeast Asia, the leaves of which contain alkaloids that give users an opiate-like buzz. Though not itself an opiate, it is for these opiate-like effects that it has become increasingly popular.
A relative newcomer to the range of consciousness-altering herbal tools in the Western toolbox, kratom is a subtle and intriguing plant with huge medical and therapeutic potential beyond its trippy headline use. 
Mitragyna speciosa Korthals, a plant of the family Rubiaceae, is native to the tropical regions in Indochina, the central and southern regions of Thailand (rarely in the north), the northern Malay Peninsula to Borneo and is commonly called Kratom, but also goes under the names Kratum and Krathom. The tree was first formally described in the 17th century by the Dutch botanist Pieter Korthals, who named it Mitragyna, because the first specimen he examined had stigmas in the shape of a bishop's mitre, hence the botanical name.
The erect stem of the arborescent plant reaches a height of up to 50 feet (15 meters) and develops branches of over 7 feet (2 meters) in length. The leaves of the tree have a dark glossy green look and are shed and replaced throughout the whole year, but in the rainy season the new growth is more abundant, whereas the shedding is more plentiful in the dry season. This means it is rather evergreen than deciduous, except when grown outside its natural habitat; if the temperature falls to around 4°C, it will act just like any other regular tree that prepares for hibernation.
In Thailand, where it has been used for centuries to alleviate chronic pain, to uplift mood and to treat health problems, Kratom is banned since 1943, but not because they had a problem with health problems that occurred due to the use of it (like some uninformed sources claim). Actually, they had a totally different problem with it - it was a FINANCIAL reason: It reduced the tax revenue from opium distribution for the Thai government!
Kratom itself is not an opiate, but it is becoming increasingly popular because of its opiate-like effects. But it is capable to achieve more than just a weary head - returning customers use it to treat pain, to get a boost of energy, to alleviate anxiety and symptoms of depression and to achieve a feeling of wellness and happiness. The main active compound of Kratom is 7-Hydroxymitragynine. While it does not seem to have significant adverse effects, its safety and efficacy are not well researched yet and permanent use of Kratom has been reported to cause constipation, weight loss due to a loss of appetite and darkening of the skin color of the face. Withdrawal symptoms after continuous use include diarrhea, a runny nose and short temper.