JetpackKratom Kratom Red Powder
(

88

)
Different strains of kratom are known to exert different effects. Red kratom powder quickly induces a relaxing and meditative state that is ideal for relieving tension in the evenings.
This item is not available in your country
We are sorry, this product is currently not available for shipping to your country. Please check back for future availability.
More info
JetpackKratom - Kratom Red Powder: Add Some Serious Relaxation To Your Evenings
The active compound within kratom, mitragynine, is known to produce a stimulating and energising effect at low doses, and a more relaxing effect at higher doses. However, different types of kratom exert slightly different effects. Kratom Red Powder by JetpackKratom is made using red vein kratom leaves, a type recognised for its relaxing effects. The red stems and veins of this variety are thought to be caused by a difference in chemical composition or age in the life cycle of the kratom tree.
Regardless of the cause of this striking appearance, red vein kratom is the powder of choice when it's time to kick back, relax, and unwind at the end of a busy day. Add this powder to tea, juice, or a milkshake and feel the relaxing and mood-enhancing effect settle in after around 30 minutes. The recommended dosage is between 1–4g. This pleasant effect will linger for around 5–6 hours.
Kratom Red Powder by JetpackKratom is pure and free of additives, pesticides, and herbicides.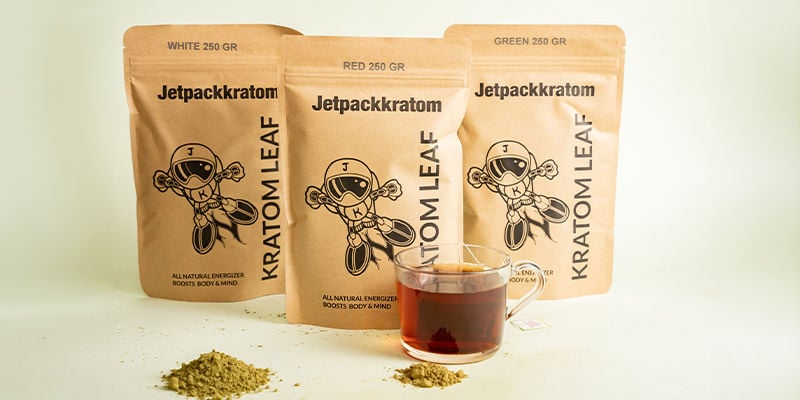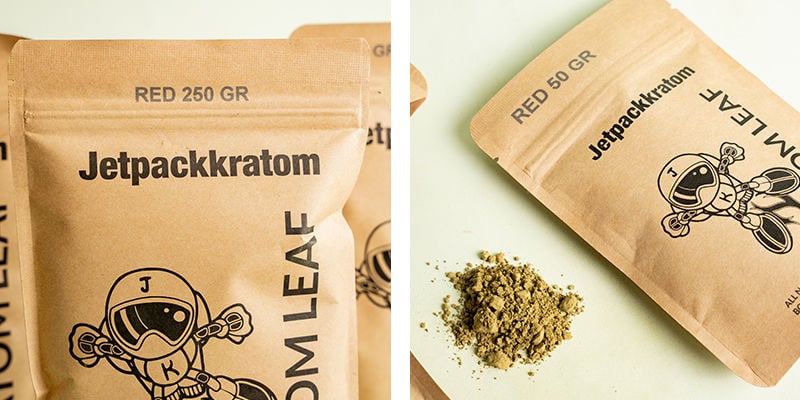 More information related to this product:
Reviews (88)
View all reviews

12/Nov/2023

Très bon produit
Un kratom aux effets ronds et agréables à apprécier plutôt à l'horizontale :)

20/Oct/2023

La unión de café y hierba
Es genial, sabe bastante mal pero mezclado con mermelada o alguna bebida dulce se palia algo el sabor, eso si, los efectos son relajantes pero sin llegar a dormirte o quedarte amuermado. Eso si, si es tu primera vez cuidado, porque si te pasas de cantidad te deja tumbado sin poder hacer nada de dolor de cabeza y vomitando (tampoco es muy grave pero si muy desagradable), pero si tomas una dosis adecuada para tu cuerpo (una cucharadita o menos en mi caso) es genial.

09/Oct/2023

Love it
Tried every jetpackkratom and this one is best one for me easily, love it!

05/Oct/2023

Good Product
For me the Red Kratom is better than the Maeng Da. It's perfect if you want to chill. When you take 16 grams it's a very good Feeling. But when you take 5 more after that you have to lay down and you will sleep nearly 30 hours :). And if you don't want to feel sick, don't take over 20 grams. And don't drink it, it tastes terrible.

04/Oct/2023

good quality
Very strong

26/Sep/2023

Satisfait comme à chaque fois.
Super produit! J'en prend un mois sur deux et vraiment je suis satisfait à chaque fois. Merci Zamnesia c'est top

20/Sep/2023

Efficace mais traître attention
Qd je lis des commentaires disant que ça ne fait rien (qui sont plutôt rare)? C'est hyper efficace niveau effet, très physique, moins niveau mental Attention de ne pas en abuser car l'effet peut être addictif. De plus si consommer le soir, le lendemain il y a encore des restes, et même un genre de gueule de bois.. A ne pas mettre entre toutes les mains, je considère qu'on est sur un produit à potentiel de dérapage si l'utilisateur ne contrôle pas ses pulsions addicitives.

01/Sep/2023

RP Kratom
Goed. Doet wat het moet doen.

10/Aug/2023

Super Wirkung
Es wirkt bei 7g schon sehr gut und angenehm. Man kann es beschreiben wie eine kleine Mischung aus MDMA und Opiaten. Nicht so stark wie diese, aber sehr gut. Leider schmeckt es absolut schlecht und man sollte es meiner Meinung nach mit viel Kirschsaft oder generell dickflüssigen Säften trinken. Kann man nur Empfehlen.

21/Jul/2023

Surprenant
Satellisation accidentelle avec 3.6g, comme si j'avais pris l'équivalent de 100 à 150mg de codéine. Bluffant. Vraiment très agréablement surpris, ça va bien me servir pour ma douleur chronique et mon insomnie (à des doses sûrement moitié plus basses). Semble vraiment bien se dissoudre dans l'eau (il faut la dose quand même) comparé à ceux que mes proches prennent, goût de thé vert très umami qui se transforme en amertume/goût de terre assez forte sur la fin. Pas très bon, mais facilement buvable d'une traite. Un peu cher par rapport à ce que l'on peut trouver ailleurs par contre il me semble, même si la force de l'extraction compense un peu. Mais réellement outre ça, je ne m'attendais vraiment pas à aussi bien pour ma première fois avec le Kratom. Pour ceux qui ont encore le doute, ça vaut au moins le détour d'essayer.

03/Jul/2023

Commande OK
Correspond parfaitement au débutant parfait

02/Jun/2023

Bien pour commencer
bon kratom mais un peu "banal" a mon gout, Mais pour les debutant il est très bien Je recommande

26/May/2023

Excellent, une révélation
Super, excellent, fantastique. Effet stimulant à petites doses, relaxant dès les 1.5g. Très attirant, grosse envie de recommencer, donc potentiellement addictif. Le lendemain, on se sent bien fatigué quand même, d'autant plus si on a bu de l'alcool avec.

27/Apr/2023

Relajante
Lo he usado para momentos de desconexion y meditacion, y con la dosis correcta (para mi cuatro o cinco gs) es una buena herramienta para encontrar un estado de no perturbacion porque tambien ayuda a concentrarse y dejar pasar de largo estimulos y pensamientos. No recomiendo su uso diario pero de vez en cuando esta muy bien para la ansiedad.

25/Apr/2023

The best
Maybe it doesn't taste great but oh boy does it works amazingly. Do buy!

21/Apr/2023

Fait le Job
Rien a dire c'est cool

19/Apr/2023

bello
avevo ordinato 3 tipi di Kratom e questo è stato quello che mi ha soddisfatto al 100%, se fosse stato legale lo avrei ordinato di nuovo

07/Apr/2023

Top
Good for relaxing and meditation

06/Apr/2023

Tres bons effets
Pas mal du tout !

28/May/2023

Kratom
Excellent produit

23/Mar/2023

Ganz angenehm
Kann man mal ausprobieren :-D

21/Mar/2023

Top
As a lover of the strong, opiate-like effects, red kratom is perfect for me. Too bad Zamnesia doesn't have the red Borneo Kratom. Next I will try the liquid concentrate. However, the effects of this herb are remarkable in any form, at least when purchased from Zamnesia.

27/Feb/2023

My favorite
This has been my favorite kratom variety from this brand, definitely recommend this for relaxation in the evenings.

11/Feb/2023

top
nichts auszusetzen am red top produkt

04/Feb/2023

Relaxerend maar wat prijziger
Eerste keer dat ik de rode kratomnerven probeer. Het geeft inderdaad een veel relaxter effect dan bijvoorbeeld de groene die meer oppeppend is. Prijs wat aan de hoge kant vergeleken met andere webshops, maar deze winkel had de rode variant tenminste wel op voorraad.

16/Feb/2023

Molto rilassante
Il prodotto è davvero ottimo..ti mette in uno stato di serenità. Ottimo per le serate con gli amici. Da provare.

26/Jan/2023

Super Produkt
der rote strain ist mein absoluter Favorit. Hab jetzt schon 5-6 mal bestellt und werde weiterhin bestellen! Kann ich nur empfehlen.

19/Jan/2023

Top
The best!

16/Jan/2023

Potent
You wont need this much to get a potent effect.

14/Jan/2023

De calidad
Muy bueno, la gente no debería tomarse este producto a broma porque sus efectos se notan, y mucho. Sobre todo mezclandolo con cannabis, siento que se aprovecha mucho más. Eso sí, sabe horrible, pero se bebe de trago y ya

30/Dec/2022

Comment satisfaire un sceptique :)
J'étais sceptique après un autre achat de kratomx10 mais celui là est très bon (sauf le goût). Pensez à bien vous renseigner sur le kratom car ce n'est pas sans danger notamment son addiction qui peut être très forte et le sevrage est très dur un peu comme avec l'héro (de ce que j'ai vu sur le net). Mis à part ça, et le goût très amer, c'est très reposant avec 5gr, je conseille le produit pour les stresser, cette sensation a duré 3h à peu près, j'en rachèterais la prochaine fois et je pense me faire une infusion par semaine si besoin est.

29/Dec/2022

WOW!
Strongest Kratom I ever had. Also tastes okay. Good for people like me who tend to take higher dosages for a dreamy mindstate :) but a little but expensive...

21/Dec/2022

bestes kratom bei Zamnesia preis/Leistung
Habe Erfahrungen mit allen opis, hatte sogar ne schlimme Oxycodon zeit die ich zum Glück bewältigt habe ohne abzustürzen. Kenne mich mit Toleranzen gut aus. Wer keine opioide konsumiert wird hier ein wunderbar stimulierende opioid ähnliche Erfahrung machen ganz ohne Chemie. 2g in kapseln reichen für einen euphorischen turn der einem den Tag sehr angenehm macht, 2g abends nachgelegt gehts in Richtung Sedierung und einen wohlen schlaf. Aber bedenkt: ES MACHT SÜCHTIG wenn man es regelmäßig macht! Nur zum spaß aber niemals zur problembewältigung !!!

08/Dec/2022

Kratom
Excellent, m a beaucoup aidé à ne pas devenir fou car je ne dormais plus depuis des lustres .

08/Oct/2022

SUPER SYMPA
effet confortable dans un café doser a 5/6 gr , merci zami

01/Oct/2022

red kratom
Red kratom gives very relaxing and calming effects, better (and probably safer) than any chemical tranquilizer.

24/Sep/2022

a really great natural product!
never thought that a natural product can give you so much relaxation and satisfaction. a relaxed feeling without hanging out and getting sleepy. for hours a dreaming in your mind - at least for me ;). Unfortunately, the mind gets used to the magic remedy, so not too often, rather take a break :)

15/Sep/2022

Interesante
Me ha parecido un producto interesante. Lo he consumido durante un par de meses de forma relativamente habitual (espaciando las tomas para evitar posible dependencia), y, sabiendo que es una sustancia legal, sus efectos me han sorprendido bastante. El precio es quizá un poco elevado, pero parece un producto de calidad.

17/Jul/2022

Todo perfecto
Gran producto. Efecto muy agradable. Envío rápido y discreto.

29/Jun/2022

Parfait
..un peu plus cher que d'en d'autres shops mais très efficace ..

24/Jun/2022

Meilleur KRATOM !!!
Bonjour à toutes et à tous, Tout d'abord je souhaite féliciter et remercier ZAMNESIA ! Beaucoup de sérieux et d'investissement ! J'ai eu un problème avec un code promotionnel et un technicien à réglé cela en quelques heures et quelques mails. On sent un réel désir de satisfaire le client. Les prix sont hélas élèves mais avec les promotion régulière cela peut le faire. Je pense qu'il faudrait mettre en place une fidélisation avec 5% de réduction tous les 100e d'achat sur la commande à venir. Je commande tous les mois et je trouverai satisfaisant de voir ma fidélité remerciée. Parlons maintenant du KRATOM :-) Un produit rare, miraculeux, que j'adore et qui m'aide dans des addictions diverses et variées... Le Kartom m'a sauvé la vie et je ne comprends pas qu'il ne soit pas donné par les médecin !!! J'en prends depuis 6 mois et je n'ai aucun effet secondaire, ma dépression et mes addictions canalisées. La sensation offerte par ce produit est stupéfiante, il faut parfois quelques jours pour voir l'effet sur les addictions ? Pourquoi l'interdire ? Pourquoi au contraire ne pas le donner gratuitement aux personnes en grande souffrance ? Lorsque j'aurais 1 an de recul, je pense que je pourrai avoir un témoignage plus précis et fiable. Au niveau des produits, j'en ai essayé beaucoup et hormis le prix, mes préférés sont cette poudre et la version en goutte à mettre sous la langue. Après des infidélités sur d'autres sites... Produits beaucoup moins chers mais moins efficace, j'en reviens à cette poudre et/ou la version liquide très puissante. Je dilue la poudre dans de l'eau chaude avec de la chicorée soluble. Ou je mets le liquide sous ma langue et j'ai rapidement un effet. Je voulais essayais le MA DA mais je me suis trompé dans ma commande et j'ai recommandé le RED. J'aurais aimé testé la différence. Je le commanderai des que j'aurais la possibilité financière pour. Voila pour le KRATOM, donc en résumé en conclusion : Je mets 5 étoiles pour le produit qui est efficace ! Je mets 5 étoiles pour le site ZAMNESIA Je mets 5 étoiles pour la livraison : rapide et discrète Et le seul bémol sera le prix... Pour finir j'ai également testé la réside, qui est actuellement en rupture de stock et je n'ai pas ressenti la même puissance... Ce n'était pas si fort et plus difficile à doser etc... J'espère qu'il y aura bientôt des études poussées et précises sur le KRATOM. Je vous le conseille donc mais soyez vigilant sur les doses et surtout ne l'acheté pas n'importe ou. Je vous ferai un nouveau retour dans 6 mois et aussi si j'arrive à goûter la version MA DA Prenez soin de vous ! Je vous embrasse, KAKO

14/Jun/2022


Très bon produit . Malgré celà ,attention à l'addiction . Ne pas excéder 5 g par prise sinon ce sera tout le contraire , fatigue, déprime nausées pendant 3 jours . Et attendre au moins 8h entre chaque prise . Si tu respectes ces règles aucun souci. C'est très agréable.

03/Jun/2022

Macht müde Knochen wieder munter
Sehr gut zum Entspannen funktioniert aufjedenfall.

26/May/2022

Bien être
Le plus léger des kratom à mon avis.

21/Apr/2022

Sehr entspannend
Das Kratom hat eine sehr entsprechende Wirkung.

20/Apr/2022

tres bien!
Très bon produit relaxant je le recommande vivement!!!

18/Apr/2022

Tutto ok
come descritto ottimo orodottk

18/Apr/2022

Une merveilleuse plante MAIS …
Salut à toutes et à tous , je vais vous partager mon expérience avec le kratom en 1 an de consommation voici ce que j'ai noté ( ça va être un peu long ) . Tout d'abord une petite présentation de ma part , je suis une femme de 31 ans , je ne fume pas , je bois occasionnellement, j'ai déjà consommé quelques drogues mais toujours dans des moments festifs et toujours occasionnellement aussi . Par contre je suis une personne extrêmement angoissée , stressée avec la peur de tout , je fais des crises d'angoisse , je suis plutôt insociable avec la peur de l'autre… bref vous avez compris , c'est devenue invivable à un moment et je ne faisais plus rien il fallait que ça s'arrête . Il est hors de question pour moi de passer par des médicaments donc je me mets à chercher et fouiller partout pour trouver quelque chose qui pourrait me détendre et m'aider un peu. Je trouve et lis énormément de choses sur le kratom , je décide donc de tenter l'expérience à raison de 3-10 grammes max par jour . En 1 an j'ai remarqué un réel changement au niveau de ma sociabilité , je sors beaucoup plus et avec plaisir , j'ai moins peur des gens et je suis plus sociable , j'ai une humeur bien stabilisé ce qui est plutôt agréable pour moi comme pour les autres , mon stresse et mes angoisses ont fortement diminué je m'inquiète de beaucoup moins de choses et franchement ça change là vie , j'ai la tête plus posée, les idées plus clairs , j'ai envie de me bouger et de faire des choses , ma motivation est revenue. La consommer à titre récréatif est très plaisante aussi , moi qui compose de la musique électronique j'ai bien aimé. A petite dose effectivement elle a un effet stimulante ce qui est plutôt agréable suivant ce que vous voulez faire et à grosse dose elle a bien un effet sédative je dirais même que l'effet se rapproche des somnifères , anxiolytiques enfin un peu tout ça quoi . J'ai toujours eu des problèmes pour dormir et depuis que je consomme cette plante je dors vraiment très bien . Attention en consommer régulièrement peut vous faire perdre du poids elle a un effet coupe faim , j'ai perdu 6 kilos en 1 an , je ne mangeais plus s'en m'en rendre compte . Elle donne très soif , il faut savoir que c'est un diurétique et donc on va souvent faire pipi et on bois beaucoup . Mon teint du visage a changé et ternis un peu , c'est léger mais je le vois quand même . Pensez à vous brosser les dents après chaque prises car ça a tendance à verdire un peu les dents sinon . Pour profiter pleinement de ses effets consommer le kratom a jeûn . Le fait de manger diminue pas mal les effets . Suivant la dose que vous consommer il y a un effet bien planant donc ne prévoyez pas de prendre la voiture ou autre par sécurité . Si vous prenez une dose trop costaud une bonne nausée peut s'installer donc prudence. Une tolérance s'installe à un moment donc il faut varier un peu de type de kratom ( rouge , vert , blanc etc …) . J'ai des règles très douloureuse et ça m'a bien calmé les douleurs à ce niveau là . Mais ATTENTION le kratom est une drogue au même titre qu'une autre les amis donc ne la sous-estimé pas ! Le fait de la prendre en tisane n'enlève en rien ses propriétés , ses effets . J'ai voulu tester d'arrêter d'un coup et un syndrome de sevrage bien présent m'a fait passé un sacré mauvais moment. Syndrome des jambes sans repos ( atroce …) , transpiration excessive , mal de ventre… J'ai repris ma consommation habituelle et je vais faire mon sevrage progressivement sans pour autant arrêter car j'aime ses effets ( je vais descendre à 2-3 fois par semaine ). Il ne faut pas oublier que le kratom est très proche des opioide , je le répète c'est une drogue au même titre qu'une autre ! Je regrette absolument pas d'en avoir consommé car pour ma part ça m'a aidé sur énormément de choses , en 1 an j'ai bien avancé et évolué. Je suis persuadé que cette plante a des vertus ( comme le cannabis ) et peut aider sur beaucoup de choses ( c'est sûrement pour ça qu'elle est devenue illégal depuis 2 ans d'ailleurs) Je voulais vraiment partager ça avec vous pour ceux qui se posait la question sur les effets à long termes. Voilà les amis je vous souhaite à toutes d'être heureux. Le kratom se consomme avec respect . Peace

08/Apr/2022

Best Kratom for late evenings
This kratom - vein is best used for late evenings, cause it's the least stimulating of them all. It provides much relaxation and can also be a bit euphoric in higher doses. It's still stimulating when used in lower doses, but it doesn't hinder sleeping all that much in my experience. Only downside is, that red kratom always tastes the worst for me, not that kratom tastes good in general, but this one was the least bearable. Overall I can recommend all products from Jetpackkraton, they deliver high quality to reasonable prices!

06/Apr/2022

Déception
Déçu car je n'ai rien ressenti, J'en ai d'abord pri après avoir mangé au soir 4h après, À jeun au matin, à chaque fois une cuillère à café, Mais malheureusement pas de pique d'énergie ou autre décontraction..

21/Mar/2022

Very good Kratom
The most potent I've tried to this day

04/Mar/2022

Genial!
Recibido en perfecto estado, Se retrasó un poco pero mereció la pena la espera... Muy contento con el producto, volveré a repetir!

04/Mar/2022

Jamais déçue
Jamais déçue avec ce Kratom. L'idéal pour une soirée détente à la maison le Vendredi soir devant des séries.

12/Feb/2022

Decent experience
Delivered very quickly - a lot faster than I expected which was nice :) Kratom is quite good . Has a relaxing feeling however I need to drink quite a bit. You get an easy relaxing feeling and can still do other things in the meantime i.e. watching a movie or talking to friends If you are looking for something more powerful sedative i.e. for something to really allow yourself to fall asleep or compleltly recharge your batteries I would suggest a high dose of the green malay kratom. All in all good but not super strong strain of kratom. 4/5 Thanks :)

11/Feb/2022

Very Relaxing
The red Kratom put your body and mind in a very conformable mood. It's not too strong but it works!

29/Jan/2022

Bueno
Me Gusta!

26/Jan/2022

Excellent !!!
Produit détend après une journée de travail Il est aussi à la productivité C'est un bon produit je conseille à tous

23/Jan/2022

Surprenant
J'ais essayé en infusion très sincèrement un bon effet de détente je recommanderais c'est sure

13/Jan/2022

Genial
Los efectos se notan rápidamente y duran varias horas si no se abusa

31/Dec/2021

De gran calidad
Muy bueno y super relajante. Ideal para desconectar los fines de semana.

15/Dec/2021

Christopherweeds
Ao top pour la détente en soirée avec la ganja

09/Dec/2021

Red gratom
Much better then like kratom Bali in In here now tpmsaöe

16/Nov/2021

Excelente
Muy buen kratom y muy relajante.

05/Nov/2021

Good kratom
Very satisfied with this kratom. The taste could be quite a bit better but I don't ingest it because of its flavour.

29/Oct/2021

poudre de kratom red
c,est bien pris une forte dose pas decu merci

13/Oct/2021

Il migliore
Premetto che sono un amante del Kratom , ho usato molte sostanze stupefacenti e questa è di sicuro la migliore per via delle sue proprietà ed effetti stimolanti ed energizzanti ottimo per lavorare e rilassanti se il è dosaggio, effetto molto simile agli oppiacei ; non crea dipendenza solo tolleranza . Ora passiamo al prodotto, anche se il costo è alto paghi un prodotto eccellente , ho provato kratom di altri marchi/siti ma questo è il migliore, nello specifico quello rosso. Avvertenze: se sei solito ad assumere droghe, il kratom non si fa sentire!! io ora come ora sto assumendo oppiacei e di conseguenza non riesco a sentirne più gli effetti . Il kratom va usato da solo e sporadicamente in modo tale da otterne ottimo benefici, l'effetto è certo. Mio consiglio: abbondate non abbiate timore 7/8g poi se non vi "sale" aumentate il dosaggio , la nausea è normalissima non allarmatevi, non morirete. Se sentite l'effetto, non aumentate la dose perché quello sarà il massimo che potrete percepire, così facendo eviterete di sprecarlo inutilmente. Come per la maggior parte delle cose, questa è la mia visione soggettiva , kept esempio io non posso fumare le canne durante la "kratomizazione" perché entrò in paranoia. Molti sono scettici ed è comprensibile visto che è una sostanza ancora sconosciuta, fatto sta che sono riuscito a far provare e a convincere tutti i miei cari, di quanto sia prezioso questo "The magico". Per consumare questo prodotto consiglio di miscelarli con latte e nesquik freddo al fine di coprire il gusto amaro e polveroso. Da bere a stomaco vuoto, mangiare una volta sentito i primi effetti, questo vi consentirà di aumentare la cosiddetta "pacca" per godersi a pieno questo momento di relax e coccola.

27/Sep/2021

Kratom
Excellent produit

13/Aug/2021

Cool
Fa il suo dovere anche a Piccole dose.(comunque attenti a l astinenza e tosta)

03/Aug/2021

Nice product
I like it, not strong effect, expensive but i like the little chilling effect after 10g of this product :) Also thanks zamnezia the delivery is very fast, thanks ! i'm an old zamnezia customer since near 10 years now ^^

15/Jul/2021

Très bon kratom
Probablement le meilleur kratom du catalogue de zamnesia, très bons effets.

28/Jun/2021

Excellent
Je mélange 8gr à 3 yaourt, le goût est pas bon du tout mes 30 minutes après gros posage pendant 6heures

22/May/2021

Bon produit
Très efficace sans besoin de trop doser. Le dosage suffisant serait : une cuillère à café rase dans du thé vert avec une grosse cuil à soupe de miel pour faire passer l'amertume..

07/Apr/2021

Favoriet!
Mijn favoriet product, echt top, meteen opgewekt en happy, energiek gevoel. Het eerste wat ik drink bij de start van men dag

29/Mar/2021

Große Überraschung
Dieses Produkt hat mich am meisten überrascht super schöne Wirkung man schläft sehr gut ein

04/Mar/2021

Wirkt immer
Das Pulver habe ich gekapselt (schmeckt sonst einfach nicht schön) und bereits knapp über 1 g reicht bei mir total aus. Ich werde jetzt auch hier eine größere Menge bestellen - und auch die anderen Jetpack Sorten.

22/Dec/2020

Effet sympathique.
Effet différents selon votre dosage. Perso. Mélangé avec un jus multivitamines. Ça passe bien

12/Dec/2020

enspannt
gute wirkung

07/Nov/2020

excellent kratom
really nice kratom, strong + high quality. Perfect

01/Apr/2020

Fantastic product
Very good product, definetly i could feel a pretty strong effect with just 5 grams, i got very relaxed and meditative. With less (2-3) grams it give me energy and made me concentrated on my work. I recommend this product both for relax or energy effects, thank you zamnesia

23/Mar/2020

Ideal for meditation
Very relaxing, great before meditation

28/Jan/2020

Best kratom for relaxation
Title says it all

13/Jan/2020

Rilassante
Si tratta forse della varietà di Kratom più conosciuta e diffusa. Qui prevalgono effetti che si possono definire più rilassanti che non strettamente piacevoli e sicuramente l'aspetto più "sedativo" è quello dominante. La cosa può piacere o anche no... Questa varietà è adatta da prendere la sera quando non avete nulla di particolare da fare e volete solo rilassarvi a fine giornata. Gli effetti sono abbastanza blandi ed è anche possibile salire un po' nel dosaggio senza grandi problemi. Ne sconsiglio però l'uso se dovete fare una qualunque cosa, sia perché l'aspetto "sedativo" tende a tirarvi un po' giù sul versante attivo e sia perché diventa più problematico restare concentrati se dovete dedicarvi a qualcosa.

17/Oct/2019

Nice and relaxing
Really nice relaxing feeling and lasts a whike

You cannot post a review because you have not purchased this product
Restrictions
Please note that if your country is not on our general shipping list, we're unable to ship any item on our website to it. For more information check out the list here: Ordering & Shipping
Video (1)