Jetpackkratom GOLD Liquid Extract
(

138

)
Jetpackkratom's Gold Liquid Extract makes it easier, and more convenient to consume a precise dose of this mystical herb with every use. No guesswork is involved, like there is with dried leaves, because each batch is fully tested to ensure every milliliter contains exactly 80mg of mitragynine. That's comparable to 8g of powdered leaves.
This item is not available in your country
We are sorry, this product is currently not available for shipping to your country. Please check back for future availability.
More info
Jetpackkratom - Kratom GOLD Liquid Extract: Pure, concentrated, easy to dose
Kratom is a multi-purpose herb that allows different experiences based on how much you consume. Use a little and you'll quickly feel energized, motivated and ready to get to work. Bump up the dosage for full body relaxation and a great night's rest.
Because potency varies greatly in dried or powdered kratom leaves, it's hard to get the dose just right. That's where Jetpackkratom steps in with their Kratom Gold Liquid Extract. It's been purified and concentrated, so you can control its effects on your mind and body by simply measuring the dose with the included pipette or syringe. There's no guesswork involved.
HOW DO I USE KRATOM GOLD LIQUID EXTRACT?
You can take the extract in two ways. Simply place the drops under your tongue and allow to absorb. Wait at least 30 seconds before you swallow. If it happens that you dislike the taste, add your dose to a liquid beverage, like coffee or juice.
The actual dose will depend on your individual reaction to Kratom Gold Liquid Extract. Jetpackkratom recommends that you start off with a 0.5ml dose, then gradually increase it, once you've seen how the product affects you.
If this is your first time using kratom, don't increase the dose right away. It may take a few tries for your brain to recognise the active ingredients and react. Until this happens, you may feel nothing or you may only feel mild effects. It's important to titrate slowly, so that you don't take too much by accident and have an uncomfortable reaction.
Effects are usually noticeable within 5–10 minutes, and can last for up to 8 hours.
WHAT WILL MY ORDER INCLUDE?
The only ingredients are ultra-purified water, polyethylene glycol and mitragynine extract, the active ingredient in kratom. The mitragynine concentration level is 80mg/1ml of liquid.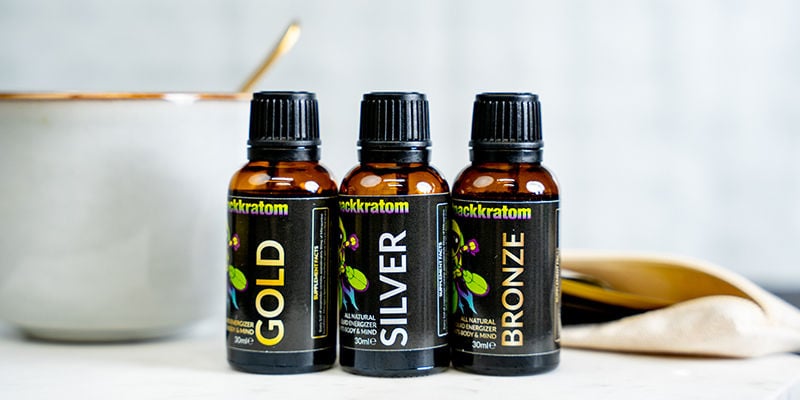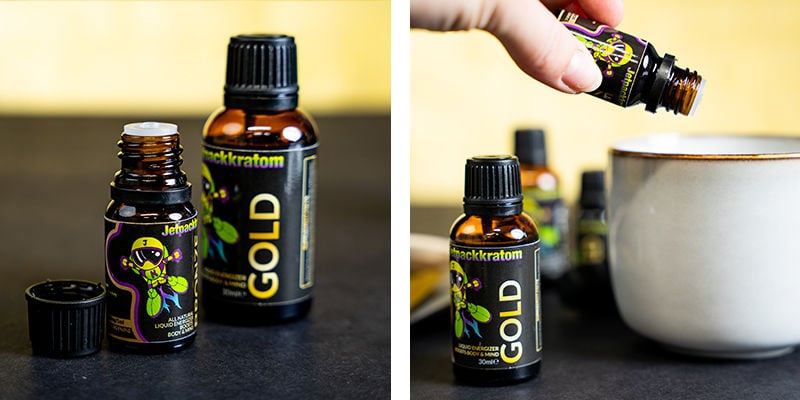 Jetpackkratom GOLD Liquid Extract data sheet

| | |
| --- | --- |
| Type | Tinctures |
More information related to this product:
Reviews (138)
View all reviews

09/Nov/2023

C'est le meilleur
Avec 5 gouttes les effets sont là et je me sens plus à l'aise dans mes échanges et par ailleurs utile pour les journées intenses au boulot

03/Nov/2023

Potent
Man braucht echt nicht besonders viel davon, ich habe immer 10 Tropfen in eistee gelöst. Auf der Arbeit ist es praktisch und unauffällig. Mit dem gemahlenen pulver hat man mich immer schräg angeschaut wenn ich jeden Tag 4 halbe Liter Getränke in dieser giftigen Farbe zubereitet habe. Ich finde die Wirkung aufpuschend, höhere Dosen empfehle ich nicht wehenden anstehenden verstopfung.

30/Oct/2023

Ottimo prodotto
È proprio come dicono, poco ti sveglia, un po' di più ti rilassa. Ottimo

29/Oct/2023

Top product & helpful for di
In combination with the capsules from jet pack Kratom is my day perfect. Very good shipping & very fast which is useful. I only can recommend this extracts and of course this shop! Keep it up and greets to the zamnesia team

26/Oct/2023

Great product!
This is really a great product..! It helps against severe pain. Unfortunately, the last time I ordered, my bottle was broken. I hope Zamnesia will fix this very fast, because I really needed the new bottle…! At this moment I' m awaiting their response, but I had hoped for a quicker response.

24/Oct/2023

Buen producto
Se nota mucho, pero si tomas más, la sensación de no aguantar los párpados es brutal.

23/Oct/2023

Top product
Heel goede kwaliteit lage dosering brengt het veel energie en bij hogere brengt het een rust bij een te hoge dosering kan je maag wel wat keren en een braak gevoel bezorgen. Heb je toch rapper bij de gold of bij de zilveren bottle.

11/Oct/2023

Bien mais cher
Efficace, je prend 7-10 gouttes sans grande tolérance pour un bon effet stimulant/apaisant. L'intérêt est que c'est facile à transporter, à doser, et on en commence moins (en terme de quantité) que la plante, même si le goût ne me dérange pas + que ça avec du sucre ou miel. Je mets une étoile en moins pour le prix.

10/Oct/2023

Angenehm!
Kratom überhaupt ist wenigstens etwas, wovor man sich nicht fürchten muss. Ich habe das Fläschchen Extrakt heute bekommen und unter zwei mal ca. einen Milliliter unter die Zunge genommen und ca. 30 Sekunden gewartet, zum Runterschlucken, wie empfohlen. am Balkon und bin gerade angenehm angeturnt. Wahrscheinlich kommt das Fläschchen heute noch weitere male zum Einsatz. Eben schade, dass es so teuer ist. Ich sage, wenn man aufs Geld nicht so achten muss, könnte man das Fläschchen eigentlich immer mit bestellen. Ich wäre dann auch gespannt, wie es ist, nach einer ordentlichen Pilzsession, wenn man eigentlich nur mehr Ruhe möchte und sich dann langsam in den Mütz wiegen möchte. Wahrscheinlich braucht man dann schon einiges davon. Ich hatte früher auch einmal diesen braunen "Bollen" von Kratom-Extrakt gekauft, war auch nicht SO billig und ich musste einen scheußlichen Tee zubereiten. Die Wirkung war o.k. der ganze Bollen ging dann auf einmal auf. Bei 10ml dieser Tröpfchen hat man wenigstens ein bisschen mehr davon. Und die Konsumform ist in Puncto Graus "harmlos" und dass es etwas kostet, ist auch zu verstehen. Da ich mich, hier beim Schreiben, auch gut konzentrieren kann und alles viel Spaß macht, ist es, denke ich, dann und wann mal ok Kratom überhaupt ist wenigstens etwas, wovor man sich nicht fürchten muss. Ich habe das Fläschchen Extrakt heute bekommen und unter zwei mal ca. einen Milliliter unter die Zunge genommen und ca. 30 Sekunden gewartet, zum Runterschlucken, wie empfohlen. am Balkon und bin gerade angenehm angeturnt. Wahrscheinlich kommt das Fläschchen heute noch weitere male zum Einsatz. Eben schade, dass es so teuer ist. Ich sage, wenn man aufs Geld nicht so achten muss, könnte man das Fläschchen eigentlich immer mit bestellen. Ich wäre dann auch gespannt, wie es ist, nach einer ordentlichen Pilzsession, wenn man eigentlich nur mehr Ruhe möchte und sich dann langsam in den Mütz wiegen möchte. Wahrscheinlich braucht man dann schon einiges davon. Ich hatte früher auch einmal diesen braunen "Bollen" von Kratom-Extrakt gekauft, war auch nicht SO billig und ich musste einen scheußlichen Tee zubereiten. Die Wirkung war o.k. der ganze Bollen ging dann auf einmal auf. Bei 10ml dieser Tröpfchen hat man wenigstens ein bisschen mehr davon. Und die Konsumform ist in Puncto Graus "harmlos" und dass es etwas kostet, ist auch zu verstehen. Da ich mich, hier beim Schreiben, auch gut konzentrieren kann und alles viel Spaß macht, ist es, denke ich, dann und wann mal ok

13/Sep/2023

surement bien
pas d'effet mais tout le monde est différent, 5 étoiles c kdo

12/Sep/2023

Great service
Great service. Not sure how much effect the product has on me.

09/Sep/2023

More magic
I just can talk about a joyful experience, happy and filled with gratitude. Just reemberr that we're within the sphere of magic: and magic must always be treated with respect and explored with caution. Listen to the advice of others, keep your ego aware of its limits and remember these are gifts you're given, not powers that you own.

08/Sep/2023

High grade Kratom extract
we use a couple of drops every other day against anxiety. For us, it is the best way to deal with it without side effects or withdrawal symptoms.

03/Sep/2023

bizzare/20
c'est ridicule tellement c'est bon, faut pas en abuser la tolérance arrive très vite!

31/Aug/2023

Scream if you wanna go faster..
Quality gear this.. Be smart it's POtent..this site is nothing but SPOT ON, DIRECT WICKEDNESS , TO YOUR DOOR..!!!! PEOPLE, WE BLESSED WITH THE BEST.... Much Love 2 The Zammi Squad. We "Exit the Brexit-tear's" Salute you

28/Aug/2023

Verrassend goed en multifunctioneel :-)
Ik kocht Kratom Gold voor mijn vrouw en mezelf als occasionele oppepper. Ik was erg nieuwsgierig naar de effecten van Kratom maar ook wel wat beducht voor mogelijke bijverschijnselen. De eerste keer dat we Kratom gebruikten (4 druppels sublinguaal) sloeg het spul vrij snel aan: binnen de 15 minuten waren de eerste effecten merkbaar. Ik voelde me wat energieker -doch zonder 'speedy' te zijn - en had iets meer focus. Wel voelde ik me wat vreemd in mijn hoofd, een beetje ijl maar niet duizelig of suf. Bij mijn vrouw waren de effecten vergelijkbaar. De keren daarna was het rare hoofdgevoel niet meer waarneembaar; blijkbaar is dit iets wat zich vooral bij beginnend gebruik laat merken. Wat wel typisch is voor Kratom onder de tong is een wat verdoofd gevoel van de tong en sommige delen van de mond. Mijn vrouw heeft wel eens last van migraine en toen ze onlangs weer een aanval voelde opkomen suggereerde ik haar om Kratom te proberen, gezien de pijnstillende eigenschappen bij hogere doseringen. Ze nam zo'n zes druppels en binnen de 10 minuten(!) was ze van de migraine verlost. Een tijdje later had ze een nog zwaardere aanval en heeft ze 10 druppels genomen: binnen het kwartier liep ze weer vrolijk rond! Dit is werkelijk een heel mooi aspect van Kratom, de mogelijkheid om zeer snel, op een natuurlijke manier en zonder noemenswaardige bijverschijnselen iets zo heftigs als migraine mee te bestrijden.

10/Aug/2023

Good extract
It works well, and the taste is very tolerable, compared to the powder. 10 drops (which should be about 0.5ml or a bit less) has a nice effect.

23/Jul/2023

Sehr gut
Hab es mir zum ersten mal bestellt und muss sagen wirkt echt stark nur der geschmack ist echt hart ;DLieferzeit war sehr schnell Top Produkt

14/Jul/2023

Qualität top, Lieferzeit flop!
Qualität top!

05/Jul/2023

The best
The best of all three variations

04/Jul/2023

!!!!!!
Incroyable

23/May/2023

Gutes Produkt
Gutes Produkt.

17/May/2023

Potente
Facil de dosificar, alta calidad, muy contento con la compra. Sirve para dejar ansiolíticos y opioides progresivamente, y cuando cortas el suministro de kratom no tienes efectos secundarios. Mágico.

11/May/2023

Correct
Pas mal ! mais je préfère le prendre en poudre, plus concentrée en divers alcaloïdes.

09/May/2023

Works Fine :)
High quality stuff but still too expensive

08/May/2023

Risultato
Molto interessante!!!!

03/May/2023

strong stuff
Strong stuff, but overall, I tolerate the capsules better.

01/May/2023

Nice one
This one is really good!

26/Apr/2023

MitraMadMan
This is very potent! Took a while to get the dosage right but I found the sweet spot and it is awesome!

26/Apr/2023

Super good
Super good product, use it for pain every day. Dosent let me down, strong quality of kratom.

25/Apr/2023

Yes but...
It definitely works great and it is by far my favorite liquid extract. HOWEVER, it is really pricey... I'd buy it more often if I didn't have to sell a kidney each time!

17/Apr/2023

très bonne qualité
produit conforme et très bien

17/Apr/2023

Good product
I like it

14/Apr/2023

Pratique
Consommateur régulier de kratom en poudre, ce conditionnement facilite la consommation du produit et on ne perd pas les bienfaits de la plante.

07/Apr/2023

Effet très sympa
Super pour passer une bonne soirée! 10 gouttes suffisent, 20 pour les plus forts

20/Mar/2023

Kratom
Ottimo prodotto, grazie.

07/Mar/2023

Super
Immer wieder gut

26/Feb/2023

super comodo
super comodo de tomar y de llevar, me encanta

18/Feb/2023

J'adore
Great product and best effects

07/Feb/2023

bien
super mieux que le café ,super ,le prix fait mal ,l'extrait est top ,le goutte à goutte est top

03/Jan/2023

Super Qualitätsprodukt
Wirklich zu empfehlen.

30/Dec/2022

Super Qualität
Hab schon einige extrakte probiert. Aber dieses ist mit Abstand das beste und seinen Preis wert

30/Dec/2022

Was für unterwegs.
Ich hab das für unterwegs gekauft,weil das praktisch ist. Man muss nur kräftig schütteln und unter der Zunge tropfen. Aber ich habe festgestellt das dass wirkt nicht so gut wie Pulver. Schade. Es betäubt meiner Zunge und ich bekomme bishen Kopf Schmerzen und verspüre nur leichte Wirkung. Wollte was für unterwegs haben. Vielleicht wirkt das nur bei mir so komisch.

23/Dec/2022

Ongelooflijk
Deze extracten geven heel veel energie. Ik wissel om de 2 dagen af tussen Gold, Silver en Bronze. Na een uurtje kan je ook gemakkelijk bijnemen.

11/Dec/2022

Good buy
Great service and quick delivery. Good product in handy bottle, very convenient and would recommend.

20/Nov/2022

Kratom
Produits de bonne qualité. Dommage pour le tarif élevé

21/Oct/2022

Bien concentré
C'est top parce que c'est bien concentré et plus facile à consommer. Ça a un fort goût de réglisse.

18/Oct/2022

Good fix for opioid comedowns
Extract seems good. Not so potential what is told, atleast not for me. But we all have our own tolerances.. Its still good stuff and works me for opiate cravings, withdrawal symptoms and/or as good pain killer.

11/Oct/2022

Energie, Fokus, Wohlbefinden
Die optimale Dosis für mich sind 5-6 Tropfen 30min nach dem Aufstehen. Das Kratom gibt mir eine sehr angenehme Energie, unterdrückt den Appetit und lässt mich aktiv und kreativ in den Tag starten ohne "hibbelig" zu sein wie bei anderen Stimzlanzien. Lässt sich perfekt mit Intermittend Dry Fasting verbinden, ich bin begeistert.

30/Sep/2022

Étonnant !
Très bon produit, filling , grande forme et enthousiasme détendu, pas de redescente à l'arrivée, bien sûr à ne pas consommer tous les jours !

12/Sep/2022

My first time with zamnesia
Really kind the package arrived in 5 days always available for questions the Jetpackkratom is very good thank you very much

07/Sep/2022

2 Tropfen
Das Gold Extrakt ist perfekt dosierbar. 2-3 Tropfen vor nem gemeinsamen Abend passen einfach perfekt

06/Aug/2022

Je recommande
Prendre 5 à 10 gouttes pour les plus initiés. Commencer doucement avec 3 à 5 gouttes. Agit sur le morale et sur l'empathie. Permet de discuter et de tenir une journée difficile. Attentions aux mots de tête quand la dose est trop chargée.

19/Jul/2022

Super!
Dit product helpt me geweldig tegen migraine en andere kwaaltjes. Zamnesia is een erg betrouwbaar bedrijf. Zeer goede klantendienst ook.

22/Jun/2022

Ich liebe es
Hat mir geholfen kein Verlangen mehr nach Alkohol zu haben. S.S.

18/Jun/2022

top
buono sia come stimolante che come oppiode, ma meglio a basse dosi per prevenire l'assuefazione

09/Jun/2022

The best pain relief
If you're in serious pain, and need help the doctor's can't or won't give, this is the kratom for you. This is intense and fast working pain relief, so only take it if the bronze or silver variety is not enough. But if that's the case, I recommend this.

29/May/2022

Profound effects
I'm using this product to treat burn out syndrome and I'm fascinated by the effects, physical and mental. It seems my ideal dose varies between 3 drops 3 times a day or 2 drops 4 times a day, to have a stimulant effect. Sometimes I take more but then I feel very drowsy the next day, almost hungover. I'm on my third buy of this curious product, with lots of gratitude. It's supposed to be treated with respect and love.

20/May/2022

Love it
Well done

30/Apr/2022

Einfach super
Schon bei der ersten Einnahme von 20 Tropfen ein super Feeling

26/Apr/2022

Zeer goed product
Geeft veel energie. Ik neem maar een paar druppels een stuk of 4 en dan heb ik daarna echt meer energie voor uren. Ik heb het echt nodig omdat ik een slechte slaper ben en mijn enegiepeil soms erg laag is. Het is redelijk duur maar voor mij is het dat waard.

23/Apr/2022

Geschmeidig
Ich benutze es um mich fitter zu fühlen. Es klappt sehr gut! Fühlt sich nicht aufdringlich an. Ich kann es weiterempfehlen.

07/Apr/2022

ECCELLENTE
Estratto molto forte ed efficace se lo si prende a stomaco vuoto, effetti travolgenti,distensivi a dir poco strabilianti che accompagnano gli effetti stimolanti di una sativa o quelli sedativi di una bella varietà indica al collasso divino! Attenzione però a tolleranza e astinenza, consiglio di informarvi un po' su effetti e dosaggi,prima di farne uso, enjoy ;-)

02/Apr/2022

Super produit !
Produit super efficace qui m apporte une réelle détente ! J'en suis à ma 3 commandes! Meilleur Kratom pour moi !

28/Mar/2022

Einwandfreie Qualität
Beste Geschmackserfahrung und Qualität wie man es von Zamnesia gewohnt ist! Ein muss für Jetpack-Masters =)

17/Mar/2022

Definitely good
Good stuff, most convenient serving and dosing, but also super expensive. Silver seems to offer the best value for money.

16/Mar/2022

100% satisfaction
I bought it several times and I love it. Very potent. The delivery is super fast. 5*

23/Feb/2022

Parfait
La plus efficace des formes de kratom. Facile a prendre, agréable

22/Feb/2022

efficace
Produit assez efficace, 8-10 gouttes suffisent pour un bon effet apaisant

21/Feb/2022

Starkes extrakt
Sehr praktisch für reisen und angenehme Wirkung aber leider Recht teuer. Die Dosis beträgt 10-20 Tropfen wobei 20=8g Kratom Pulver. Gerne wieder!

20/Feb/2022

Top
Bereits mehrere Male bestellt.... gleichbleibende TOP-Qualität! Jederzeit wieder, Daumen hoch!

07/Feb/2022

Top product
Werk pijnstillend en geeft meer energie. In hoge dosering ook fijn om te ontspannen.

05/Feb/2022

Sehr gut!
Bereits ein einziger Tropfen genügt um eine Wirkung zu spüren. Dosierung und Einnahme ist dank der flüssigen Form kinderleicht und sehr bequem.

06/Jan/2022

Best product on the market
My experience with Kratom products is admittedly limited (having sampled maybe a dozen products over the years), but in my experience Jetpackkratom's extracts are by far the most potent on the market, and reliably so. If you want to have the most bang for your buck, this is probably it.

29/Dec/2021

Super
Meine absolute Lieblings from Kratom zu konsumieren super tolles Zeug nur leider sehr teuer aber es ist das Geld wert

23/Dec/2021

Au top
Super kratom je kif speed et relaxant à la fois(le plus fort )

19/Dec/2021


non ho sentito quasi niente

17/Dec/2021

Calidad excepcional
Muy cómodo de usar y de lo mejorcito.

09/Dec/2021

Not sure..
I didn't feel much from it but that's me.

07/Dec/2021

LE TOP
voila le top du Kratom ! pour son dosage pour la faciliter à doser à la goutte prés ! chaque millilitre contient exactement 80 mg de mitragyne. Ce qui est comparable à 8g de feuilles en poudre.pour moi l'effet est relaxant avec 7 gouttes le top pour dormir mais aussi pou s'activer ! sans flippe ou nausée après le dosage est différent pour chaque personne autant commencé léger ! sa reste quand même très cher ! même avec 5% et pour ce qui est des tickets à gratter j'en ai reçu 6 au fur et a mesure de mes commandes ce qu'il y a c'est que je ne consomme pas de truffes ! et de tout façon les tickets ne sont pas ou plus valables ?!

04/Dec/2021

Ottimo prodotto
Come antidolorifico sono sufficienti 5 gocce 3 volte al giorno

13/Nov/2021

Very good
Very effective against all sorts of pain. Gives you energy when you need it (but you can be possibly very tired afterwards)

02/Oct/2021

Muy bien.
Lo utilizo como sustitutivo de los analgésicos que utizaba habitualmente para mi dolor crónico. Me va muy bien? Incluso lo combino con un aceite de cbd.

30/Sep/2021

Total enttäuscht
Ich kenne die Wirkung von Kratom bereits und habe auch schon Extrakte angewendet, aber dieses mal bin ich echt enttäuscht, absolut kein Effekt. Haben die vergessen, bei mir den Wirkstoff reinzugeben?

23/Sep/2021

Gutes Produkt
Die Wirkung ist angenehm. Gute Unterstützung wenn man einen Entzug auf eigene Faust durchziehen möchte. Nur der Preis ist etwas zu hoch.

20/Aug/2021

Works!
If you HAVE to perform but lack yhe stamina or energy, this will make you alert and active again. Might crash a bit afterwards, but that's to be expected, still only human after all...

18/Aug/2021

Sleep
Perfect for an 8 hour sleep!

10/Aug/2021

Chère mais une qualité au top
Pour le confirmer dans le kratom c'est le top permet de bien doser, par contre le goût n'est pas bon mais avec un jus de fruit c'est nickel

10/Aug/2021

Attention
Il marche vraiment attention au dosage ça peu être surprenant. J'utilise entre 7 et 10 goutte maxi …. Plus pour moi c'est trop

10/Aug/2021

Good
Quelques gouttes sous la langue et c'est parti. Effets plus fort et rapide

29/Jul/2021

Da dosare bene
La prima volta che l'ho usato ho preso 5 gocce,siccome non sentivo nessun effetto,dopo 20 minuti ne ho preso altre 2 gocce,ma niente. Un'altra volta ho provato direttamente 19 gocce a stomaco vuoto. E l'effetto c'è stato,mi sentivo leggermente euforica,poi ho iniziato a sentirmi come ubriaca e non riuscivo a tenere gli occhi. Dato che ero a cena con amici mi sono sentita un po' a disagio e mi è venuta l'ansia. Lo riproverò con 7,8 gocce dopo aver mangiato uno spuntino. Bisogna fare qualche prova per trovare il dosaggio per personale giusto credo.

05/Jul/2021

Effet parfait
J'avais essayé le kratom il y a quelques années : on faisait bouillir du cola (pour l'acidité et le gout, sinon c'est avec du citron) avec les feuilles pendant 15 minutes. Là, avec cet extrait (gold), le transport, la consommation et le dosage sont grandement simplifiés. Avec une dizaine de gouttes l'effet est (pour moi) : dans le "coton", motivé, envie de parler, de sourire. Avec 30 et plus, c'est l'effet assommant, stone. Et ça m'empêche de dormir, il faut que l'effet passe pour que le sommeil arrive.

03/Jun/2021

Buon prodotto
buon prodotto

30/May/2021

Incontournable
Essayé et adopté. Cinq gouttes sur une cuillère de miel suffisent pour la soirée (allez, 10 max). Le flacon dure longtemps. Tous les copains qui ont essayé ont été conquis. Belle découverte.

29/May/2021

Super
Bij 10 druppels verdovend effect.

19/May/2021

Perfect
does what it's supposed to do, effects very noticable, nice

17/May/2021

Bestes bisher
Auf leeren Magen merkt man's

15/May/2021

Algo que debe ser tomado en serio
Cumple lo que promete, no se trata de ningún placebo. Las primeras veces apenas noté el efecto, hay que darle unos días de margen al cuerpo para que lo asimile. Creo que vale la pena insistir. Si tuviera que resumir sus efectos, diría que da placer y bienestar físico y mental durante aprox. dos horas, usando entre 7 y 10 gotas. El kratom es un opiáceo legal, y no creo que sea inocuo. Ojo con las interacciones con medicamentos y otras sustancias. Ojo con la toxicidad y los efectos secundarios. Ojo con la adicción física y psicológica. Recomiendo leer sobre el tema y tener criterio y precaución al usarlo.

11/May/2021

bonne détente
Bon produit, 1.5 à 2 ml me permettent un vrai moment de relaxation. il faudrait juste savoir combien de goutes correspondent à 1ml.

22/Apr/2021

Exceptionnelle
Le système dosage permet un contrôle parfait et quand on s'est bien "testé" et que l'on sait comment on réagit au produit selon son dosage, on peut atteindre un effet énergisant puissant jusqu'à un niveau de méditation très puissant.

14/Apr/2021

Aangename sensatie
Na het poeder de druppels, makkelijk te doseren en geen gedoe meer met weegschaaltjes en het peder op te laten lossen. Een paar druppels in de thee en uren een aangenaam gevoel.

08/Apr/2021

Das stärkste & praktischste Kratom Extrakt das ich kenne
Es fällt super leicht zu dosieren, 10-15 Tropfen und ich habe eine intensive Kratom Erfahrung. Bin nach 5 Jahren vom Pulver auf das Liquid umgestiegen. Top!

19/Mar/2021

Es funktioniert
Gerade für Opioid-Entzüge sehr zu empfehlen.

17/Mar/2021

Spoonfull
Just a tip of a tea-spoon is enough. Good for mental focus

15/Mar/2021

el mejor kratom
sin duda el mejor y más rápido Kratom del mercado, algo caro pero el efecto es inmediato.

08/Feb/2021

Genial
El efecto estimulante que buscaba

28/Jan/2021

Great strong product
Either for total sedation at high doses or energizing at low ones this product is worth experimenting

23/Dec/2020

Ottimo
Sinceramente non mi sarei mai aspettata un effetto così... sosprendente!! Ottimo prodotto, un po' caro certo ma tutto ha un prezzo. Ottimo anche per calmare "spiacevoli" sintomi. Spedizione e imballaggio top!

03/Dec/2020

Ottimo
prodotto valido ma un pò caro. con 10 gocce si ottiene già un bell'effetto. Peccato per questi nuovi botticini privi di contagocce, quelli precedenti erano molto meglio.

19/Nov/2020

super produit
Le prix peu sembler abusé mais la qualité y est! De plus il est plus facile à dosé que les gélules. 20 gttes dans mon café et je suis bien motivé pour le travail :) et pour la fin un bonne pipette de 1,5 ml pour être bien reposé ;) Attention tout de même pour les dosages, on ne réagis pas tous pareil et la sensibilité peut varier d'une personne a l'autre.

23/Apr/2020

Pefekt
Wirkt schnell und gut. Lässt sich super dosieren. Je nach Bedarf lassen sich durch die Dosierung verschiedene Wirkungen erzeugen.

06/Apr/2020

Stimulating mood bost
This kratom provides a quite stimulating mood boost, just 3-4 drops sublingually are enough. Can border on restlessness when taking too much. Maybe not the best if you looking for calming relaxation. The extract is easier to take than raw kratom, still a bit nasty. The price is OK, a lot more expensive than raw kratom but also more convenient, you can easily take it with you etc...

06/Apr/2020

This is strong enough
Strong enough for everyone to feel the effects. Some alkaloids may be lost in the process of extracting, but it is easy to register the effects. I mostly use it as vaping liquid in some VG and PG.

27/Mar/2020

Produit testé
Pratique à consommer et beaucoup plus fort que les feuilles ou la poudre ...

24/Jan/2020

Super!
Impeccable pour doser parfaitement le kratom...Avec jus de citron et miel dans un verre... Détend tout en boostant, parfait pour se sentir "en forme". Je conseille+++

17/Jan/2020

Una bella esperienza
Ho trovato valido questo prodotto e ne acquistero sicuramente ancora. Grazie Amnesia, bella esperienza.

02/Jan/2020

pas terrible terrible
vraiment dessus par se produit il et vraiment très chère pour une qualité pas terrible terrible .faut prendre au moins 10 goutte pour un effet relaxant et la fiole et presque fini . je conseille de prendre une poudre de kratom de bonne qualité et vautre porte feuille vous dira merci .

17/Dec/2019

Super!
I am new with Kratom but I have to say that this products actually work! I loved it, I am going to purchase again. It is quite potent for me as I am never used before but it is easy to adjust quantity. The Zamnesia staff is incredible: the best!!

03/Dec/2019

Works
Ugly taste but has a strong effect for a legal one (Took 20 drops wait 60min)

15/Nov/2019

Efficient
Only have to take 4 drops and you get good energy and focus for the Day. Will try for the other strains. Only issue, it s qui te expensive

07/Nov/2019

Immer die Power dabei :-)
Das ist mal echt gutes Kratom! Wenn ich mal müde werde einfach 10, 15 oder 20 Tropfen unter die Zunge tropfen, 30 sek. Warten, mit einem Getränk runterspühlen und nach kurzer Zeit, max 15min bin ich fit, energiegeladen und voll motiviert zu arbeiten. Sei es auf der Arbeit, im Haushalt oder beim Sport. Das macht echt fun. Nie wieder schlapp machen Dank Kratom. Ich nehme am liebsten auch das Gold. Danke Zamnesia! J.C.

19/Aug/2019

Works well
This is my favourite form of Kratom. It's easily added to tea and works as advertised.

12/Aug/2019

A new experience
Strong enough to be used 1 time in a day to focus and "need and want to do" sensation. Just 1 ml and not more for the energy and focus or 1,5-2 ml to extended relax for mind and body. This product and Zamnesia are as usual 5 stars plus! Easy and professional translations. Stealth packaging.

23/Jul/2019

Une tuerie !
Un truc de ouf cette version Gold, franchement au début mettez pas plus que 10 gouttes dans votre boisson ou autre parce que ça envoi sa mère. Très bon produit, effets dans les 5-10 minutes max. Note: 10/10

22/Jul/2019

Buon prodotto
Il prodotto in se' è molto buono. Essendo più concentrato della versione base, ne basta di meno per ottenere il risultato voluto, ma questo significa anche che bisogna fare più attenzione a non sbagliare il dosaggio. Soprattutto quando la confezione è ormai quasi vuota e il dosatore non serve più, c'è il rischio che per usare la quantità residua rimasta si sbagli il dosaggio... Se da una parte un dosaggio troppo basso genera insoddisfazione e frustazione, uno troppo alto può avere un effetto piuttosto "sgradevole" e farvi passare la voglia di continuare a usarlo. Quindi attenzione a questo soprattutto. Il prodotto in se' è ottimo e merita di essere comprato, tuttavia non sono del tutto sicuro che la maggiore concentrazione sia del tutto proporzionale all'incremento di prezzo rispetto alla versione base. Da tenere comunque sempre in considerazione, soprattutto se ci sono promozioni o sconti.

19/Jun/2019

It works, but its quite expensive
Tried it out to get more motivation and focus. It definetely works. You get some of the I-am-hyped-and-want-to-work-Feeling you also get from potent medicinal Stuff. However, the price ist extreme.

07/Jun/2019

10/10
The taste is the only bad thing, effects are exactly the same as opiate's like codeine or morphine 1ml is more than enough for even experienced users, worth buying empty gelatin capsules to make your own kratom capsules with the liquid because the taste really is awful. 10/10 to zamnesia every time.

08/May/2019

Love It
Great for Studying, can focus for way longer.. One Full pipet per dose. Give or take..5* product

You can't post a review because you are not logged as a customer


Restrictions
Please note that if your country is not on our general shipping list, we're unable to ship any item on our website to it. For more information check out the list here: Ordering & Shipping
Video (1)