Thinking of purchasing kratom, but a little unsure of where to start? Well, let us put those worries to rest as you browse our information about kratom page. Here, we'll answer any burning questions you may have about kratom products. This way, you can make an informed purchase, and you'll have peace of mind when it comes time to try kratom yourself.
What Is Kratom?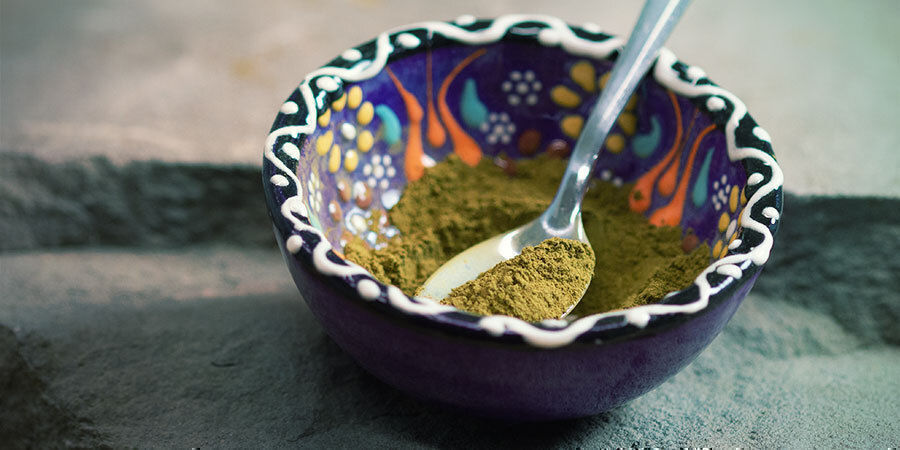 Mitragyna speciosa, otherwise known as kratom, is a tree native to Southeast Asia. The leaves of the kratom tree contain psychoactive alkaloids, and are harvested and used for that very purpose. Kratom produces effects similar to those of opioids and stimulants, depending on dose. Lower amounts will cause stimulating and upbeat effects, whereas larger amounts induce a more relaxed and dreamlike state.
Most users consume kratom extract in pill or powdered form. However, it is possible to smoke the leaves or even brew them into a tea and ingest them that way. Kratom is fast becoming a popular choice among those looking for an all-natural high that is fast-acting and long-lasting.
Chemistry Of Kratom
Only a handful of scientific papers in English have been written about kratom, its effects, and its centuries-long history of use.
What we do know is over 25 alkaloids have been isolated from kratom and, until recently, mitragynine was believed to be the main one responsible for kratom's effects, it being the most abundant alkaloid in the plant.
Then in 2002, 7-hydroxymitragynine was discovered by a group of Japanese researchers to be the most significant substance. Despite being present in much smaller amounts, this minor alkaloid of kratom was found to be even more potent.
Later research has determined that both alkaloids act as partial opioid receptor agonists, activating supraspinal mu- and delta- opioid receptors.
As word of its more recreational effects spread, so began the inevitable media reports and demonization of kratom. But this growing public attention, however ignorantly informed, also helped bring kratom to the notice of serious researchers.
Kratom's Many Chemical Compounds
Although the alkaloid structure of Kratom distantly resembles those of other psychedelic drugs such as psilocybin or LSD, no psychedelic activity has ever been reported after ingestion of Kratom. Instead, Kratom induces effects ranging from increased focus and activity to serious drowsiness and prolonged sleep. But there are vastly unknown desirable side-effects of Kratom ... and way more chemicals involved than only the so far furthest researched active substances 7-Hydroxymitragynine and Mitragynine.
During our research about the ingredients of Kratom we came across these chemical substances: Ajmalicin, 7-acetoxymitragynine, Corynantheidin, Corynoxein, Corinoxin, 3-Dehydromitragynin, (-)-Epicatechin, 3-Isocorynantheidin, 3-Isopaynanthein, Isomitraphyllin, Isospeciofolin, Isospecionoxein, Mitraciliatin, Mitrafolin, Mitragynalin , Mitraphylin, Mitraspecin, Mitraversin, Paynanthein, Speciociliatin, Speciofolin, Speciogynin, Specionoxein, Speciogynin, Speciofolin, and Stipulatin.
Kratom actually contains over 40 chemicals, but we'll limit our excursus to the most interesting compounds 7-Hydroxymitragynine, Mitragynine and (-)-Epicatechin.
7-Hydroxymitragynine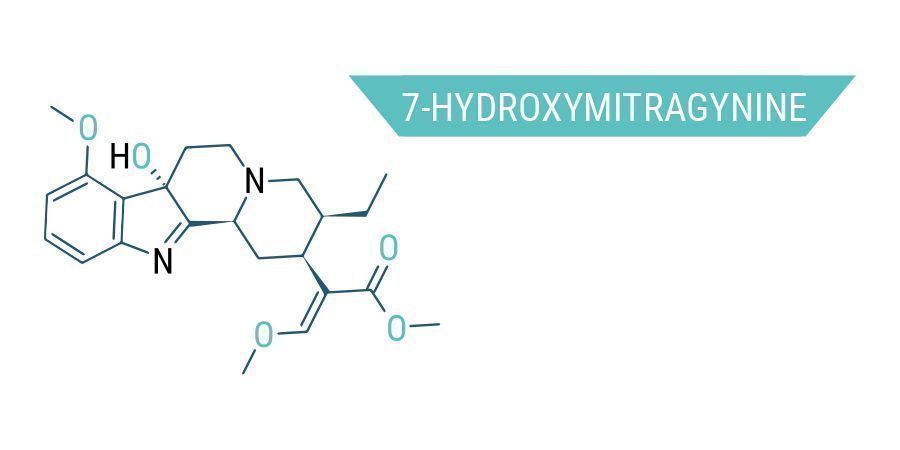 7-Hydroxymitragynine is the main ingredient in Kratom tinctures and has opioid agonistic activity. Recent research about the active substances in Kratom has shown that its potency is 30-fold higher than that of Mitragynine, which makes 7-Hydroxymitragynine the top candidate as main active substance in Kratom and puts Mitragynine, the previously assumed as main active chemical, in second place.
7-hydroxymitragynine interacts with the three major opiod sites Kappa, Delta and Mu, but it preferably binds to Mu receptors.
Mitragynine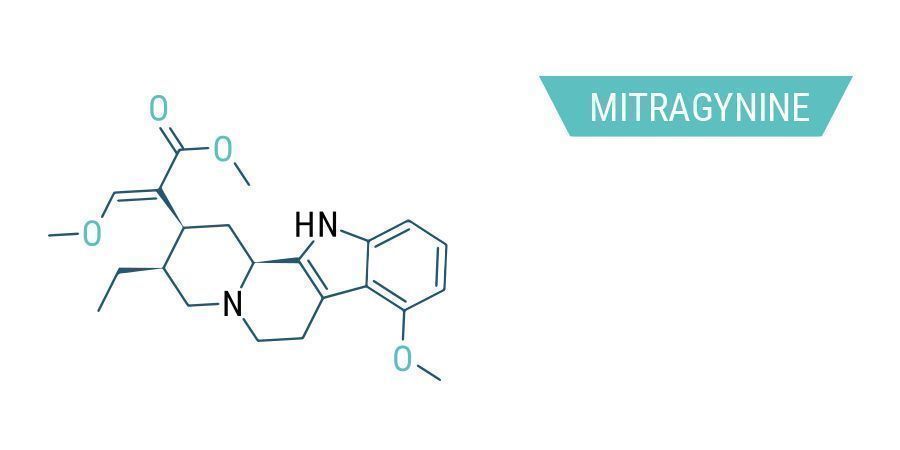 Mitragynine is an indole alkaloid and already has been isolated for the first time in 1907 by D. Hooper, so it actually took almost 100 years until it found its way to recreational use. It has been thought to be the primary active substance in Kratom, but it turned out to be only the most abundant active alkaloid (about 0.1-0.3%, depending on the plant).
A small dose of Mitragynine acts like a stimulant because it binds to the Delta receptors, but at higher doses it also binds to the Mu receptors. Although the structure of Mitragynine is similar to LSD or Psilocybin it does not induce any psychedelic effects. Since Mitragynine was assumed to be the main active substance in Kratom, it is better researched than 7-Hydroxymitragynine.
(-)-Epicatechin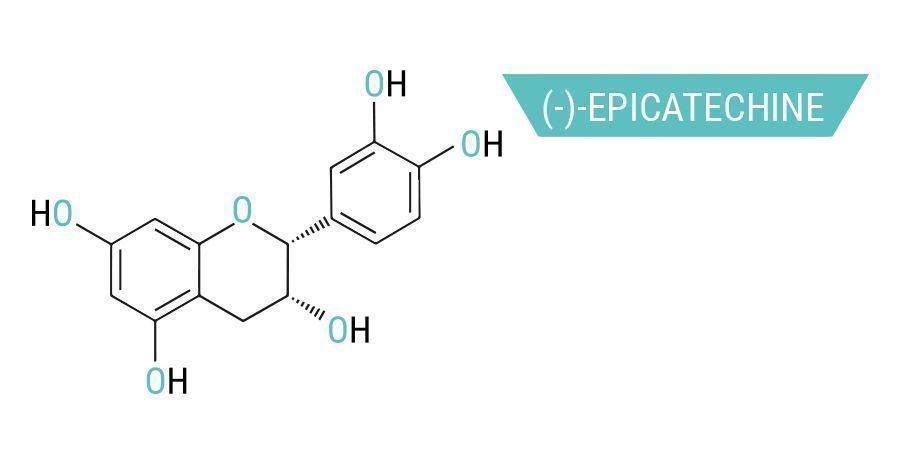 Epicatechin is a real all-rounder with its versatile benefits. It help protect against free radicals.
History Of Kratom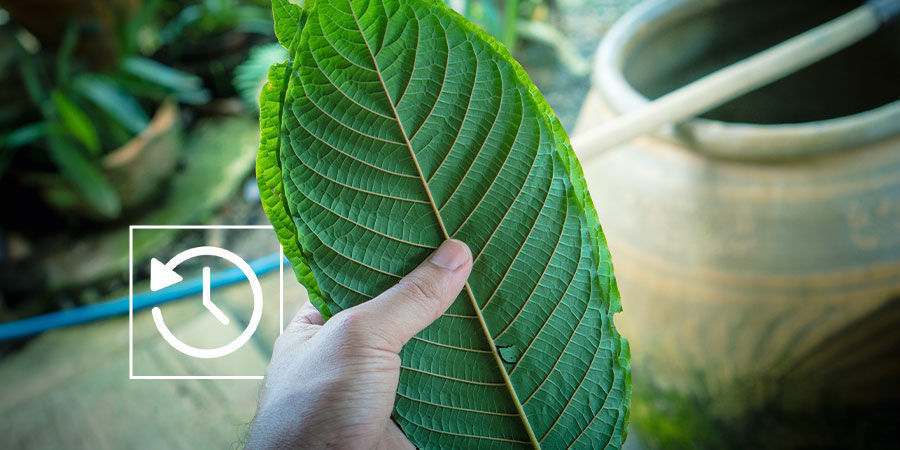 The use of Kratom dates back millenia and it is plain to see that Kratom users, vendors and researchers have to spread accurate information to elucidate the true value of this natural means, before some uneducated blockheads who have no idea about Kratom criminalize it.. From what we have read so far there are no significant negative effects, but long-term use studies are still pending as well.
Unfortunately Kratom has no romanticized history like Cannabis, Opium or LSD, but is tied to the traditional use as a stimulant for peasants and workers who would use it to cope with their hard daily hard work and meager existence. But, let's go back in time and have a look at the history of Kratom ...
Early Descriptions Of Kratom As An Opiate Substitute
In Western literature, Kratom was (allegedly) first described in the early 19th century by Pieter Willem Korthals, a Dutch botanist who worked for the East India Company. Another source mentions Low, who described the plant in 1836. He wrote that the peasants and rural workers in Malaysia used it as a substitute when opium was unavailable or not affordable.
Opium was widely distributed in the South-East Asian region and flushed tax money into the respective state treasury (a fact that would seal Kratom's fate in Thailand in the following century). E. M. Holmes also referred to Kratom's use as an opium substitute, when he identified it as Mitragyna speciosa in 1895. Two years later H. Ridley documented that Kratom was used to wean people off of opium and its extracts.
What Are the Different Forms of Kratom?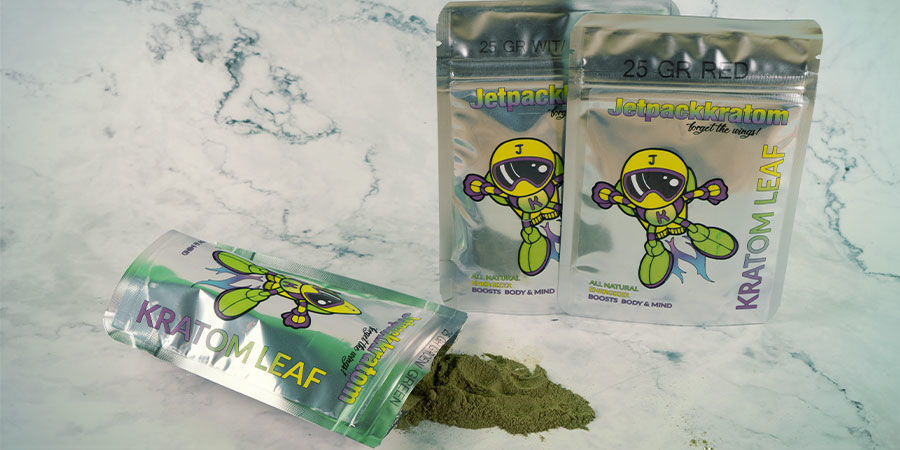 Kratom comes in many different forms, from the leaves themselves to extracts and kratom capsules. However, they share a common trait; they're all derived from a certain kratom type.
Mitragyna speciosa is divided into different vein types, and differences can be observed if you look closely at a kratom leaf. While maybe not obvious to begin with, the leaf will have a distinctly coloured stem and vein. These colours are divided into three categories—red, white, and green—and determine the type of effects a kratom user will experience.
The difference in colouring occurs due to a variance in chemical composition. This can be traced back to how a plant was grown and the conditions in which it was cultivated. Let's take a closer look at the different types of kratom.
Red Vein Kratom
As the name suggests, red vein kratom displays a red colouring in the veins and stems. Red vein is arguably the most popular form, thanks in part to its widespread availability. At a low dose, red vein kratom prompts a mild high that offers a perfect introduction to the effects of the plant. For this reason, beginners tend to opt for this variety. In larger doses, red vein kratom can provide soothing and relaxing effects alongside moderate stimulation, although it's not as intense as some other forms.
White Vein Kratom
White vein kratom can be identified by its pale veins and stem, and is known for its stimulating and euphoric effects. Offering the opposite experience to red vein kratom, white vein is often seen as the next step for those looking to experience the full suite of effects kratom has to offer. While white vein kratom is not seen as a social or "party" substance, its uplifting stimulation is ideal for those looking for a potential mood enhancer.
Green Vein Kratom
This type of kratom is usually described as a "middle ground" between red and white. Taking the finer points from both, green vein kratom offers effects that are stimulating and soothing. The green colouring is a little more subtle against the similarly coloured leaf, making it a little trickier to identify initially. Green vein kratom is a popular option for those looking to retain a relaxing high mixed with some more stimulating sensations.
What Are the Different Kratom Strains?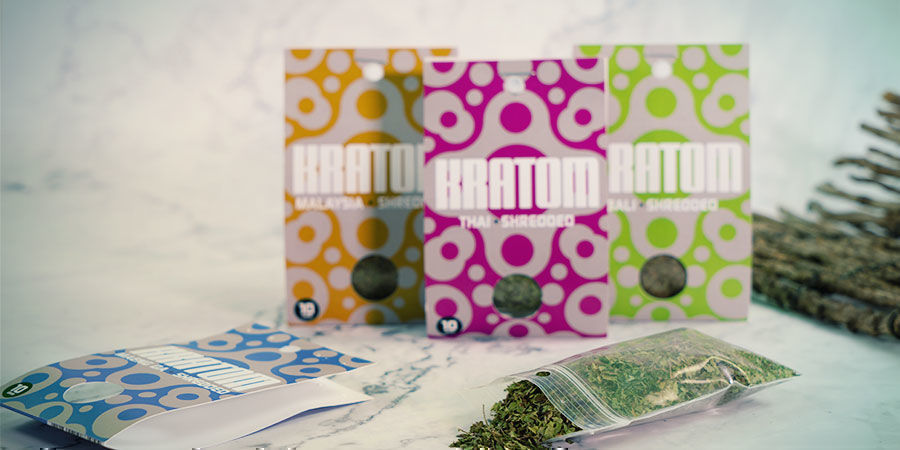 Much like cannabis, Mitragyna speciosa comes in many different strains—each one offering something different to the user. Kratom strains are initially based on their vein type, giving the user a general indication of the type of effects they will be in for. However, with different strains come different effects. This can often be attributed to how they're grown.
Maeng Da Kratom
Known as one of the strongest strains available on the market today, Maeng Da or "pimp grade" kratom is potent and requires a very small dose to experience its strong stimulating effects. Reportedly, doses of around 1g are enough for this strain to exert its impact. Maeng Da is available in different vein colours, resulting in slightly different effects. Still, the outcome is always powerful and effective.
Indo Kratom
Indo kratom is native to Indonesia and varies in colour. It can be purchased in green, red, and white variants, and it's generally considered to be modest in effects. That's not to say it's a weak strain, but it doesn't provide the stimulating effects that other strains are known for. However, Indo kratom is ideal for those seeking relaxation.
Bali Kratom
Another strain originating from Indonesia, Bali kratom is a red vein variety that offers stimulating sensations at low doses and relaxing sensations in larger amounts. This strain is commonly referred to by users as the most similar to opioids, and is available to purchase in powdered and dried leaf forms. Many favour the powdered version so they can produce homemade capsules for easy dosing.
Green Malay Kratom
Native to Malaysia, Green Malay kratom is a popular green vein strain known for providing uplifting and stimulating feelings at low doses. In larger amounts, Green Malay offers a long-lasting, much more soothing effect. Newcomers should look to take smaller doses initially to sample the effects and build up to higher doses should they want to.
Thai Kratom
As its name suggests, Thai kratom is a strain native to Thailand. This highly sought-after strain is also one of the most accessible, and is available in green, white, and red vein varieties. The effects will be dictated by the vein colour, but, as all three are available, it is really down to the user as to which one is most suitable. Thai kratom provides an initially stimulating feeling, even in small doses, and settles into a soothing and relaxing sensation that lasts quite some time.
Borneo Kratom
Commonly available in dried leaf and powdered forms, Borneo kratom can be purchased in green, red, and white vein varieties. However, it is most often available as red vein or "Red Borneo". This strain has a stronger flavour and offers good potency with long-lasting, relaxing effects. This type of kratom will take effect in 30 minutes, with effects lasting roughly 6 hours.
Malaysia Kratom
Native to Southeast Asia, Malaysia kratom is a strong and long-lasting strain that is simply teeming with mitragynine and 7-hydroxymitragynine. These kratom alkaloids offer a higher level of potency than other strains. Malaysia kratom provides feelings of stimulation, happiness, and energy, making it perfect for those looking to feel a little more upbeat.
Which Kratom Strain Is the Strongest?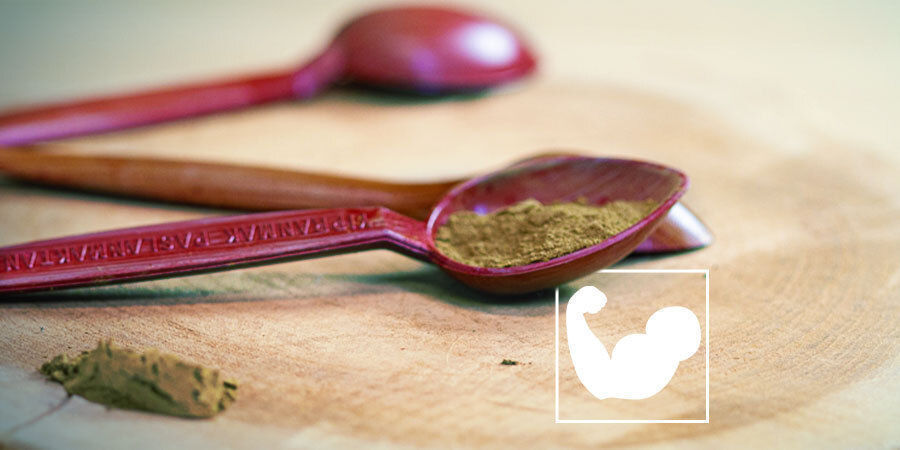 Maeng Da kratom is often seen as the strongest strain today. However, with many different varieties available, the effects can be somewhat tailored to the user's expectations and preferences. While there are numerous potent strains of kratom available to purchase, it may be wise not to go for the strongest strain initially. Starting off small is the best route to take with kratom. Experience this herb in small doses and build up from there.
Which Kratom Strain Is Best for Relaxing?
Bali kratom is often seen as the most relaxing strain of Mitragyna speciosa available. With its more opioid-like effects, it is not hard to see why it is favoured by those seeking soothing sensations. Often available as a red vein variety, Bali kratom is geared toward relaxation. While it does offer some stimulation, it is not as potent in this respect as other strains.
The Impact of Kratom on Body and Brain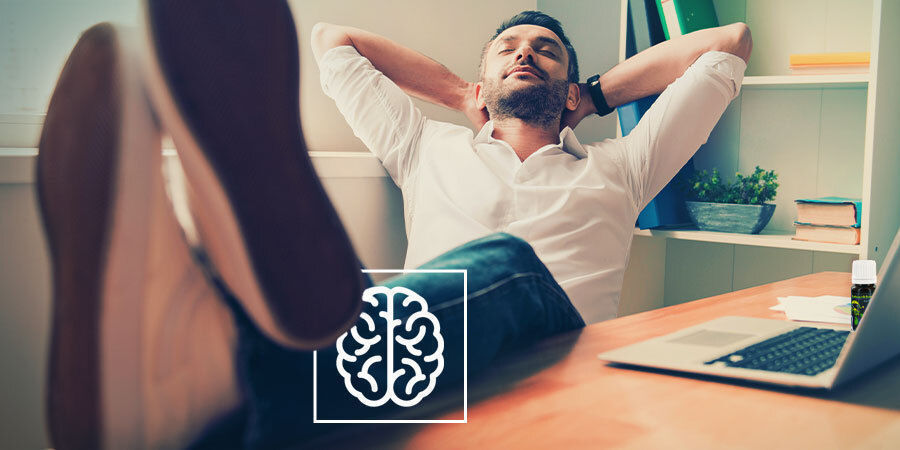 We've touched upon a few effects that kratom can produce. These predominantly arise as stimulating sensations or relaxing feelings. However, how do these feelings translate, and what is the true effect on our body and brain?
Although research into the effects is in its infancy, there are still many clues as to what kratom can do. However, kratom should not be viewed as a quick fix or magic potion for serious ailments, whether physical or mental. There are anecdotal accounts of users taking kratom to address illnesses and chronic pain, but it should be noted that there are no formal studies to suggest that this is advisable.
What Are the Effects of Kratom?
The effects of kratom are varied, and this can be attributed to the type of strain you're using, the dose, and its colouring. At small doses of anywhere between 1–5g, many users note effects such as increased focus, enhanced mood, euphoria, and a desire to socialise. The stimulating effects are no doubt responsible for this reaction.
Those taking higher doses of 5–15g of kratom will notice different effects. The larger quantity will still have that initial stimulation, but will then settle into a more soothing feeling. Many users note that higher doses promote sleep and allow them to feel much more relaxed overall.
Regarding what you want to get from your kratom experience, it will primarily come down to personal preference. Those looking for a stimulating buzz will opt for a strain and dose that provide just that. A kratom user wanting to experience relaxation will prefer a higher dose and a strain such as Bali kratom for its soothing capabilities.
What Are the Possible Side Effects of Kratom?
Like all psychoactive substances, there are some possible side effects to keep an eye out for with kratom. While some side effects may not be noticeable at smaller doses, it is important to note any changes you feel when ingesting larger amounts of kratom. If you notice any side effects, adjust your dose accordingly.
Some mild side effects include:
Dry mouth
Drowsiness
Upset stomach
Higher doses (above 15g) of kratom can potentially result in more severe side effects. While these side effects are somewhat rare, it is important to note how you feel before, during, and after taking kratom—especially for those new to taking it.
How To Consume Kratom
There are many different ways to consume kratom. The earliest uses involved brewing kratom tea from the leaves, or simply chewing or eating them. While these are the traditional methods, they are still favoured by many kratom users today.
However, in modern times, technological advancements have made kratom extract available in various forms. Powdered kratom extract is popular, as many use it to create their own tablets and capsules for easy and consistent dosing. Kratom powder can also be used to make tinctures. By using a handy dropper bottle, users can discreetly ingest kratom whenever they so choose. Some store-bought products, such as gum, are also popular among those looking for different ways to take kratom.
How To Dose Kratom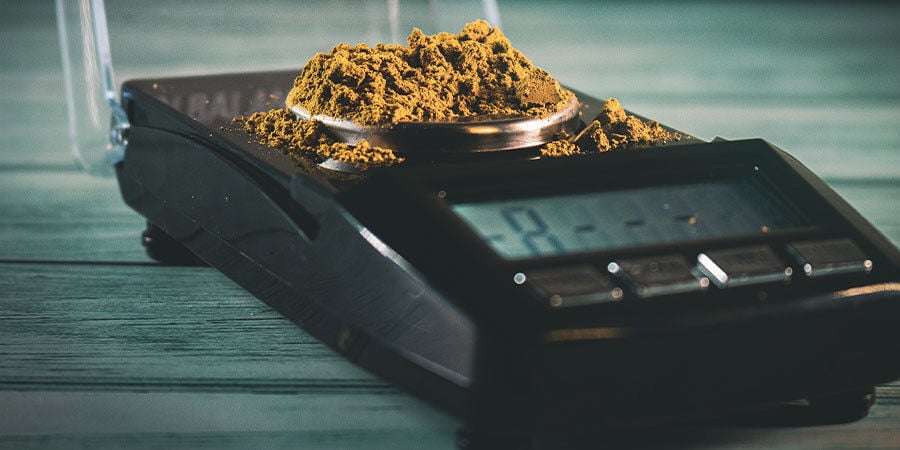 We've touched on the effects that kratom brings in small and large doses, but how does one effectively dose kratom products? As mentioned, if bought in powdered form, you can use a micro-scale and weigh out individual amounts. Those inexperienced with kratom may wish to start low and slow, measuring out quantities of anywhere between 1 and 5 grams for an initial dose. This can either be placed into a capsule, or you can try other processes such as the "toss and wash".
Toss and wash is an ingestion method wherein the user takes a predetermined quantity of powdered kratom, places it into their mouth, then washes it down with a glass of water. This method is hugely popular as it is a direct way of consuming kratom.
However, if you're not keen on the taste of kratom, consider using a flavoured drink instead of water to disguise the flavour. Consuming kratom this way allows for a fasting-acting dose, as no capsules need to be broken down in the stomach and the kratom is absorbed quickly into the body.
Larger doses can also be taken. Anywhere above 5 grams is considered a high dose of kratom. Higher doses are more likely to bring on the soothing feelings that kratom is known for.
Kratom Usage and After-Effects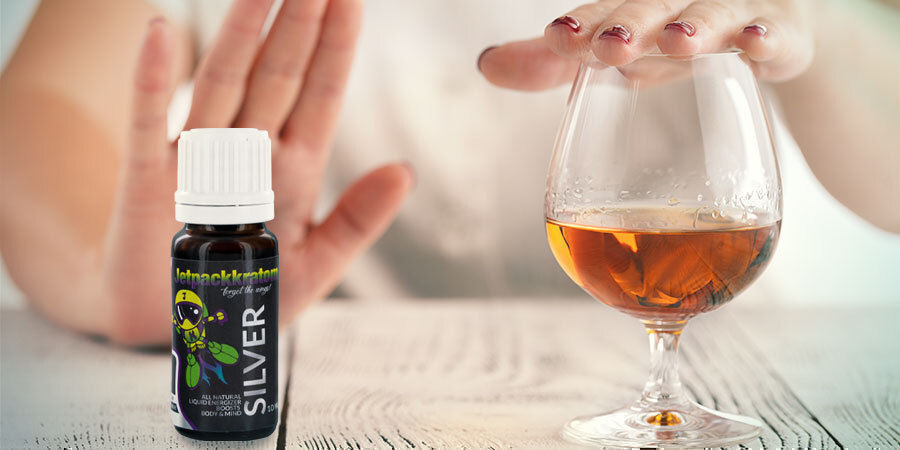 Whether you plan to use kratom frequently or just want to experience its effects once or twice is entirely down to you. But, many users have questions regarding the after-effects of kratom. Whether this is from a professional or personal standpoint, there are few areas you may wish to consider before taking kratom yourself.
How Long Does Kratom Stay in Your System?
Although the effects can last anywhere from 4–6 hours, kratom can remain in one's system for up to around 9 days after the noticeable effects have diminished. However, this is influenced by the amount consumed and other factors.
Will a Drug Test Identify Kratom Use?
This can be a concern for those who must take routine drug tests, either for work or as part of a medical check-up. Although kratom is popular, most standard drug tests do not directly detect kratom in a person's results. However, more advanced methods, such as blood tests, may discover traces of the alkaloid mitragynine present in a user's sample.
Can Kratom Be Used With Other Drugs?
Kratom does have the potential to interact with other substances. This is why it should never be mixed with alcohol, as it can cause adverse effects. Certain medications can also be affected by kratom, potentially resulting in the medication taking longer to break down. These medications include propranolol, codeine, and diazepam. Users taking any prescription medication may wish to consult their doctor before taking kratom.
---