From the largest sativa to the fastest auto, all cannabis propagation starts its journey in the same fashion: germination. Arguably the most important part of any growing operation, every single bud, terpene, and cannabinoid relies on successful seed germination. Learn how to maximise germination rate below—save money and embark on your most productive growing season yet!
IMPORTANCE OF GERMINATING CANNABIS SEEDS CORRECTLY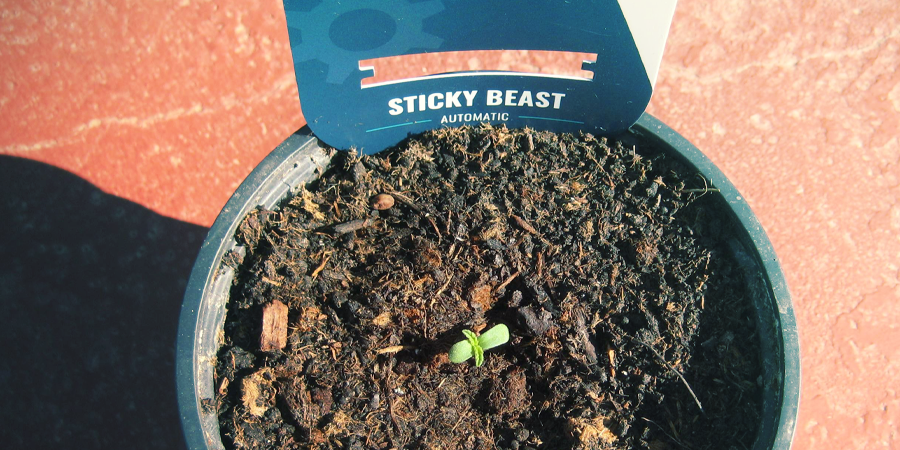 Think about this. See that stash jar loaded with buds in front of you? And that fat cone resting between your index and middle finger? All of that plant material started out as a small, humble, inert seed. A simple blend of darkness and moisture triggers the genetic code within these pods to come to life and send out a shoot and a root.
It sounds easy. Placing a seed in some soil and showering it with water can be accomplished in a matter of seconds. But various things can go wrong during this crucial process, and cultivators can easily become disheartened when half of their seeds don't germinate.
Thankfully, growers can take several steps and utilise certain tools to maximise the germination rate of their favourite genetics. Use the strategies outlined below to ensure the vast majority of your seeds spring forth into life and, eventually, provide buds for you and your friends to enjoy.
TOOLS FOR GERMINATING CANNABIS SEEDS
Sure, old-school methods used to germinate cannabis seeds do work. You'll notice signs of life after sowing your seeds directly into their final pot or placing them between moist sheets of paper towel. However, chances are you'll also be disappointed at the number of seeds that never put out a taproot.
Although these methods are convenient, a lack of productivity outweighs the ease. Fortunately, innovators in the cannabis industry are constantly pushing the boundaries in every area of growing, including how we germinate cannabis seeds. These bright and brilliant minds have designed tools that are both easy and effective.
SEEDLING POTS AND GERMINATION PLUGS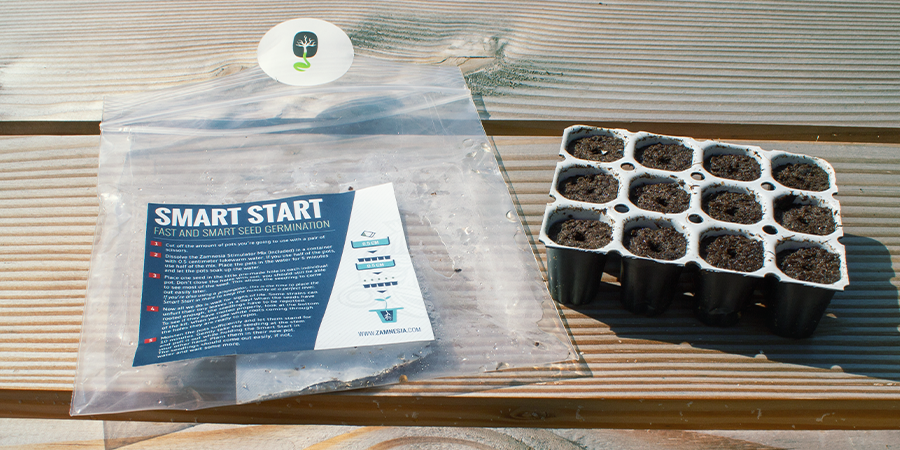 These helpful little tools prove how tiny tweaks can make all the difference and provide an easy way to germinate seeds. Seedling pots and germination plugs provide an ideal microclimate for cannabis seeds to thrive in. Designed by experienced growers, Smart Start by Zamnesia will unleash the life within your seeds much faster than conventional methods. The compact tray features 20 individual pots, enabling you to start anything from a micro-grow to a larger operation using the same tool.
All of the individual pots are loaded with a nutrient-rich compost featuring everything your young seedlings need to survive and thrive. Smart Start also comes with a packet of Stimulator Mix designed to activate microbial life, which plays a significant role in boosting the ability to germinate. Simply pop as many seeds as desired into their own pod, add water, and check back in a couple of days.
The Plagron Seedbox Germination Kit works in a similar fashion. The tool contains a sturdy germination tray that provides enough room for 12 individually prepared coco germination plugs. Each plug has a buffered pH value—the perfect balance to ensure healthy and speedy germination—and a 250ml bottle of Seedbooster to further reduce the window between inert seed and thriving seedling. The tool also comes with a transparent lid that works like a mini greenhouse. It traps heat and moisture to create the conditions seeds need to start producing taproots.
CANNABIS SEED PROPAGATORS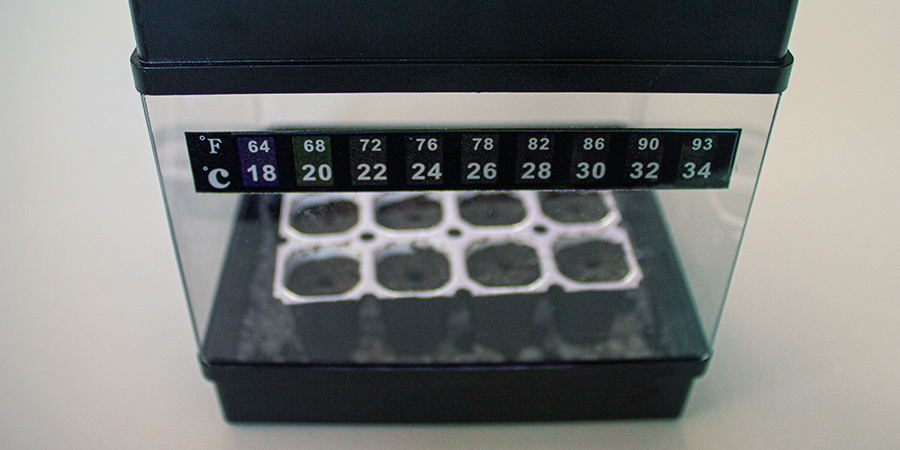 These handy tools tick off all the boxes required by cannabis seeds. They form a dome around germination trays that elevates temperature, defends against cold snaps, and maintains high humidity. As well as helping to create an ideal climate, seed propagators make it much easier to germinate cannabis seeds. They keep all of your pods, plugs, and seeds in one easily accessible place, saving you a lot of time when it comes to moving your station to a windowsill or the sink for watering.
Smart Start will drastically improve the likelihood that you germinate your seeds, but using it along with the Propagator Pro 2 will provide even more impressive results. Designed with precision to meet the demands of all marijuana seeds, the device creates the perfect environment for optimally germinated seeds.
The Propagator Pro 2 features six LED lights fitted into the lid, which will drive your germinated seedlings to the surface of the growing medium and rev their photosynthetic engines. Small vents fitted into the lid allow you to control the internal temperature, and a built-in thermometer that displays both Fahrenheit and Celsius will give you accurate data on how warm things are getting.
You'll also notice a small bag of perlite in the package. A type of volcanic rock dust, perlite retains moisture and keeps the microclimate just right.
LIQUIDS FOR SPEEDING UP GERMINATION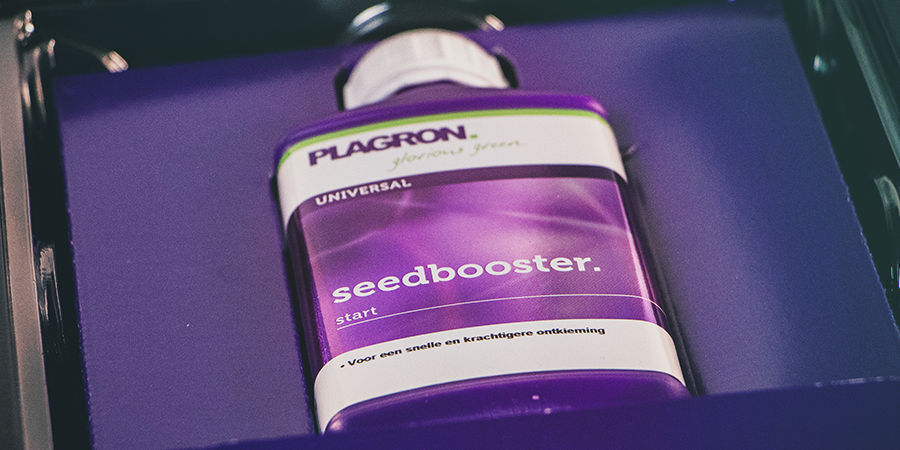 Humidity? Check. Warmth? Check. Light? Check. You've got all the bases covered and will see the majority of your seeds explode into life in no time at all. However, you still have other options when it comes to optimising your setup. Specialised liquid formulas ensure that even the stragglers of the pack poke through the soil.
Designed to support early germination, Plagron Seedbooster Plus contributes to impressive success rates and helps young seedlings flourish and stay healthy. The tonic will get things moving fast, shaving off a couple of days between sowing seeds and harvesting dank buds.
COMPLETE SOLUTIONS FOR EASY GERMINATING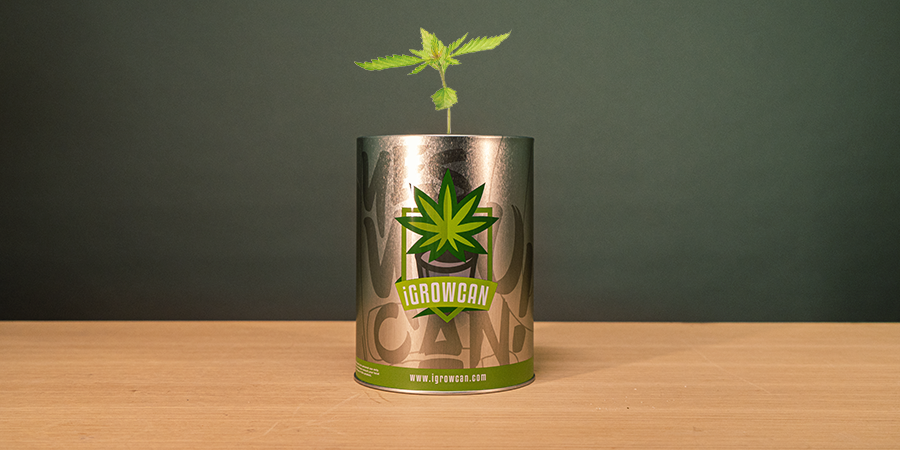 Most growers develop their favourite strategy through trial and error. Others, both novices and veterans, prefer to use all-in-one kits. These tools make germination—and the growing experience as a whole—much more simple.
The Royal Queen Seeds Starter Kit features everything you need to raise your seeds into fledgeling seedlings, ready to be transplanted. The kit includes pots, a propagator, growing medium, perlite, lighting, batteries, a thermometer, microorganisms, and even seeds!
The iGrowCan takes matters one step further, ferrying growers through the entire growing process. The kit contains everything required for a successful grow, all the way through vegging and flowering. The portable kit—which makes a superb gift for green-thumbed friends—contains two RQS feminized seeds, one germination plug, coco compost, organic nutrients, and a handy instruction manual.
TRANSPLANTING AFTER SEEDS GERMINATE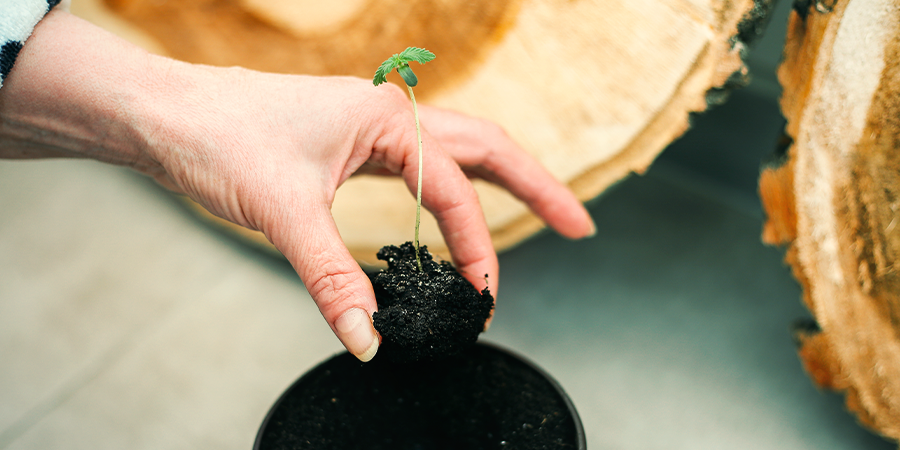 After emerging from the soil and developing their first true leaves, your precious seedling will be ready to fly the nest and land in larger pots. This move will enable them to expand their root system, enter the vegetative phase, and put on some mass.
Any appropriate pot will do, but some models provide plants with a much more suitable environment. The Zamnesia Geotextile Fabric Pot features an Aqua Breathe layer that works to keep the growing medium both hydrated and aerated, creating an environment that promotes root growth and prevents disease.
Fill the pot up with high-quality compost and transplant your seedling into its final home. The 11-litre container provides enough space for most strains to grow to their full potential. They also offer outdoor growers the ability to move their crop to safety during heavy storms and heat waves.
BUY ALL YOUR GERMINATION TOOLS AT ZAMNESIA
As one of Europe's largest and most trusted headshops, we've developed a pretty good idea of what separates good products from truly great ones. Check out our store for the best germination tools to set you up for an astonishing harvest!
---