Magic Mushroom Hygrometer / Thermometer
(

291

)
Ideal humidity and ideal temperature make ideal psilocybe mushrooms. Always be in control of your grow environments with this easy to use combination tool.
This item is not available in your country
We are sorry, this product is currently not available for shipping to your country. Please check back for future availability.
More info
ENSURE THE BEST CONDITIONS FOR YOUR MUSHROOM GROW
A thermometer and a hygrometer are essential tools for ensuring ideal conditions for the home mushroom grower. Having both of these tools combined into one easy-to-use unit halves the fuss and doubles the efficiency. The Psilocybin Mushroom Bible recommends a constant humidity of 90% and a temperature range of 21–27°C. Having a single unit that monitors both parameters makes the perfect fungus environment easy to maintain.
This accurate unit is ideal for all mushroom growing systems. Grow kits, bags, and any size container can be checked with the push of a button. The long cables and easy-to-attach probes mean never having to disturb your grow. The readout can be mounted outside the grow space to ensure a stable environment at all times. The battery is included, so the unit is ready to go upon delivery. Shroom-on brothers and sisters!
USING THIS PRODUCT FOR BEST RESULTS
The complete unit is a readout panel with two suction cup mountable probes, each connected by long cables.
Affix each probe in the centre of the grow bag or from the lid of the container. Picture where the mature height of the shrooms will be and extend the cables so the probes hang right there. Too high or too low can give inaccurate readings.
Place the readout display wherever you want as the long cables allow for convenient positioning.
Optimal humidity: 90%
Optimal temps: 21–27°C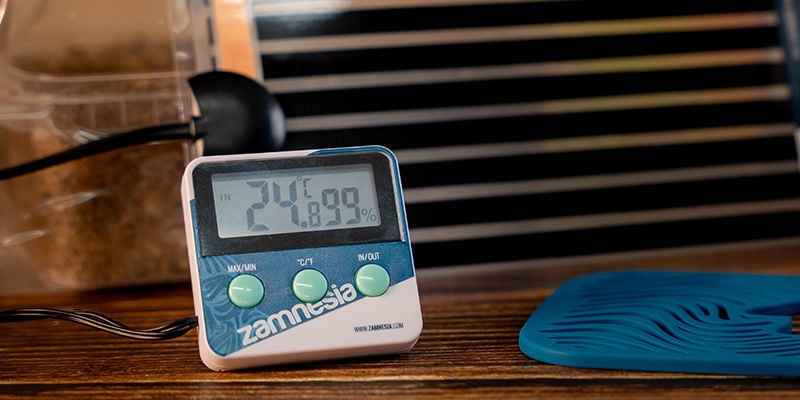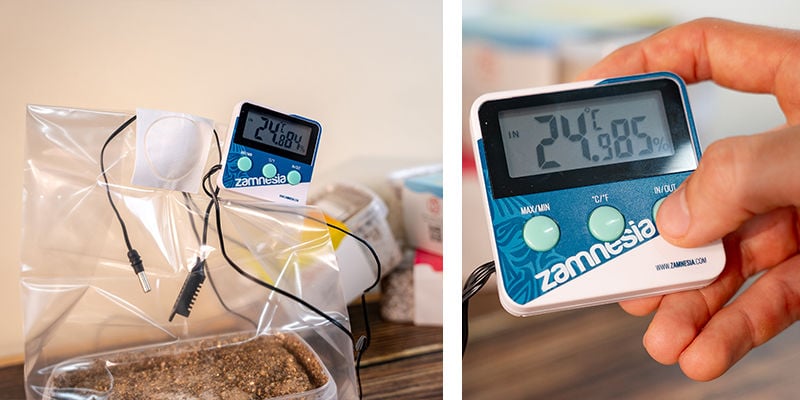 Reviews (291)
View all reviews

27/Nov/2023

Simple, good
This is a basic but effective monitor with clear temperature and humidity display. Good for the price and perfect for monitoring your grow as a beginner.

27/Nov/2023

Does what it's meant to
Works as it should

25/Nov/2023

use it for many things
something I don't wanna miss in my household.

25/Nov/2023

Does the trick
Definitely a good idea to keep eye on metrics

24/Nov/2023

Good for the price
Works it's job!

24/Nov/2023

Genial
Por el precio que tiene funciona bastante bien aunque es un poco lento para los cambios de temperatura y humedad

23/Nov/2023

Top Hygrometer
Gute Verarbeitung Praktisch Tut was es soll

23/Nov/2023

Bien
Muy correcto

22/Nov/2023

Nul !
J'ai acheté deux Thermomètres / Hygromètres et aucun des deux n'a les mêmes valeurs de températures, pourtant posés côte à côte, et l'hygrométrie reste bloquée à 99% non stop pour les deux ... de plus, après 24h d'utilisation, un des deux thermomètre affiche plus de 47°C et ne redescends plus depuis 3 jours, alors qu'il doit faire aux environs de 22°C (pour le test j'ai posé la sonde proche de mon congélo, et d'après ce gadget, mon congélo gèle à 29°C) ... Et pour info, je suis bien en degrés Celsius !

21/Nov/2023

Thermomètre-hygromètre
Vraiment de trés mauvaise qualité !!!!!! soit disant garantie deux ans...j ai démarré un kit de culture fresh mushrooms mexicana.tout sait bien déroulé.jai relancé un autre kit fresh mushrooms mc kennaii,et la l'hygromètre me donné des taux d humidité incorrecte!! du coup mon kit a était contaminé!direction la poubelle!perte d'argent et zéro mushrooms.la blague;j'ai mangé des truff pour me consoler .Et le SAV. No comment.MERCI ZAMNESIA

16/Nov/2023

Great customer support
My hygrometer broke and was stuck on 99% humidity. I think something got damaged, but I contacted Zamnesia, and then they sent a voucher to cover the cost for a new one. Great support, they really do care about their customers!

15/Nov/2023

Tut was es soll
Funktioniert und ist einfach zu benutzen. Die saugnöpfe sind nicht so nutzbar aber das ist auch nicht schlimm. Ich würde nur empfehlen 2 zu holen da die anscheinend ziemlich empfindlich sind. Ein ersatzt wäre von großem Vorteil. Ohne das Teil wird die Arbeit auf jeden Fall schwieriger

09/Nov/2023

Not good
Keine gute Qualität

24/Oct/2023

Útil y sencillo
Ni más ni menos que lo necesario para cultivar setas tranquilamente con todo bajo control.

19/Oct/2023

Très bien.
Conforme.

15/Oct/2023

pas livre
pas dans la commande

07/Oct/2023

Great
I couldn't grow my mushrooms with out this. 5 star from me

07/Oct/2023

Feine Sache
Für meine Zwecke völlig ausreichend.

06/Oct/2023

Essential part of my growing setup
Beautiful design, Very handy with the clip and the magnet behind, easy to setup anywhere and the sensors wires are long enough to put wherever you need them.

05/Oct/2023

top
auch für die pflanzen überwachung super geeignet

25/Sep/2023

Perfekt
Funktioniert super und lässt sich dank der dünnen drähte super in ein growkit hängen.

23/Sep/2023

Very good cost-to-price ratio
It's not the best tool in the world, but it does what it is supposed to do. And for a good price.

15/Sep/2023

Good bit of kit
Seems accurate, but I don't need it for the fresh mushroom kit I brought (golden teacher)

11/Sep/2023

Very useful
Great price for handy tool to ensure best results possible

09/Sep/2023

small and practical
Fulfills its purpose! The only negative point is that the thing doesn't have a proper on/off button, so you have to remove/insert the batteries. Otherwise you can't complain for the price

02/Sep/2023

Great product
Works great, the min/max button allows you to check if the temperature doesn't get to low at night which i found very useful!

30/Aug/2023

Pratique
Parfait pour suivre la température et le taux d'humidité de sa culture

30/Aug/2023

Hygrometer
Schnelle Antwort, schnelle Versand. Die erste Bestellung hat super geklappt .

10/Aug/2023

Parfait
Pratique et facile d'utilisation

06/Aug/2023

Very useful
An amazing bit of kit to help maintain ideal environment. I've found it so useful and would recommend to anyone learning and figuring out how to grow stuff.

06/Aug/2023

Parfait
Fonctionne parfaitement

05/Aug/2023

Useful!
It is a small product that seems absolutely practical. I like that.

02/Aug/2023

Great product
Does the job, great price. Thanks zamnesia

01/Aug/2023

Okey
Tut was es soll

15/Jul/2023

Bien utile mais notice un peu succincte
Très pratique. Au debut je croyais qu'il ne fonctionnait pas car le taux d'hydrometrie ne variait pas entre l'intérieur et l'extérieur. En fait il n'y a qu'un seul capteur intérieur ! J'enlève une étoile car je l'ai appris via les commentaires vu que la notice n'en fait pas mention (ou alors j'ai mal lu).

12/Jul/2023

Fantastic little unit, but is Hygrometer accurate?
For the price it's great, and having both sensors external is another fantastic selling point. The temperature seems ok, but the humidity sensor is either very inaccurate or my environment is too humid as it never changes from 99% unless it's out the bag and the bag is not like a rainforest! Maybe it's correct and actually in a space that size even a small amount of vapour will saturate the sensor, especially as when I take it out it does change, but I just don't believe it's correct so I've purchased a dedicated monitor and controller to actually control the humidity, and I'll be doing the same with temp and CO2. I love the fact there's three ways to mount the unit, namely: magnetic; clip; desktop kick stand. Many only have the kickstand but I have mine magnetically attached to my tent. Very easy to use, and if you can't figure it out then you really shouldn't be growing as it really is as simply as pressing the three buttons.

11/Jul/2023

La température est-elle correcte ?
Elle n'affiche pas la même température que notre autre thermomètre donc je me demande s'il est fonctionnel

04/Jul/2023

nickel
Fonctionne trés bien, rien à redire

22/Jun/2023

Thermo
Funktioniert so wie es soll

20/Jun/2023

Semplice utilizzo e funzionale
L'ho comprato principalmente per controllare la temperatura nella grow box, ma mi tornerà utile anche per la prossima batch di funghetti magici. Fa il suo sporco lavoro egregiamente. Non metto 5 stelle soltanto perché le ventose non rimangono attaccate.

20/Jun/2023

Très utile !
Un petit accessoire bien pratique pour conserver son growkit à température optimale et obtenir le meilleur rendement !

20/Jun/2023

Perfekt
Ich nutze es für den Cannabisanbau. Funktioniert perfekt. Sowohl für die Temperatur als auch für die Luftfeuchtigkeit. Kann ich für den Preis nur empfehlen! :)

17/Jun/2023

Tutto bene
Ottimo alleato

16/Jun/2023

Prefekt und Top-Quali
preis leistungsverhältnis ist top und gute anleitungen. jeder zeit wieder

16/Jun/2023

Everything I expected
It works great, it helped me a lot with monitoring the conditions for the growing process. Recommend!

16/Jun/2023

Must-Have
Preis-Leistung Top... Das Teil macht vieles leichter

15/Jun/2023

Schneller Versand ...
und super Support!

15/Jun/2023

Hydrometer
Very useful bit of kit. Helped me a lot on my first grow

15/Jun/2023

Super
Ziemlich genaue Angaben. Einfache Handhabung perfekt für die Kultivierungstüte top

11/Jun/2023

Klappt einwandfrei, passt überallhin aber die Saugnäpfe sind 0 zu gebrauchen
Wenn die Saugnäpfe bei irgendeinem von innen in der bag halten sollten-wenn man täglich auch noch sprühen muss usw - dann bekommt derjenige 1 Million von mir die ich auch noch extra klauen gehe, aber das könnt ihr vergessen, sonst gerne 5 Sterne gegeben.sieht irgendwie nett aus, ist schön klein,durch die Möglichkeiten es sowohl mit Magneten sowie einer klemme als auch aufgestellt werden kann wie ein Wecker , kann man es nahezu überall platzieren.kabel zu den Sonden sind sehr lang .meiner Beobachtung nach misst es absolut präzise.wenn es dauerhaft humidity 99% anzeigt einfach mal abtrocknen, selbiges wenn die Temperatur die angezeigt wird.

11/Jun/2023

working as intended
Seems to be working as intended

09/Jun/2023

Funktioniert
Tut was es soll.

09/Jun/2023

Bien pour les Boîtes à champis
Un seul capteur d'humidité (externe) et 2 capteurs thermiques (un interne et un externe). Fonctionne bien et facile à installer. Les câbles sont bien fins et les ventouses, pratiques. Peu cher et durable, sous réserve de rester dans les plages d'utilisations. Merci.

07/Jun/2023

Perfekt
Für den Growroom genau das richtige.

06/Jun/2023

good
seems fine (had no other devices to control the accuracy of the device) i think it fulfills it`s purpose for growkits and small scale homegrowing but for more advanced projects, i wouldn´t rely on this one. i wonder how it knows whats the outside temp. since the thermometer is inside the bag?

06/Jun/2023

Perfetto
Fa esattamente il suo lavoro, facole e comodo da usare.

04/Jun/2023

Thermo/highometro
Comprei este dispositivo ao que parece faz as leituras corretas é indispensável para a produção de cogumelos!!!

30/May/2023

Nickel
Fait le taf, les ventouses permettent de mettre à la bonne place dans le bac, c est cool

28/May/2023

Great thermometer
Wirks very good

23/May/2023

Muy satisfecho
Recientemente adquirí este termo higrómetro y debo decir que estoy extremadamente satisfecho con mi compra. Este dispositivo ha superado mis expectativas en términos de calidad, precisión y funcionalidad. Además cuenta con un imán en la parte de atrás que me ha sido de gran utilidad.

23/May/2023

Good
Fait le taff :)

21/May/2023

Super thermo/hygromètre
Super produit fonctionnel

14/May/2023

Thermo/hygrometer
Doet het goed!

13/May/2023

Good product
I am very happy with this product. The hygrometer function seems to not be that accurate from 85 to 100 which I don't exactly mind, since it's irrelevant for growing mushrooms. The Thermo/Hygrometer has also greatly leveled up my mushroom growing and from the yields I have gotten I would say it pays off within the first or second grow kit.

09/May/2023

Great thermometer
Works well and pretty precise. The wire for the sensors is long enough and you can also use it to tell you the temperature and humidity outside and inside.

07/May/2023

great product
worked to keep me ideal conditions

06/May/2023

Très satisfait
Très bon produit, très efficace, le bloc aimante ou à pince est très pratique. Seul bémol, les ventouses des capteurs ne servent à rien, utilisez une petite pince ou du scotch à la place. Je recommande le produit.

02/May/2023

Très bon produit
Ce produit permet de conserver une température stable durant tout le cycle de croissance. Merci Zamnesia

02/May/2023

Good
Very Good, unfortunately you can't switch it off

01/May/2023

super
macht was es soll :)

29/Apr/2023

très bien
Facile à utiliser.

25/Apr/2023

useful
It shows the temperature/humidity and if you check it regulary it lets you know fi you need to change the location of the kit or if the heat mat is unplugged or something like that

21/Apr/2023

great product, great price
I checked amazon to see if they have something better in quality and/or price. But no.. This offer is already top of the line. Works perfectly fine.

18/Apr/2023

does what it should
It shows the temperature and the humidity

14/Apr/2023

Does what it should
working fine

12/Apr/2023

Good quality
It's very useful for checking temperature and humidity at the house

11/Apr/2023

Very useful
I found it very useful, can recommend getting one of those.

07/Apr/2023

Simple et prêt à l'emploi
R.A.S, il fonctionne, il y a la pile, tout va bien.

05/Apr/2023

Simple et pratique
Thermomètre /hygromètre utile pour la colonisation ou la fructification de nos champignons sacrés ou pas. Seul bémol mais qui n'a que peu d'importance : l'hygrométrie extérieure n'est pas mesurée ( ce qui nous intéresse reste l'hygro dans nos bacs!)

27/Mar/2023

great
great, good quality

25/Mar/2023

Top Product
Does what it should do, amazing!

14/Mar/2023

Rien à dire sauf un bémol
Les ventouses tiennent pas mais sinon le pb est top. Je recommande !!

03/Mar/2023

Perfect
everything's precise and nice

27/Feb/2023

Für den Preis in Ordnung
Tut, was es soll. Nur die Saugnäpfe erschließen sich mir nicht zum Befestigen in einer Plastiktüte. Aber das sehe ich dann, wenn die Sensoren in die Tüte müssen...

21/Feb/2023

It works
Leave it hanging above the cake not in the cake ;)

17/Feb/2023

Indispensable
Bon produit, précis et fonctionnel Merci Zami ; )

17/Feb/2023

Hydrométre
Précis et petit...

16/Feb/2023

Seems to work ok
I have no idea of its' accuracy but it certainly gives an indication of temp and humidity and is easy to read without having to find spectacles...

15/Feb/2023

Praktisch und guter Preis
Tut was es soll, für den Preis völlig okay. Auch praktisch mit dem Clip - darf man nicht unterschätzen. Ich war nur ein bisschen confused von der Zuordnung "in/out": "Out" ist offenbar das Thermometer im Gerät. "In" ist die Sonde. So wie man es für gewöhnlich betreibt ("innen" = in der Grow Kammer/Box/Tüte, "außen" = der Raum darum) macht es total Sinn eigentlich, aber ich habe noch so ein general purpose Thermometer mit Sonde (ohne Hygrometer) und da kommt die Sonde ja immer nach draußen, und wird dann auch als "out" auf dem Display angezeigt. Anyway, it's fucking confusing - that's all I'm sayin'.

14/Feb/2023

au top
fonctionne à merveille, très intuitif même si l'on ne parle pas anglais.

13/Feb/2023

Instrumento básico
Es imprescindible para saber en que medio está nuestro cultivo. Sencillo y fácil de usar.

12/Feb/2023

Review
Good tool all year round!

07/Feb/2023

PRATIQUE
Satisfaite de ce THERMOMÈTRE / HYGROMÈTRE que j'utilise quotidiennement. Petit, il se glisse partout !

06/Feb/2023

Fonctionnel
Précis !

28/Jan/2023

Hydrometer
Cheap, simple to use with good easy read screen. Another quality item from zamnesia.

26/Jan/2023

Hygrometer/Thermometer
Tut was es soll. Auf jeden Fall weiter zu empfehlen :)

21/Jan/2023

Stabile Verarbeitung
Schnelle Lieferung, schönes Gerät, vielseitig einsetzbar, Preis/Leistungsverhältnis O.K.

20/Jan/2023

TOP
Preiswert und gut-bin wie immer zufrieden

03/Jan/2023

Perfekt für Pilzsets
Tut was es soll. Alles bestens.

30/Dec/2022

Marche bien
Je comprends pas j'ai fait attention de ne pas brumiser le capteur d'humidité mais depuis hier que je les mis il reste à 99% pourquoi sa me fait sa ?

30/Dec/2022

Really helpful
nice quality

20/Dec/2022

Works so well I got 2 in the end
Because I need one for shrooms, I got another for weed or vegetables to keep an eye on things. These works well and are reasonably priced, are convenient and simple to use.

03/Nov/2022

TOP
very good

18/Oct/2022

Great, efficient, easy
Ordered it with fresh supago kit, helped me a lot to keep an eye on temperature, humidity and it gives a nice Vib hanging on there. Easy to clean

10/Oct/2022

Hydrometer
Very good and precise. Easy to use. Recommended for mushroom growers specially in hotter countries.

08/Oct/2022

Pratique
Appareil précis et pratique d'utilisation. Design cool.

07/Oct/2022

Great
Worth the price easy to use nice quality

05/Oct/2022

Gut und Günstig
Ein wichtiges Instrument für die Pilzzucht. Damit konnte ich zuverlässig meine Pilzbrut und die Fruchtung überwachen.

05/Oct/2022

Vraiment pratique !
Très facile d'utilisation et agréable à utiliser ! Capteur d'humidité à ne surtout pas mouiller mais bien pratique pour observer l'état d'une culture !

29/Sep/2022

Alles ok
Super Teil das macht was versprochen wird . Kann ich nur weiterempfehlen , sei es für shrooms oder weed Anbau , für alles mögliche verwendbar .

27/Sep/2022

Perfectomundo
Works perfectly and accurate

27/Sep/2022

Top moutmoute !
Très facile d'usage et superbe précision ! Juste le système pour maintenir les capteurs dans les sacs de culture est à pensée.

21/Sep/2022

Compagnon indispensable
Ce thermomètre assez facile d'utilisation permet de surveiller de près la température et taux d'humidité pour une culture optimale!

21/Sep/2022

Top !
Simple, pratique et super facile d'utilisation

19/Sep/2022

Good ratio quality/price
I use it for the mushroom fruiting chamber and it does the job perfectly for a very good price!

15/Sep/2022

Great
A very great product

14/Sep/2022

Magic Mushroom Hygrometer / Thermometer
sehr nützlich, macht wirklich was aus

04/Sep/2022

Parfait
je n'ai rien à redire : il fonctionne très bien et peu cher donc bon rapport qualité / prix

01/Sep/2022

Perfecto
Tiene las 3 B, Bueno,Bonito, Barato :)

30/Aug/2022

Roro
Bon produit essentiel pour votre culture.

20/Aug/2022

Notwendiges Messgerät für Pilze
Notwendiges Messgerät um die Luftfeuchtigkeit beim Anbau von Pilzen zu bestimmen.

19/Aug/2022

Not ideal!
It can't measure correctly when using in a growing kit bag. It always, with no exceptions, read 99% humility and it drips water on the kit. Stopped using it! Pro: it's cheaper than elsewhere.

12/Aug/2022

Great
Awesome product

10/Aug/2022

Worth that £10
This handy device looks expensive and does its job correctly, tou can't expect any more for this price. :)

04/Aug/2022

Accurate
I've ended up using it for the room temperature and it seems accurate. It adjusts gradually when you switch it to a different room, takes about 5mn depending on the temp difference.

04/Aug/2022

Working like intended // Funktioniert wie erwartet
Working like intended // Funktioniert wie erwartet

02/Aug/2022

Good for the price
worth the money

30/Jul/2022

Gute Unterstützung.
Funktioiert bei mir zuferlässig und bietet eine gute Übersicht, von Luftfeuchte und Temperatur.

26/Jul/2022

Top product
Nauwkeurig en duidelijke display !

20/Jul/2022

Conforme à la description.
Fonctionne très bien. Et précis

20/Jul/2022

Good
Easy to use.Sensible at temperatures' change, so it is good.

14/Jul/2022

Top
Günstig, schönes design, combakt und funktional

12/Jul/2022

Cumple con su función
Recibido

07/Jul/2022

useful tool
working good

05/Jul/2022

Working fine
Shows accurate Temperature and just works lol :)

05/Jul/2022

Does what it says
The (almost) mandatory companion of the Hawaiian Copelandia growkit. Highly recommended if you don't want to waste your first batch :)

23/Jun/2022

do not buyt it
the service of the site are good but thre thermometer is trash and extremely inaccurate

14/Jun/2022

Luchtvochtigheidsmeter
Heel handig - reageert snel

11/Jun/2022

Complet
Tout ce qu'il faut pour gérer le climat d'une box. Je conseil un thermometre par ampoule.

02/Jun/2022

Satisfied
I've been using it fir a month and it gave me always the right numbers

01/Jun/2022

Funcionamiento correcto
Un aparato muy útil y con un precio muy asequible que te puede ayudar considerablemente a la hora de cultivar tus setas.

26/May/2022

Ras
Bon produit!

26/May/2022

Awesome device
Never had one of these before, but its actually super useful. Highly recommended

20/May/2022

Perfecto
Funciona bien y muy preciso

20/May/2022

Très satisfait
Je l'utilise aussi pour mes plantes

13/May/2022

THERMOMÈTRE / HYGROMÈTRE DE MAGIC MUSHROOM
Très bon rapport qualité/prix en plus de servir dans un kit, il est multi usages dans la maiso.

11/May/2022

Thermometre hygrometre
Simple et efficace!

05/May/2022

i am very satisfied with the good service
i am very satisfied with the good service

28/Apr/2022

Handy and easy to use
The higrometer can take hours to register humidity changes, no big issue but it's something to keep in mind in terms of what to expect. Recording the max and min values of temperature and humidity is a very useful feature, I wish there was a button to reset it without having to take the batteries out, that would make it a solid 5-star.

28/Apr/2022

top
works great & easy to use.

25/Apr/2022

sehr gut !
sehr gut !

20/Apr/2022

Ok
Fa il suo dovere, ma consiglio di asciugare i sensori prima di nebulizzare.

20/Apr/2022

Definitely a big help
This little devide can definitely help make sure you're doing everything correct when it comes down to looking after your crops, whether they be mushrooms or plants. It's cheap, intuitive, easy to use, and trusty

17/Apr/2022

A avoir
Très utile mais pas indispensable

15/Apr/2022

Top!
Fonctionne très bien ! Top 100%

10/Apr/2022

praktisch
scheint einigermaßen korrekt zu messen und hat einen praktischen clip

10/Apr/2022

Au top
Fonctionne très bien !

29/Mar/2022

Works great!
Such a handy device its a must for me to get when growing!

23/Mar/2022

pratique
Ce n'est pas de la haute précision mais très correct et bien pensé . Pour le prix on aurais tord de s'en priver .

23/Mar/2022

Very good!
Works very good and helps a lot to control boht temp and humidity.

20/Mar/2022

Top
Pratique, compact, trés précis

13/Mar/2022

Another essential tool
This and the heatmat are big helpers in the growing process. I love how straightforward it is to use. I definitely recommend getting one, you can even use it for other needs. At first, I was worried that something is off with it because the hygrometer was staying at 99% most of the times, but I guess it's because of the condensation which forms on the casing of the sensor. This might be normal and mostly happens after I close the bag.

10/Mar/2022

Parfait
Impeccable rempli son rôle

08/Mar/2022

Great option
Very helpful and easy to use.

07/Mar/2022

Ie doet et!
Ik gebruik m in m'n indoor canna garden. Mis wel een resetknop voir de min/max waarden per 24u. Gewoon batterijtje er even uithalen werkt ook natuurlijk. Benieuwd hoe lang ie zal meegaan…

07/Mar/2022

Sehr gut für Plastikboxen
Durch die angebrachten Saugknöpfe lassen sich die zwei Kabel zum Temperatur und Feuchtigkeitsmessen optimal an der Innenseite einer großen Plastikbox anbringen in der ich mein Growkit habe. Welches ich allerdings diesemal woanders bestellt habe, da Zamnesias fresh Mushroom Growbox, fast nichts produzierte und der Kuchen bei der Ankunft schon trocken und älter aussah. Einen Stern Abzug wegen der Versandzeit. Es wurde Dienstag empfangen, meine Ware aber erst FREITAG versendet? Lag jetzt übers WE (wo ich genug Zeit gehabt hätte) im Postamt rum und kam erst heute an. Finde ich schon schwach....

24/Feb/2022

Preis Leistung unschlag bar
Es macht was es soll für kleines Geld

20/Feb/2022

An essential tool to find the right climate for your mushrooms
With this thermo-/hygrometer ist was easy to create the right climate for the mushrooms to grow. Just check for 23°C and at least 80% humidity and you are in the "sweet spot". From then on it is just plain sailing. Maybe the most useful tool of all and a heatmap is almost useless without it. By checking for the right hum. & temp. you learn so much more about your plants. Get one right with the first grow kit you buy!

15/Feb/2022

Good
This product works really well.

17/Jan/2022

Alles auf einem Blick
Praktisch sehr nützlich und preiswert.

30/Nov/2021

Lækkert og nemt
Det funger upåklageligt og glad for jeg har købt det for at ku holde øje med fugt og temperatur :)

29/Nov/2021

Very Helpful!
Very Helpful!

27/Nov/2021

Top
Zeer goed product zeer nauwkeurig Ik ben zeer tevreden

26/Nov/2021

simplicité et efficacité
Pour le prix ca en vaux vraiment le coup, il est précis et bien lisible, pas de bouton en trop, juste ce qu'il faut!

23/Nov/2021

Igrometro
Perfetto sotto tutti i punti di vista.

20/Nov/2021

Effective
Really much needed and fully functional equipment that every grower will appreciate.

20/Nov/2021

Simpel und genial
Tolles Gerät das sich selbst erklärt. Simple Bedienung und funktioniert ohne Probleme. Definitive Kaufempfehlung!

15/Nov/2021

was soll man groß sagen
das teil tut das was es tun muss !!

14/Nov/2021

Get it.
Finding hygro/temp meters which are precise and keeps working is a shitshow, get this one, its been reliable and the price is great compared to the alternatives.

11/Nov/2021

Piccolo e preciso
Funziona molto bene. A un certo punto si era fermato all'umidità pari a 99% costantemente in quanto era entrata un po' di acqua, ma ho risolto subito asciugando bene la sonda.

06/Nov/2021

Macht was ed soll
Macht genau das was es soll bin zufrieden

30/Oct/2021

bien utile
Pour ma première expérience de pousse de champis, ça m'a aidé à savoir ce que je faisais d'avoir ces indications de température et d'humidité. Je recommande, surtout si comme moi vous êtes novice

24/Oct/2021

Decent piece of simple tech
Works pretty well, aint got much to say about it.

21/Oct/2021

Très utile
Très utile j'en suis satisfait

20/Oct/2021

Top stuff
Besides its original use - which it performs flawlessly - it actually worked as well very well in a distillation flask to check temperature while the material could take some heat as well as acid and lye

14/Oct/2021

merci Zamnesia
envoi rapide comme d'habitude fonctionne bien fait le job

12/Oct/2021

Muy bueno
Súper eficiente, para tener una mejor noción de la atmósfera de crecímiento.

07/Oct/2021

Very effective
Very pleased with this. It arrived promptly and is accurate and easy to use.

02/Oct/2021

Broken, but got a full refund
I received one with a broken hygrometer which always said 99% humidity, but I received a full refund. Exellent service.

02/Oct/2021

thèrmomètre
très bien pour voir l,humidité

28/Sep/2021

I can't set it on
I tried to set it on without a success I got some new batteries and keeps not working.. help me please

23/Sep/2021

Works very well
The instructions are straightforward and easy to understand. It does it's functions well and has several functionalities. Great product

11/Sep/2021

Tut was es soll
Funktioniert sehr gut hatte vorher eins von Amazon was ich komplett in den Beutel stellen musste das ist mittlerweile durch die hohe Luftfeuchtigkeit kaputt gegangen das von zamnesia funktioniert problemlos da muss man nur die beiden Sensoren reinhängen super tolles Produkt aus dem super Shop

10/Sep/2021

thermo
Tres simple d utilisation, good job

28/Aug/2021

Tres bonne qualiter!
Ce thermomètre est vraiment parfait! Et de tres bonne qualiter

10/Aug/2021

Does the job
Very stabil and functional

09/Aug/2021

Mal funzionante
Non funziona per niente, deluso.

20/Jul/2021

muy recomendable
Antes de tenerlo me salían setas pero era una lotería porque a veces se me daban muy bien pero otras no salía ni el micelio. Pongo los panes en un semillero grande de plastico y con el termometro controlo la temperatura y la humedad dentro y sé si necesitan más calor o menos. Si se pasa de humedad se ventila y listo. Así se me han dado realmente bien el 100% de las veces y saco 3-4 cosechas y para lo que vale el termometro está genial.

19/May/2021

Reicht vollkommen aus
Für diesen Zweck reicht es vollkommen aus, bin sehr zufrieden

12/May/2021

Efficace
Parfait,c'est ce que je voulais..

29/Apr/2021

A ce prix c'est top
Génial, il fonctionne bien et donne les précieuses indications nécessaires pour nos cultures diverses. Fait son job, ni plus ni moins. Fourni avec une pile, c'est appréciable. Aussitôt fonctionnel, impeccable !

25/Apr/2021

Heel handig
Mooi product voor een zacht prijsje ( zéker vergeleken met soortgelijke producten die op internet staan ) Doet wat hij moet doen, al twijfel ik een beetje aan de accuraatheid van de hydro meter. Van de 4 die ik gekocht heb, wijkt er één continu 15% af, evengoed is er met deze ook goed te werken. Mooi speelgoed, essentieel voor het creëeren van je gewenste klimaat

20/Apr/2021

Zufrieden
Macht was es soll

16/Apr/2021

Nikel
fonctionne bien

10/Apr/2021

tevreden
zeer handig ding en werkt prima

06/Apr/2021

trés bien
Fonctionne très bien

06/Apr/2021

Essential bit of kit for growing
Lets you know exactly what is going on, more than useful. The humidity only goes up to 99% so don't try and reach 100%. :-)

04/Apr/2021

Ganz ok
Ist ganz praktisch auch wenn man sich bei den Werten die angezeigt werden leider nicht sicher sein kann, ob diese stimmen, weil zum Beispiel das Hydrometer nicht sehr genau ist.

30/Mar/2021

Thermometre Hygrometre
Reçu rapidement comme d'habitude impeccable et le produit rapport qualité prix est imbatable, merci Zamnesia !

19/Mar/2021

Alles im Griff
Das Gerät ist top verarbeitet und macht exakt, was es soll. Damit habe ich mein Zuchtklima im vollen Überblick. Besonders praktisch finde ich die Klammer auf der Rückseite, mit der man das Gerät fast überall platzieren kann. Sie hat einen Magnet und lässt sich ebenfalls als Stütze verwenden. Ich bin sehr zufrieden!

06/Mar/2021

Mauvais
Peut être pas eu de chance mais pour moi ce produit n'est pas du tout adapté, la sonde a juste touché le plastique et l'humidité reste bloqué à 99%, je l'ai mis dans du riz une nuit ça avait l'air de refonctionner mais rebelote dès que je l'ai remis dans le sac. Le thermometre affiche lui aussi des résultat plus que douteux...

20/Feb/2021

cool
un peu cher mais vraiment cool et indispensable pour cultiver

19/Feb/2021

🤩
Coucou Zamnesien, vraiment, top de très bonne qualité, et vraiment pas cher !! Je suis surpris de ça qualité, à comparer à ce qu'il y a sur le marché, rapport qualité prix imbattable, vraiment, commande les yeux fermés

17/Feb/2021

nice product
Works without any issue.

04/Feb/2021

facile et indispensable
très pratique

29/Jan/2021

Indispensable
Gérer l'humidité sans noyer la culture, voir si il ne fait pas trop chaud ou froid, cela est parfait pour les grow-kit, j'ai foiré mon premier et avec cet outil c'est l'inverse, je recommande ! Fonctionne parfaitement.

26/Jan/2021

Super Hygromètre Zamnesia
Indispensable pour toute culture que se soit pour les champis ou la weed !

20/Jan/2021

Super
Il marche parfaitement

08/Jan/2021

Humidité bloquée à 10%
Hello je viens de le recevoir. La température a l'air de marcher, mais l'humidité n'a pas bougé depuis la mise en route, le chiffre reste bloqué à 10%. Auriez vous un indice à ce sujet?

14/Dec/2020

Pratique
Très pratique pour surveiller les conditions de culture

01/Dec/2020

Il vaut son prix
Il est de plutôt bonne qualité, fonctionne bien malgré la forte humidité à

01/Dec/2020

Recommend for magic mushrooms!
It detects fast any changes in temperature or humidity.

28/Nov/2020

great product.
This is an excellent device for symbolic money. Thank you!

20/Nov/2020

Fonctionne bien
Le produit fonctionne très bien l'option qui permet de vérifier la température minimale et maximale atteinte est très pratique

19/Nov/2020

Simple et efficace
Très pratique pour contrôler l'environnement

19/Nov/2020

Good and at a fair price
I like it very much. It measures separately temperature and humidity inside the kit and outside the kit (room) and records minimal and maximum registered temperature. Alternating between all these information on the display can be a little confusing for some people at first but easy to get used to after a while. It is important to keep in mind that the humidity probe sensor is inside a little cage, and in a high humidity environment (like a grow kit) this cage may condense a little bit of water, and that may result in a faulty reading. But that is an issue with most hygrometers I guess.

19/Nov/2020

Perfect
Cheap, does the job, quite precise. Perfect for mushroom growing.

09/Nov/2020

Works like a charm in mushroom cultivation
Awesome!

07/Nov/2020

Top qualité d'un produit incontournable....
Pour un prix très concurrentiel, vous pouvez surveiller le séchage et l'affinage de vos plans tant chéris et rectifier le tir afin d'éviter le pire ... Pour moi, c'est TOP Thx Zamnesia ;-)

08/Oct/2020

Ok pour la température
Très pratique pour suivre la température. En revanche pour l'humidité je ne suis pas convaincu. Il lui arrive de se bloquer à 99% sans doute quand il y a de la condensation et il faut sortir la sonde et attendre qu'elle sèche avant de pouvoir réutiliser. Donc la sonde d'hygrométrie ne me semble pas adaptée à une ambiance ou l'humidité peut monter très haut.

05/Oct/2020

Funzionale
Semplice, preciso e funzionale, praticamente fa ciò che serve. prezzo giusto

27/Aug/2020

Worth it for the price
Considering the price it does it's job but don't expect 100% accuracy, especially the hygrometer. Good for having a general notion about your cultures when you're beginning your cultivation journey.

24/Aug/2020

perfect for my wish
Its working great.

07/Aug/2020

Thermomètre hygromètre
Bon produit, fonctionne bien et avec une pile AAA qui se remplace facilement. Bien que livré avec une pile chargée. L'hygromètre reste bloqué à 99% dans le sac de culture mais j'ai testé plusieurs environnements et il fonctionne bien. Bon produit à un prix raisonnable.

28/Jul/2020

Work for me :)
Great !

22/Jul/2020

Thermomètre mushroon
Fait très bien sont taf... Merci zamnesia

13/Jul/2020

Pas cher certes mais défaillant
Ok cool c'est pas cher mais le plus utile c'est l'hydromètre et malheureusement il ne fonctionne pas car il reste bloqué a 99%... :-( :-(

06/Jul/2020

Indispensable
Fonctionne très bien ,câble de bonne dimension avec ventouse . prix attractif ,indispensable pour une culture précise et de qualité. Je recommande ce produit!

03/Jul/2020

Buon igonometro
Non ho fatto test di precisione ma mi sembra veritiera la lettura dei valori o per lo meno per la necessità che ho. Ottimo sia per piante che funghi

01/Jul/2020

Not fit for mushroom cultivation
In the living room they work. But in the fruiting chamber at high humidity they read 99% when its actually 90%. I tried 2 of them. Both same issue. Customer service is great btw!

01/Jul/2020

Très bon mais l'hygromètre est défaillant
Impressionné par son as prix qui fait que cet objet, prennent la température correctement, le taux d'humidité est moins fiable à cause de quelques défaillances faisant qu'il affiche un taux d'humidité de 99% à l'intérieur d'un sac de culture mais les câbles pour les "sondes" sont très longs, équipés de ventouses pour pouvoir les accrochés et le boiter permettant l'affichage des mesures peut être posé sur une surface plane ou sur un mur en métal car l est également aimanté. La pile est incluse et chargée, INCROYABLE ! Ca ne prend pas de place et il y a une option pour savoir la température minimale et maximale, ces données supplémentaires rassurent lorsque qu'on cultive des champignons/plantes. L'hygromètre est à améliorer sinon le reste est parfait !

09/Jun/2020

Todo bien
Funciona perfectamente y su diseño es perfecto para mantener las distancias.

18/May/2020

Fonctionne très bien.
Il fonctionne très bien, la qualité de fabrication est tout à fait correcte. Ça peut vous éviter bien des ennuis ! Merci Zamnesia

05/May/2020

Fait le job !
Bon équipement, la température marche nickel ainsi que le capteur d'humidité. RAS !

04/May/2020

pas très precis
mise a part la temperature sinon l hygromètre pas très precis

04/May/2020

Perfect, does the job
Perfect, does the job and very easy to use, very precise too

29/Apr/2020

Humidity reading always at 99%. Temperature readings are very good.
When first unpacked and turned on it gave good readings in and out. Then I used it in the monotub without having sprayed water and it gave a reasonable reading. I took it out and began to mist the sides of the tub, one spray on each side of the 4 (4 sprays). I let the mist settle for a few seconds then used the section cups to have the sensors dangling slightly above the centre of the box. Once I set this up and closed the tub the meter for humidity began to rise slowly until it reached 99% and it's stayed there and not come back down. The sides are not that humid and surely the tub isn't at 99% or even 90%, probably 80-85% if I'd estimate. Will need to see how this goes, I agree with other commenters that the humidity reading needs improving in a closed setting. The temperature reading is very accurate however.

22/Apr/2020

Simple et efficace
pratique, pas cher et même la pile est incluse. En effet, comme j'ai pu le lire, la sonde hygromètre dans le sac de culture ce n'est pas idéal. Mais on peut remédier à ça et cultiver en bac^^

17/Mar/2020

Pas mal pour le prix
Thermomètre au top, mais la sonde de l' hygromètre ne doit pas rester constamment dans le sac de culture je pense, afin de la préserver plus longtemps

13/Mar/2020

Igrometro difettoso
L'Igrometro segna sempre 99% di umidità, sia all'interno (IN) che all'esterno (OUT)

13/Mar/2020

Très moyen
Le 1er commandé avait un problème avec le capteur d'humidité. Zamnesia m'en renvois un sans discuter mais il a le même problème

02/Mar/2020

Great if you need it
Especially for first timers, or if you're unsure about your conditions. This will show you moisture level and temperature, so you know what optimal conditions are like. Remember fresh air is also as important as moisture.

13/Feb/2020

I love this little thing
Just as advertised...

13/Sep/2019

Good
As long as you are careful not to put water directly on the sensor, it wrks pretty well. I've been using it for a month and it still does the job.

02/Sep/2019

zeigt immer 99,9% luftfeuchtigkeit an
bin mir hier nicht sicher ob wir hier von top qualität reden aber preis leistung passt und es ist halt eine ca skala das man einen richt wert hatt für die temp feuchtigkeit aber würd echt 5-20€ mehr zahlen und ein richtiges holen sowas kann man ja immer brauchen

09/Aug/2019

termohigrometro
excelente producto, de muy buena calidad y mucho mas barato o igual que el resto del mercado !

05/Jul/2019

dont understand how to use it
you should have a video or something of the use of it

29/Apr/2019

cheap and practical
Corrosion kills humidity sensor in 1-2 weeks, so it is pretty useless. Temperature sensor works fine.

29/Apr/2019

Fonctionne nickel
Un bon Thermomètre / Hygromètre conforme a la description

29/Mar/2019

Doing the job.
Fine for different cultures.

13/Mar/2019

Perfekt
Perfekt

07/Mar/2019

hygro / thermo
works fine ! can be used in the canna garden too

19/Feb/2019

Bien
Le thermomètre fonctionne correctement par contre je n'ai pas de moyen de vérifier l'hydromètre.

05/Feb/2019

Useful
Very handy device to make sure your temps aren't getting too high/low, the hygrometer never worked for me but i was given a refund by Zamnesia support

01/Feb/2019

Hygrometer / Thermometer review
Excellent and essential.

You can't post a review because you are not logged as a customer


Restrictions
Please note that if your country is not on our general shipping list, we're unable to ship any item on our website to it. For more information check out the list here: Ordering & Shipping
Video (0)