EHLE Glass: Handblown, High-Quality Bongs Since 1988
4 min
If you are a real stoner, you probably have heard the name "EHLE" before, and chances are that you at least have tried one of their marvelous products to your great enjoyment. In our coverage of avant-garde entrepreneurs in the canna-business, we show you what makes EHLE so special.
EHLE: EXCELLENT SMOKING EQUIPMENT
This article is part of a recurring blog series where we highlight major or stand-out players of the smart, vape, or canna-business. We do this to introduce to you the best of the best in this industry. This time, EHLE - famous glass manufacturer from Germany - is in our focus.
Without further ado, let's have a look at the history of the company, their product range and, of course, our favourite EHLE products here at Zamnesia.
HISTORY OF THE COMPANY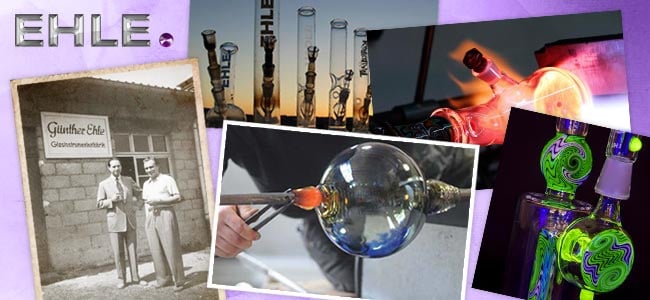 The Ehles have been glassblowers for generations. Thomas Ehle, who is now in charge of the company, followed in his father's footsteps, a glassblower who moved from Thüringen to Limburg in 1949 with some money in his pocket and a lot of ideas in his head. There he founded the "Günther Ehle Glasinstrumentenfabrik". Thomas Ehle got infected with the "glass virus" early on - a passion that is still strong in him this day. He learned to be a glassblower and became a master of glassapparatus engineering in 1993.
Thomas Ehle took over the business from his father in 1988, due to his father sadly passing away. It was at this time that he launched his first series of waterpipes - of a quality rarely seen else where. Today, his work is praised and valued all over the world. You buy EHLE products because you know you get consistent quality in function and design. This makes the pieces sought-after collector's items.
For many years, only two people worked for the brand. It was during these days that EHLE developed a friendship with the company "Burdich Laborbedarf GmbH". They worked door to door, so they helped each other out and their friendship grew stronger and stronger. It was the next logical step to merge the two companies. This happened in 2015. Thomas Ehle says that the merger "breathed new wind into the company and generated lots of new ideas".
The team consists of experienced glassblowers and enthusiastic trainees. EHLE's sales team makes all processes run smoothly and they always have an open ear for their customers. The people over at EHLE love what they are doing and try to make your wishes come true.
PRODUCT RANGE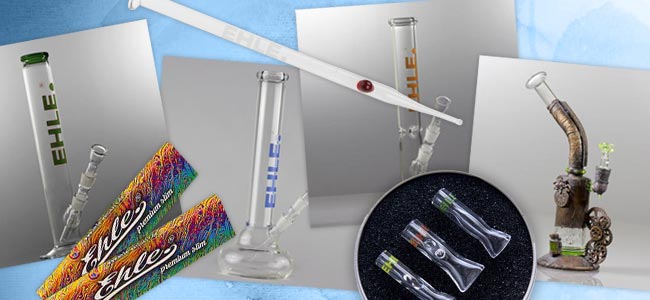 When people think of EHLE, they think of glass bongs. That's what the company is most famous for. But they actually have a lot more in their product range than just all things bong related.
Their basic line is the cylinder style. You can get these with a straight or bent neck, as an ice cylinder or with a ball. They also offer bigger or coloured versions, special models, and sandblasted ones.
Another line they produce is the hollow foot bong, which is available in reactor or shisha style. The hollow foot bong has a little bit more volume, stability and thus a little bit more joy of smoking than their basic line.
Another variant is the 5mm thick glass bong. These bongs feature super thick and massive glass for extra stability. Almost all of their lines are available as a 5mm version if you prefer the extra thick glass. Of course, they also offer many different styles and forms of percolators, pre-coolers and ash-catchers, bong chillums and bowls, and all kinds of helpful things for the bong aficionado.
On top of that, they have beautifully coloured pieces in their product range of the gorgeous ARTline. Since dabbing is a really huge thing right now, they further offer all the accessories for dabbing as well, like oil rigs, oil pipes, domes, adapters etc. You can even customize a bong to your specific needs if that is what you prefer.
EHLE has are very extensive assortment that goes well beyond glass work. It would go beyond the boundaries of this article to list them all, but it should not go unmentioned that they also have E.tips (more on that later), gauzes, steam rollers, activated carbon and even their own rolling papers.
UNIQUE SELLING POINTS
But what makes glass from EHLE so special? What are its USP (Unique Selling Points)? First and foremost, you get quality "Made in Germany" and that itself says a lot. They are very proud of this and that all their products are still made in their workshop. There, they create pieces of superb craftsmanship. All their work is a combination of the know-how of the team and modern sophisticated manufacturing technology. They use high-grade borosilicate glass for all their products. It corresponds to the international norm DIN - ISO 3585. So you get material that is particular heat resistant and has a certain mechanical load capacity. Each and every piece is tempered carefully before it hits the shelves.
OUR FAVOURITE EHLE PRODUCTS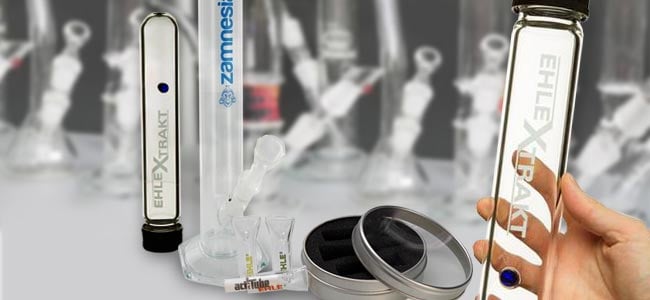 To give you some examples of the excellent craftsmanship of the EHLE products, here are three of our favourite EHLE products:
Zamnesia Pipe Bomb Glass Bong
This unique piece is a collaboration of EHLE and Zamnesia. It is a sturdy bong that has a straight neck and stands on a hexagonal base. The bong is 35cm tall, has a diameter of 50mm and features a standard 14.5mm joint. It features the extra thick 5mm glass of EHLE and is a beautiful example of glassblowing art. This custom-made bong has the Zamnesia logo on the side and the EHLE logo on the foot. Each bong is carefully inspected and signed by Mr. Ehle himself!
EHLE-X-Trakt Glass Extractor
Yes, EHLE even makes high-end BHO extractors. The EHLE-X-Trakt Glass Extractor makes for the purest extraction possible. It is entirely made of glass and even comes with a glass screen. It measures 30cm in length and has a diameter of 50mm. The extractor also features a screw thread at the bottom, a small hole for the gas, two joints, and the roll away protection. And if that wasn't enough, it is certified by Dexso, the high-end extractor brand from Austria.
EHLE Glass E.Tips
Not a bong but something different and really special from EHLE. These glass tips come in a pack of 3 in different sizes, delivered in a metal box. The tips are made from high-grade borosilicate glass (as you would expect from EHLE) and thus take your joint smoking experience to a whole new level. Plus, they are environmentally friendly because you can clean them after use and use them again and again.
EHLE - EXCEPTIONAL QUALITY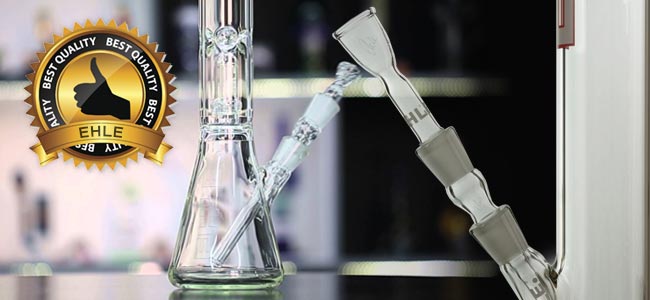 There you have it - EHLE is one of the best glass manufacturers on the planet! They set themselves apart with exceptional quality that is thoroughly tested with each and every piece. The people who work at EHLE love what they are doing and always have the customer's wishes and needs in mind. They are masters of their trade and therefore a glass piece from EHLE is a must-have for every collector! If you haven't heard of them before or got really interested because of our introduction then definitely check them out - this is the real deal of avant-garde glassblowing art!