Top 10 Best Glass And Acrylic Bongs

5 min
Looking for a good bong? We can help! Here is our list of the 10 best glass bongs and acrylic bongs for every stoner's taste and budget!
Cannabis aficionados know that a good bong makes all the difference. Even with the best weed in the world, a cheap and harsh-hitting bong can really be a joy-killer. That being said, it's not uncommon to see new cannabis smokers start out with cheap bongs or the wrong type of piece altogether. But don't fret; we are here to help you get the best bong for your buck! Below are our picks for the top 10 glass and acrylic bongs.
WHY SHOULD YOU GET A BONG?
Before we dive into some of our top-tier bongs, it's worth recapping the many benefits of this consumption method. Perhaps the biggest advantage, especially when compared to smoking a joint, is that a bong cools your smoke for a smoother experience. At the same time, you can also take much bigger hits. Moreover, all you need to do is fill your bowl—no fiddling around with papers required! Last but not least, many bongs look awesome and can make great centrepieces that will no doubt impress your friends.
DIFFERENT TYPES OF BONGS: GLASS VS. ACRYLIC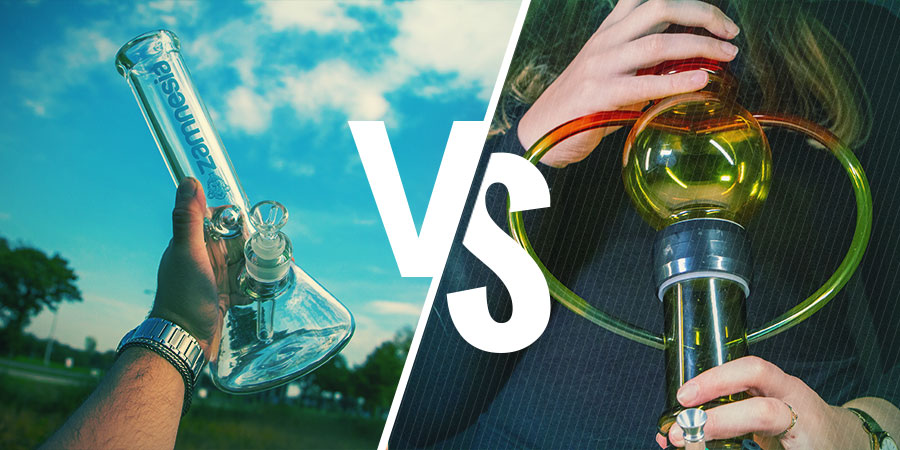 There are many different types of bongs available. They come in all sizes, from teeny tiny all the way up to mega-sized pieces that let you take some truly monstrous rips. They can also come with fancy features that you may (or may not) need, like percolators or ice trays so you can cool your smoke even more. Bongs can be made from various materials, although most tend to be glass or acrylic.
Each type of bong has its pros and cons. Which type may be better for you will depend on your own preferences, and also your budget.
Acrylic bongs are normally much cheaper than bongs made from glass. They are often more durable, and may even survive a fall or two off your table. Bongs made from acrylic are available in many cool shapes and colours, and tend to be easier to clean; although, they can sometimes come across as cheap-looking. The most important downside with acrylic bongs, however, is that they can give you a harsher smoke than what you'd get from glass.
Glass bongs, on the other hand, always make a great impression, especially if you have one that is heavy and made from thick borosilicate glass. Even simple yet good-quality glass bongs without anything fancy often have a luxurious and classy feel to them, and will never fail to impress your guests. Apart from looking classy, glass bongs will also give you a smoother smoke than acrylic ones. The biggest disadvantages with glass bongs come in the form of a higher price tag and slightly less durability. However, the latter issue can be mitigated with glass bongs made from super-durable borosilicate.
THE 10 BEST BONGS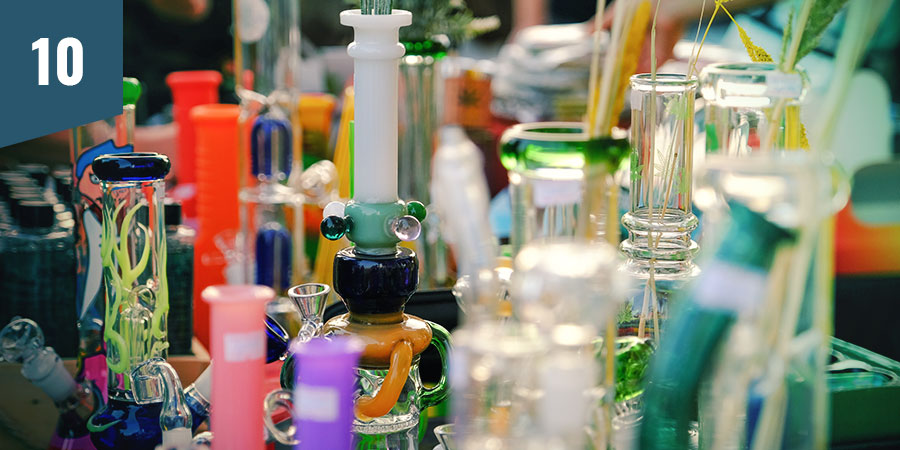 Having learned about the differences between acrylic and glass bongs, here is our list of the 10 best bongs you can find at Zamnesia!
10. ACRYLIC BONG CANON
The Bong Canon sure isn't your average piece. This one is a true looker, and not just because of the many cool colours that she's available in. This acrylic bong features a second cooling stage on top to provide an extra-smooth smoke. The upper cooling stage is also connected with tubes to the lower part, which makes this bong look unique and eye-catching. To clean it, all you need to do is just dismantle the two parts. The bowl and downstem of the Bong Canon are made from durable aluminium alloy. This bong measures 52cm.
9. THE GASMASK BONG
Of course, there is no better time to rip one than when the sirens are going off and everyone is running to the bunkers due to an impending alien attack. This is the perfect occasion to put on your gas mask, light the bong, and put it into the opening in the mask. This doesn't just have the benefit of potentially scaring off any otherworldly invaders; the mask also creates an airtight seal around your face to give you some ultra-powerful rips—no smoke goes to waste. Just don't forget to close your eyes, unless you are going for the red-eyed stoner look on purpose. You can use the Gasmask Bong with or without water.
8. LARGE CLEAR ACRYLIC BONG
The Large Clear Acrylic Bong doesn't boast anything too fancy, except, well, for her enormous size. And this by itself may be all that you need for some monster-sized rips. It measures an impressive 52cm in height and stands solid on a rubber base. The piece comes in the classic bong shape with a straight clear tube that can hold 4 ice cubes, as well as a downstem and bowl made from metal. This acrylic bong is the perfect affordable alternative to a large glass bong!
7. ACRYLIC BONG DOUBLE BOWL
The Acrylic Double Bowl Bong may not stand very tall; in fact, it measures only a compact 26cm. But don't let her size deceive you. What makes this bong stand out are her two spheres—the lower one for the water, and the upper one for swirling the smoke around for some extra cooling action. This bong has an extra-long downpipe that, along with the small bowl, is made from aluminium alloy.
Tip: If you want extra-large hits, just remove the rubber from the carb-hole for increased airflow!
6. GLASS BONG EINSTEIN
Most people don't know that Einstein was quite big on weed. This is a replica of the exact same bong that Einstein used to help him come up with the theory of relativity, a bong that he designed himself for extra-smooth hits to help him think without coughing fits... Ok, we made all of this up, except for the part with the smooth hits, as this is certainly true! On the other hand, we believe that Einstein could very well have designed this bong, simply due to the genius way in which you can adjust the height from small (26cm) to big (40cm). Plus, it looks extremely cool as well!
5. CERAMIC BONG KNEELING WOMAN
Whether you're a patron of fine erotic art, or have a thing for ingenious functionality harnessed into a cheeky piece, the Kneeling Woman Bong might be of interest. Just light the metal bowl and then put your mouth where you otherwise (probably) wouldn't put it. This bong isn't just a great gift for your in-laws' anniversary, but also makes a fantastic conversation piece in your room no doubt!
4. ACRYLIC BONG STRAIGHT
The Straight Acrylic Bong in the classic straight style doesn't need any gimmicky features to convince you of its potential. It's a quick, simple, and pure bong that has everything you need for some good bong rippin' times, and is available in various cool colours. The bong has just the right height at 26cm, and features a downstem and bowl made from metal. You can get even more powerful rips when you remove the rubber from the carb-hole.
3. BUKKET BONG
The famous Bukket Gravity Bong has been designed for those who want the most powerful hits they can get from any smoking device. But be advised, saying that this bong hits "well" is probably the understatement of the century. Due to the unique way this gravity bong works, it will probably hit better than anything you've ever tried, and will make you super-super-SUPER high.
2. ZAMNESIA MR. TWISTER
There aren't many bongs that scream luxury and elegance like the glass pieces by EHLE. Designed exclusively for Zamnesia, Mr. Twister is a gorgeous ice bong in the classic style, but with a "twist" in the middle. It is made from durable borosilicate glass with a thickness of 5mm, so the bong can also take some rougher handling. The downstem and bowl are made from glass as well. The bong has a height of 45cm, so you can take some monster rips indeed. Each Mr. Twister had been carefully inspected and signed by Mr. Ehle himself.
1. HEAVYWEIGHT GLASS ICE BONG
The Heavyweight Glass Ice Bong may be unassuming, but don't let this fool you—you will see why as soon as you hold this beauty in your hands! The bong is surprisingly heavy, thanks to her 9mm (yes, you read that right) thick glass. This makes the Heavyweight Glass Ice Bong extremely strong and durable. The bong has a nicely compact height of just 35cm, so she doesn't take up too much space, but still provides some amazingly hefty hits. This bong is particularly easy to clean, which is nothing to shake a stick at either!
Written by: Zamnesia
Zamnesia has spent years honing its products, ranges, and knowledge of all things psychedelic. Driven by the spirit of Zammi, Zamnesia strives to bring you accurate, factual, and informative content.

Find out about our writers
---