Blog

6 min
Top 10 Best Glass And Acrylic Bongs
6 min
Looking for a good bong? We can help! Here is our list of the 10 best glass bongs and acrylic bongs for every stoner's taste and budget!
Cannabis aficionados know that a good bong makes all the difference. Even with the best weed in the world, a cheap and harsh-hitting bong can really be a joy-killer. That being said, it's not uncommon to see new cannabis smokers start out with cheap bongs or the wrong type of piece altogether. But don't fret; we are here to help you get the best bong for your buck! Below are our picks for the top 10 glass and acrylic bongs.
WHY SHOULD YOU GET A BONG?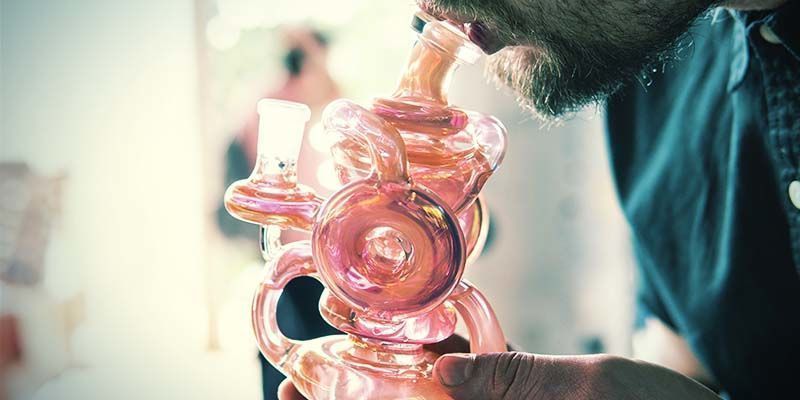 Before we dive into some of our top-tier bongs, it's worth recapping the many benefits of this consumption method. Perhaps the biggest advantage, especially when compared to smoking a joint, is that a bong cools your smoke for a smoother experience. At the same time, you can also take much bigger hits. Moreover, all you need to do is fill your bowl—no fiddling around with papers required! Last but not least, many bongs look awesome and can make great centrepieces that will no doubt impress your friends.
DIFFERENT TYPES OF BONGS: GLASS VS. ACRYLIC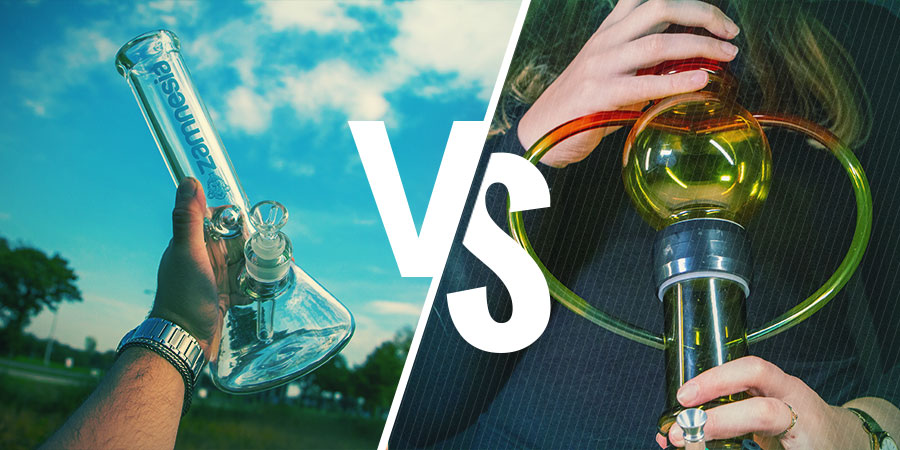 There are many different types of bongs available. They come in all sizes, from teeny tiny all the way up to mega-sized pieces that let you take some truly monstrous rips. They can also come with fancy features that you may (or may not) need, like percolators or ice trays so you can cool your smoke even more. Bongs can be made from various materials, although most tend to be glass or acrylic.
Each type of bong has its pros and cons. Which type may be better for you will depend on your own preferences, and also your budget.
Acrylic bongs are normally much cheaper than bongs made from glass. They are often more durable, and may even survive a fall or two off your table. Bongs made from acrylic are available in many cool shapes and colours, and tend to be easier to clean; although, they can sometimes come across as cheap-looking. The most important downside with acrylic bongs, however, is that they can give you a harsher smoke than what you'd get from glass.
Glass bongs, on the other hand, always make a great impression, especially if you have one that is heavy and made from thick borosilicate glass. Even simple yet good-quality glass bongs without anything fancy often have a luxurious and classy feel to them, and will never fail to impress your guests. Apart from looking classy, glass bongs will also give you a smoother smoke than acrylic ones. The biggest disadvantages with glass bongs come in the form of a higher price tag and slightly less durability. However, the latter issue can be mitigated with glass bongs made from super-durable borosilicate.
THE 10 BEST BONGS
Having learned about the differences between acrylic and glass bongs, here is our list of the 10 best bongs you can find at Zamnesia!
10. Glass Bong 'Triple Honeycomb'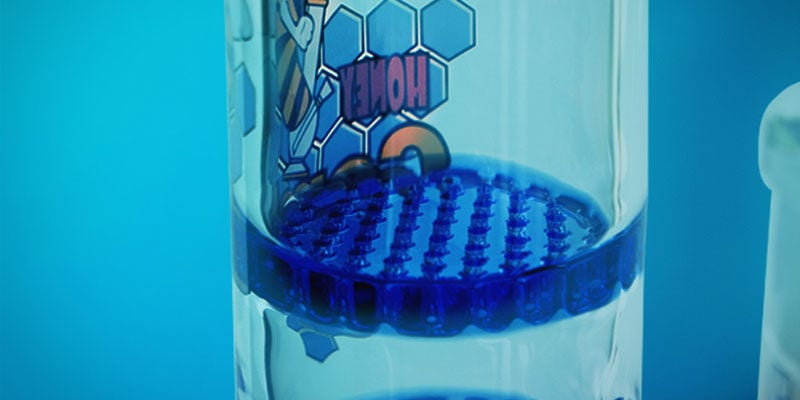 If you're looking for a bong that provides the coolest and smoothest hits, you may want to keep your eye out for this one. With its appealing and unique design, you may be fooled into thinking that the Triple Honeycomb bong is all about looks. However, this couldn't be further from the truth. The 3 layer perforated percolator discs placed throughout the body play a huge role. Once you take a pull, the smoke is percolated through the small honeycomb holes, providing a smooth and cool hit. Made from robust borosilicate glass, this is a bong that is sturdy and can withstand the occasional knock with ease. Measuring at 25.5cm, this is definitely a water pipe you can display with pride at your next smoking session.
9. PieceMaker Kermit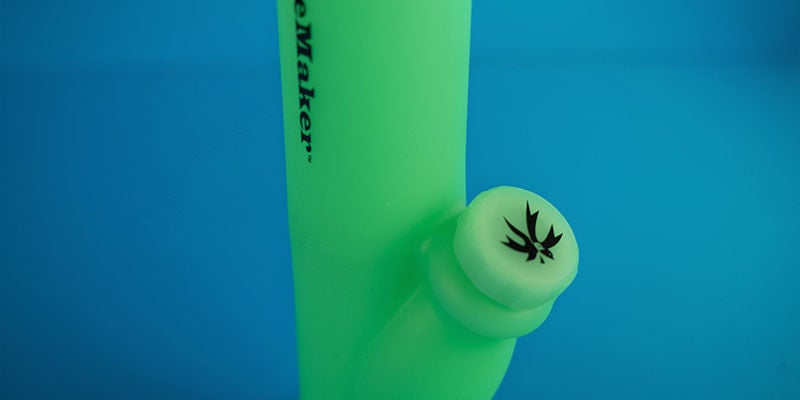 There was a time where using silicone as a material for bongs meant funky smells and giving your herb a bit of a weird taste! Thankfully the Kermit by PieceMaker is constructed from food-grade silicone that makes it pretty much indestructible. Thus, making it ideal for taking on the move. Simply fold up the bong and place it into your bag—ultimate portability! The bong also houses a borosilicate glass bowl that has plenty of ample room to be packed out with your favourite milled strains. Standing at 30cm, this is not an overbearing pipe but is sure to make an awesome addition for any room. The green helps the Kermit stand out from other bongs and is bound to impress all those that try it.
8. Glass Bong ROOR Dealers Cup 7mm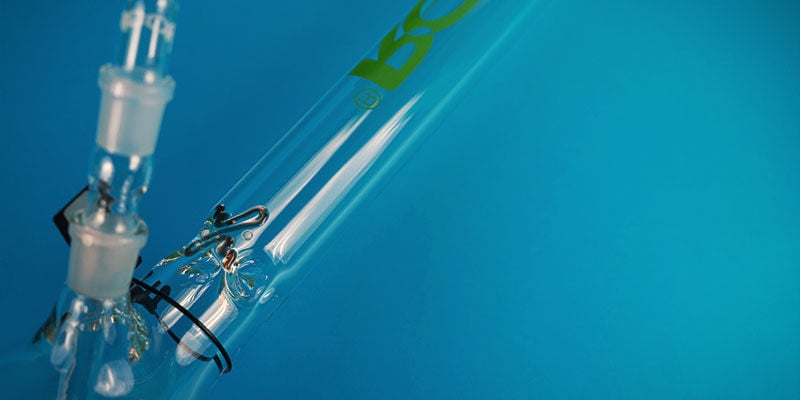 Made in Germany by luxury water pipe specialists ROOR, the Dealers Cup is a tall-standing bong that offers up a premium smoking experience. This beaker style bong stands at a huge 55cm and is constructed of 7mm, and is definitely aimed at the cannabis connoisseur that is loud and proud about their love for their favourite herb. Because of its size, the Dealers Cup doesn't offer up a discreet experience but can take pride of place in any smoking area. Weighing in at 2.5kg, this is a seriously hefty water pipe guaranteed to dazzle anyone who holds it. But while looks are one thing, functionality will always win out, and thankfully the Dealers Cup delivers. With a long chamber, this bong will give all users a nice and smooth, clean hit. Those looking for an even cooler pull can use the inbuilt ice catcher. This pipe has it all.
7. Acrylic Bong Double Bowl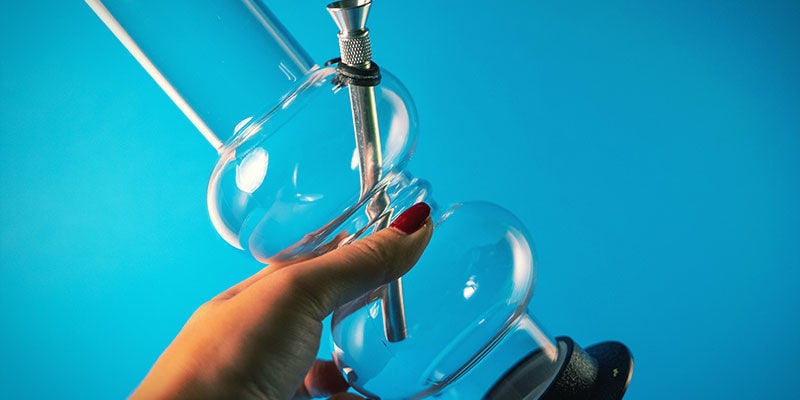 Standing at just 26cm, this water pipe is one of the shorter ones available on our list, but by no means is it any less functional. With its simple hourglass design, the lower chamber holds the water while the upper allows for extra air movement that lets the smoke cool even more. This makes for an overall smoother hit for the user. Made from acrylic, this is a bong that is not only cost-effective but can easily withstand the trials of the travelling smoker. Thanks to its slightly smaller size, it can easily go anywhere, and everywhere you go. Simply place it into your bag, and you're good to go. For a no-fuss and hassle-free smoking experience, many are turning to acrylic bongs. While once they were seen as flimsy, they are now a hugely popular choice.
6. Marley Natural Glass Bong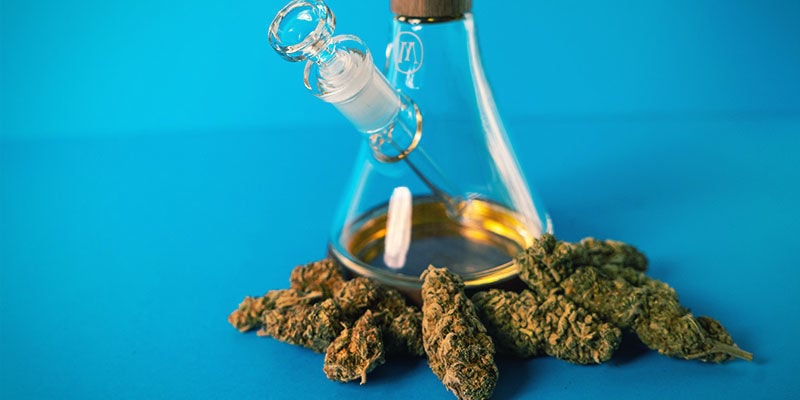 As the official company representing the legacy of cannabis culture icon Bob Marley, Marley Natural could quite easily mass-produce cheaply made bongs and accessories just to cash in on their famous namesake. Thankfully, this is not the case. Instead, they have strived to create innovative, premium-quality water pipes that users will proudly display in their home. The Glass Bong is one of those items. Designed with the truest cannabis connoisseur in mind, this high-quality bong combines a black walnut base and detailing with hand-blown borosilicate glass, making for a stylish way to take a hit. This water pipe will easily be a classy addition for any home and a huge talking point amongst friends for many a smoking session to come.
5. Stündenglass Gravity Hookah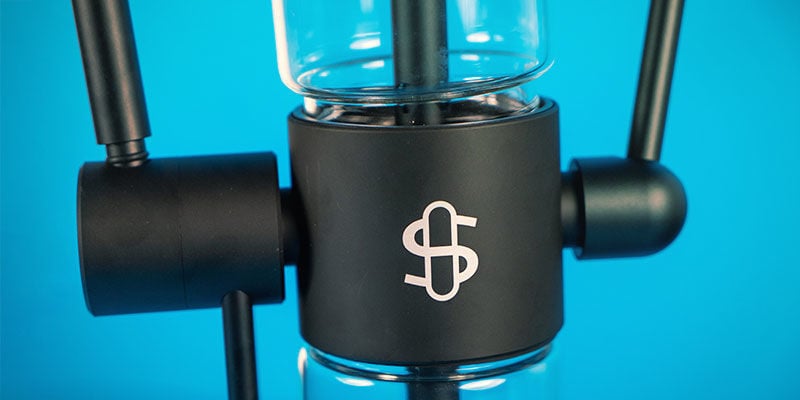 Just when you think you've seen everything bongs have to offer, along comes the Stündenglass. This is a bong that will blow everyone's mind (in the best way). Harnessing the power of gravity, the Stüdenglass is a stable, table-top way to get the best out of your herb. With minimal assembly required, you'll be ready to experience everything this water pipe can do. Fill one of the globes with water and load the bowl with your chosen strain and then light. As soon as you turn the borosilicate globes, you'll notice the top chamber fill with cloudy, rich smoke that is cooled as it passes through the water. Giving you potent and flavourful hits each time. The Stündenglass is stunning to look at, a joy to use, and hassle-free to maintain. A guaranteed winner in any serious smoker's books.
4. K. Haring Glass Bubbler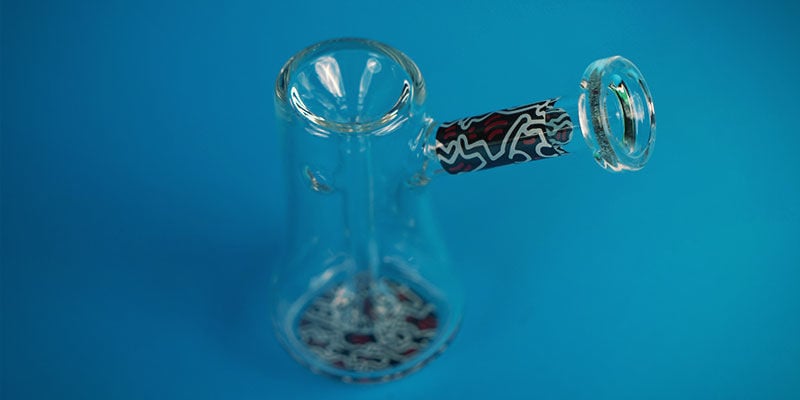 This awesome bubbler is constructed from borosilicate glass and features the iconic artwork from renowned American artist Keith Haring. This easy to use and stylish bong provides an effortless way to enjoy your favourite strains. The Glass Bubbler features a built-in 8-slit percolator that will instantly cool the smoke before it hits the mouthpiece, making for a much more enjoyable pull. With a wide, bell-shaped design, the bong provides great grip for those long smoking session but can also rest easy on any surface should you want to take a breather and check out that awesome K. Haring artwork wrapped around the glass by the mouthpiece.
3. Bukket Bong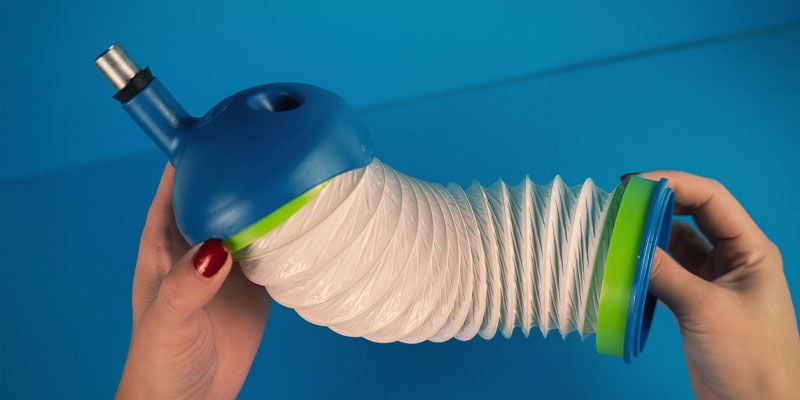 The famous Bukket Gravity Bong has been designed for those who want the most powerful hits they can get from any smoking device. But be advised, saying that this bong hits "well" is probably the understatement of the century. Due to the unique way this gravity bong works, it will probably hit better than anything you've ever tried, and will make you super-super-SUPER high.
2. Zamnesia Mr. Twister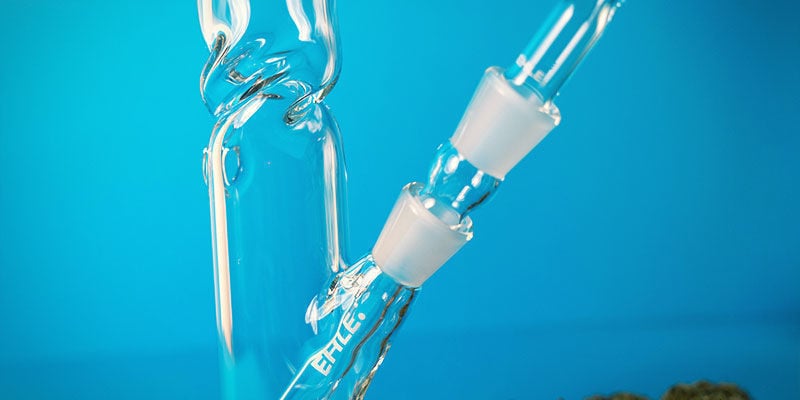 There aren't many bongs that scream luxury and elegance like the glass pieces by EHLE. Designed exclusively for Zamnesia, Mr. Twister is a gorgeous ice bong in the classic style, but with a "twist" in the middle. It is made from durable borosilicate glass with a thickness of 5mm, so the bong can also take some rougher handling. The downstem and bowl are made from glass as well. The bong has a height of 45cm, so you can take some monster rips indeed. Each Mr. Twister had been carefully inspected and signed by Mr. Ehle himself.
1. EHLE Glass Ice Bong Black Hole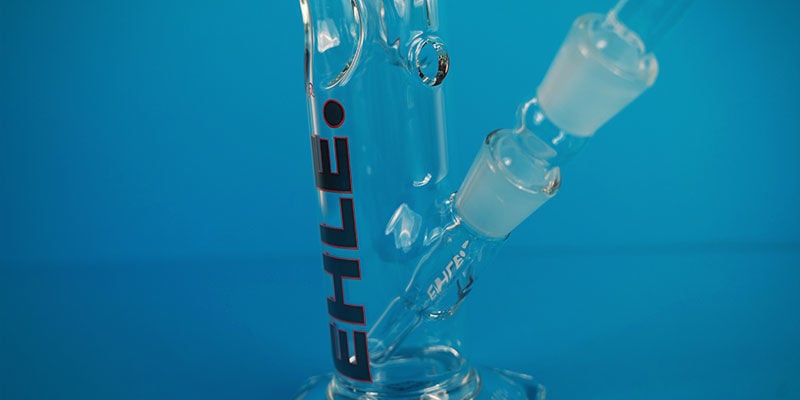 At first glance, you'd be mistaken for thinking that this is a faulty glass bong, but the hole in the centre of the tube serves a purpose! And a great one at that. The team at EHLE has produced this unique glass bong that allows you to place ice cubes in the hole to chill the smoke in the chamber. This tall-standing straight bong is made from the highest quality borosilicate glass to produce a smoking experience that has to be tried to be believed. Able to hold 500ml of water with an 18.8mm joint, this bong means business. Easy to use and extremely comfortable to hold (thanks to the hole in the centre of the tube), long, flavourful and smooth sessions await all those that pick up this water pipe. Complete with the EHLE logo emblazoned on the side of the glass, you know you're in great hands.