Kuripe Ivory Palm
Kuripes are used to self-administer rapé snuff, a powdered mixture featuring high levels of nicotine. These beautiful tools are made using vegetable ivory.
Product accessories: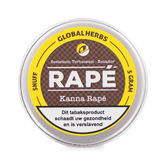 Rapé Kanna
More info
Ivory Palm Kuripe: Hand-Crafted With Care
Enhance the aesthetics of your rapé experiences with these stunning Ivory Palm Kuripes.
Each of these kuripes is crafted by hand and is entirely unique in design. Stunning avian imagery is carved out of tagua nut, also known as vegetable ivory. This natural material resembles animal ivory, just minus the hunting of elephants for their tusks. It's a durable material and has a long history of use in the production of tools, ornaments, and other trinkets.
A kuripe is an essential tool in the kit of any psychonaut. This ancient instrument was developed in the Amazon as a means of self-administering substances, namely rapé. A kuripe is made up of two pipes that fuse at varying angles. Commonly, they merge to form the shape of a V. They were traditionally crafted using bamboo or bone.
The end of one pipe is placed between the lips, and the other inserted into a nostril. The user then delivers a sharp exhalation into the kuripe, sending a blast of powdered rapé into the nose and, subsequently, the bloodstream.
Rapé is a combination of several powdered Amazonian plants. The main ingredient in the snuff is Nicotiana rustica, the tobacco of the Amazon. Traditionally known as mapacho, this nicotine-rich entheogen contains nine times more nicotine than Western tobacco.
Rapé is viewed as a cleansing preparation and is used traditionally to focus the mind, remove distractions, clear the sinuses, and calm the emotions.
More information related to this product:
Reviews (0)
Nobody has posted a review yet

You cannot post a review because you have not purchased this product
Restrictions
Please note that if your country is not on our general shipping list, we're unable to ship any item on our website to it. For more information check out the list here: Ordering & Shipping
Video (0)