JACK HERER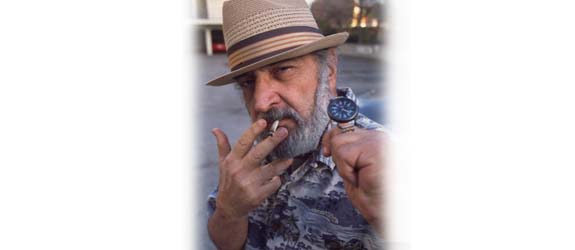 Jack Herer, the author of "The Emperor Wears No Clothes" was a scintillating personality in the cannabis legalization movement and founder and director of the "Help End Marijuana Prohibition (HEMP)" organization. He was sometimes called the "Emperor of Hemp" and a documentary about his life is also titled Emperor of Hemp. There even is a cannabis strain with his name - Jack Herer, a sativa dominant and multiple award-winning variety that has been bred and released in 1995 by Sensi Seeds in the Netherlands. He even ran for United States President twice as the Grassroots Party candidate and furthermore has a place in the Hall of Fame of the Counterculture. He believed that cannabis is the perfect plant to provide a renewable source of medicine, food and fuel and that the US government is keeping proof of this under lock. Unfortunately Jack Herer died just as the movement is gaining momentum.
Jack Here was born on June 18, 1939 in New York City as the youngest of three kids, but he grew up in Buffalo, N.Y. He joined the army and served in Korea after dropping out of high school and when he returned he worked as a sign painter.
Early in the 60s, he, his wife and family moved to Los Angeles and although they got divorced shortly after that, he stayed in close touch with his children. Late in the 1960s, at the age of 30, Jack made his first experience with cannabis smoking. It made him ditch his job as a sign painter and he opened a head shop on Venice Beach where he made a lifelong friendship with Ed Adair, another head shop owner and advocate of marijuana legalization.
1973 both agreed to fight until cannabis was legalized and everyone imprisoned for possession was freed. In 1981 Jack was arrested for trespassing on federal property when he was collecting signatures for a ballot initiative in California. He used his 14 days as an inmate to start writing "The Emperor Wears No Clothes" and after his release he moved to Portland where he opened his head shop "The Third Eye" on Southeast Hawthorne Boulevard. He completed his book and had it printed on hemp paper and released in 1985.
In his book he mentions that the US government has banned cannabis in 1939, because they wanted to eradicate the scourge called "Marijuana"; and this in defiance of the fact that the dried cannabis flowers had been used by mankind for millenia. Over and above that the fibers of the plant are highly durable and the seeds could serve as a high-protein food. His friend Ed passed away in 1991, but Jack kept on fighting and traveled across the land, advocating the legalization of cannabis. Meanwhile, Jack married and got divorced twice before marrying Jeannie Hawkins in 2000.
Jack Herer suffered a stroke and minor heart attack in July 2000 at a hemp festival near Eugene, resulting in a partial disability to move and difficulties speaking, but after a long recovery he resumed his traveling and speaking schedule. In 2004 he claimed that his better health was the result of daily use of highly concentrated cannabis oil and the use of Amanita muscaria.
Jack suffered another heart attack at the Hempstalk Festival in Portland, Oregon in 2009 on September 12th and he was in critical condition for nearly a month. After several days of medicinally induced coma he was taken to a different facility on October 13, 2009. He would still react with his eyes to someone talking, but was in no way able to communicate anymore.
He survived and eventually his wife Jeannie rented a house in Eugene, where she cared for him until his death at the age of 70 on April 15, 2010. He was buried at the Eden Memorial Park Cemetery in Mission Hills, California. May he rest in peace.
Herer is survived by his wife, six children, a brother and a sister.
---

---