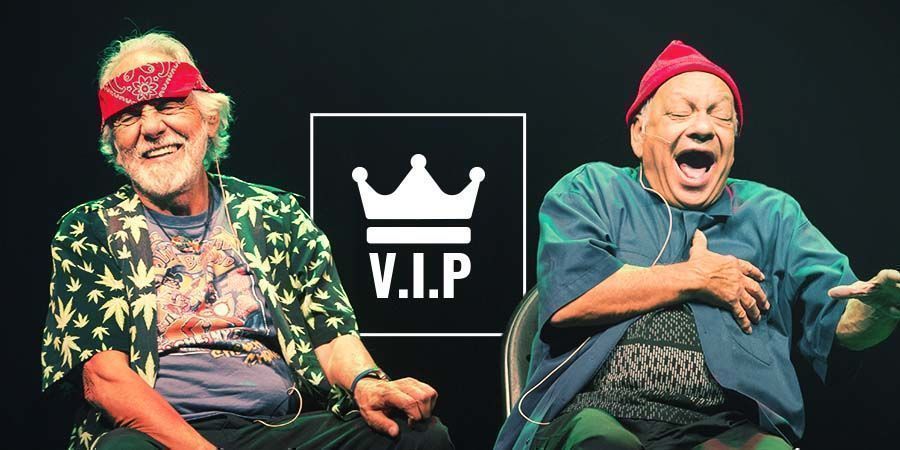 Several actors, musicians, field experts and other celebrities have helped to launch cannabis use into the public eye. Using their knowledge, image and/or status, they've helped to normalise cannabis use. This group of successful individuals have helped change the perception of the herb, tying it to productivity as opposed to procrastination.
Some of them have even experienced medicinal relief and shared their story to the world, whereas others claim cannabis fueled their creative drive and helped them to achieve their best work. Let's get to know this game-changing group of cannabis VIPs.
Jorge Cervantes
Jorge Cervantes (pronounced Horhay Therbantez) has a contagious enthusiasm and limitless knowledge about all things cannabis. This has earnt him a place in the cannabis hall of fame alongside the late great Jack Herer.
He is globally recognized as the endearing imp in a bad Che Guevara or Bob Marley wig doing YouTube grow videos, surrounded by bulging buds on epic plants. He is also venerated as the graying statesman of cannabis culture, having written the "Marijuana Horticulture", and now giving serious lectures on cannabis to large, enthralled crowds around the world.
His notoriety has gained him access to some of the most mouth-watering gardens and into the most sophisticated indoor grows on the planet. He has been an outspoken ganja activist, author, and hands-on grower for over three decades. 
Jorge's Early Years
Jorge Cervantes is the pen name for lifelong cannabis aficionado George van Patten. Cervantes was born in Ontario, Oregon in 1953 to Dr. Cecil Roberts and Ester van Patten.
As a lad, he delivered the local newspaper, The Argus Observer and later went on to work in the press room where he learned about photography, printing, and publicity.
Saving his money, bilingual Cervantes was able to pay for his university education, first at the University of Valencia in Valencia, Spain then followed later by study at the University of the Americas in Puebla, Mexico. It was during these early years in Mexico that he developed his passion for cannabis.
It is a passion he took with him when he moved to Portland, Oregon in 1976 to be closer to his parents after his father became unwell.
Jorge Cervantes went on to graduate from Portland University in 1977. 
The Path To Cannabis Greatness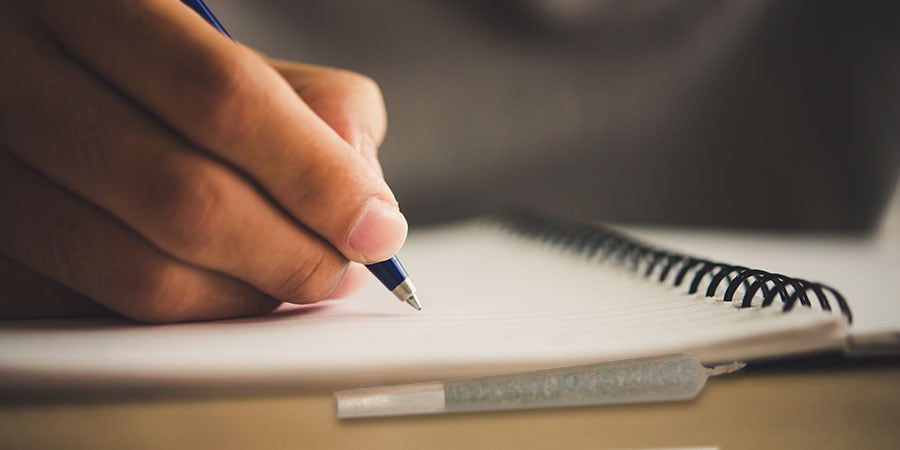 After graduation, he moved to Santa Barbara in California. Choosing to do what he loved, Jorge Cervantes became a gardener and established a landscaping business with a friend. At this time, he began illegally growing sinsemilla cannabis in the Los Padres National Forest.
After selling the landscaping business in 1979, he, his business friend, and their partners set off on a yearlong trip through the heartlands of Mexico, Central America, and South America. Following their travels, Cervantes married Estella Cervantes in 1981 in Portland and soon established another landscaping business while growing cannabis indoors.
Frustrated by the lack of credible and often downright erroneous information on cannabis cultivation, Jorge Cervantes wrote the book "Indoor Marijuana Horticulture" after extensive research, experimentation, and analysis.
In 1983, to facilitate the printing of the book in a social environment hostile towards marijuana, Cervantes established the boutique publishing house Interport USA. Indoor Marijuana Horticulture was dubbed "The Growers Bible" by successful indoor growers and went on to be a best-seller.
At this time Jorge Cervantes, realizing the increasing popularity of indoor growing, developed a range of High-Intensity Discharge Light Systems especially for growing cannabis, and sold them retail or mail order through his specialist outlet Jorge Cervantes' Indoor Garden Store.
Circa 1989, his store, along with 40 others nationwide, was closed down as part of the DEA's Operation Green Merchant. To circumvent legal issues after this investigation, he rewrote Indoor Marijuana Horticulture and republished the book in 1995 as Gardening Indoors with Soil & Hydroponics.
Jorge Cervantes' famous textbook, Indoor Marijuana Horticulture has been on Amazons top 100 list since 2006. Most recently his latest book the "Cannabis Encyclopaedia", recognized worldwide as the authority on cannabis, has won two INDIEFAB gold book of the year awards. 
A Great Man, And Paragon A Of The Cannabis Community
George van Patten, alias Jorge Cervantes has written the go-to books about indoor and outdoor marijuana growing. These books are so detailed and knowledgeable that they are the primary text books used by cannabis universities in the USA. He produces hours of informative and entertaining marijuana-themed videos for the keen cannabis grower and marijuana enthusiast.
He writes regular, themed articles for several marijuana magazines and has received the Dr. Lester Grinspoon Lifetime Achievement Award.
George uses cannabis for enjoyment and medicinally for a chronic lower back problem and related insomnia. He likes to think of himself and Jorge as separate people, with George being his alter ego's manager. Jorge is let loose in the media and at cannabis events, but is generally kept in the cupboard when in private.
None the less, Jorge's contribution to the cannabis community has been immense. Many a new grower doesn't know it, but without him, the knowledge surrounding cannabis growth would be in a very different state of affairs without him. We salute you, Jorge Cervantes.
---
Willie Nelson
Willie Hugh Nelson is an American country music singer, songwriter, author, poet, actor and activist for marijuana legalization and the use of bio-fuels.
Willie Nelson As A Child
Willie Nelson was born to Myrle Marie (née Greenhaw) and Ira Doyle Nelson in 1933, April 29 in Abbott, Texas. In 1929, his parents moved to Arkansas to look for work, but soon after his birth his mother left and his father did the same soon thereafter, and so Willie and his sister Bobbie were raised by their grandparents.
The Nelsons taught their grandchildren how to sing, and when Willie was just 6 years old, his grandfather presented him a guitar. He taught him some chords and Willie and his sister sang gospel songs in the local church. At the age of 7 he had composed his first song and joined his first band as lead singer and guitar player at the young age of 9 years old.
Willie Turns To Professional Music
In 1950, he joined the Air Force, but due to back problems he was discharged after only 8 months, so he attended the Baylor University to study agriculture, but the increasing success he had with music caused him to drop out two years later.
In 1960, he moved to Nashville, Tennessee, where he later signed a contract with Pamper Music and joined Ray Price's band The Cherokee Cowboys as a bassist. Under contract with Liberty Records, he recorded his first full album "And Then I Wrote" in August 1961. His first two successful singles "Willingly" (No. 10 in the Top Ten) and "Touch Me" (No. 7 in the Top Ten) were released the following year.
Other songs he had written became hits for other artists; Patsy Cline's performance of "Crazy" became the biggest jukebox hit of all time. His singles reached the Top 25 in a consistent manner from November 1966 through March 1969.
A Shot At Retirement
After his successful Top Ten hits in the 1960s and 1970s, he retired in 1972 and moved to Austin, Texas, but the hippie music of that time gave him new motivation, and Willie started to perform frequently at the Armadillo World Headquarters.
His 1973, the album Shotgun Willie featured outlaw country, a sub-genre of country music. It was released by Atlantic Records and constitutes a change of style from Willie's earlier recordings. Although it received very good critiques, it did not sell well. After a switch to Columbia Records and the commercial success of the follow-up albums Red Headed Stranger (1975) and Stardust (1978), he became a highly recognized artist in country music.
In 1980, Willie performed on the south lawn of the White House, he recorded hit songs like "To All the Girls I've Loved Before", "On the Road Again" and "Pancho & Lefty". "On the Road Again" peaked at number one on The Hot Country List. In his downtime, he started practicing martial arts like Kung Fu and Tae Kwon Do as a way to relax and gain mobility.
Health Problems Emerge
In 1981, Willie's lung collapsed while he was swimming in Hawaii and he was brought to the Maui Memorial Hospital. He smoked between two and three packages of cigarettes per day and although he decided to temporarily stop each time his lungs were congested, he suffered from pneumonia a number of times. He finally came to the conclusion that he would have to decide between quitting either marijuana or tobacco - and so he quit smoking tobacco.
Financial And Legal Troubles
In 1990, the Internal Revenue Service claimed that he owed $32,000,000 and Willie's assets were seized. His lawyers negotiated on his behalf, and first his tax debt was lowered to $16,000,000 and in a later settlement to $6,000,000. This was a settlement Willie did not agree to, because meanwhile it had been discovered that Price Waterhouse, his accountants, had not paid his taxes for years.
To pay his due, he released "The IRS Tapes: Who'll Buy My Memories?", a double album referring to the auction of his assets. He constantly toured while releasing a new album every year. By 1993 he had paid off his debt and was inducted into the Country Music Hall of Fame.
Highway patrolmen found a marijuana cigarette in his car near Waco, Texas in 1994 and the resulting court appearance caused him to cancel his appearance at the Grammy Awards. In 1998, his critically acclaimed album Teatro was released.
More Accomplishments, Charity Efforts, Awards And Arrests
In 2005, Willie headlined the Tsunami Relief "Austin to Asia" concert and performed the song "Busted" with Ray Charles, which was later released on Ray's album Genius & Friends. Also in 2005, he and his family hosted the first annual "Willie Nelson & NORML Benefit Golf Tournament", which led to a cover appearance and interview in the January 2008 issue of High Times magazine.
In 2006, while Willie was traveling along with his manager and his sister, Willie was arrested in St. Martin Parish, Louisiana and charged with possession of marijuana and hallucinogenic mushrooms.
On The Clean Road Again: Biodiesel and The Future of the Family Farm, a book advocating the use of bio fuels and the reduction of gas emissions was published in 2007. His next book, co-authored by Mike Blakely, A Tale Out of Luck, was published in 2008; it was Willie's first fictional book.
On November 26, 2010, Willie was arrested for possession of marijuana in Sierra Blanca, Texas; they had found six ounces of weed in his tour bus. He was released after paying bail of US$2,500. After his arrest, Willie created the TeaPot Party, which lined up under the motto "Tax it, regulate it and legalize it!"
In 2013, he stated:
"We'll look back and say it was crazy that we ever even argued about this"
This was a statement regarding the Defense of Marriage Act and same-sex marriage in the United States. He also presented two logos and both became viral instantly on social network sites such as Facebook and Twitter.
The same year he received an honorary doctorate from the Berkley College of Music.
Today, Willie is a co-chairman of the National Organization for the Reform of Marijuana Laws (NORML) advisory board and lives in a largely self-sustaining community where all the homes use only solar power in Maui, Hawaii. His neighbors include Kris Kristofferson, Woody Harrelson, and Owen Wilson.
---
Jack Herer
Jack Herer, the author of "The Emperor Wears No Clothes" was a scintillating personality in the cannabis legalization movement and founder and director of the "Help End Marijuana Prohibition (HEMP)" organization. He was sometimes called the "Emperor of Hemp" and a documentary about his life carries the same title. There even is a cannabis strain with his name - Jack Herer, a sativa dominant and multiple award-winning variety that was created in 1995 by Sensi Seeds in the Netherlands.
He even ran for United States President twice as the Grassroots Party candidate and furthermore has a place in the Hall of Fame of the Counterculture. He believed that cannabis is the perfect plant to provide a renewable source of medicine, food and fuel and that the US government is keeping proof of this under lock. Unfortunately, Jack Herer died just as the movement started to gain momentum.
Jack Herer's Fight For Cannabis Legalization
Jack Herer was born on June 18, 1939 in New York City as the youngest of three kids, but he grew up in Buffalo, N.Y. He joined the army and served in Korea after dropping out of high school and when he returned he worked as a sign painter.
Early in the 60s, he, his wife and family moved to Los Angeles and although they got divorced shortly after that, he stayed in close touch with his children. Late in the 1960s, at the age of 30, Jack had his first experience with smoking cannabis. He ditched his job as a sign painter and opened a head shop on Venice Beach, where he became lifelong friends with Ed Adair, another head shop owner and advocate of marijuana legalization.
In 1973, both agreed to fight until cannabis was legalized and everyone imprisoned for possession was freed. In 1981, Jack was arrested for trespassing on federal property when he was collecting signatures for a ballot initiative in California. He used his 14 days as an inmate to start writing "The Emperor Wears No Clothes". After his release, he moved to Portland where he opened his head shop "The Third Eye" on Southeast Hawthorne Boulevard. He completed his book and had it printed on hemp paper and released in 1985.
In his book he mentions that the US government banned cannabis in 1939, because they wanted to eradicate the scourge called "Marijuana"; and this in defiance of the fact that the dried cannabis flowers had been used by mankind for millenia. Over and above that the fibers of the plant are highly durable and the seeds could serve as a high-protein food. His friend Ed passed away in 1991, but Jack kept on fighting and traveled across the land, advocating the legalization of cannabis. Meanwhile, Jack married and got divorced twice before marrying Jeannie Hawkins in 2000.
Health Problems In His Final Years
Jack Herer suffered a stroke and minor heart attack in July 2000 at a hemp festival near Eugene, resulting in a partial disability to move and difficulties speaking, but after a long recovery he resumed his traveling and speaking schedule. In 2004, he claimed that his better health was the result of daily use of highly concentrated cannabis oil and the use of Amanita muscaria.
Jack suffered another heart attack at the Hempstalk Festival in Portland, Oregon in 2009 on September 12th and he was in critical condition for nearly a month. After several days of medicinally induced coma, he was taken to a different facility on October 13, 2009. He would still react with his eyes to someone talking, but was in no way able to communicate anymore.
He survived and eventually his wife Jeannie rented a house in Eugene, where she cared for him until his death at the age of 70 on April 15, 2010. He was buried at the Eden Memorial Park Cemetery in Mission Hills, California. May he rest in peace.
Herer is survived by his wife, six children, a brother and a sister.
---
Cheech & Chong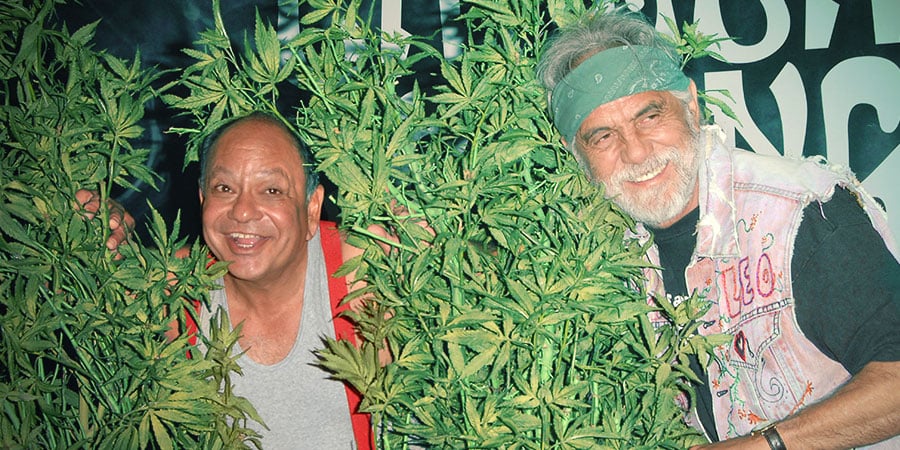 "Cheech", the "Mexican American" marijuana connoisseur and "Chong", the constantly intoxicated hippie with his profusely growing beard were a "duo infernale" for the laughing muscles whose stoner movies were a big success in the late 70s and early 80s (and not only among stoners, may we add). They are true Hollyweed legends.
Cheech Marin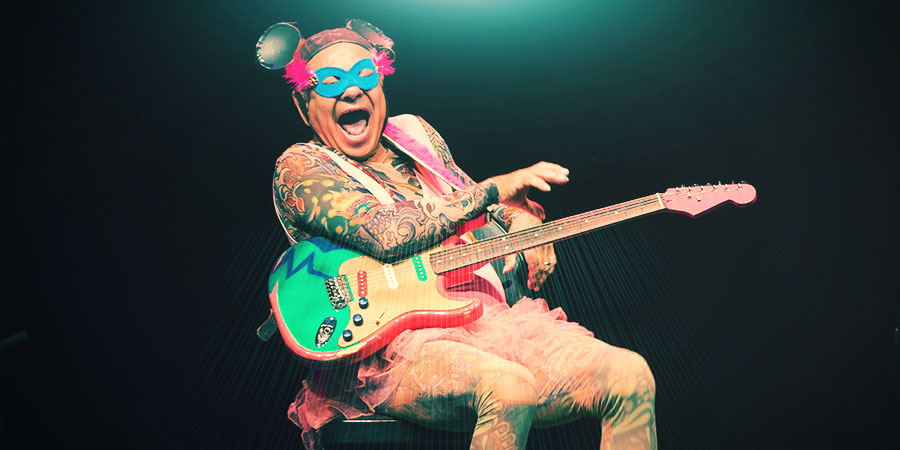 Richard "Cheech" Anthony Marin was born July 13, 1946 in Los Angeles, California. He grew up in Granada Hills, a suburb in the San Fernando Valley. He says he loved to sing when he was a little kid and after he had attended the California State University in Northridge to study English, he left and moved to Vancouver, British Columbia.
He soon met a guy named Tommy Chong who had a topless club. He worked for Tommy for nine months. They performed music and improvised stand-up comedy in the club with their posse called "City Works". Cheech himself called it "hippie burlesque".
Cheech and Chong teamed up, moved back to Los Angeles where the performed their mixed gigs of stand-up comedy and music at clubs until the music industry magnate Lou Adler discovered them at the Troubadour. And the rest is history!
Cheech: "We're living proof that heaven watches out for fools and small children."
Tommy Chong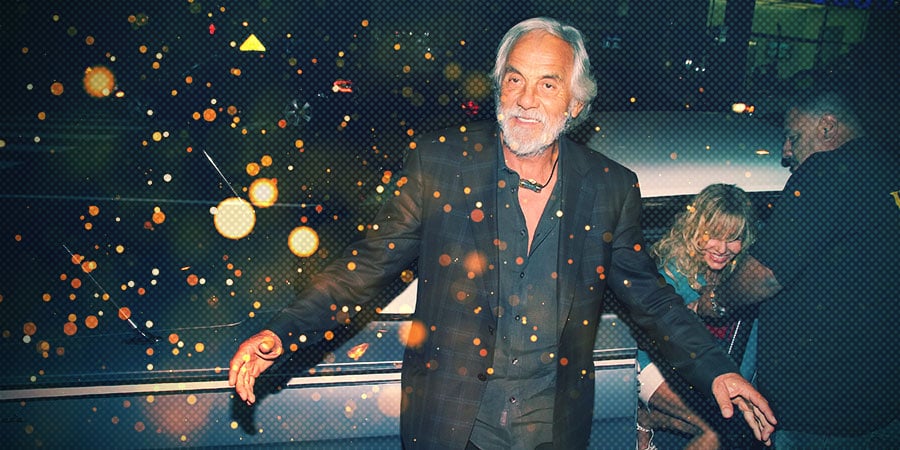 Thomas B. Kin Chong was born May 24, 1938 in Edmonton, Alberta, Canada as the child of Lorna Jean, a waitress with Scots, French and Irish ancestry and Stanley Chong, a Chinese truck driver.
Tommy's family moved to Calgary, Alberta while he was still young. His father bought a five-hundred dollar house there and the family had to get by with only $200 per month.
At the age of 16, he dropped out of Crescent Heights High School and played guitar to make ends meet. He once said that it was about this time when he discovered that music could get you laid, even if you were a long-haired, skinny outcast. In 1960, he married his first wife Maxine Sneed, with whom he had two daughters, Robbi and Rae Dawn.
In the early 60s, Tommy played guitar for a soul group called The Shades in Calgary. The band later moved to Vancouver, British Columbia and changed it's name to "Little Daddy & The Bachelors" to record a single - "Too Much Monkey Business" / "Junior's Jerk". In 1963, he and another band member opened a nightclub in Vancouver where he would later meet his counterpart Richard Marin.
In 1970, he got divorced from his first wife. Tommy married his second wife Shelby Fiddis in 1975, with whom he had a daughter, Precious, and two sons. He also adopted Marcus Chong
Chong: "What makes us so dangerous is that we're harmless."
The Cheech & Chong Years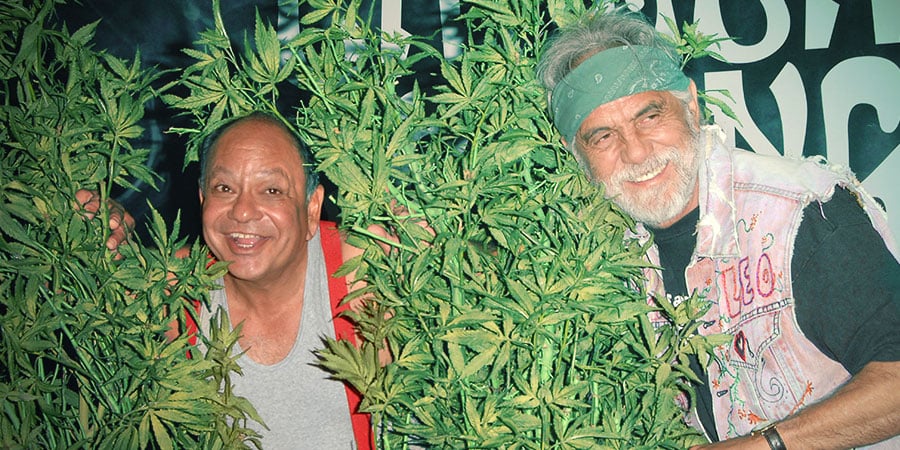 Their movies
With the release of the feature-length movie "Up in Smoke" in 1978 they became really known and the success of the movie encouraged them to make a sequel.
In the following years they released Cheech & Chong's Next Movie (1980), Nice Dreams (1981), Things Are Tough All Over (1982), Still Smokin' (1983) and Cheech & Chong's The Corsican Brothers (1984).
They also had smaller roles in After Hours by Martin Scorcese and Graham Chapman's Yellowbeard.
Their music
Between 1972 and 1985, Cheech and Chong released nine albums of which four were nominated for the Grammy Award and six went gold:
Cheech and Chong (1972, with their perhaps most famous line "Dave's not here"), Big Bambú (1972, the most sold comedy recording for many years), Los Cochinos (1973, awarded with a Grammy for Best Comedy Recording), Cheech and Chong Wedding Album (1974), Sleeping Beauty (1976), Up In Smoke (1979 soundtrack for the movie with the same title), Let's Make a New Dope Deal (1980), Cheech and Chong's Greatest Hits (1981), Get Out of My Room (1985, includes "Born in East L.A.").
Immediately after release of their 1985 album, Cheech split from the duo to work on a solo career.
The Time-Out
In 1987, Cheech Marin played the main character in a movie based on their song "Born in East L.A." which won the award for Best Screenplay at the Havana Film Festival, the Glauber Rocha International Critics Award and Grand Coral Prize for Best Picture. He appeared in over 20 films, among them Desperado (1995, with Kevin Costner), From Dusk Till Dawn (1996, three characters) and Once Upon A Time In Mexico (2003, with Johnny Depp).
Cheech made his debut on TV in 1992 on the CBS show The Golden Palace, before he starred alongside Don Johnson in the very successful CBS drama Nash Bridges (1996-2001). 2004 and 2005 saw him starring in CBS' Judging Amy. Also, in 2005, he was the director of a Broadway production of Latinologues. In 2008, he had a guest role in Grey's Anatomy.
Chong has appeared in Far Out, Man! (1990) and National Lampoon's Senior Trip (1995). Chong has guest starred on ABC's The George Lopez Show and Dharma & Greg, and also starred as "Leo" during the second, third, fourth, seventh, and eighth seasons of That 70's Show.
In 1997, Tommy Chong had a small role on the show Nash Bridges, alongside Cheech Marin and Don Johnson.
Both lend their voices to the famous animated TV series South Park in 2000, but their voices were recorded separately, so they didn't really work together again yet.
The Reunion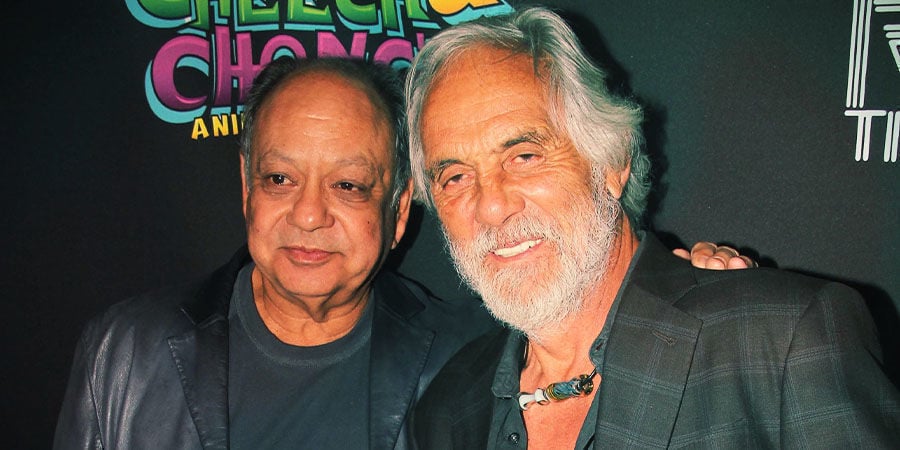 In 2003, both announced they'd be willing to reunite. The duo had plans to make another movie, but on February 25th, federal officials raided Chong's Glass, Tommy's company in California, in a crackdown on "drug-related paraphernalia". On September 11, he was sentenced to nine months in jail. Along with the prison sentence, he was forced to forfeit $120.000 in assets and fined $20.000.
When Tommy was released, the duo planned to resume their work on the new movie, but on September 8, 2005 they announced that the reunion film had been canceled. In 2007, Tommy mentioned in an interview, that the reunion was back in the works.
On September 5th, 2008, they kicked off their reunion tour in Ottawa and later that month, on the 19th, they appeared on the The Bob & Tom Show. In March 2009, they recorded two shows for a DVD release of the tour at the Majestic Theatre in San Antonio, which was released on April 20th in 2010: "Cheech and Chong's Hey, Watch This!".
In April 2009, they were about to start their "Cheech and Chong Light Up Australia" Tour, but had to delay it, because the police of New South Wales Police targeted the event in a drug operation. They searched around 50 visitors, catching six people in possession of small amounts of marijuana. In October of 2009, they were the hosts of the Smoke Out festival in San Bernardino, California.
On January 25, 2010, Cheech & Chong appeared on Lopez Tonight and performed their song Get It Legal, in reference to their current U.S. tour.
Cheech and Chong confirmed that they were working on a new movie and said it would be released in 2012. In September 2011, Cheech & Chong appeared in a video that went viral on YouTube, which seemed to be the trailer of an upcoming movie, but it turned out to be an ad for Fiber One 100-calorie snack brownies. At the same time they had an animated movie based on their comedy albums in the works. The makers of the movie released a game on Facebook named Cheech & Chong's Animated Game.
In June 2012, Tommy Chong was diagnosed with prostate cancer, but in May 2013 he announced that he was 99% cured by using a special diet and cannabis oil.
---
Eagle Bill
It was not so long ago that possession of a joint was enough to be busted big time. Cherokee medicine man Eagle Bill was an "American Pothead" that risked his liberty to get high and educate others. Modern-day tokers are the ones reaping the benefits of his efforts. So, you should really toast him next time you enjoy a vaporizer hit.
Early Life
Eagle Bill Amato was born Frank William Wood on the 10th of April, 1942 in Cleveland, Ohio. In his youth, he was something of a tearaway and got mixed up in stealing cars. Allegedly, while moving a couch sometime in the late 60's, a loose cannabis seed fell on his driveway. She sprouted to become a monster 5m+ tall plant come harvest. This was the turning point for Eagle Bill: shortly after his first crop, he abandoned foolish petty crime to become a small-time pot dealer.
Life In Amsterdam
In 1994, Eagle Bill spread his wings and left the United States. And you really couldn't blame him. Following incarceration and the ever-present threat of being locked-up again, Bill was left with little choice. Amsterdam was where he found his place and proved wrong the great F. Scott Fitzgerald's claim that "there are no second acts in American lives."
That same year at the 1994 High Times Cannabis Cup, Eagle Bill blew the crowd's mind - literally. Ben Dronkers and the fledgeling Sensi Seeds Company had cannabis seeds for sale and were just as impressed - and probably toasted too. Bill and Ben became fast-friends. It was the ingenuity of Eagle Bill and his then-revolutionary vaporizer that made the marijuana magic happen.
The Peace Pipe Of The Future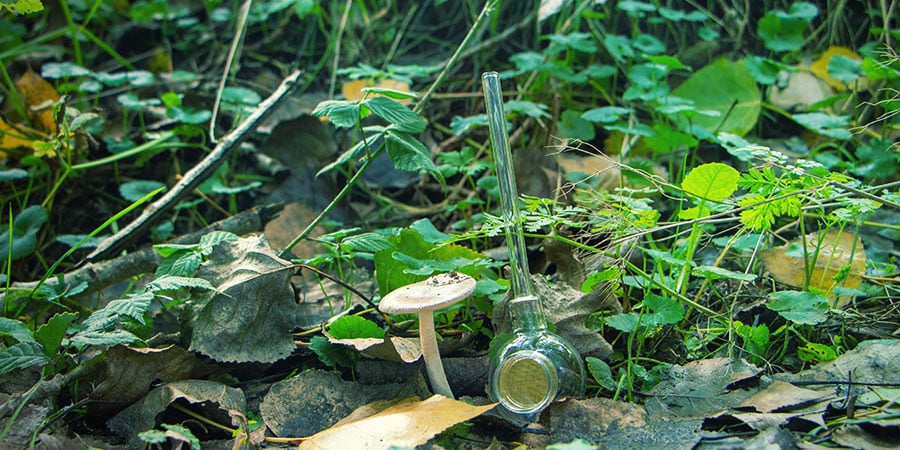 Eagle Bill uncovered the power of medical marijuana stateside during the 80's. His breakthrough didn't come from hypothesis nor laboratory experiments. Rather, it was through his experience of recommending cannabis to a friend undergoing chemotherapy for cancer. Seeing the improvement in his friend's health, he correctly identified the medicinal potential of weed.
This is perfectly obvious to us now. But back then, Nancy Reagan was bellowing "Just say no!" and Ronald Reagan was filling prisons with American Potheads; nobody was discussing the medicinal properties of marijuana. "The War on Drugs" was red hot.
By the time Eagle Bill was flying high again in Amsterdam, it was with clumsy glass that looked very homemade. But the "Shake n Vape" worked and still works today. The age of the vaporizer was ushered in by Eagle Bill. He and his vapes were to become the most popular attractions of the Hash Museum, not to mention perennial crowd-pleasers at the annual Cannabis Cup for a decade. Countless tourists were blasted into the stratosphere by the strange looking weed warlock with a painter's heat gun and a curious array of glassware and jars.
Cannabis Activist & Writer
Eagle Bill was as old school as it gets for a dope grower. He didn't learn his trade watching YouTube videos. In fact, there was no "how to grow marijuana" literature at his disposal. Only he who was resourceful enough smoked his own reefer. Forty years of hands-on grow room experience learning through his mistakes was how he did it. With this knowledge in hand, he then crafted his own cannabis text and authored "10% THC, A Cannabis Tale." However, his autobiography was not to be his final lasting contribution to cannabis culture.
Fun Facts About Eagle Bill
The first time Eagle Bill was offered a toke, he declined. Crazy, but true.
Around 4% THC was the average potency for US weed throughout the 80's and 90's. Meanwhile, Bill's stash was touching 10%.
Eagle Bill's inspiration for the "Shake N Vape" came from the hot stone technique of the ancient Egyptians to keep a consistent temperature.
The latest scientific research is confirming the medical properties of cannabis. Eagle Bill was some 20 years ahead of the curve.
Modern cannabis hybrids were not Eagle Bill's smoke of choice. He preferred old school Jamaican ganja and worried that THC concentration was reaching excessive levels.
Cannabis Culture Award
In 2005, Eagle Bill posthumously received the Cannabis Culture Award in recognition of his development and popularisation of the "Model T" of vaporizers. He was the second recipient of the award. At present, the winner's list reads like a who's who of cannabis superstars. Eagle Bill is right up there with Richard Branson and Marc and Jodie Emery.
Eagle Bill Strain & Vaporizer
Naturally, the "Shake N Vape" is the ganja gizmo that we love Eagle Bill for. You can enjoy a 21st century peace pipe experience of your very own with the Eagle Bill vape pipe from the Zamnesia Headshop. Moreover, the strain "Eagle Bill" is the latest cannabis creation from the master breeders at Sensi Seeds. Released a little over a year ago, this special sativa reserve is not to be missed by true connoisseurs.