Willie Nelson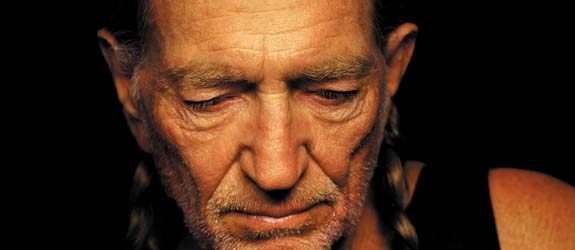 Willie Hugh Nelson is an American country music singer, songwriter, author, poet, actor and activist for marijuana legalization and the use of bio-fuels.
Willie Nelson was born to Myrle Marie (née Greenhaw) and Ira Doyle Nelson in 1933, April 29 in Abbott, Texas. In 1929 his parents moved to Arkansas to look for work, but soon after his birth his mother left and his father did the same soon and so Willie and his sister Bobbie was raised by his grandparents. The Nelsons taught them singing and when he was at the age of 6, his grandfather presented him a guitar. He taught him some chords and Willie and his sister sang gospel songs in the local church.
At the age of 7 he composed his first song and joined his first band as lead singer and guitar player at the age of only 9. Influenced by the music of Louis Armstrong, Lefty Frizzell, Ray Price, Django Reinhardt, Frank Sinatra Hank Snow, Ernest Tubb, Hank Williams and Bob Wills he started earning money by singing in taverns and dance halls. During high school he was the lead singer and guitar player in a band called Bohemian Polka and they toured locally until he graduated from Abbott High School. He played basketball as a guard and was a halfback of the school football team and shortstop in baseball.
In 1950 he joined the Air Force but due to back problems he was discharged after only 8 months, so he attended the Baylor University to study agriculture, but the increasing success he had with music made him drop out two years later. In 1952, he married Martha Matthews. He now worked as a singer in honky tonks and disc jockey at radio stations. In 1956 he moved to Vancouver in Washington, where he recorded the song "Lumberjack" and wrote "Family Bible", which in 1960 became a hit. Only two years later he signed a contract with D Records and moved to Houston in Texas. The songs he wrote during this time, like "Funny How Time Slips Away", "Hello Walls", "Pretty Paper", and "Crazy", should soon become country standards.
In 1960 he moved to Nashville in Tennessee, where he later signed a contract with Pamper Music and joined Ray Price's band Cherokee Cowboys as a bassist. Under contract with Liberty Records he recorded his first full album "And Then I Wrote" in August 1961 and his first two successful singles "Willingly" (No. 10 in the Top Ten) and "Touch Me" (No. 7 in the Top Ten) were released the following year. Other songs he had written became hits for other artists; Patsy Cline's performance of "Crazy" became the biggest jukebox hit of all time. His marriage with Martha Matthews ended 1962 and only one year later he married Shirley Collie, his co-singer in the duet "Touch Me". In 1964 he signed with RCA Records and the next year he joined the Grand Ole Opry. His singles reached the Top 25 in a consistent manner from November 1966 through March 1969.
The couple got divorced in 1970 and the same year he married his third wife, Connie Koepke and his ranch in Ridgetop, Tennessee burned down. After his successful Top Ten hits in the 1960s and 1970s he retired in 1972 and moved to Austin in Texas, but the hippie music gave him new motivation and Willie started to perform frequently at the Armadillo World Headquarters. His 1973 album Shotgun Willie featured outlaw country, a sub-genre of country music and was released by Atlantic Records and constitutes a change of style from Willie's earlier recordings. Although it received very good critiques it did not sell well, but the after a switch to Columbia Records and the commercial success of the follow-up albums Red Headed Stranger in 1975 and Stardust in 1978 he became a highly recognized artists in country music. Also in 1975, he recorded another outlaw country album, Wanted! 1974 was the first time he got arrested for marijuana possession in Dallas, Texas. His first movie appearance was in The Electric Horseman in 1979. More appearances in movies and on television should follow.
In 1980, Willie performed on the south lawn of the White House, he recorded hit songs like "To All the Girls I've Loved Before", "On the Road Again" and "Pancho & Lefty" and "On the Road Again" peaked number one on Hot Country Songs. Meanwhile he started practicing martial arts like Kung Fz and Tae Kwon Do. In 1981, Willie's lung collapsed while he was swimming in Hawaii and he was brought to the Maui Memorial Hospital. He smoked between two and three packages of cigarettes per day and although he decided to temporarily stop each time his lungs were congested, he suffered from pneumonia a number of times and finally came to the conclusion that he would have to decide between quitting either marijuana or tobacco - and so he quit smoking tobacco. In 1985 he, along with Neil Young and John Mellencamp, set up Farm Aid to assist and increase awareness of the importance of family run farms. In the mid-80s, Jennings, Kristofferson, Johnny Cash and he himself formed The Highwaymen, who toured the world and achieved platinum record sales. 1988 he got divorced again. Also in 1988, his first book was published, Willie: An Autobiography.
In 1990 the Internal Revenue Service claimed that he owed $32,000,000 and Willie's assets were seized, but his lawyers negotiated and first his tax debt was lowered to $16,000,000 and in a later settlement to $6,000,000; a settlement Willie did not agree to, because meanwhile it had been found out that Price Waterhouse, his accountants, had not paid his taxes for years. To pay his due, he released "The IRS Tapes: Who'll Buy My Memories?", a double album referring to the auction of his assets. He constantly toured while releasing a new album every year. He married Annie D'Angelo in 1991. By 1993 he had paid off his debt and was inducted into the Country Music Hall of Fame. Highway patrolmen found a marijuana cigarette in his car near Waco, Texas in 1994 and the resulting court appearance caused him to cancel his appearance at the Grammy Awards. In 1998 his critically acclaimed album Teatro was released.
In the 2000s he was constantly touring and in 2003 a duet with Toby Keith, "Beer for My Horses", topped the Billboard Hot Country Songs charts for six consecutive weeks and the following year the video won an award for the "Best Video" at the Academy of Country Music Awards. Also in 2003, he appeared on Ringo Starr's album Ringo Rama, as a guest vocal in "Write One For Me". His second book The Facts of Life: and Other Dirty Jokes was released in 2002. In 2005 Willie headlined the Tsunami Relief Austin to Asia concert and performed the song "Busted" with Ray Charles, which was later released on Ray's album Genius & Friends. Also in 2005, he and his family hosted the first annual "Willie Nelson & NORML Benefit Golf Tournament", which led to a cover appearance and inside interview in the January 2008 issue of High Times magazine. In 2006, while Willie was traveling along with his manager and his sister, they were arrested in St. Martin Parish, Louisiana and charged with possession of marijuana and hallucinogenic mushrooms. His third book, with his long-time friend Turk Pipkin as co-author was published in 2006, The Tao of Willie: A Guide to the Happiness in Your Heart. Willie performed with jazz trumpeter Wynton Marsalis at the Lincoln Center in 2007 and when the live album Two Men with the Blues was released in 2008, it reached #20 on the Billboard 200. The next year both Willie and Wynton joined with Norah Jones to record a tribute concert to Ray Charles. The result, the Here We Go Again album, Celebrating the Genius of Ray Charles, was released in 2011. On The Clean Road Again: Biodiesel and The Future of the Family Farm, a book advocating the use of bio fuels and the reduction of gas emissions was published in 2007. His next book, co-authored by Mike Blakely, A Tale Out of Luck, was published in 2008; it was Willie's first fictional book.
2010 was an eventful year ... Austin, Texas renamed its Second Street to Willie Nelson Boulevard and unveiled a life-size statue at the entrance of Austin City Limits' new studio to honor him. The statue was unveiled on April 20, 2012. The ceremony was scheduled for 4:20 pm and during it, Willie performed the song "Roll Me Up and Smoke Me When I Die". On November 26, 2010, Willie was arrested for possession of marijuana in Sierra Blanca, Texas; they had found six ounces of weed in his tour bus. He was released after paying bail of US$2,500. After his arrest, Willie created the TeaPot Party, which lined up under the motto "Tax it, regulate it and legalize it!" T-Bone Burnett produced his 2010 album Country Music and after making it to #4 of the Billboard's Top Country Albums and #20 on the Billboard 200 it was nominated as the Best American Album at the 2011 Grammy Awards. Also in 2011 he participated in the fund-raising event for the victims of the tsunami and earthquake the same year; it raised $1.6 million. In February 2012 he signed a contract with Legacy Recordings, which included the release of both new material and outtakes that Willie would select. The first album he released under this contract was Heroes; the album reached #4 on the Billboard's Top Country Albums charts and included guest appearances by his sons Lukas and Micah, Sheryl Crow, Ray Price, Snoop Dogg, Merle Haggard, Jamey Johnson, Kris Kristofferson and Billy Joe Shaver. His new biography, Roll Me Up and Smoke Me When I Die: Musings From the Road, was announced the same year, said to be released on November 13, 2012.
In 2013, he stated: "We'll look back and say it was crazy that we ever even argued about this" - it was a statement regarding the Defense of Marriage Act and same-sex marriage in the United States. He also presented two logos and both became viral instantly on social network sites such as Facebook and Twitter. The same year he received an honorary doctorate from the Berkley College of Music.
Today, Willie is a co-chairman of the National Organization for the Reform of Marijuana Laws (NORML) advisory board and lives in a largely self-sustaining community where all the homes use only solar power in Maui, Hawaii. His neighbors include Kris Kristofferson, Woody Harrelson, and Owen Wilson.
---

---