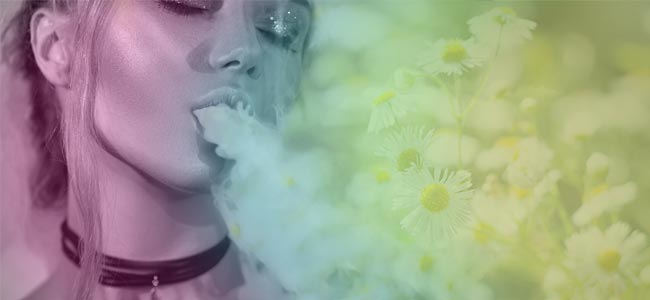 WHAT ARE VAPE HERBS?
There is a whole range of vapable herbs that can provide us with a host of beneficial properties. Some of them have psychoactive effects, others have therapeutic and/or medicinal properties. Technically, vaping herbs is a form of aromatherapy. Many herbs used for this purpose have a long history in numerous cultures. The big advantage of vaping herbs is that you won't breathe in the toxic byproducts linked to smoking.
There are quite a lot of herbs used for vaping, some more familiar than others. Many of these are used to ease stress and anxiety, induce sleep, elevate mood, and uplift depressing feelings. They may also help with digestive problems, relaxing your body, and relieving nausea and headaches. Vape herbs are said to aid in combating the flu, lung infections, severe colds, and sore throats, as they have some potent antibacterial and antibiotic effects. So, there really is a vape herb for every condition and every consumer. Some of them are even more powerful when combined in a unique blend.
BENEFITS OF VAPE HERBS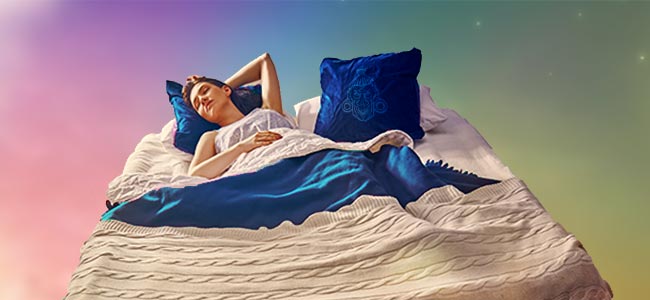 Although different herbs may provide consumers with diverse benefits, all vape herbs contain certain compoundsmake the terpenes, like flavonoids, sesquiterpenoids, and flavonols. Through vaporization, you make these compounds readily available. Please be aware that many vape herbs are multi-purpose. For instance, one herb may boost your energy and be a powerful aphrodisiac as well.
The potential for herbs to subdue anxiety and depression was no secret to the Greeks, Romans, and Chinese who included such specimens in their apothecaries. Herbs like chamomile positively affect the network of neurons involved in emotions, arousal, and certain cognitive and memory processes. Their neuroendocrine effects bind to the gamma-aminobutyric acid (GABA) receptors in the brain. These receptors perform complex modulating functions within the neurons that can treat mood disorders and perform anxiolytic effects. Furthermore, they can affect dopamine receptors to get you motivated and feel pleasure. Some even naturally mimic the chemical function of antidepressants.
Vape herbs can also help you to relax, de-stress, and treat insomnia. Some herbs stimulate glycine production, which relaxes nerves and muscles and acts as a mild sedative. The terpene chrysin, which is present in many herbs, also has sedative and relaxing effects. Lavender contains the terpene linalool thatsoothes and can promote better sleep. Opposite to the sleep-inducing herbs are the ones that boost your energy. Due to the presence of caffeine and other stimulants in some herbs, you can keep your mind alert and feel an increase in energy.
Video: Lavender - Vape Herbs
For those seeking pain relief, vape herbs could be an option to try out. This is due to them acting as an antiseptic, antibacterial, and a muscle relaxant. Blue Lotus for example is generally known for its psychoactive effects, but can also be used for soothing spasms, migraines, menstrual cramps, and tinnitus.
Since a healthy digestive system is vital for maintaining overall health, herbs are a traditional method of stimulating digestion. They are great for speeding up and promoting digestion and secretion by reducing gas, bloating, and other general symptoms that are caused by food allergies and indigestion. Some even help the body with the expulsion of gases. For example, the volatile oils in lemon balm help to relax muscles in the bladder and stomach which can help with gas and cramps. Furthermore, vape herbs can ease and relieve hypertensive conditions and general gastric issues.
If you feel a lack of libido and sexual desire, you could consider vaping herbs because some of them act as aphrodisiacs. They increase stamina, energy, and stimulate the central nervous system. By causing euphoria, sexual pleasure can also be increased.
PRACTICAL TIPS FOR VAPING HERBS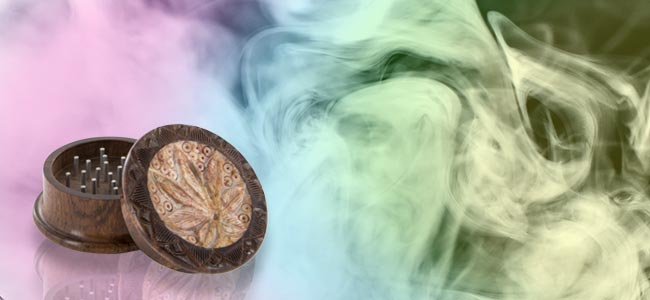 To make use of the full potential of your vape herbs, there are some things you should consider. First of all, you should be sure of the quality of the herb you want to use. If you feel certain that you are using a quality product that's free from pesticides and other harmful stuff, then it is time to explore the world of vape herbs.
Make sure you inform yourself about the exact temperatures the herbs should be vaped at because they all have different ranges that unleash their full effect. This way, you also avoid combusting your precious herbs.
Your herbs should be dry, but not too dry. If they crumble to dust in your hands, they are too dry. For the best vaping experience, they always should contain a little moisture. On the other hand, they shouldn't feel wet or moist to the touch.
If you don't already possess one, buy a grinder. You have to make sure your herbs are ground well before you pack them into the chamber of your vaporizer. This ensures that the heat is transferred efficiently through the plant material.
Of course, you should get a quality vaporizer with good vapor production and degree-accurate temperature settings. Also, clean and maintain your device for best results. Always inhale slowly to avoid blockages in the mouthpiece and cooling of the chamber.