Supa Gro Kit 100% 'McKennaii'
4

5

1

(

589

)
Psilocybe Cubensis McKennaii is said to be an even stronger strain than the popular and famous (and hard to cultivate) Hawaiian (Copelandia cyanescens). It definitely is for the more experienced, visually interested psychonauts due its very philosophical trip with a strong visual component. This grow kit contains a 100% colonized 1200ml cake.
In stock
You will be notified as soon as the product returns to stock
Product accessories: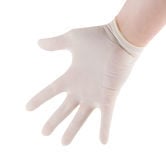 Latex Gloves
More info
Supa Gro Kit 100% 'McKennaii': Allegedly even stronger than the Hawaiian
Psilocybe Cubensis McKennaii is allegedly an even stronger variety than the famous and popular (and hard to grow) Hawaiian (Copelandia cyanescens). This strain is obviously for the more experienced psychonauts as it provides a very philosophical voyage with a strong optical component. These grow kits contain 1200ml of fully colonized substrate, ready to grow - this is a 100% package! All you need a little patience. Godfather of this strain is the American writer, teacher, researcher and psychonaut Terence McKenna.
Supa Gro magic mushroom grow kits are grown by mycological experts and contain extremely healthy mycelium.
Scope of delivery
1200ml cultivation box
Grow bag
Supa Gro Kit 100% 'McKennaii' data sheet

| | |
| --- | --- |
| Volume | 1200ML |
| Brand | Supa Gro |
| Strain | McKennaii |
More information related to this product:
Reviews (589)
26/Jun/2022

Top notch
Super high quality, i was able to Pull 456 grams of mushrooms on 4 flushes, i think i messed up the mycelium oterwise i could have pulled 1 or 2 more flushes.

18/Jun/2022

Nicht gut
Hab alles wie immer gemacht warte nun seid 4 Wochen aber nichts ausser Schimmel ausserdem ist die Tütte mit Löchern und nicht mit Filter

14/Jun/2022

Dont waste your time
Nothing. Absolutely nothing grew. Dont waste your time on this.

09/Jun/2022

Livraison pour supa
7 jours avev week-end et jours feriè !!! Bravo arrivè au petit oignon suite au premier flush jusque là c edt un sans faute ! Thx

06/Jun/2022


Atm the pack starting growing after 2-4 weeks. Only problem was with 2 version of manual but i think you cant make mistake with Any of these 2 versions.

04/Jun/2022

Did not grow at all
Did not grow at all, it was my 1st attempt...

02/Jun/2022

Psycho
Very good and easy

02/Jun/2022

They really do work!!!!
This is my first time using a grow kit and I am so happy I did, my first flush has come through I got 9 mushys altogether, some nice big juicy one. Waiting on my second flush, I highly recommend buying this grow kit if it's your first time …just follow the instructions that zamnesia give you and you'll be good

23/May/2022

….
Je conseil de faire très attention avc ces kits. Les trous d'aération prévus peuvent créer des contaminations. Il faut dont les boucher! J'ai fais pousser 4 kits et sur les 4, 2 de chez Zamnesia et ceux sont ces 2 la qui ont été contaminés. De la mousse grise et kit foutu! 100€ de perdu! Donc mettez du scotch sur vos kits avant de les démarrer.! Le service client ne fera pas forcément qqch….

20/May/2022

Boh
Très bonne qualité mais très peu de champotte... 50g frais en deux champignons en deux flush et quelques petits à côté. Mais rien de foufou alors que les autres boxes de la même marque ont produit plus de 300g frais en 3 flush Elle était à côté des autres donc c'est pas du mauvais traitement, juste pas beaucoup de chance...

You cannot post a review because you have not purchased this product
Oliver
2020-08-08 11:59:16
Hi there, once the mushrooms start growing should I keep vaporising the bag or just let it be? Thanks.
administrator
Hi Oliver, Thanks for your questions! Once you can see the heads popping up you should stop spraying :) Let us know if you have any more questions. Kind regards, Zamnesia
Norberto L.
2013-10-30 12:22:46
When I put the kit in the bag, how much water should I spray every day with "100% Mycelium kit Mckennaii"?
administrator
It's best to spray 2 to 3 times a day. Don't spray much. One squeeze of your sprayer should be enough. We have made a great instruction video and put it on Youtube. This could also may well be of help: http://www.youtube.com/watch?v=APyqMWAHpzM
simon
2013-04-06 17:46:44
Hello Do you mean to put the water only in the bag and no water in the box? I have some doubts, because normaly you have to put water in the box. Thanks for an answer
administrator
All our 100% Mycelium kits come with a customized manual. To gain the best results, check out our Online Instructions for these kits, here: https://www.zamnesia.com/content/216-instructions-100-mycelium-kit-supa-gro
Ryan Segal
2013-03-15 16:19:38
So, no casing? Does it need to be 'birthed' and placed in a homemade habitat, or will it grow in the bag the same as the other growkits?
administrator
These kits work in a similar fashion. The kit comes with its own bag, but the contents of the box need not be submerged prior to growing. Complete instructions will be provided of course.
Ask a question
Restrictions
Please note that if your country is not on our general shipping list, we're unable to ship any item on our website to it. For more information check out the list here: Ordering & Shipping
Video (0)