The Sacred Blue Lily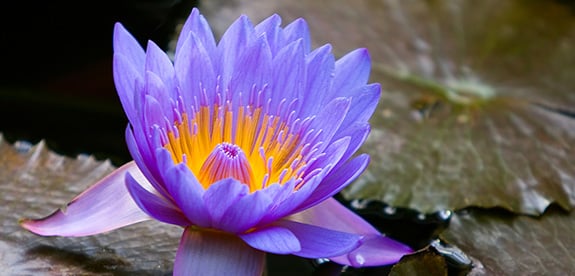 The Blue Lily (Nymphaea caerulea) is a stunningly beautiful psychoactive plant that has been used for thousands of years as a relaxant, aphrodisiac and mild psychedelic. It is often confused with the Sacred Lotus (Nelumbo nucifera), even though originate from different areas of the world. The Blue Lily is thought to originate from Egypt and other parts of Northern Africa, where it can be found growing along the river Nile. It has since spread, and can now be found growing in the wilds of the Indian sub-continent and parts of Asia, such as Thailand.
The plant is thought to have played a central part in the culture of the old Egyptians. The blue lily is depicted on many of the well known wall paintings, and has even been found in the tomb of Tutankhamun. The psychoactive effects of the plant suggest religious use, and indeed such evidence can be found. But also, the lily is often depicted along bottles of wine, which suggests that the Egyptians brewed a wine concoction with the blue lily. It's aphrodisiac and euphoric qualities certainly go well with alcohol.
The confusion surrounding Blue Lily stems for vendors that have gotten the names mixed up, or used lotus instead of lily as it sounds better. In fact, the plants look distinctly different, but they do share some active chemical ingredients; nuciferine. The Blue lily is a water lily that typically grows with light blue petals and a bright golden centre. It can also come in variations that have white, purple, violet or pink petals. The petals are dagger like in shape, and an entire Blue lily flower will grow to roughly 10-15 cm in diameter. It grows broad, rounded leaves that usually sit on the surface, these leaves tend to be 25-40 cm across and have a notch at the leaf stem.
There are many reports in literature by those unfamiliar with the true nature of the plant as rising up through the water at dawn to flower, and then submerging back into the water at night. This is common misconception. As the blue lily grows and flowers for the first time, it will rise up to the surface and flower (around 9 am in the morning) and then close mid-afternoon (around 3pm). Once the lily has risen to the surface of the water, it never recedes back under.