Terence McKenna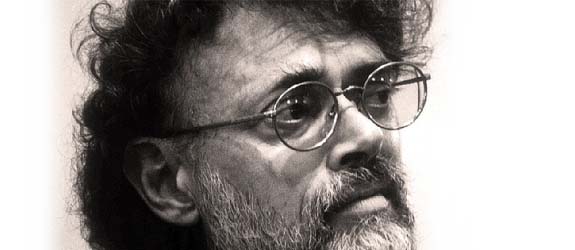 Terence Kemp McKenna was born on November 16, 1946, in Paonia, Colorado, United States, a cattle and coal town in which he was raised by his father, an Irish Catholic traveling salesman and his mother, a Welsh Episcopalian housewife. Many years later in an interview, he would say "My mother was an exceptional person and I really don't understand why [...] She was not college educated, but she had a large vocabulary and an appreciation for classical music and good literature" and he memorized reading passages of James Joyce and Carl Jung's "Psychology and Alchemy." His uncle introduced him to geology and he developed what he called "his first obsession": Solitary fossil hunting in the arroyos near his home. This and his fertile imagination made him develop a deeply artistic and scientific appreciation of nature.
In 1962, at the age of 16, he and his family moved to Los Altos in California and he finished high school in Lancaster. According to Terence, he got acquainted to weed shortly after his 17th birthday in 1963 and started smoking it on a regular basis. The same year he discovered the literary world of psychedelics through The Doors of Perception and Heaven and Hell by Aldous Huxley. In 1965, Terence enrolled at the Berkeley University of California to study art history. In the summer of 1966, McKenna lived across the hall from "a strange guy's flat with blacked out windows, and all light bulbs in his apartment painted red. He would sit around with his guitar all day long, playing the chords to "Freight Train." That guy would become his guide into the world of acid, it was Barry Melton, the lead guitarist of Country Joe and the Fish. Terence's first psychedelic experience had, according to him, "qualities that were never repeated," and that he "ricocheted between tears of awe and tears of hilarity for about an hour." In 1967, while in college, he discovered Tibetan folk religion and began studying it, which the led him to studying shamanism - he referred to this as his "opium and kabbala phase." The same year he traveled to Jerusalem, where he met his future wife Kathleen Harrison. In the year 1969, Terence's "interest in Tibetan painting and hallucinogenic shamanism" had grown so strong, that he traveled to Nepal to study the Tibetan language. He also tried his luck as a hashish smuggler, but when one of his shipments was busted by the US customs, he had to escape prosecution and started wandering through Southeast Asia, where he viewed ruins, he collected butterflies in Indonesia and even worked as an English teacher in Tokyo. After all those escapades in the East he returned to Berkeley to continue studying biology, which he called "his first love."
In 1971 he had partially completed his studies and after his mother died from cancer, he, his younger brother Dennis and three friends went on a quest in the Colombian Amazon, searching for a plant called Oo-koo-hé, which was supposed to contain Dimethyltryptamine (DMT). But instead of Oo-koo-hé they encountered the use of various Ayahuasca or Yagé brews and mushrooms of the Psilocybe cubensis species and Terrence became romantically involved with his interpreter, Ev. These "magic mushrooms" soon became the new main focus of the exploration and in La Chorrera he and his brother became subjects of a self-experiment, which, according to a later interview with Terence, "put him in contact with 'Logos', an informative, divine voice that reputed revelations." In 1972 they returned to Berkeley and developed techniques for cultivating psilocybin mushroom, while Terence now worked on his Bachelor of Science in ecology and conservation. He graduated in 1975 and parted with his girlfriend Ev, but later that year he began a relationship with the girl he had met in Jerusalem four years ago, Kathleen Harrison and had his first book (with Dennis as co-author) released, "The Invisible Landscape." Their book had been inspired by their Amazon experiences and the second one followed in 1976 already, "Psilocybin."
In the early 1980s, Terance started to articulate his thoughts about psychedelic drugs and virtual reality and on his weekend workshops he repeatedly stressed the importance and primacy of felt experience, as opposed to dogma. In 1985, he and his wife founded Botanical Dimensions, a nonprofit ethno-botanical preserve in Hawaii. Chaos mathematician Ralph Abraham and biologist Rupert Sheldrake were colleagues of Terence and they conducted several public debates from the late 1980s. On one of Terence's public appearances Timothy Leary introduced him as "one of the five or six most important people on the planet."
In 1992 he and Kathleen broke up and got divorced. The same year he published two books and became a fixture of the popular counterculture. Both "Food of the Gods", a radical history of the relationship between psychedelic plants and the evolution of consciousness and "The Archaic Revival", a collection of articles and talks from various magazines and lectures, and his word performances at raves and contributions to psychedelic and goa trance albums added to his popularity in the rave/dance scene. Terence was still lecturing about the use of plant-based entheogens, psychedelics, metaphysics, and other subjects such as shamanism, language, historical and civilizational time-lines and even the theoretical origins of human consciousness, his "Stoned Ape" theory. He was now splitting his time between the redwood-studded hills of Sonoma County in California and Hawaii, but in 1999 he began to suffer from increasingly painful headaches and returned to his home on the big island of Hawaii. After three brain seizures in one night he was rushed to the hospital where he was diagnosed with Glioblastoma multiforme and underwent various treatments throughout the next months. In late 1999, Erik Davis conducted what would be the last interview of Terence. During the interview he also talked about the announcement of his death (citation): "I always thought death would come on the freeway in a few horrifying moments, so you'd have no time to sort it out. Having months and months to look at it and think about it and talk to people and hear what they have to say, it's a kind of blessing. It's certainly an opportunity to grow up and get a grip and sort it all out. Just being told by an unsmiling guy in a white coat that you're going to be dead in four months definitely turns on the lights. ... It makes life rich and poignant. When it first happened, and I got these diagnoses, I could see the light of eternity, a la William Blake, shining through every leaf. I mean, a bug walking across the ground moved me to tears."
McKenna died far too young on April 3, 2000, at the age of only 53, with his loved ones at his side. He is survived by his daughter Klea, his son Finn and brother Dennis.
---

---