Effects of Clavo Huasca
The main use of clavo huasca is as an aphrodisiac, and it is primarily sold as such. This stems from its indigenous use, as in Peruvian herbal medicine clavo huasca is used as a remedy for both frigidity and erectile dysfunction, increasing potency and passion in both men and women. In fact, it is such a popular sexual aid, that it is sold throughout Peru in most herbal markets and stores.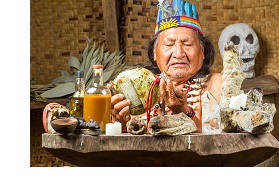 The ground up bark and roots are usually soaked in cane alcohol to help extract its compounds and turn it into an administrable beverage; although today, taking it as a tea or tincture is much more common.
Quite interestingly, shamans have used clavo huasca as part of the ayahuasca brews. Whilst not psychoactive in itself, clavo huasca is often used to help stabilize an ayahuasca brew, as ayahuasca is known to cause purgative side effects like vomiting and nausea. Clavo huasca's ability to reduce nausea makes it fit in well with the brew.