What is Clavo Huasca?
Clavo Huasca is a gigantic Amazonian vine that has long been used for medicinal purposes. Crawling up the giants of the Amazon, Clavo Huasca is known to reach a whopping 80m in height, offering ample plant material for the natives who harvest it for use.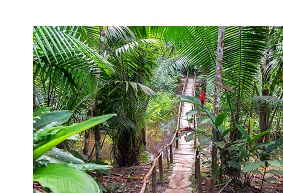 Although fairly new(ish) to Western Markets, Clavo Huasca has a long history of use in Peruvian medicine for both medical and aphrodisiac applications. The roots and bark of clavo huasca, (which are also the parts of the vine that hold its active ingredients), produce a distinct clove like smell, leading it to be commonly known as clove vine, or white clove.
Clavo Huasca has recently been adopted by Western markets, where it is mainly use for its aphrodisiac qualities.
History of Clavo Huasca
Although only recently adopted as an aphrodisiac in the west, clavo huasca has a long history within the Peruvian herbal medicine, and has been used to fire up passion between lovers for hundreds of years.
Clavo huasca is also thought to have held a place of reverence by Catholic settlers. This is due to a cross section of the vine holding a distinct and uncanny resemblance to a heraldic Maltese cross.