Dosage and preparation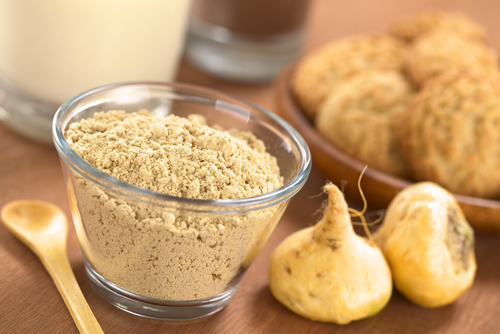 Maca root can be eaten both fresh and in a dried form – it is said that the Peruvian people eat up to a pound of fresh maca a day! You will find that dried root is most common as it can be preserved for up to 7 years and is much easier to transport.
Whilst it is the root of maca that is of interest to people, it is fairly rare to find it in this raw form. More commonly you will find maca sold in a powder form. This should be taken in 450mg portions, 3 times a day with food or drink. It is also possible to buy maca in capsule form, with this measurement already weighed out and packaged for you in easy to take pills; but this makes it much harder to be creative with the maca, which can be incorporated into many recipes. The powder has a mild nutty taste that can really enhance a meal.
A good example would be to add the maca powder to a chocolate smoothy, or desert. The subtle nutty flavour will really complement and bring out the best of the dish.
It is not advised to take it neat as it can be quite overpowering by itself as a powder. You can mix with hot or cold water, or sprinkle it on food for an easy to prepare dose – this will make it much easier to consume. It is also not advised to take it in between meals, as your body will not absorb it as efficiently.