Greenhouse Seeds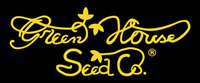 Greenhouse Seeds is a cannabis seed bank based in Amsterdam, the Netherlands. Founded in 1985 by Arjan Roskam and Scott Blakey (Shantibaba), although Shantibaba left Greenhouse Seeds again in 1998 and later set up Mr. Nice Seeds in cooperation with Neville Schoenmakers and Howard Marks (Mr. Nice). Over the years Greenhouse Seeds has established itself as a well-known company in the international cannabis scene.
Over the years Greenhouse Seeds has won numerous Cannabis Cups and other (international) cannabis awards, including: 
 32 x Cannabis Cup (High Times)
 
 4 x Highlife Cup
 
 2 x IC Mag
 
 2 x Tipo Forte
 
 1 x Soft Secrets Magazine
 
 1 x Treating Yourself
 
The awards listed above include all 1st, 2nd and 3rd prizes.
In addition to the seed bank that Greenhouse Seeds sells its cannabis genetics from, the company also runs 4 coffeeshops in the centre of Amsterdam.