Blog

4 min
Greenhouse: Seedbank Of The Month August 2017

4 min
We continue our essential series for home growers. This summer, it's time to set the grow-op on fire! Our seedbank of the month for August 2017 is perhaps the most dominant force in modern cannabis breeding. Can you risk not growing and experiencing these cannabis strains?
SEEDBANK OF THE MONTH: THE GREENHOUSE SEED COMPANY
Ho, ho, do we have a cannabis seedbank for you this month. Every month we shine our Sinsemilla spotlight on one special seedbank. Special, because their contribution to the cannabis community is noteworthy and their selection of cannabis strains is absolutely top-shelf. Of course, breeding high-THC, award-winning marijuana, CBD-richstrains, or revolutionary autoflowering varieties are all taken into consideration when we make our seedbank of the month selection.
Put all three dynamic breeding strategies together and what do you get? Well, one cannabis seedbank finds itself in the enviable position as the most critically acclaimed and trusted by home growers everywhere. With 38 Cannabis Cup awards and counting, the GreenHouse Seed Company is the seedbank that sets the standard for high-grade, homegrown weed and continues to change the game with new strain innovations.
Arjan Roskam started the GreenHouse canna-business back in 1985 by opening the first GreenHouse Coffeeshop in Amsterdam. A year later, they won their 6th High Times Cannabis Cup, starting a winning streak that has made the GreenHouse Seed Company the go-to seedbank for home growers across the globe.
Mastering the feminizing process of cannabis seeds and a presenting a catalogue packed with award-winning strains appealing to both medicinal and recreational users, GreenHouse has climbed to the top. Innovative breeding programs and an ever-expanding stable of gourmet genetics has kept them there.
Today the GreenHouse has 4 coffee shops - and a global cannabis seed empire. The recent passing of master breeder and strain hunter Franco Loja has dealt the GreenHouse company and the whole cannabis community a cruel blow.
Strain hunting expeditions to exotic and often dangerous locations to track down prized landrace cannabis is a big part of what separates GreenHouse Seeds from rival seedbanks. So much so that the Strain Hunters brand was developed into a connoisseur seedbank of its own. Plus, GHS are present in the cannabis fertiliser market as well. They've also featured in numerous cannabis TV documentaries.
The GreenHouse is the home of great cannabis. If you have yet to experience the power of GreenHouse Seeds in your grow-op, then make room for the fire in 2017. Check out our top 5 picks from the best in the business - the GreenHouse Seed Company.
TOP 5 CANNABIS STRAINS BY GREENHOUSE SEEDS
WHITE LEMON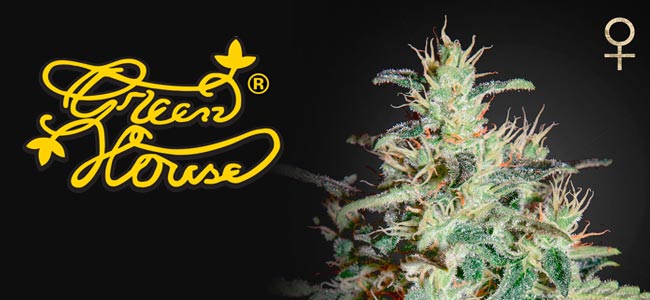 The Strain Hunters brand is all about discovering exotic genetics from all corners of the earth. This adventurous attitude tends to lead to the development of exquisite original new strains. White Lemon is the progeny of the frosty indica El Nino and Cannabis Cup Winner Super Lemon Haze. Polar opposites of indica and sativa, brought together in one unique balanced 50-50 hybrid.
White Lemon delivers a somewhat delayed complex mix of cerebral and physical effects. Gradually, the sativa side uplifts you. Then the indica effect kicks in with a very relaxing and chilled vibe that is long-lasting but not overwhelming. Easy to grow and easy to clone too! 8-9 weeks of flowering is all that's required. White Lemon is mid-sized and grows like a branchy skunk.
Indoors or outdoors this strain can be a very high yielder; indoors growers may harvest up to 900g/m². With large pots and sunny conditions, up to 1kg per plant has been reported by southern growers. Scents and flavours of citrus, spice, and wood make White Lemon a smooth, original smoke.
GREAT WHITE SHARK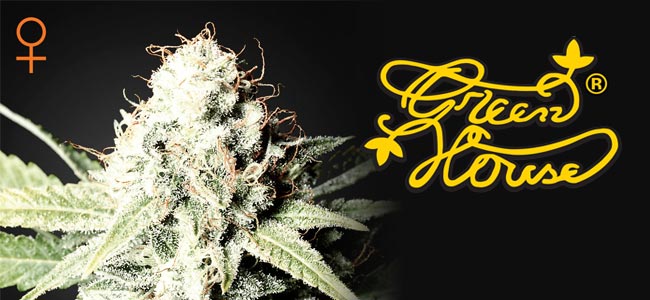 Jaws might have scared you out of the water, but fear not! Great White Shark is more of a pacifist than a primordial killing machine. White strains are something of a speciality of GreenHouse Seeds. Combining the legendary White Widow with the uber-productive Super Skunk was a match made in cannabis heaven. The result is another fat, frosty princess with some serious bite the Great White Shark.
Short, stout and highly productive, the Great White Shark is perfectly suited to the SOG method indoors. Plants stay below 100cm in height, while still developing thick main colas and side branches. Flowering takes 9 weeks, but most growers allow 10 weeks for a heavy indica smoke. Yields can be as high as 800g/m².
Outdoors, this strain can really pack on the weight during a long, hot southern European summer. Up to 1kg per plant has been achieved by experienced Mediterranean growers. The cannabinoid combination of Great White Shark is 14% THC and 1.7% CBD, which makes her a fantastic chill-out smoke and appealing to medicinal users.
KING'S KUSH CBD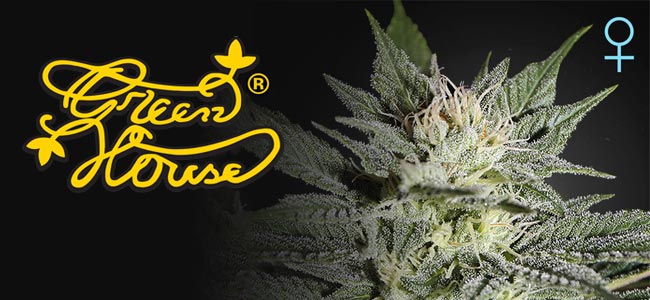 King's Kush CBD is a breakthrough CBD-rich variety with an almost 1:1 THC:CBD ratio. All while tracking down ancient landraces and breeding high-THC cannabis cup champions, GreenHouse Seeds are engineering medicinal cannabis strains. King's Kush CBD is the progeny of the original King's Kush and a high-CBD cultivar.
The traits that have made the King's Kush a hit with home growers shine through. Plants are visually very similar to the original. Its medium size, prolific branching and purple tones in late bloom have been retained. It's in the effects of the finished product where the differences emerge. With approximately 10% THC, 10% CBD and a sweet & sour Kush flavour, pure plant medicine has never tasted so good.
DIAMOND GIRL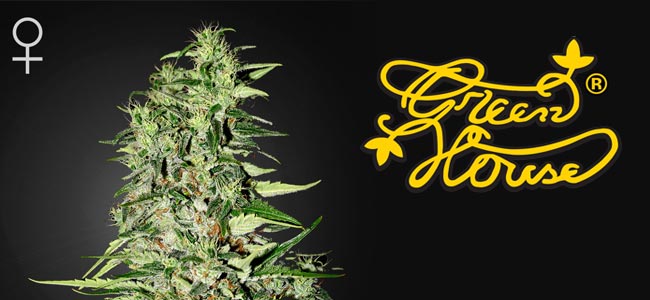 An oft-overlooked gem in the GreenHouse Seeds expansive collection is Diamond Girl. With a pedigree lineage of Skunk, Northern Lights, Haze and Early Pearl, you are probably scratching you're head wondering why you haven't cropped this beauty before. Diamond Girl is the indica-dominant precious you need to make room in the grow-op for.
This strain is one of the most grower friendly and versatile strains you could possibly grow. She can become a real canna-beast, being ideally suited indoors to SOG or ScrOG methods, and short and branchy but with an extended vegetative period. Indoor yields can be as much as 750g/m². Outdoors 200cm trees can produce up to 900g each. 15% THC makes for a mellow stoned sensation rather than an intense couchlock. De-stress and chillax with Diamond Girl.
EXODUS CHEESE AUTOFLOWERING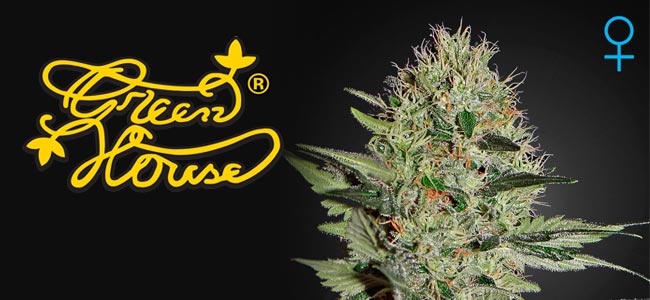 Indoor micro-growers and outdoor balcony growers listen up: the GreenHouse has the created the strain that's been missing from you're grow show. Exodus Cheese Autoflowering is the hardy, high-performance autoflowering strain that was made for the SOG method. Yields as high as 500g/m² are achievable even for beginners indoors. Outdoors 70-90g per plant is the average. Plus, Exodus Cheese Autoflowering is tough enough to survive those cool nights outdoors when the temps hover just above 10°C.
By successfully hybridizing the original Exodus Cheese with ruderalis GHS have developed a low-profile and low-maintenance Cheese that still packs a punch. Pungent Cheese aromas and a pleasant mixed high that is happy and stoney will keep you coming back for more.
Total crop time from seed to harvest is typically 70 days or less. Whether you're a novice grower or old school Cheese connoisseur the Exodus Cheese Autoflowering should be top of your must-grow list.
WIN FREE GOODIES WITH EVERY NEW "SEEDBANK OF THE MONTH"!
Former Seedbanks Of The Month, like the one you are reading about now, deserve eternal attention from us here at Zamnesia! Read about past and present honorees, and continue to visit our blog for the honorees of the future. Each new month highlights yet another stellar seedbank, kicking off a new round of awesome promotions and surprise giftings pertaining to that specific brand. So go ahead: once you are done here, visit this month's new Seedbank Of The Month, and take advantage of goodie giveaways!
Written by: Zamnesia
Zamnesia has spent years honing its products, ranges, and knowledge of all things psychedelic. Driven by the spirit of Zammi, Zamnesia strives to bring you accurate, factual, and informative content.

Find out about our writers
---