Monster Bud Boost Pack
(

98

)
Are your plants in serious need of a pick-me-up? Or are you just looking to give your plants the best start to that crucial flowering stage? We've got you covered. The Monster Bud Boost Pack has the potential to give you some healthy, sweet, and bountiful buds. With so many features of note, let's take a look at what this trio has to offer.
This item is not available in your country
We are sorry, this product is currently not available for shipping to your country. Please check back for future availability.
More info
Zamnesia x Bionova - Monster Bud Boost Pack: No Scary Surprises With This Plant Boosting Set
In an awesome collaboration between Zamnesia and fertiliser specialists Bionova comes the Monster Bud Boost Pack. This trio of treats is designed specifically to help your plants deliver the best buds they can.
With many people already using the Zamnesia Monster Bud Mix as a main fertilizer for the full growing & flowering cycle, coupling it with this potent pack of three Bionova liquid fertilisers (PK 13-14, X-ceL, and VitaSol) during the flowering period will set your plants up for success. The results are better tasting buds with a higher terpene potency and aroma.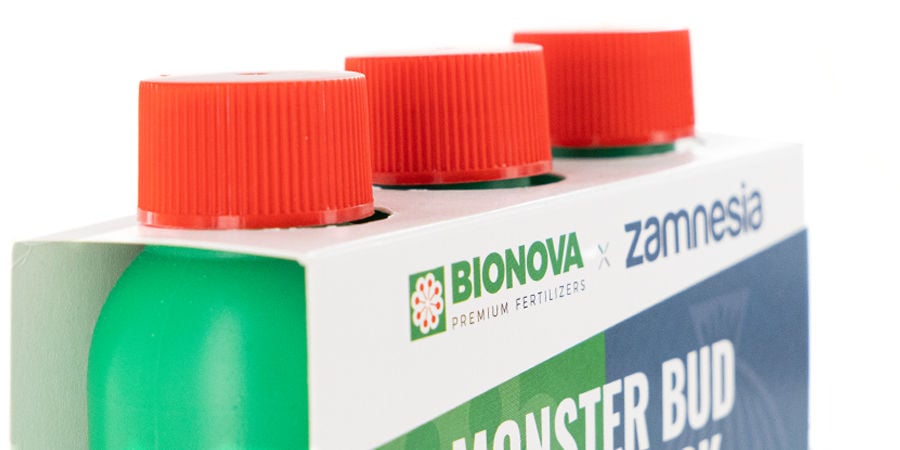 The first of the three fertilisers is Bionova PK 13-14. This potent combination of potassium and phosphorus will provide your plants with much-needed macronutrients. Directly available to be absorbed by the roots, PK 13-14 should be combined with other bloom fertilisers for maximum effect.
The second fertiliser is Bionova X-ceL. This stimulator with only vegetal ingredients features a whole host of vitamins, minerals, seaweeds and enzymes that specifically target the roots of your plant—working together to boost metabolism.
The last of these botanical tonics is Bionova VitaSol. This one is responsible for providing you with those sweet flavours. Containing natural sugars and a variety of vitamins, they call this one "the natural candy", so you know what's in store.
Not sure how to administer these fertilisers to your plants? No need to worry, as a handy guide is located on the back of the box that will tell you precisely what measurements of each fertiliser you'll need, and when to feed. Or you can download the feeding chart below in your language. There's nothing scary about this Monster Bud Boost Pack. Stress-free and simple to administer, all you need to do is decide how you want to enjoy those buds!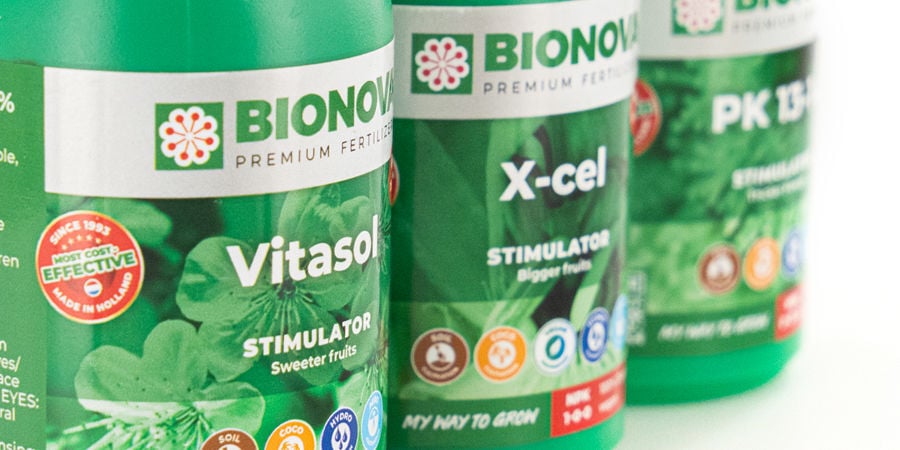 Monster Bud Boost Pack data sheet

| | |
| --- | --- |
| Quantity | 3x 75ml |
More information related to this product:
Reviews (98)
View all reviews

25/Aug/2023

Astounding
One of the things you will need for successful harvest

18/Aug/2023

Top
Cela agit très rapidement,les feuilles de mes bébés étaient bien atteinte ,carence en potassium azote ,après trois arrosage les feuilles sont de nouveau magnifique,vert a souhait ! Plus qu'à attendre la récolte pour voir les effet sur les fleur ! Merci Zam'

05/Aug/2023

Top
Super winderdünger

23/Jul/2023

Excellent Product
Can't live without these. Definitely makes a difference

20/Jul/2023

Boje 71
Sehr gutes Düngemittel die Pflanzen gehen in eine gute Blüte Pfahse,lasse mich überraschen wieviel Ertrag ich erhalte. Schön

18/Jul/2023

Very good.
Very good stuff to use.

14/Jul/2023

Erstbestellung
Kam noch nicht dazu es zu testen, gebe aber nen Feedback wie er ist

12/Jul/2023

Gutes Produkt
Super Produkt. Mach was es soll! Mn

10/Jul/2023

Colis
Depuis le 04/07/2023 ma commande est en transit . Nous sommes le 10/07/2023 et toujours rien . A savoir que ma commande a été passée le 26/06/2023

30/Jun/2023

BG
Hilft beim Anbau, ich konnte damit sogar ein Pflänzchen retten das schon Schwierigkeiten beim Keimen hatte

20/Jun/2023

Nikel
M'a aidé à sauver la vie d'une pauvre plante

16/Jun/2023

Great Product
Have frequently used this product in conjunction with the monster bud mix and the results simply speak for themselves. Improved rate of growth, increase in overall plant size, wider canopies, denser flowers and the ability to support the many flowering sites (especially through topping and training) as well as improving the plants response to, and recovery from, stress induced optimisation. Far better results then from other renowned names in the business when dealing with such comprehensive product line ups, using different, optimised compounds for each stage of development. As with all such potent plant boosting products, its best to read, reread, before again rereading the dosages, at each stage of measuring and mixing, to avoid possibly overestimating the dose. When using this product it seems to be beneficial to slowly introduce the ingredients to the plant in initial diluted doses, starting at roughly 25% of the recommended dose, increasing the concentration by 25% for each following scheduled dose, before using the full recommended dose from the start, as some strains, phenotypes or dynamics within the soil, micronutrients, enzymes etc can make certain plants more sensitive then others. Tip: It helps to make larger batches of pre-prepared batches of Monster Bud Boost Pack liquid fertiliser, such as 10L or more, not only does this minimise the chance of accidents (when making 500ml preparations for example) but it also cuts down on the repeated use of PH buffering agents etc and plastic waste.Just check the PH, and ECC if needed (usually pretty stable if done correctly) before application.

08/Jun/2023

Top
Fijn product, makkelijk te doseren en de plantjes doen het er goed op.

04/Jun/2023

Excellent produit
Resultat garanti en respectant le dosage préconisé , je recommande

02/Jun/2023

Gutes Set
Sehr gutes Dünger Set zum guten Preis hab gefühlt 20 Prozent mehr Ertrag gehabt und die Blüten wahren um einiges dicker werd es nach bestellen wenn es leer ist

27/May/2023

Top product
Booster pack zorgt voor een stevige groei en mooie toppen!

25/May/2023

Perfect
I use this in combination with the monster bud mix and my "x" strain from zamnesia is growing beautiful.

16/May/2023

Super produit !!!
Vraiment les produits sont vraiment fabuleux après 1mois et demi ont voit directe la différence comparer a avant

14/Apr/2023

Really helpful
good product helping grows

11/Apr/2023

Gutes Produkt
Könnte einen verschluss haben der nur tropfweise die flüssichkeit raus lässt

22/Mar/2023

Guter Dünger
Super Qualität, guter Preis. Gut auch für Zimmerpflanzen und Gemüse.

19/Mar/2023

Bon produit
dosage intéressant faites pousser!

16/Mar/2023

Nice
No problem nice product

14/Mar/2023

Site zamnesia
Très satisfait du site zamnesia je vous le recommande les yeux fermés.

11/Mar/2023

Super
J'ai offert ce pack pour mon amant et je pense que l'engrais est efficace vu les commentaires et puis 7€ en solde c'est donné

10/Mar/2023

Einwandfrei!!
Bin begeistert, hätte ich nicht gedacht…

07/Mar/2023

Good product
Clear instruction, the composition seems good and complete.

05/Mar/2023

Boster
Très bon produit faux juste avoir un bon tableau de dosage part litre et non part 10 litre cella serait beaucoup plus simple pour les débutants comme moi

10/Feb/2023

Consegna
Avrei una domanda date che non capisco l'inglese, posso mescolare tutti e 3 prodotti insieme? Grazie a chi può rispondermi

06/Jan/2023

Great stuff
Used it on 3 plants that grew outside. Monsterbud gave me more than 500 gr flowers (dried) excellent stuff

29/Dec/2022

Top complément pour Roots et grosse Flo
Ce pack a a peine 10€ je m'en mefiais. Préfèrent bêtement acheter un additif, PK plus cher pensant que c'était meilleur. Grosse erreur les amies !!! J'ai tester le pack et aujourd'hui sa fait 5 sessions que je fait avec mon engrais grow et Bloom et c'est top des fleurs ouff

20/Dec/2022

super service von zamnesia.
super customer service!

18/Oct/2022

Seems to be nice
Until now they are growing really nice

08/Oct/2022

Good
Im happy

23/Sep/2022

monster bud boost
easy to apply too, would reccomend

21/Sep/2022

Easy and effective
Easy instructions to follow throughout the plants lifecycle, and the plants seem to like it.

07/Sep/2022

excelent
i can really notice the difference between feeding the plants with and without this product, totally recomended

15/Aug/2022

Plants got stolen
Plants got stolen but seemed like it was workingwell ! easy to apply too, would reccomend

04/Jul/2022

Ras
Parfait pour toute la durée de vie de la plante

02/Jul/2022

Bionova
Heel tevreden over

08/Jun/2022

dünger
Bester Dünger überhaupt

04/Jun/2022

no idea what i should say. i'm absolutely dissapointed in bionova!
@bionova pls overwork your sheet according to your website! @ zamnesia, you guys need to do some research before telling telling everyone how good this is! a little search on their website tells us "tips from growers", i wish i have found that section in the beginning cause vitasol can be used from the beginning cause theres Mycorrhiza in there which are really helpful from the beginning on, and not only in bloom! Diluted we talk.. Heres from their website: Use Bionova Vitasol once a week in dilution rate from 0.5 ml/litre up to 1 ml/litre during growing stage to enrich and increase micro-organisms life and activities in the substrate. i wish this would have been mentioned on the package. And Bionova says regulate ph to 6.0? they let you run straight into a calcium defficiency if you don't have the right supplements for that, budget growers beware, you will need alot more stuff :( And why is there only 1% N in the growth fertilizer? this might be gentle, but slows down everything. As you mention potential in your info sheet, yes it's definitely there if it's told how to use the right way but i'm truly dissapointed in them and it was the first and last time trying their stuff.

20/Apr/2022

top
Du jour au lendemain la différence est flagrante à voir pour la qualité des buds au final

19/Apr/2022

Jacobes77
Zeer te spreken over bionova De korrel werkt ook erg goed mengen door de potgrond en met bloei nog wat bij voeden. Erg mooi produckt

16/Apr/2022

Perfect spul
Zojuist m'n tweede en derde setje besteld en had 'm lekker snel binnen. Plantjes doen het erg goed met deze voeding. Ze zijn nog niet klaar maar kon duidelijk het verschil merken met de flinke groeispurt die ze gemaakt hebben. In combinatie met de Monster bud voeding voor in je grond een prima combi voor gezonde plantjes met dikke toppen.

17/Mar/2022

Super
Super produit pour les plantes

05/Mar/2022

WOOOOW
Prima volta che li provo e mai più senza devo restare!!!

04/Mar/2022

Cool
Les plantes ont l'air d'aimer

28/Feb/2022

Boost
Super Produkt

23/Jan/2022

Cool
Tres bon engrais pour vos plants . Je recommande sans aucun souci .

11/Jan/2022

Top
Plantjes groeiden en bloeiden goed. Mooie opbrengst.

08/Jan/2022

Top
Sehr guter dünger.

20/Dec/2021

Magique
Excellent produit que j'ai plusieurs fois commandé maintenant.

05/Dec/2021

Très bon engrais associé au monster bud mix
Après 20 ans de culture à mon actif, voici mon avis sur ces engrais. J'ai testé le monster bud boost pack associé avec le monster bud mix sur une plante en extérieur dans le sud de la France. PH ajusté à 6, j'ai suivi à la lettre les consignes d'utilisation. Je trouve ces engrais très stable, je n'ai eu AUCUNE carence, ils sont très simple d'utilisation et le rapport qualité prix est vraiment excellent. Seul bémol, vous ne récolterez pas des buds gargantuesques comme promis mais de beaux buds avec une bonne qualité aromatique. Je recommande donc vraiment cette engrais pour les débutants ou les cultivateurs avertis qui veulent une gamme d'engrais simple à utiliser et vraiment pas chère.

07/Oct/2021

does his job
worked pretty well

24/Aug/2021

Goed product
Werkt goed, zou niet teveel zetten, een maat dopje of iets zou wel een fijne toevoeging zijn.

26/Jun/2021

Powerboost
The booster pack is great, all seeds get the right amount if you stick to the dosage. Perfectly matched. gladly again. R.S.

23/Jun/2021

Bio druppels voor plantjes
Zal wel iets zoen zeker, er kwam een mooi product van de plantjes af alleszins. Dus kwaad heeft het zeker niet gedaan. En het is bio, bio is meestal wel OK. Ik gebruik het icm de korrels en guano extract.

19/Jun/2021

Dosage
Il serai bien de recevoir un bouchon mesureur ou Une pipette, seringue... Sinon bon produit c'est la 3ieme boîte que je prends je ne suis pas déçu.

11/Jun/2021

Top!!!!
Immer wieder gerne!

09/Jun/2021

Good food
Great food for plants. Bought again.

08/Jun/2021

boost pack
j en donne un peu a mes tomates en une semaine ils font trois fois la taille par rapport a ceux qui n en ont pas eu , attention a ceux comme moi qui n utilise pas de correcteur(ph+ et ph- ) le X-cel est a 4.7 de ph , du coup sous dillution obligatoire . tres bon produit

02/Jun/2021

Super.
Bin begeistert wie immer von bionova.

24/May/2021

Très bon et bio
Bon produit , tout y est ,au top mes plantes sont contente de ses apports parfait et bio en plus.

21/May/2021

Monster bud
Très bon produit pour mes premiers pas en culture , produit que je recommande

27/Apr/2021

Looking foward to it
Will certainly use this on my next grow..Delivered on time and packaged safely

23/Apr/2021

Tip top
Le x cel donne vraiment un bon coup booste pdt la vegetation surtout additionné au monster bud mix et le vitasol associé au pk13-14 si c est aussi efficace je suis impatient de voir la floraison

20/Apr/2021

super voeding
Zeer snelle levering

16/Apr/2021

Bottle exploded
Bottle exploded in the fridge Huge cleanup

13/Mar/2021

PERFETTO PER INIZIARE
Su consiglio degli esperti di ZAMNESIA ho acquistato questo kit, sapevo di aver fatto bene a seguire i loro consigli, risultato perfetto!!!

26/Feb/2021

Superbe produit
A recommender à tous!

22/Feb/2021

BUONO
USATO SU UNA RUNTZ AUTO OTTIMO RISULTATO CARAMELLOSO DIREI.. GRAZIE ZAMNESIA.

30/Dec/2020

Stock
Ce produit est très bien pour avoir des belles grosses tète, encore faut-il recevoir les colis... cela fait 12jours que j'attend ses boosters.

10/Dec/2020

Super maar opgelet met de Vitasol flesjes !
Super ... maar ik heb identiek dezelfde ervaring als P.C. in de review hierboven. Zamnesia heeft wel super klantvriendelijk gereageerd op mijn opmerkingen wil ik eerst zeggen. Bij levering viel op dat de flesjes Vitasol wat bol stonden (overdruk in het flesje ?), wat helemaal niet het geval was bij de X-cel en de PK 13/14 flesjes. Op kamertemperatuur gestockeerd waarbij 7 van de 10 flesjes Vitasol zijn opengebarsten. Een hoop opkuistroep. Zamnesia heeft er geen probleem van gemaakt om via een voucher dit te compenseren. Van de drie overgebleven flesjes heb ik op een week tijd al 3x druk afgelaten (de flesjes gingen spontaan terug bol staan) met telkens een kleine pschttt zoals bij het openen van een flesje prik. Ik,probeer nu de tip om de Vitasols wat kouder te stockeren. Qua resultaat nog geen ervaring, ben het gewoon om met Plagron te werken. Vriendelijke groeten.

26/Nov/2020

Excellent
Super engrais, le x-cel accélère le développement de vos plantation à vue d'œil et le vitasol associé au pk13-14 permet une floraison grandiose. Attention Le vitasol a Stocké dans un endroit pas trop chaud car la bouteille a tendance à gonfler. Personnellement Je recommande ce produit les yeux fermés

12/Nov/2020

gooood seeds bonnes graines,dobra kombinaze oci he ;)
takze pod 3 takze slo 3 after i did put three of gthem straight nd looks perfecti recommenrated it strongly je recommande cette variété!!

10/Nov/2020

Great product
My plant's seem to love it they are doing so much better in flowering it is crazy. I love it and the plants even more.

30/Sep/2020

Perfect for home use !
friend gave me the monster bud mix a while back which worked wonders in mu backhyard garden. Can;t wait to give this a go !

You cannot post a review because you have not purchased this product
Restrictions
Please note that if your country is not on our general shipping list, we're unable to ship any item on our website to it. For more information check out the list here: Ordering & Shipping
Video (0)