White Widow (Zamnesia Seeds) feminized
4.5

5

1

(

113

)
A "highly" recommended and firm favourite all around the world, White Widow is a hybrid strain of much acclaim and respect. Not just a pretty-looking plant, she manages to pack a remarkably potent punch that will KO those who don't take her seriously. If that wasn't enough, she's also a vigorous grower, taking just 9 weeks to flower.
In stock
You will be notified as soon as the product returns to stock
More info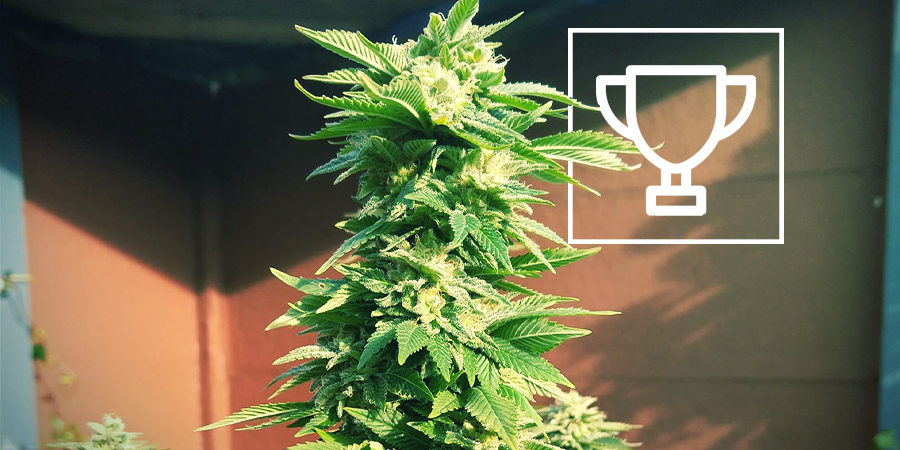 ZAMNESIA SEEDS - WHITE WIDOW: THE AWARD-WINNING "COFFEESHOP KING"
White Widow is a legendary hybrid, and one of the most popular cannabis strains of all time. Even with some white showing up in her figurative hair, this famed classic hasn't lost her appeal with the years. In a sense, she's an age-less cannabis classic, White Widow is even still the "Coffeeshop King" amongst Spanish and Dutch enthusiasts. You'd be hard-pressed to find a coffeeshop around that wouldn't have this THC- packed, all-time bestseller at the top on their shelves. In turn, you'll rarely see professional growers without some of these seeds growing in their fields.
With admiration of this legacy, we at Zamnesia now offer seeds of our very own White Widow Feminized variety! Before we tell you more about that, though, we should give you a better sense of what White Widow has to offer, and demonstrate what these seeds can become when you take good care of them.
What Kind Of Strain Is White Widow?
Our variety of White Widow, White Widow Feminized seeds, offers a perfect 50%/50% balance of indica and sativa. Other variants from other breeders, however, sometimes lean in the one or the other direction, so you're less likely to get the "perfect" mix with other seeds.
Hybrid strains can provide users with some advantages over pure indica or sativa cannabis strains. In fact, most modern strains are hybrids, as breeding usually involves combining various genetics. This leads to an enormous variety of strains that often feature the best aspects of sativa and indica genetics, leading to a great experience. Hybrid seeds are also beloved among growers, as they are hardy and are easy to grow.
But White Widow Feminized seeds don't just provide another hybrid. Along with this genetic blend, the seeds are renowned for producing true top-shelf bud over and over, offering a final product that satisfies even the most demanding connoisseurs. Highlights of the strain include her iconic appearance, her massive resin production and the spectacular cerebral high she provides. All these qualities have earned the original White Widow, White Widow Feminized, and many of the other varieties their well-deserved legendary status, along with multiple awards.
White Widow –– A Famous Cannabis Icon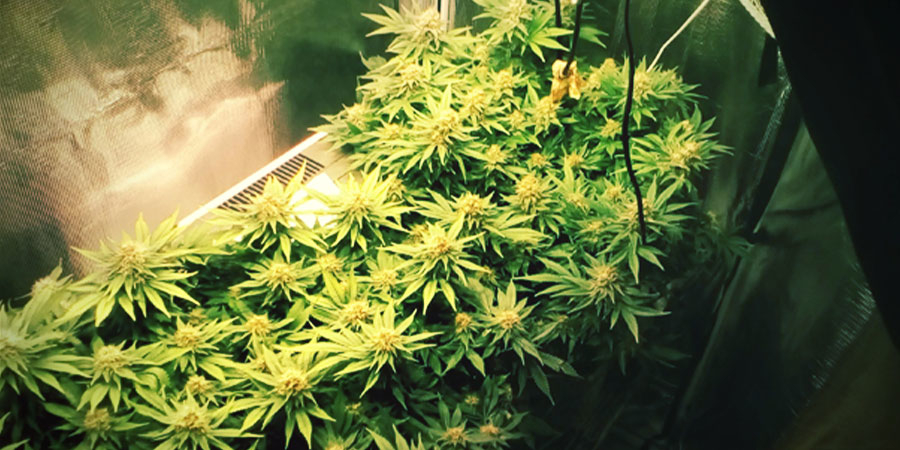 The original White Widow arrived on the scene in the early 1990s. As growers raised the seeds and sent the buds to Amsterdam coffeeshops, it didn't take long for her to become famous for her potency and effect. Users of the strain describe this variety of White Widow high as energizing, uplifting and socially stimulating.
Yet, the popularity of White Widow doesn't just come down to cannabis enthusiasts enjoying it. See, the seeds are also highly regarded among growers, as the plants begin flowering and produce bud with little to no hassle at all. Even the greenest growers will find it easy to get the seeds to reach their full potential. These plants will grow smoothly all the way to harvest, where they'll shines with good yields after a short 9 week flowering period.
What Are The Origins Of White Widow?
Although White Widow is an enormously popular strain, little is known about the exact origins of the first seeds. As so often when it comes to legendary strains, her story is shrouded in mystery, which makes tracking down said origins somewhat difficult.
What we do know, however, is that White Widow was released in 1994 by the breeder Shantibaba, who's now known as the founder of Mr. Nice Seeds and CBD Crew. Back then, though, with his partner Arjan Roskam, he was the co-owner of Green House Seeds.
According to Shantibaba, a male indica hybrid plant had come into his possession. Apparently, it had come from a village in the mountains of Kerala, where it had been bred for a long time before. They bred this South Indian plant with a pure Brazilian sativa mother, possibly an old school Manga Rosa Brazilian landrace. The combination of these two plants, apparently, offered them what they'd eventually realize were White Widow seeds.
It gets fuzzy, however, when you learned that may not be how it went. See, Ingemar, a renowned breeder from Holland who worked for Green House Seeds at the time, also takes credit for the creation of White Widow. He stated that it was him who found the seeds in a batch of hashish, and that he gave the genetics to Arjan in turn.
Arjan, as it turns out, backs this version of the story, and says that his former partner, Shantibaba, indeed has nothing to do with the creation of White Widow.
White Widow's Effects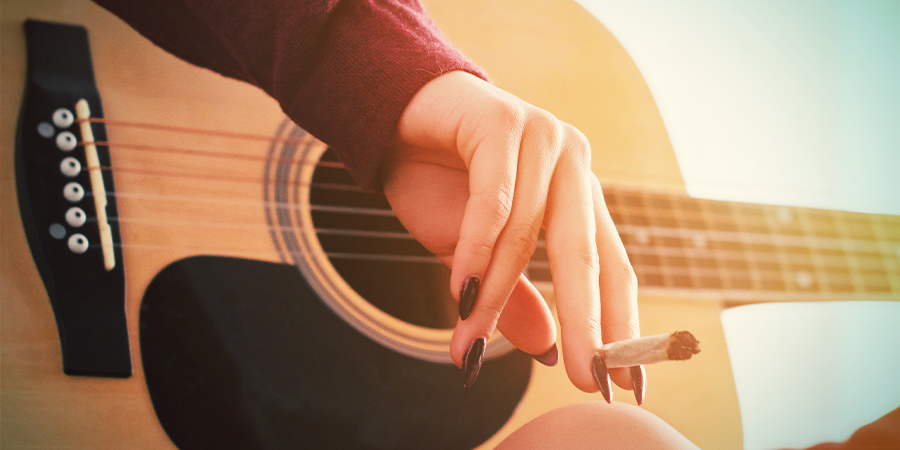 With all that history out of the way, you're likely wondering what it's actually like to smoke. One of the hallmarks of the original White Widow, White Widow Feminized, and other varieties, is her bombastic cerebral effect. Users who enjoy the strain often say that it immediately lifts their mood and energy while allowing them to stay focused.
While we would once solely thank the sativa genetics for this, scientists have recently discovered that terpene blends are a significant contributor.
At any rate, those effects makes the strain a good choice to enrich all kinds of everyday tasks, as one can still function and not end up dead tired.
People also often say that enjoying White Widow can feel outright psychedelic. They may experience light visuals, and may be notably more aware of sounds and patterns that may have gone unnoticed before. Along with a sense of increased creativity that's perfect for all things music and art, they are also enjoying a mellow body buzz from the strain.
The energetic high offered by White Widow also makes her a great social smoke. With her inspiring cerebral sensations, she is an ideal smoke to share, opening the door to hours of deep philosophical discussions, or just hours of fun. It's ideal for daytime, and fits right in if you still want to get out and hit the clubs at night.
Does White Widow Have Any Side-Effects?
Ever since the strain's release, White Widow has been enjoyed by scores of recreational and medical weed users. Then again, every strain, including White Widow, can affect each person differently.
Some White Widow users, for instance, report dealing with dry mouth ("cotton mouth"). However, this can easily be remedied if the one keeps well hydrated before, during and after enjoying the strain. Keeping a bottle of water on hand is a good idea, in general, though, even when you're not enjoying White Widow.
Another side-effect that some may experience with the strain, although it's less common, is red and dry "stoner eyes". Should that be an issue, moisturizing eye drops come in handy.
Due to the potency and the marked cerebral effect of White Widow, the strain may also not be the best choice for users who are prone to anxiety and paranoia when consuming cannabis. Those users want to plan dosage accordingly. In particular, when trying new strains, it's always a good idea to start low first, and then see how it affects you.
How Strong Is White Widow Feminized?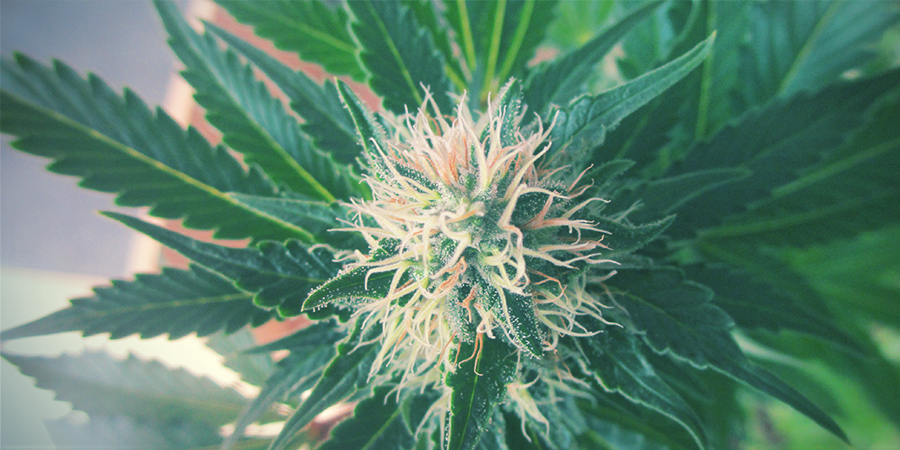 White Widow Feminized boasts on average 18-20% of THC, with some phenotypes exceeding that amount. In turn, it has a near-negligible amount of CBD (<3%).
Although 20% may not seem like much compared to newer strains, she is definitely potent enough to provide the user with a heavy, powerful high that hits pretty fast. In turn, even "experts" shouldn't get fooled by White Widow "only" having 20% THC, as numbers can definitely be deceiving.
The Aroma And Taste Of White Widow Feminized
When breaking open some well-cured White Widow Feminized buds, one can smell an intense hash or incense-like aroma with a musky note to it. This pungent hash odour is hinting at the massive potency of the strain. A good nose can also get a whiff of an earthy pine aroma, with hints here and there of sweet and spice.
When combusted, White Widow Feminized produces a strong smoke with a marked earth and hash flavor, very much like her scent. But be aware that her smoke, despite being smooth on the palate is very pungent. So if discretion is a priority when enjoying a joint, this one may not be the easiest one to hide.
How Does White Widow Feminized Grow?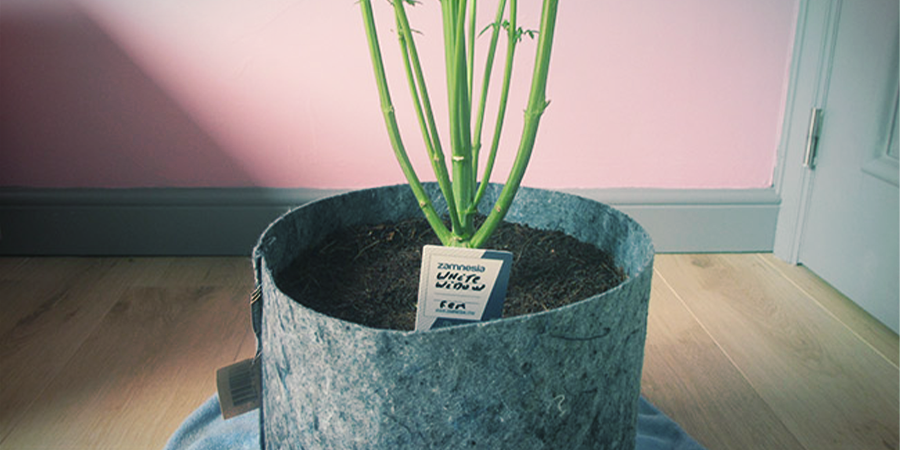 White Widow seeds are renowned for being easy to grow. Grown outdoors, White Widow Feminized seeds prefers a very warm climate with plenty of sunshine. When harvest time arrives, which arrives sometime in late October if you're growing outdoors, you'll see where this plant got her name from. Frosty white resin crystals will cover the entire plant, giving the plant a sugar-coated appearance. Her iconic white shimmering looks are further pronounced by the fact it's sometimes not vividly-coloured when she is ready to pluck.
White Widow Feminized seeds, featuring typical hybrid genetics, grow to a relatively short height. Her leaves, which are usually a wider indica-like shape, can take on various shades of green. Outdoors, the seeds can grow to a medium height of 150-200cm. From such a hefty plant grown in ideal conditions, one can expect large yields of 550-600g per plant.
White Widow Feminized seeds can also grow perfectly indoors. In fact, that's the recommended growing method if you're tending to them in a colder climate. In a tent or in a dedicated grow room, plants from these seeds will reach 60-100cm, making her far more manageable than other strains of this quality.
White Widow Feminized seeds also offer an amazing flowering time indoors! After only 8-9 weeks of bloom, she will reward you with a 500g/m² yield of top shelf bud.
Famous Cannabis with White Widow Genetics
White Widow's arrival on the scene in the 1990s has given rise to a number of new cannabis strains based on her genetics. Lovers of White Widow will always have the original, but now they can find variants that have attained legendary status in their own right. Here are some of the most-popular White Widow variations:
White Russian – Seeds of this indica-dominant hybrid result from crossing White Widow and AK-47. These dank flowers offer emphasized sweet, skunky and spicy notes in spades. This take on White Widow also keeps the iconic buzz of the original, although she has a very relaxing effect when consumed in higher doses.
White Berry – Also known as Blue Widow, these seeds come from crossing White Widow with fruity-fresh Blueberry. It tastes great, and provides an exceptionally balanced effect on top of that. It's not too cerebral and not too stone-y; making it just right for all-day smoking.
White Rhino – The creators of these seeds combined an unknown indica from North America with Brazilian, Indian, and Afghani genetics. Especially high in THC, these buds provides an extra strong, euphoric and happy head high. We'd mainly recommend these flowers to experienced users, but most growers should be able to handle the seeds!
White Widow Feminized (Zamnesia Seeds) –– An Iconic Cannabis Strain Available At Zamnesia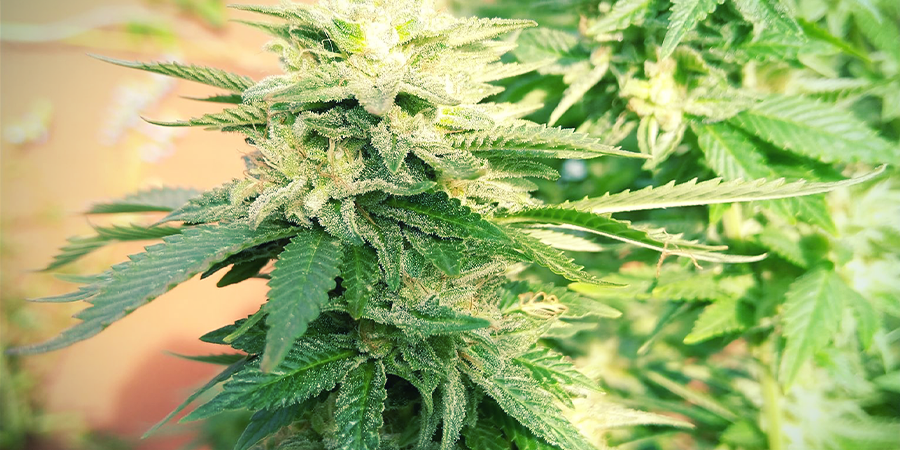 As one of the leading vendors of cannabis seeds in Europe, we at Zamnesia are proud to offer this legend in our catalogue. If you have more than 25 Euros of product added to your cart, we'll also offer you free seeds with your order! You'll get one free seed to start, and you'll get more as your order a greater quantity of products.
We also offer you access to our diligent customer service team, who'll be sure to never let you down. Then, once you get it and grow it, feel free to leave a comment, or add to our massive catalog of reviews.
Get your White Widow cannabis seeds at Zamnesia now, and enjoy growing a true cannabis classic!
White Widow (Zamnesia Seeds) feminized data sheet

| | |
| --- | --- |
| Brand | Zamnesia Seeds |
| Genetics | 50% Indica / 50% Sativa |
| Parents | White Widow |
| Flowering Time | 9-10 weeks |
| THC | 18% |
| CBD | 3% |
| CBD:THC | 1 : 6 |
| Yield (Indoor) | 350-400 gr/m² |
| Yield (Outdoor) | Medium |
| Height (Indoor) | 100cm |
| Height (Outdoor) | 200cm |
| Available as | Feminized seeds |
| Flowering Type | Photoperiod |
| Sex | Feminized |
*
Specified by breeder when grown under ideal circumstances
More information related to this product:
Reviews (113)
07/Mar/2023

Top
Après un premier départ compliqué, merci à zamnesia de m avoir donner une deuxième chance !!!! De belle plante y'a plus qu'à patienter désormais

19/Jan/2023

Parfait
Jamais déçu !

26/Dec/2022

Meine liebste Sorte
Ich muss vorneweg sagen, dass ich eher im kleinen Maßstab anbaue: 0,36m², 250 Watt MH/NDL, PK Abluft mit AKF, Clipventilator für Umluft. Dazu benutzte ich Plagron Light-Mix und HESI Wurzelkomplex, Blühkomplex und Phosphor plus. Alles nicht professionell und mehr Pi mal Daumen. White Widow von Zamnesia habe ich zweimal angebaut, jeweils 4 Pflanzen. Trotz vieler Fehler und mangelndem Fachwissen habe ich einmal 209g und dann 211g getrocknete Blüten geerntet, was für mich der bis dahin größte Erfolg war, bei anderen Sorten lag ich meist zwischen 140g und 200g. Nach einer Pause von knapp 5 Jahren habe ich nun eine neue Packung White Widow geordert, als sie im Black Friday im Angebot war. Dazu gab es noch einen Bonusseed von Sensi Seeds. Die WW-Samen sind ziemlich klein im Vergleich, ich hoffe, sie keimen trotzdem (wenn nicht, hoffe ich auf Kulanz von Zamnesia). Dafür waren aber 11 statt 10 Samen im Röhrchen. Diesmal werde ich unter LED anbauen und bin gespannt, was am Ende dabei herauskommt.

28/Aug/2022

A great choice!
Seeds arrived very promptly and all of them germinated. As I live in south-west France the climate is ideal for outdoor growing. I started them off in a greenhouse mid May. Once they had reached about18" tall I put them out, the greenhouse was getting too hot anyway. I harvested them in September, when they were about 1.80m (6 feet) tall. After drying and curing I averaged 500g (over 1lb) per plant. Beautiful sticky heads producing a wonderful, easy high. A year later I am still using it, fantastic value!

30/Jul/2022

3/3
Alle 3 WhiteWidow sind gekeimt. Wuchsgeschwindigkeit wird als Medium empfunden. Neue XS1500 wurde installiert, 1st day Allerdings habe ich die WW immer als beste Plant für diesen Breitengrad (54) hier empfunden. Lieferung und Service wie gewohnt 1A Top!

09/Jul/2022

original
good

21/Jun/2022

10 von 6 gekeimt
Ansich gutes Zeug

24/May/2022

Sehr gut
Alle sind gekommen, einfach köstlich diese Sorte :)

22/May/2022

Zu dem Preis ganz zufrieden
Ich habe 30 Samen bestellt als sie mal im Angebot waren und mittlerweile die ersten zehn angebaut, geerntet und genossen. Keimrate (Taschentuchmethode) mit 9/10 würde ich als recht gut einordnen. Die Pflanzen sind auch relativ homogen gewachsen und waren nicht sonderlich anfällig für Schimmel & Co. Die Wirkung scheint mir etwas schwächer als bei den originalen White Widow die ich in den 90er Jahren genießen durfte und nicht so Lachflash fördernd, aber dennoch nett und nicht zu einschläfernd. Wer eine solide und einfach anzubauende, nicht zu starke und nicht zu groß wachsende Pflanze zu einem akzeptalben Preis sucht, kann hier getrost zugreifen.

13/May/2022

Tolle Samen
Klappt immer bestens mit den Besten Samen! Und gibt immer tolle Geschenke dazu. Herzlichen Dank für tollen Service!!!

You cannot post a review because you have not purchased this product
Customer pictures (11)
Restrictions
Please note that if your country is not on our general shipping list, we're unable to ship any item on our website to it. For more information check out the list here: Ordering & Shipping
Video (0)