OG Kush (Zamnesia Seeds) feminized
4.5

5

1

(

72

)
A worldly icon hailing from California, OG Kush serves up a captivating mind-body experience. The popular strain combines Chemdawg x Lemon Thai x Pakistani Kush in a sublime matrimony of intense aromas. OG Kush by Zamnesia boasts a robust flowering time of only 8 weeks, yielding an abundance of quality buds.
In stock
You will be notified as soon as the product returns to stock
More info
ZAMNESIA SEEDS - OG KUSH: THE CALIFORNIAN LEGEND
No other strain has put her mark on the cannabis world like OG Kush, a beast that has enticed—and still entices today—scores of cannabis enthusiasts with her distinct aromas and powerful high. Growers can take advantage of the strain's robust growth and lightning-fast flowering phase, which are second only to her fabulous yields. For smokers, there are even more delights to be found once OG Kush is set ablaze.
Let's take a closer look at this famous Northern California indica, which many consider to be the most iconic cannabis strain of all time. Where does OG Kush come from, and what makes the strain so special? How do you grow OG Kush, and what results can you expect at harvest time?
The Origins of OG Kush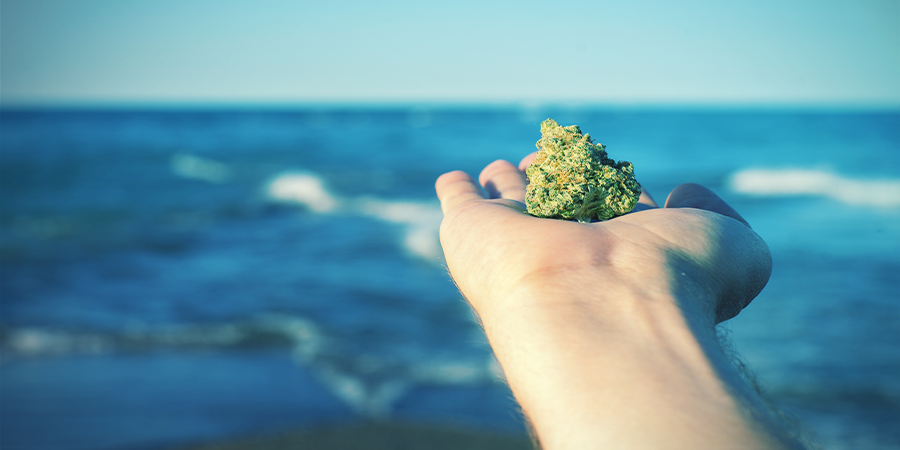 Almost everyone who enjoys good cannabis has likely already smoked (or at least heard of) OG Kush. Yet, surprisingly, little is known about the exact origins of this strain. Depending on who you talk to, you may hear different stories about where the strain came from, so it isn't easy to say with confidence how exactly the original OG Kush sprang up.
That said, most of these origin stories have some elements in common; namely, that OG Kush started as bagseed, and that the strain hails from the Chemdawg lineage. Chemdawg itself is a strain shrouded in mystery, with many tales told on how she supposedly came about. Cannabis lore says the strain arose from the seeds of a mysterious "chemical bud" that a fortunate grower obtained during a Grateful Dead show in 1991.
The meaning of the "OG" part of the strain is also debated. Some say it refers to a rap song by Cypress Hill, or "O.G. Original Gangster" by Ice T. According to those in the know, however, OG simply means "ocean grown".
Genetic Lineage of OG Kush
The story goes that a cannabis grower from LA named Putz got hold of a Chemdawg cutting from a friend, which he crossed with a Lemon Thai x Pakistani Kush (Hindu Kush) hybrid from Amsterdam. Upon tasting the new creation, someone told him that his bud tasted like it was grown up in the mountains. Putz shook his head and responded, "Well, this Kush is ocean grown!".
There are some other theories about the genetics of the OG Kush strain, some of which imply that a Pakistani/Hindu Kush wasn't even used in the strain's creation.
Growing OG Kush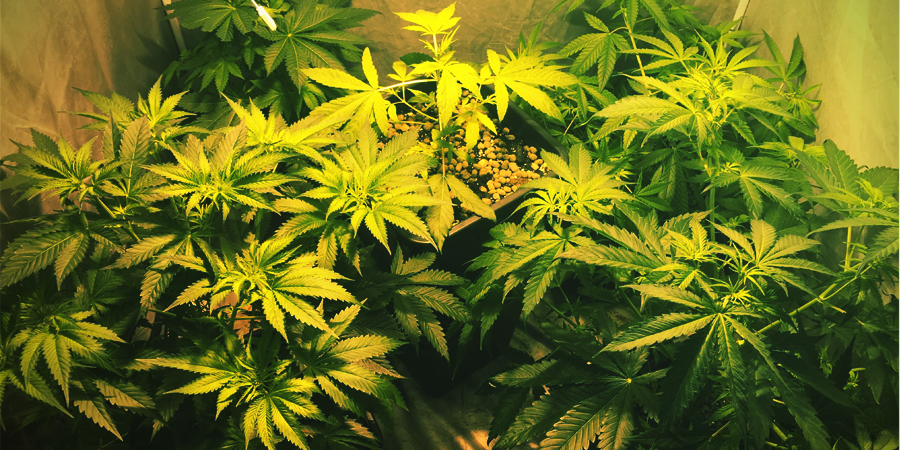 As a "typical" indica-leaning hybrid strain (70% indica), OG Kush isn't particularly difficult to grow. With just some basic care, she will give good results whether grown outdoors and indoors. OG Kush is especially well-suited to indoor cultivation in smaller spaces, as she doesn't get too tall (90–160cm).
Rather than stretching like other cannabis strains do when they go into flowering, OG Kush tends to expand outward, developing into a bushy, productive specimen. Eventually, her many side branches will be brimming with compact, bright-green buds oozing with resin. This is one of OG Kush's many prime traits. You won't have to worry about underwhelming flavour or bad bag appeal with this strain. Concentrate and hash-makers rejoice—OG Kush is ready to be rendered into all kinds of cannabinoid and terpene-rich delicacies.
Short Flowering Phase and Good Yields
OG Kush requires only 7–9 weeks to flower, putting her on the speedier end of the spectrum, even for an indica-dominant hybrid. After this short time, she develops a nice amount of bud in the region of 475–600g/m².
Outdoors, OG Kush reaches her full potential and can grow as tall as 220cm. Grown in an optimal environment with plenty of sun and warm temperatures (remember its California origins), cultivators can look forward to harvesting as much as 550g/plant in early October. This makes her a good strain for those seeking a fast turnaround, or those looking to avoid inclement weather in the fall.
Given her reliability and consistency, growers crop OG Kush every year with the knowledge that their jars will be full of high quality bud for months to come.
Training and Precautions
OG Kush responds well to all manner of training and yield-boosting techniques, and really benefits from methods that enhance its already bushy profile. By topping early on, growers can force the plant to produce multiple main stems, and therefore more flowering sites. Low-stress training (LST) and main-lining are also good ways to keep the plant bushy, but not overly dense.
Given this density, one thing growers should keep an eye on with OG Kush, outdoors or in a tent, is high humidity. The reason for this is that the dense buds of OG Kush are prone to trapping moisture, which can lead to mould and powdery mildew. By maintaining good airflow around your plants, and with some occasional pruning, the risk of mould can be significantly reduced.
Otherwise, OG Kush doesn't have any special growing requirements in regards to nutrients or watering. The plant performs well in soil, coco, or hydro, and, with a little care, can deliver great results even when reared by beginners.
Effects, Aroma, and Taste of OG Kush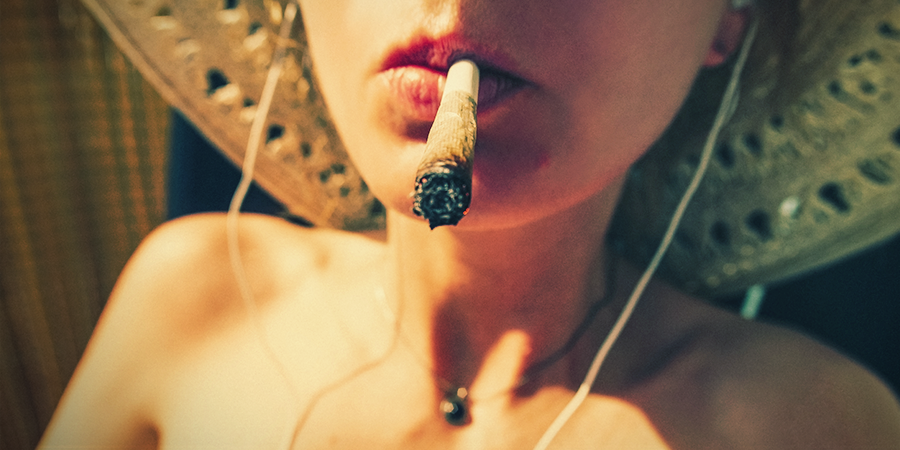 The potency of OG Kush is one of her hallmark qualities. Measuring in with a good 19%+ THC content, depending on the phenotype, this is definitely a strong cannabis strain that will satisfy even seasoned smokers. What's noteworthy is that her effects are both physical and mental, combining a relaxing stone with a cerebral, sativa-like buzz.
Relaxing and Uplifting Effect
Take a hit or two, and you will immediately feel waves of soothing relaxation along with a happy and blissful feeling. Both the serene and euphoric effects of the OG Kush high make it a good smoke to unwind with at the end of a long day. Top for watching movies or for hanging with friends. Novice smokers are advised to be careful with the strain, and shouldn't get fooled by what may seem like only medium levels of THC.
The Trademark OG Aroma — Refreshing Like a Pine Forest
In addition to THC, OG Kush is very rich in myrcene, limonene, and caryophyllene, which are the terpenes (aromatic compounds) that give the strain its iconic aroma and taste. She carries a strong earthy note in her smoke, to which she adds hints of lemon and citrus for the trademark "fresh pine forest" OG scent.
These fresh and earthy tones are also the dominant flavours on the palate. The woody note is now accentuated with a bit of spiciness, along with sweet notes here and there. This mix of earthy, citrusy, woody, and spicy notes makes for a complex flavour experience that one is unlikely to ever grow tired of—one of the reasons OG Kush is still a favourite strain amongst cannabis connoisseurs today.
OG Kush — A Cannabis Legend Worth Growing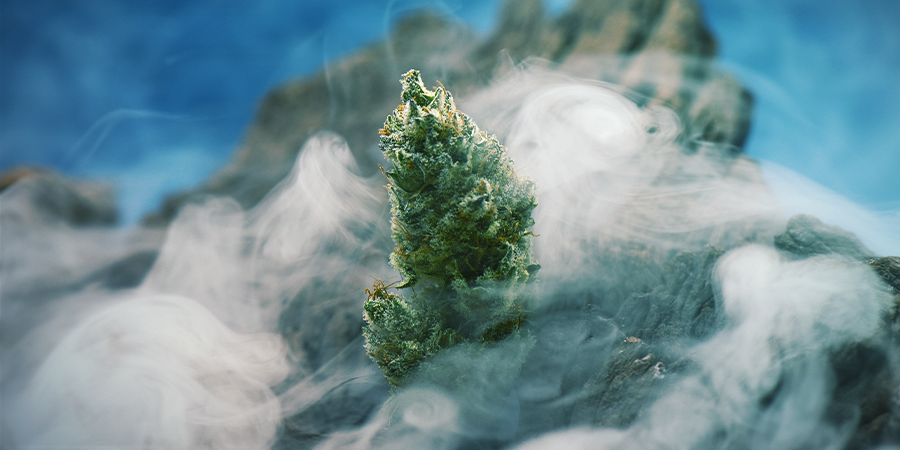 OG Kush didn't earn her stellar reputation for nothing. The saying, "Classics never going out of style" comes to mind, and OG Kush sure is a great example for this. Even a few decades after first appearing on the scene in California, OG Kush still offers everything one could wish for from a modern hybrid strain. Few cannabis strains have this staying power, especially as more and more high THC cultivars enter the market. But then again, OG Kush is no ordinary cannabis strain! Get your OG Kush cannabis seeds at Zamnesia and see for yourself what the OG Kush strain has to offer!
OG Kush (Zamnesia Seeds) feminized data sheet

| | |
| --- | --- |
| Brand | Zamnesia Seeds |
| Parents | Chemdawg x Lemon Thai x Pakistani Kush |
| Genetics | 75% Indica / 25% Sativa |
| Flowering Type | Photoperiod |
| Flowering Time | 8-9 weeks |
| THC | 19% |
| CBD | 3% |
| CBD:THC | 1 : 6.3 |
| Height (Indoor) | Medium |
| Height (Outdoor) | Medium |
| Yield (Indoor) | 550-600 gr/m² |
| Yield (Outdoor) | High |
| Sex | Feminized |
| Available as | Feminized seeds |
*
Specified by breeder when grown under ideal circumstances
More information related to this product:
Reviews (72)
08/Jun/2023

Décue.
Ma graine n'a pas germée, malgré le suivi méticuleux de vos conseils.

28/May/2023

excellent seeds
the seeds were for a friend from Serbia, he told me yesterday that everything was fine, 3/3 germinated, two took root, the seeds are excellent

02/Apr/2023

Og Kush
Nach 12std im Wasserglas gekeimt und ab in die Erde. Bis jetzt wächst und gedeiht sie

12/Feb/2023

Zamnesia OG Kush
Premier essai pour moi sur les graines Zamnesia, mauvaise expérience avec seulement 1 graine germée sur un pack de 10. Heureusement le service client Zamnesia est un support exceptionnel, ce qui rattrapera pour cette fois la mauvaise expérience.

13/Dec/2022

nix außergewöhnliches, gibt bessere OG seeds
Waren 9 statt 10 in der packung, aber zamnesia hat schnell nachgeliefert. Samen sahen komisch kümmerlich aus. 9/10 gekeimt. Aus 9 Pflanzen 900g trocken (auf ca. 2,4m2. Habe mit skittlez 1300g gehabt- mit advanced nutrients umd gleichem chema. Og kush brauch nur 1/3 der Dünger menge. Im allgemeinen eine nicht so robuste Pflanze, sie verzeiht zwar viele fehler aber diese hier werde ich nie wieder wollen

24/Sep/2022

Top
Alles gekeimt und wächst super

30/Jul/2022

3/3
Alle 3 sind gekeimt. Selbe wie bei den WhiteWidow von Zamme, 1st day mit neuem LED XS1500 Licht. Umluft minimal an, vertragen sie gut. Sind SuperFast, also aktuell 2. Woche 25cm, täglich ca. 1cm mehr und steigend, je nach Mond. Nach trimmen gibt's Scrog und evtl hier nochmal ein Update. Anfangs werden alle Plants mit kleinem zurechtgebogen Draht von der Umfall-Krankheit geschützt, 3 Tage max. Beste Plant ever

19/Jul/2022

Alles okay
Von 3 2 gekeimt

08/Jun/2022

Og kush
De eerste keer een gratis zaadje og kush gekregen bij een bestelling dus nieuwsgierig en het geplant na ongeveer een dikke 10 weken kon ik ze oogsten en was ik echt verbaast van de kwaliteit van de og kush en heb ik de dag zelf nog een bestelling gedaan van de og kush zaadjes van zamnesia zeker een aanrader

22/May/2022

Best!
Best OG Seeds are from Zamnesia, wourking out perfectly everytime!!!

You cannot post a review because you have not purchased this product
Customer pictures (5)
Restrictions
Please note that if your country is not on our general shipping list, we're unable to ship any item on our website to it. For more information check out the list here: Ordering & Shipping
Video (0)