Effects of Ginseng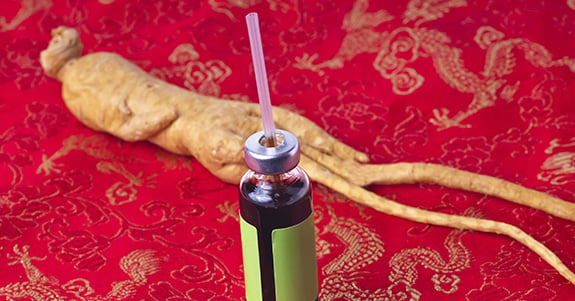 The effects of Ginseng have garnered it a reputation as one of the safest and most potent natural vitality boosters throughout the world. This is primarily because of the adaptogenic quality of Ginseng, meaning it does not enhance one particular organ alone, but rather boosts the body as a whole, and only where it is needed. Adaptogens like ginseng can increase the resistance to stress, boost the immune system, increase endurance and improve cognitive function.
Its ability to boost vitality goes hand-in-hand with Ginseng's reputation as a male tonic. The increased vitality and endurance it produces can be a great aid in the bedroom, adding in more zest and stamina. In traditional medicine, it is the herb of choice for treating erectile dysfunction, and often used in combination with other herbs such as Ginkgo and Rhodiola to boost sperm count. However, while ginseng has been reported to increase libido, ED is a serious disfunction that requires professional medical attention and should not be self-treated.
These well rounded, boosting qualities allow Ginseng to become an effective daily supplement, although it is often recommended not to take it for more than 6 weeks at a time. At the recommended dosage, Ginseng can help to build muscle, improve physical strength, increase the ability to exercise, and improve focus and cognitive skills. The prevalence with which Ginseng is used for these purposes has led to clinical studies into those effects, and the possible therapeutic applications they have - and all studies agree that Ginseng enhances physical and mental performance, plus it improves sperm count in men with low levels. It has also been found to reduce fatigue caused by menopause, improve resistance to infection, reduce inflammation, and arguably most important, improve the overall quality of life.
The versatility of Ginseng makes it an ideal herb to use in conjunction with other treatments. It is often used with other immune system-modulating remedies to help battle chronic infection and a compromised immune system. Another example of its combined potential is with Gingko, where it is used to enhance memory and cognition in the elderly, as well as a preventative measure against dementia.