Blog

3 min
Medical Marijuana Genetics: Leaders In High CBD Medical Marijuana

3 min
With their exclusive range of therapeutic cannabis Medical Marijuana Genetics are leading the market in high percentage CBD marijuana. Their debut selection outshines the competitors and has thrown down the gauntlet to other medical marijuana breeders.
MEDICAL MARIJUANA GENETICS
Medical Marijuana Genetics is a seed company dedicated to providing medicine quality high CBD strains of cannabis to discerning patients and carers. Focusing on predominantly CBD-rich strains of cannabis, Medical Marijuana Genetics has created a game-changing selection.
Their flagship strain Candida (CD-1) has been laboratory tested at 10.9 to 20.6% CBD. Little THC is present, less than 1%, making Candida the most CBD-heavy curative marijuana available in the world today. Used as a primary parent, the high CBD characteristic of Candida has been passed onto the entire range.
STORY OF MEDICAL MARIJUANA GENETICS
When a loved one is in distress you would do and try anything to make their life more bearable. When the loved one is your mum in the last stages of pancreatic cancer you want her to enjoy her last weeks. Pharmaceutical painkillers typically aren't performing as advertised and she is having difficulty moving around.
Desperately trying to improve the quality of her life, research led to the therapeutic benefits of cannabis oil. After a single dose, mum was able to move about more freely and was manageably pain-free. Compassionate cannabis enabled her to enjoy her garden and be outside, experiencing enjoyment rather than anxiety and discomfort.
So began a passionate interest in the use of marijuana as a medicine and the Medical Marijuana Genetic company was born. First as an informational website, www.medicalmarijuana.co.uk which became a hub for compassionate and fact-based discussion about medical cannabis. The website is now one of the largest online resources of up-to-date information on cannabis research and is helping change government and public opinion.
International connectedness with patients, growers, advocates and carers revealed a dearth of breeders focused on high percentage CBD medical marijuana. Impassioned to provide the world with quality organic medicine, Medical Marijuana Genetics teamed with expert growers from the Basque region of Spain. Together they developed a singularly CBD-rich, feminized hybrid specifically for therapeutic treatment.
TOP STRAINS BY MEDICAL MARIJUANA GENETICS
1. Candida
Candida (CD-1) is a high CBD sativa-dominant feminized hybrid strain, that is leading the way for medical marijuana. Crossing ACDC with Harlequin has produced a world class medicine with an impressive 20.6% CBD content. THC is minimal at below 1.0%, making Candida the most effective therapeutic cannabis strain available in the market today.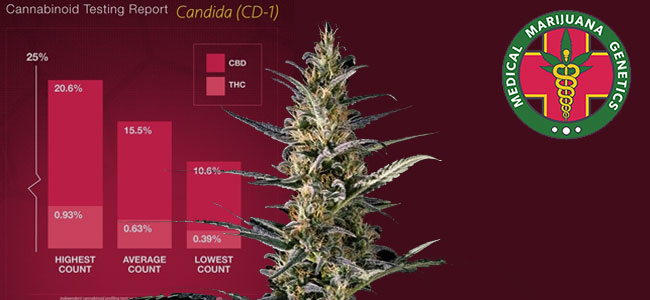 Candida can be grown under any conditions. Outdoor, indoor or greenhouse plants have grown robustly, displaying typical hybrid vigour. Two distinct phenotypes can be observed. The sativa phenotype is the highest in CBD. It stretches substantially, typical of the genus, which must be considered for indoor and greenhouse grows. Outdoors, plants up to three metres can be expected. The indica phenotype is slightly lower in CBD, but still a world class medicine on its own. The buds are denser and nodes closer together, making for higher yields.
Maturing time is around nine weeks, with harvest netting a reasonable 400 grams or more per plant outdoors. Indoors the same per square metre can be expected from a well-maintained crop. The flowers are noticeabely citrusy and have a classic pointy spearhead appearance, even on the indica variant. Trichome development is impressive and swollen glands can be seen with the naked eye. The sativa phenotype especially makes best quality medicinal extracts.
The high CBD characteristic is dominant. Candida has become the primary parent in the creation of a range of high CBD marijuana strains. Candida has set a new standard for medical marijuana.
2. Green Doctor
The strong lemon-dominant citrus bouquet is not surprising in the Green Doctor (GD-1). Enhanced lemon overtones and more THC are the result of crossing the flagship Candida (CD-1) with a Haze. Still market-leading high in CBD the Green Doctor is ideal for those who require both cannabinoids for their personal curative requirements.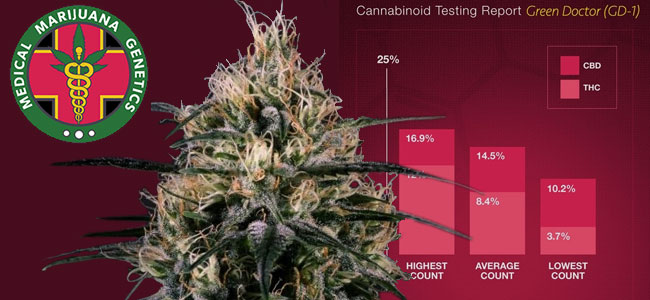 Laboratory testing has come up with 16.9% CBD, still a therapeutic and standard setting quantity. THC tested at 12.0%. The occasionally overwhelming cerebral intensity of pure Haze has been mellowed. The resulting subtly uplifted and encouragingly positive mind-frame is ideal for those seeking simultaneous relief from pain and pain-induced anxiety.
Green Doctor seeds quickly grow into strapping plants, displaying a stretchy sativa growth pattern. Maturing time for flowers is typically ten weeks, which needs to be taken into consideration if you are growing outside. Too far north or south and the summers are too short and winter sets in too quickly for this sativa-dominant strain to mature to its potential. Indoors or out, yields are medium, but the flower quality is outstanding.
3. Nightingale
The delicious indica-dominant Nightingale is a high CBD medicinal cannabis with added THC. Hybridizing Oldberry x Candida (CD-1) has resulted in an obviously indica phenotype, that produces heavy clusters of therapy-rich, low THC flowers. The equally obvious sativa phenotype is rich in both THC & CBD. In both cases the CBD percentage can be nearly as high as the parent Candida, at over 20%.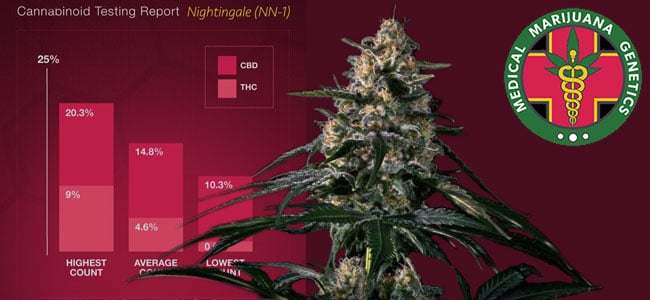 Quick to sprout, there can be different phenotypes, which all enjoy indoor, outdoor and greenhouse conditions. In the one instance the indica genes can be seen in the stout fluted stalks, strong branches and broader leaves. This version is higher in CBD. The sativa phenotype is taller, with more distance between leaf nodes. This variant has a much higher THC percentage of up to 9%. First time patients should approach this version with caution, as the higher amount of THC can hijack an unsuspecting psyche. Patients seeking the psychological uplift of THC will be very satisfied with this phenotype.
Flowers can turn an enticing purple as they age and a berry twist to the signature citrus bouquet is noticeable as resins start to be produced. Outdoors the purple colour is amplified as the weather gets colder, making for extraordinarily looking plants. Maturing in eight to nine weeks, a very reasonable yield of 500 hundred grams per plant is possible outdoors. The same can be expected per square metre indoors, especially when scrogging or doing LST, which produces evenly sized colas.
Written by: Guest Writer
Occasionally we have guest writers contribute to our blog here at Zamnesia. They come from a wide range of backgrounds and experiences, making their knowledge invaluable.

Find out about our writers
---