With origins dating back to the 70's, Dutch Passion is one of the Netherland's oldest seed banks, and it is easily seen in the quality of their seeds. They have had many years to hone their skills and refine the world-class genetics they work with, producing a number of award-winning strains.
Their story starts back in 1972, when Henk van Dalen, the founder of Dutch Passion, first started growing cannabis to meet his own personal requirements for high-quality bud.  With formal academic training in biology, as well as in the pharmacology and the effects of psychedelics, Henk utilised his knowledge to push his cannabis plants to the limits.
At the time, people in the Netherlands had to rely on imported weed if they wanted good quality. Henk aimed to change this, and through his network of contacts, slowly started making a name for himself as a home-grown breeder of top-shelf cannabis.
Eventually, Henk saw his breeding meeting a wider demand, and in 1987 he founded the Dutch Passion Seed Company. His goal was to make great genetics available for people to grow themselves at home, allowing everyone to enjoy the benefits of top-grade cannabis, and control how it is grown from seed to harvest.

It is a philosophy that has persisted to this day, and has shaped Dutch Passion into the Titan it is now. We are always taken aback by the love with which they talk about their seeds whenever we meet them; they continue to innovate and experiment with genetics, producing marvels of the cannabis world. As a testament to their prowess, Henk was awarded the first ever High Times "Dutch Master" award back in 2011, in recognition of his significant contribution to the cannabis community, and breeding as a whole.

Great examples of their cannabis seeds include classics such as Frisian Dew, Orange Bud, Hollands Hope, and AutoMazar.
Packaging Dutch Passion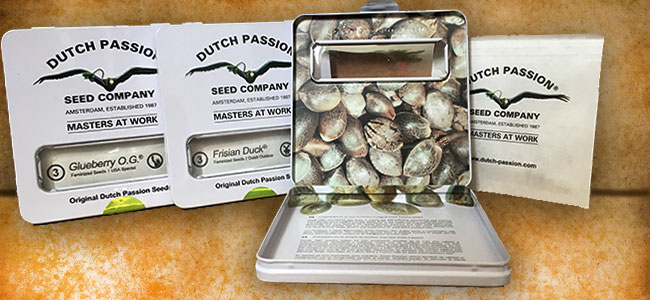 Dutch passion sends out all of their seeds in their own brand of unique packaging. Cannabis seeds are placed within a small paper envelope that details the information about the strain held within. The envelope is then filled with polystyrene balls, acting as a padding and keeping seeds safe during transit to you.  

As the seeds are kept within a paper envelope, it is not easy to reseal once opened. As such, it is a good idea to have a seed storage solution lined up if you don't plan to use all of your cannabis seeds at once!

Cannabis seeds by Dutch Passion are available in quantities of 3 in both feminized and autoflowering varieties.
Awards Dutch Passion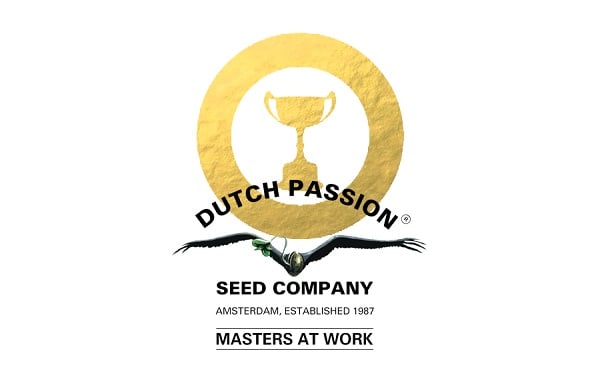 As a testament to their breeding prowess, Dutch Passion has won many awards for their cannabis strains over the years. Here is a list detailing all of the award winners they have produced, as well as what they won.
---
Mazar

 
 

Awards:

• 1999 High Times Cannabis Cup, 2nd place for Best Overall Strain
• 2002 High Life Cup, 2nd place for Best Overall Strain
• 2008 Tip Forte, 1st place for Best Overall Strain
• 2014 Soft Secrets Magazine, Plant of the Year

A classic from the 80's, Mazar is the crossing of Skunk #1 x Afghani. The result is one of Dutch Passions most renowned strains, and synonymous with high-quality. Her genetics were revitalised back in 1997, to add a refinement seen in the strain to this day. Mazar induces a deep and relaxing body stone that also lowers the mind into comfortable bliss. As a grower, she exhibits a toughness and vigour that make her a great choice for novice growers. Mazar grows with a short, Christmas tree-like stature, flowering in 8-9 weeks and producing very generous yields.

 

 

 
---
Desfrán

 
 

Awards:

• 2009 Copa Del Plata, 1st place for Best Outdoor Strain
• 2011 Masters Córdoba, 1st place for Best Outdoor Strain
• 2011 Masters Córdoba, 2nd place for Best Outdoor Strain
• 2011 Copa del Mar, Champion Award
• 2012 Copa Río de Janeiro, Highest Potency Award
• 2012 Copa Río de Janeiro, Most Flavour Award
• 2012 Copa Cannabiscafé, Highest Potency Award  
• 2013 Copa Del Plata, 2nd place for Best Indoor Strain
• 2014 Copa C.A.B.A., 2nd place for Best Indoor Strain 

With genetics hailing from South Africa, Desfrán is the crossing of two exemplary specimens of Destroyer. The result is one of Dutch Passion's most decorated strains, blowing minds the world over. She is a 100% sativa plant, taking up plenty of space in the grow room and melting the mind with a potent sativa uplift. Expect a potent euphoric high that lifts the mind clear out of the body, combined with a sweet, fruity, caramel hinted flavour. As a grower, Desfrán needs a lot of room to flourish; however, if you have the space, you will be rewarded with large amounts of resin coated nuggets after just 9-10 weeks of flowering. She is a winner for any sativa lover out there.

 

 

 

 
---
Frisian Dew

 
 

Awards:

• 2008 High Life Holland, 1st place for Best Overall Strain

A mix of Super Skunk x Purple Star, Frisian Dew is one of the most gorgeous outdoor varieties around. She produces mystifying shades of purple as she flowers, becoming coated in layer of resin that glistens in the sun. As a 50/50 hybrid, Frisian Dew induces a mixed high, uplifting the mind as it relaxes the body. As a grower, Frisian Dew displays more than just good looks. She is highly resistant to mould and grows with a healthy vigour. Her flowering time is roughly 7-8 weeks, producing extra-large yields. Although she can be grown indoors, it is outdoors that she flourishes, and outdoor growers will really appreciate what she offers.

 

 
---
Blueberry

 
 

Awards:

• 2000 High Times Cannabis Cup, 1st place for Best Overall Strain
• 2001 High Times Cannabis Cup, 3rd place for Best Overall Strain

Hailed as the original Blueberry, Dutch Passion has produced a cult-classic with fruity and sumptuous flavour. She is a bit of a fussy feeder, and thus better suited to more experienced growers, but if you put in the time and effort, you are rewarded with connoisseur grade bud that both tantalises the tongue while relaxing the body and boosting the mind. Blueberry has a flowering time of roughly 9 weeks, producing medium yields.

 
---
White Widow

 
 

Awards:

• C.A.B.A.Cup 5th Edition, Best Weed and Best High Indoor Awards

A Dutch coffee shop favourite, White Widow is an infamously popular strain that has stood the test of time since its introduction to the market back in the day. Dutch Passion's variety of White Widow has been bred to emphasise and bring out the desirable traits of this strain, making her stable, consistent, and easy to grow. As such this classic is just as suited to the novice grower as it is the veteran. White Widow induces a sky-rocketing high, uplifting the user into euphoria. As a grower, White Widow is easy going, flowers in 8 weeks, and can produce very generous yields. The perfect choice for anyone wanting to try a timeless classic.

 

 
---
Passion #1

 
 

Passion #1 is a legendary Californian indica that has remained a favourite of many outdoor growers over the years. Not only is she stable and easy to grow, if planted early in the season, she can reach up to 3.5m by the time it comes to harvest. As you can imagine, that comes with some pretty significant yields! She induces an energetic and uplifting buzz that follows up with a deep and relaxing stone. With a flowering time of 6 weeks, indoors growers can take advantage of some super bud – as long as you have the space to grow her!

 

 
---
Power Plant

 
 

Dating back to 1997, Power Plant sent waves through the cannabis market upon its release, becoming an instant hit among growers. As the name suggests, she is all about raw power, outputting large yields and potent content. Her aroma has a fresh, pine quality to it, with her smoke also having a slightly sweet aftertaste. The high induced is one of smooth uplift, energising, motivating and inspiring the user. With a little too much, she tips over into a couch lock of cerebral euphoria. Flowering in 8 weeks and producing extra-large yields, she is a sativa dominant beauty worth any grower's time.

 

---

---