T.H.Seeds™ : Seedbank Of The Month October 2018

5 min
T.H.Seeds™ has directly and indirectly been involved in the genetics of so many award-winning strains that picking just one is impossible. Instead, we've selected five incredible strains from their seed catalogue to highlight. As OGs of the High Times Cannabis Cup, what T.H.Seeds™ doesn't know about growing cannabis isn't worth remembering.
THE ORIGINAL HIGH TIMES CUP HALL-OF-FAMERS
The summer sun may be fading, but our desire to seek out best-in-show and cutting-edge genetics is burning bright. Our passion is so intense at Zamnesia that we cannot go a single month without bringing you another critically acclaimed seedbank. Our latest selection for Seedbank of the Month comes with a list of accolades so long, their trophy cabinet is more like a trophy room.
With over 25 years devoted to the preservation of world-renowned cannabis genetics, T.H.Seeds™ has a beautiful yet straightforward philosophy, "To Protect Genetics and Serve Mankind".
SEEDBANK OF THE MONTH: T.H.SEEDS™
Founded in Amsterdam during the early nineties, T.H.Seeds™ has been a pioneer in breeding revered strains on a global scale. 1993 was a turbulent year; seed companies had to navigate archaic legislation as the war on drugs continued to batter the defences of marijuana lovers. Shielded somewhat by Amsterdam's decriminalisation of cannabis, Adam and Doug, founders of T.H.Seeds™, could begin work on what would become a lifelong venture.
Together, they wasted no time in setting up C.I.A, "Cannabis In Amsterdam". Much more than just a seed shop, the building also operated as a cannabis information centre and, later the same year, Europe's first hemp store., Hemp Works. Cannabis is an incredibly majestic plant whose limitations know no bounds. Virtually every part of the plant can be utilised; not just for the mind-altering high stoners have come to crave, but to make clothing from stem fibres and medicinal products with cannabinoids like CBD.
Recognising that there was so much more cannabis could give back to the community, T.H.Seeds™ wanted to drag medical marijuana out of the depths of back alleys and into the limelight. Such a robust method of holistic treatment deserved to be available over the counter. The desire to give back has underpinned the very foundations of T.H.Seeds™ since they first opened their doors.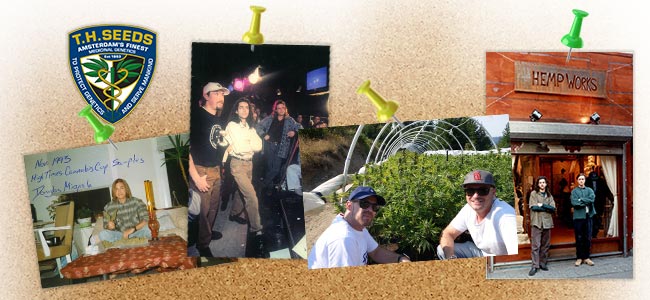 MULTIPLE AWARDS AND SUPERIOR GENETICS
T.H.Seeds™ has been involved with High Times for years, almost since its initial conception, and they were the first ones through the gates and the last guys to take a hit on the bong at the end of the day. The High Times Cannabis Cup is the mecca of events for marijuana enthusiasts. Every self-respecting cannabis advocate wants to be there, and any seed producer worth their salt battles for cup victory against prodigal breeders.
Combatants in the fires of genetic battle, T.H.Seeds™ has been crowned the victor more times than even they can remember. Stunning judges with their focus on quality, flavour, and strength, awarded strains like S.A.G.E™, The HOG™, MK-Ultra™, and Darkstar™ each hold a distinct position in the HTCC legacy. The company's incredible dedication to top-tier genetics has also earned them their place as one of the first seedbanks to be inducted into the High Times Seed Bank Hall of Fame.
What does the future hold for a business that has seemingly done it all? Many of their customers still use the base genetics they provide to continue building upon the ever-growing list of cannabis cup accolades, but for T.H.Seeds™, their attention has turned towards breeding medicinal cannabis strains of the highest regard.
THE TOP 5 T.H.SEEDS™ CANNABIS STRAINS
Given such a successful selection of strains that beautifully defy breeding logic, it can be difficult for newcomers to know where to start when it comes to choosing seeds. At Zamnesia, our continued passion for recognising apex strains has helped narrow down T.H.Seeds'™ extensive catalogue to five phenomenal choices.
FRENCH COOKIES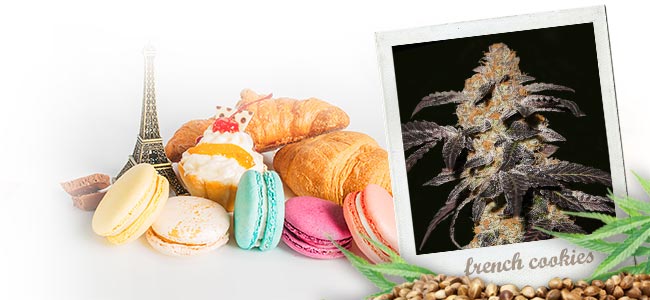 Found by chance, the breeding masterminds at T.H.Seeds™ would coax the pinnacle of Cookies genetics out of a solitary seed. The result was French Cookies, imbued with incredible colouration; leaves transform before the grower's eyes, going from dark green then deep purple to almost entirely black. The stark contrast to the light orange hairs that develop on the buds makes growing French Cookies a visual sensation.
Her fragrance also builds, enveloping indoor growing areas during the flowering stage with her musk. Intense cookie aromas tease the grower week by week, bolstered subtly by hints of grape. Her sativa-dominant heritage encourages frequent bursts of growth, and stretches the flowering phase to 63–70 days. Once she has been catered to, the buds deliver a euphoric, uplifting high that will have creatives putting pen to paper or paintbrush to canvas with newfound clarity.
STRAWBERRY GLUE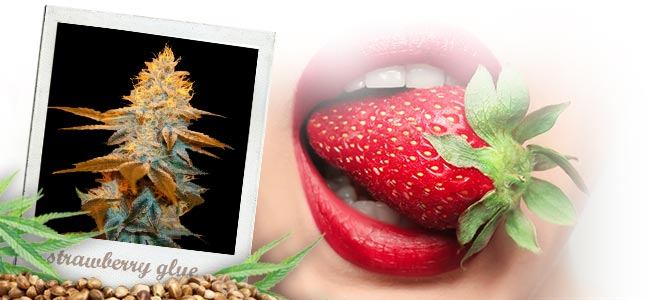 The secret to the success of Strawberry Glue comes from her lineage. An unrelenting desire to find the best possible genetics spurred the experienced hands at T.H.Seeds™ to blend Strawbanana Cream and Goji Glue in harmonious unity. Both parents bring unique attributes to the table. One is responsible for a divine, sweet strawberry taste, the other excellent potency and thick resin. As such, Strawberry Glue makes the perfect candidate for creating cannabis extracts.
Carrying all the hallmarks of a sativa-dominant strain, she is also easy to grow, reaching heights of 90–130cm. Regardless of your growing preferences, be it SOG, soil, hydro, or coco, she will flourish, flowering over 56–63 days. Strawberry Glue is perfectly equipped to quell your body of aches and pains as her high pulses through your muscles from head to toe.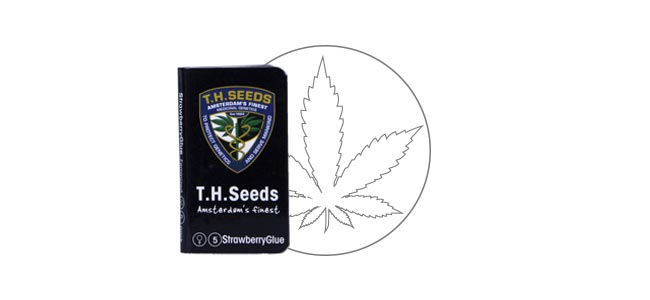 UNDERDAWG™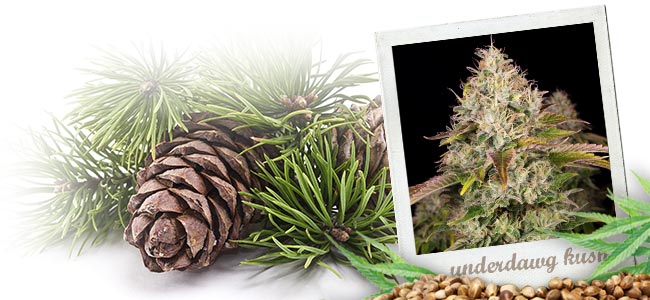 Go big or go home, a mantra Underdawg has taken to heart. Her bulging, frosty trichomes glisten in the light, screaming Kush heritage to any grower that can tackle her slightly finicky growing requirements. Feminized, she originates from the Chemdawg family. Her "go big" ethos rings true for one of the most vital needs: bud production. Packing incredible yield potential, those who treat her right all the way through to outdoor harvest could earn themselves up to 1kg per plant!
What does one do with so much weed? Smoke it of course! The first sensation that strikes you is the pungent kushy aroma a seasoned smoker will be able to identify. Distinct flavour is a calling card of OG Kush heritage, as such, Underdawg's character is not dissimilar. Instead, it capitalises on Kush traits to deliver an equally powerful high.
BUBBLEGUM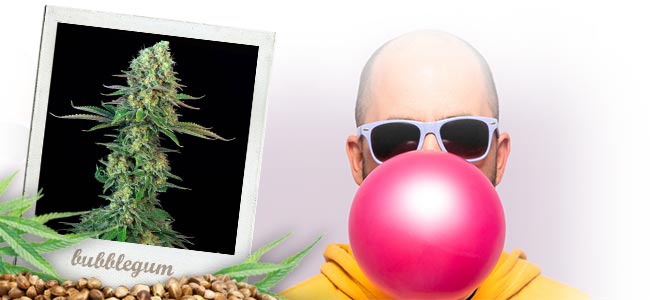 The strain that started it all for T.H.Seeds™ is none other than Bubblegum. Having over 25 years to reach genetic perfection means the end product is one of world-renowned quality. It is unsurprising that Bubblegum excels with virtually every desirable attribute. Great taste, a sweet aroma, bountiful buds, and a short flowering time deliver a near-perfect package. In fact, it is impossible to quantify a downside to this strain. The alluring aroma will be a welcome delight to cannabis lovers with a sweet tooth, while the flavour is just as thick and juicy as the buds.
Bucketloads of bud await growers: up to 500g/m² in ideal conditions. She delivers a high typical of an indica strain—soothing, refined, and body-centric in nature. The blueprint for hundreds of hybrids, Bubblegum is a true cannabis star.
FRENCH MACARON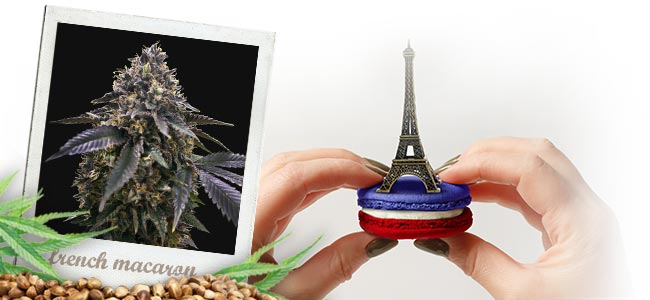 The French treat of the same name is packed with flavour, melting in the mouth. Fortunately, the same experience is had when inhaling the deep, thick, creamy flavour of T.H.Seeds'™ premium-grade indica offering. This strain delivers an exquisite taste sensation from the first toke to the last, courtesy of her parents Gelato 33, and the previously mentioned French Cookies.
That superior flavour and aroma does come at a price, though; throughout her growth, French Macaron requires plenty of airflow to stave off any mould insurgence. Combined with some delicate topping both indoors and out, growers will be delighted by the trichome-encrusted buds. Her flowering period lasts 63 days, and with every passing day, an increasing aroma of musky cream greets her grower. One of the newest additions to T.H.Seeds'™ catalogue, you can taste the detailed understanding of cannabis genetics that has underpinned the development of French Macaron.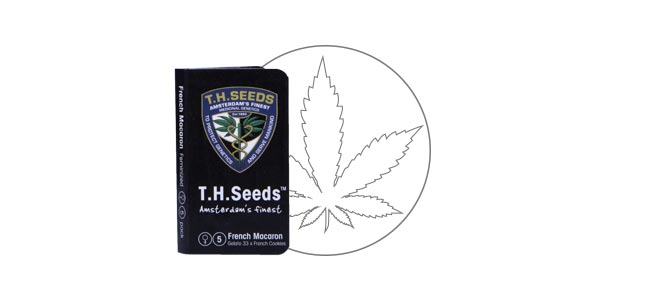 WIN FREE GOODIES WITH EVERY NEW "SEEDBANK OF THE MONTH"!
Former Seedbanks Of The Month, like the one you are reading about now, deserve eternal attention from us here at Zamnesia! Read about past and present honorees, and continue to visit our blog for the honorees of the future. Each new month highlights yet another stellar seedbank, kicking off a new round of awesome promotions and surprise giftings pertaining to that specific brand. So go ahead: once you are done here, visit this month's new Seedbank Of The Month, and take advantage of goodie giveaways!
Written by: Zamnesia
Zamnesia has spent years honing its products, ranges, and knowledge of all things psychedelic. Driven by the spirit of Zammi, Zamnesia strives to bring you accurate, factual, and informative content.

Find out about our writers
---