Super Strains: Seedbank Of The Month September 2018
5 min
It isn't often we get to feature the original creators of a world-renowned strain. Even better, we highlight our favourite selections from their product range; with each one containing the same expert craftsmanship as their flagship legend.
The long summer evenings are starting to draw to a close. Rather than seeing that as a prompt to put your freshly rolled blunt away, now is the time to gather some friends and broaden your cannabis horizons. Luckily for you, Zamnesia has the perfect complement to a chilled evening; another top-shelf seedbank selection packed with some of the dankest old-school strains we've ever featured.
Being held responsible for a strain referred to as "truly legendary" is just one of the reasons why Super Strains is this month's selection for Zamnesia's esteemed Seedbank Of The Month! They offer the creme de la creme of feminized cultivars.
SEEDBANK OF THE MONTH: SUPER STRAINS
Starting life as Hy-Pro Seeds, don't let the name change fool you. Although they have only operated as "Super Strains" since 2010, the same underlying desire to create the absolute best versions of classic strains is at the heart of their business. Based against a backdrop of rolling green hills and Kinderdijk windmills, Super Strains thrives in the south of Holland. The premise of their business is simple, but highly effective - premium-quality, feminized seeds. The absolute pinnacle of that approach can be seen in their flagship seed, Amnesia.
All of the strains featured in their carefully curated lineup are the result of decades of original crosses being tested and developed. The size of their product range shouldn't put you off; what one strain holds in quality genetics, some other seedbanks could not replicate over their entire seed collection. Just for your convenience, Zamnesia has had the opportunity to grow and smoke illustrious offerings from Super Strains. Before hysteria and anticipation take over, we need to talk about the crown jewel of Super Strains' product range. Merely mentioning Amnesia to a cannabis connoisseur will have them quivering in excitement, so imagine how cool it is to be the one seedbank to have developed the original genetics.
Super Strains is responsible for creating, naming, and spreading the fabled Amnesia strain across the globe. Held in the highest regard, Amnesia has won countless cannabis world cups. If the rest of the expertly developed strains from their seedbank are even a slither of the quality of Amnesia, we could categorically recommend every single one. No longer able to contain our enthusiasm, let's get straight to the good stuff.
THE TOP 5 SUPER STRAINS CANNABIS STRAINS
You know what the company stands for and how they've helped to drive the industry forward. Here are five or our absolute favourite picks from their product range.
AMNESIA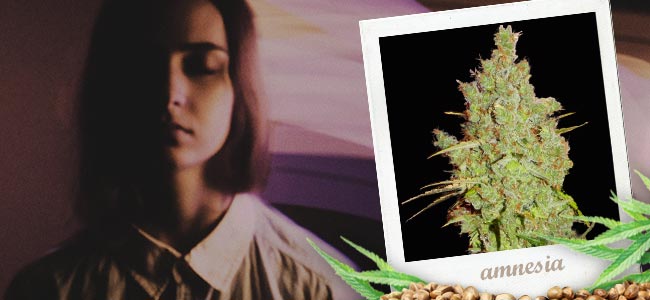 Starting with one of the most coveted strains in the world. We know that statement gets banded around a lot, but honestly, if you have never tried Amnesia, drop whatever you are doing and try it now! Created and named over twenty years ago, Amnesia is an old-school strain dominated by sativa traits. The original genetics provided by Super Strains have been used in a vast array of Amnesia-themed hybrids. Collectively, the award total for companies submitting strains based on the original Amnesia genetics is in double-digit figures.
Enough about her accolades, what is she like to smoke? Euphoric in nature, the high starts with your mind, before giving your body a tingling sensation at its extremities. Her flavour is smooth—a blend of earthy undertones and wood aromas reminiscent of old-school genetics. Her raw power delivers a THC content up to 20%. Novice smokers will be lost to the cosmos, while experienced hands will relish in the stress-relieving properties she provides.
Growers have just as much to be excited about as smokers. This sativa goddess achieves flowering in only ten weeks. Although there is a small wait, the reward is bountiful buds showing an extreme resilience to spider mites.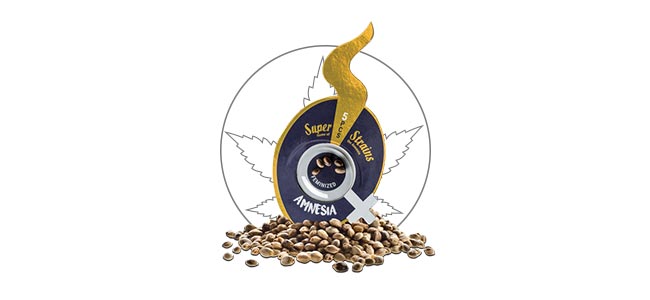 ENEMY OF THE STATE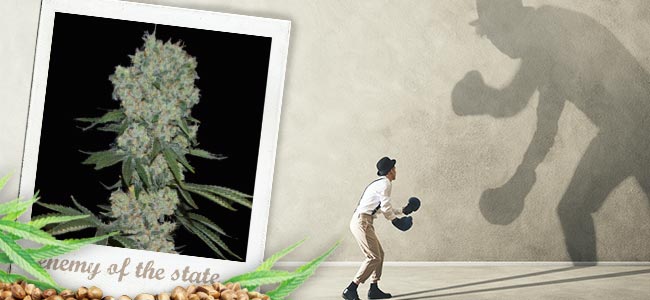 If Amnesia is the queen of sativa strains, Enemy Of The State is the queen mother. Amnesia's own heritage is derived directly from Enemy Of The State, as are many other famous strains that use her as the base plant. Whereas Amnesia is sativa-dominant with a pinch of indica carefully added in, Enemy Of The State is an indica thoroughbred. She is all about being lost in the moment, whether that be the park with friends or the depths of your sofa.
The power of her indica genetics provides billows of thick, distinctly spicy smoke—easily capable of filling a room. Given the strength and prowess of this strain, medicinal cannabis users can rejoice. Her high inflicts a glowing warmth from within, calming and soothing tired muscles and aching joints.
The recurring theme of dominance and strength continues through to her growing attributes. Thriving in outdoor environments, she can grow tall and proud, only weighed down by her abundant yields. Flowering takes roughly eight weeks, although her extreme resilience makes growing her a joy.
7TH WAVE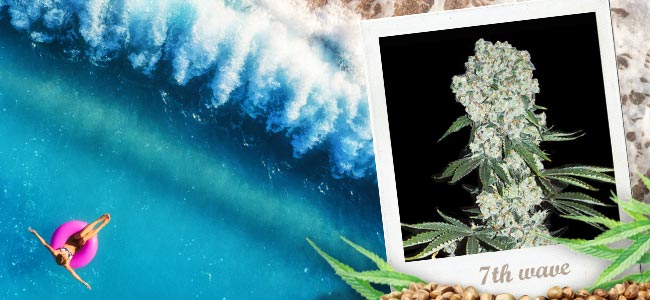 Responsible for breaking the indica stereotype, 7th wave is a unique, "must be tried" type of strain. Why do we strongly recommend trying her for yourself? For no reason other than many users don't believe the high she provides. Given her pure indica genetics, you would be right to assume the effects would encapsulate your entire body.
Instead, this plant is likened to a sativa given its cerebral effects. There is a twist, though. The euphoric high produced by 7th Wave is unending. Wave after wave of creative insight washes over users. While the unrelenting nature may put some novice smokers off, your thoughts will be organised with absolute precision, providing a new level of mental clarity.
Thankfully, there are no unique nuances when it comes to growing her. In fact, commercial growers would be well advised to choose her on account of her generous yields and ease of growth. She can also thrive indoors and outdoors. With the former, growers can expect up to 500g/m².
DFA AUTO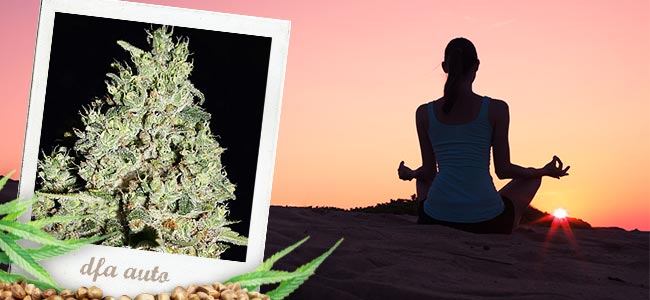 Shrouded in mystery, what we do know about DFA Auto is enough to confirm she is a must-pick strain for any cannabis aficionado. Starting with what we can say, DFA is the result of Enemy Of The State being crossed with several undisclosed sativas and indicas.
A closely guarded secret by Super Strains, the end result offers all the explanation we need. Enemy Of The State is a loud and proud strain, growing tall and imposing outdoors. DFA prefers the more subtle approach, and as such, is perfect for growers that need a compact strain that won't draw too much attention.
The best part is, despite the difference in growing attributes, the same quality of Enemy Of The State is present throughout DFA Auto. Her aroma is a diverse blend of sweetness with traditional skunk undertones. The high is also as expected—heavy hitting and body-centric. DFA will disperse the aches and pains experienced throughout the day with ease. Flowering only takes eight weeks, courtesy of her autoflowering genetics, while heights rarely exceed 80cm.
EL CUCARACHA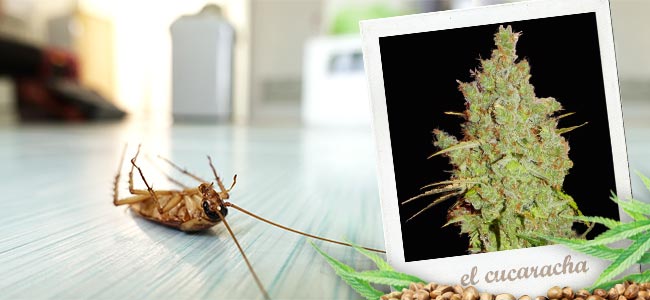 Tenacity, growing speed, and resilience are the three traits most commonly used to describe her. If novice growers ever wanted the perfect "first-time" strain, El Cucaracha will guide you to success gently. She offers a superb opportunity to experience a taste of the hard work and craftsmanship that has gone into all of Super Strains' distinguished product range. Her aroma and flavour are recognisable, but not forgettable; musky, earthy undertones signify her indica heritage.
El Cucaracha provides a middle ground between being too stoned to move and buzzing with creative thoughts you can barely contain. Don't mistake her for being mediocre, though; her high will place you on a level plateau. The tenacity we mentioned earlier? It shines through after the first few weeks of growth. Bursting into life, she will grow fast and furious—requiring little maintenance. Even uncommitted growers can reap some rewards from her. Super Strains has developed a truly capable all-rounder with a quality high, great flavour, and superb growth.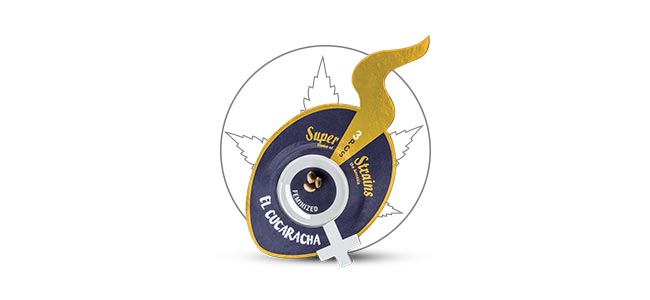 WIN FREE GOODIES WITH EVERY NEW "SEEDBANK OF THE MONTH"!
Former Seedbanks Of The Month, like the one you are reading about now, deserve eternal attention from us here at Zamnesia! Read about past and present honorees, and continue to visit our blog for the honorees of the future. Each new month highlights yet another stellar seedbank, kicking off a new round of awesome promotions and surprise giftings pertaining to that specific brand. So go ahead: once you are done here, visit this month's new Seedbank Of The Month, and take advantage of goodie giveaways!