Blog

4 min
Pyramid Seeds: Seedbank Of The Month July 2018

4 min
Pyramid Seeds started with a small catalogue of strains, and now boasts over 40 amazing varieties! Their Egyptian-themed strains are easy to grow and offer great yields. Find out more about July's sensational Seedbank of the Month, Pyramid Seeds.
Every month, we at Zamnesia like to delve deeper into a specific seedbank, to see what they have to offer, how they came to be, and what they are all about. Right now, summer is in full swing, with outdoor cannabis plants gaining some serious height and boasting luscious green exteriors. During this time, it's very easy to get even more obsessed with the endless amount of strains out there that may look wonderful in your bustling garden space. What better way to enjoy the mid-season than with a review of the diverse and potent genetics that Pyramid Seeds has to offer the world!
SEEDBANK OF THE MONTH: PYRAMID SEEDS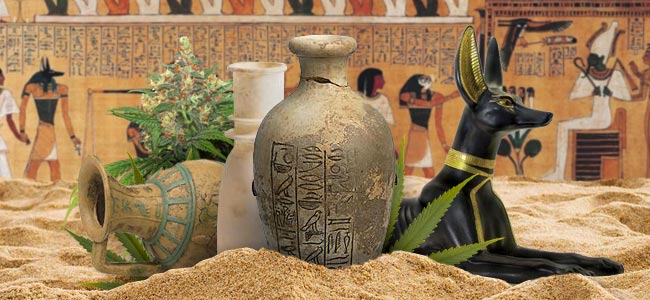 Pyramid Seeds is a world-renowned cannabis seedbank that has been operating and serving the cannabis community for over a decade. Founded in 2007, Pyramid Seeds started out with only 8 feminized strains within their archive, and have since managed to build up their genetic catalogue to over 40 varieties of feminized, autoflowering, and CBD-rich strains.
Having come from humble beginnings, the seedbank now distributes their genetics to over 20 countries across the world. The founders discovered great inspiration within ancient Egyptian culture and archaeology, finding interest in the culture's vast appreciation for the mighty herb. Having been inspired by such mystery and allure, the company borrows themes from this mesmerising historical culture. For example, the strain Ramses is named after the pharaoh whose tomb was found to contain remains of the cannabis plant.
Pyramid Seeds is still rather young and fresh on the scene, though this hasn't stopped their ravenous appetite for success and networking from taking them all over the world to pursue their passion and mission. The company has participated in over 50 cannabis fairs and has visited over 10 countries to showcase their genetics to a diverse array of growers.
Pyramid Seeds takes great pride in its professional and experienced team of growers, stemming from many different backgrounds and fields. The company ensures intensive quality control, with all seeds hand-picked, cleaned, and manually selected, producing a phenomenal germination rate of 97%.
One of the primary goals of Pyramid Seeds is to create strains that are both easy to grow and feature high levels of productivity, with all of their varieties being genetically stable, impressively productive, and quite resistant to external threats. The company plans to visit over 8 countries in 2018 to continue showcasing their genetics and to network further with growers around the world to accumulate and share knowledge of the herb.
TOP 5 PYRAMID SEEDS CANNABIS STRAINS
TUTANKHAMON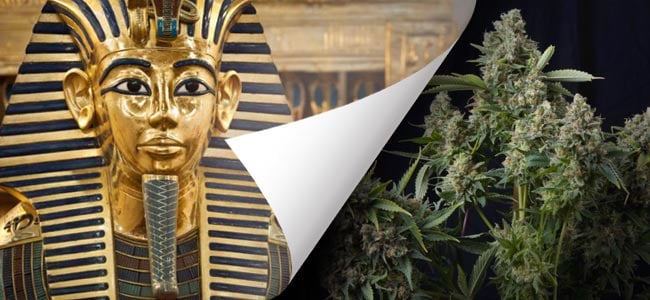 Tutankhamon is a massively potent sativa-dominant variety that offers smokers a vibrant, buzzing, cerebral high that will boost focus and get the creative juices flowing. The strain features AK-47 genetics and is comprised of 60% sativa and 40% indica. Monumental THC levels of 23% mean that even small hits of this beast will result in a strong and long-lasting high.
Tutankhamon grows well both indoors and outdoors, and features a flowering time of around 60 days. When grown indoors, the strain can achieve yields of about 600g/m², and outdoor yields are reported to be high. Plants grown outdoors within garden beds and pots can be expected to be ready for harvest during mid-October. The strain prefers environments that aren't too humid, as the incredibly dense buds may be susceptible to fungal assault.
RAMSES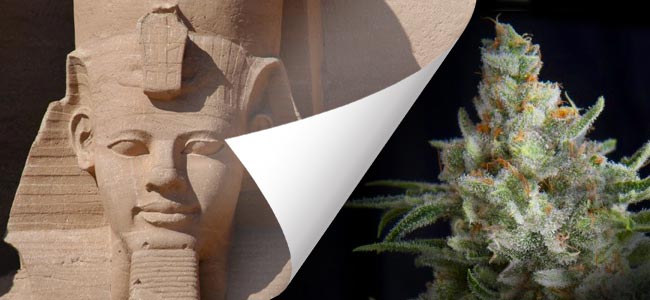 Ramses is a genetically unique and mysterious cannabis variety. The strain was created via the crossbreeding of Amnesia Haze along with a Pyramid Seeds Private Reserve strain. This strain definitely carries some of Pyramid Seeds' elusive Egyptian themes, as not a great deal is known about this strain due to the secretive nature of its genetic lineage.
The sativa-dominant variety is composed of 80% sativa genetics along with only 20% indica. This genetic composition induces an uplifting and energetic effect, making Ramses a great smoke for the daytime when engaged in creative activities, projects, and even sports. The strain offers a THC content of 18%, making it more mellow than the super heavy hitters, but still potent and effective nonetheless. The strain also offers CBD levels of around 1%. Ramses produces yields of around 500g/m² when cultivated indoors, and impressive yields of 500–1000g/plant when raised outdoors. The flowering period for this cultivar is 75–85 days, depending on conditions.
OLYMPIA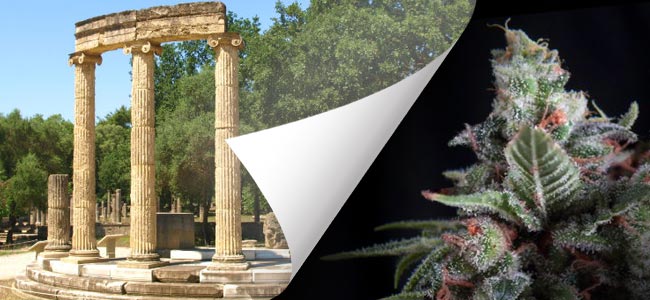 Olympia is a beautifully balanced variety of cannabis that boasts 50% sativa genetics alongside 50% indica genetics. This even split generates a high that is both energetic and cerebral, as well as relaxing and slightly stoning. This makes the strain a flexible one, and can be enjoyed in either the daytime during activities, or during a relaxing evening when it's time to unwind. Targeting both the body and the mind, a high THC content of 19% initiates a fast onset of effects that last a while. The strain is the result of breeding between Tutankhamon and LA Confidential.
As well as providing a pleasant high, Olympia boasts an exotic flavour profile that features hints of fruit augmented by spicy tones. The strain can be grown well in both indoor and outdoor conditions. Indoor plants are able to achieve yields of around 500g/m². Outdoor plants, with more space and freedom, are able to churn out anywhere between 500–1000g/plant!
WEMBLEY
Wembley is the lovechild of parent strains AK-47 and Bubblegum. This combination of legendary strains has resulted in a variety that is absolutely loaded with THC, boasting a content of 23%. Such enormous levels are more than enough to satisfy long-term veteran smokers, and should be approached with caution by novices. The strain also provides smokers with a CBD content of approximately 0.9%.
Wembley is an indica-dominant variety that offers stoning and relaxing sensations. It's a great smoke in the evening time after a hard day's work when it's time to settle down and truly chill out for a while. Potent indica strains like this are usually associated with pain-killing properties and their ability to help people sleep with ease. When this variety of cannabis seeds is grown indoors, Wembley can kick out up to 600g/m². Outdoor plants are reported to offer high yields and should be ready to harvest during September.
KRYPTONITE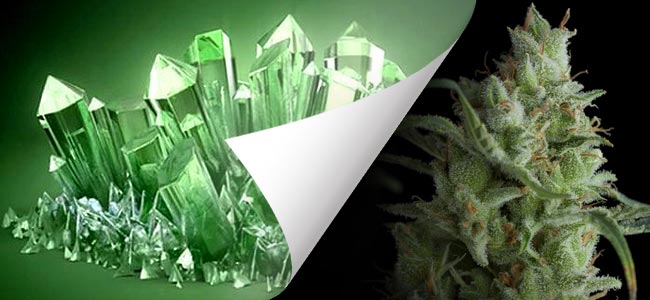 Kryptonite is the result of some adventurous cannabis breeding. Various phenotypes were collected from the mountains of Granada, and were then mixed with the Pyramid Seeds legend Yumbolt. This resulted in a sativa-dominant beauty that offers smokers a THC content of 17%. Kryptonite has a potent, stoning, and narcotic effect that starts out cerebral, but will certainly lead to some couch-lock.
Kryptonite is a visually beautiful strain, featuring dense and compact buds that display white and golden hairs among a blanket of sparkling trichomes. The strain offers a flowering time of up to 65 days, and can be grown both indoors and outdoors. Plants offer yields up to 600g/m² when cultivated indoors, while outdoor plants yield within the high range and are ready to harvest during September or early October.
WIN FREE GOODIES WITH EVERY NEW "SEEDBANK OF THE MONTH"!
Former Seedbanks Of The Month, like the one you are reading about now, deserve eternal attention from us here at Zamnesia! Read about past and present honorees, and continue to visit our blog for the honorees of the future. Each new month highlights yet another stellar seedbank, kicking off a new round of awesome promotions and surprise giftings pertaining to that specific brand. So go ahead: once you are done here, visit this month's new Seedbank Of The Month, and take advantage of goodie giveaways!
Written by: Zamnesia
Zamnesia has spent years honing its products, ranges, and knowledge of all things psychedelic. Driven by the spirit of Zammi, Zamnesia strives to bring you accurate, factual, and informative content.

Find out about our writers
---