Blog
2 min
New Paradise Seeds Strains
2 min
Whatever kind of marijuana you prefer to grow, get ready to smile. Chong's Choice and Paradise Seeds have joined forces to develop 3 amazing cannabis strains for every type of weed smoker. Tommy Chong's signature (sativa) LA Amnesia, (hybrid) Mendocino Skunk and (indica) Blue Kush Berry are the dankest new releases of 2017.
CHONG'S CHOICE: THE ONLY CHOICE FOR CANNABIS CONNOISSEURS
Dutch master breeders Paradise Seeds and Ganjapreneur Tommy Chong have just embarked upon the most exciting joint venture. The Godfather of the "Stoner Comedy" genre is best known for his role as one-half of the stoner duo "Cheech & Chong" and tireless pro-marijuana advocacy. His partnership with the creators of champions Paradise Seeds is about to send a whole new generation of marijuana growers "up in smoke".
When marijuana icons and elite breeders collide, expect the fusion to be mind-blowing. Chong's Choice is the signature range of all new fire strains devised by Paradise Seeds specifically for Tommy Chong. An uplifting sativa, a low maintenance high-performance hybrid, and a couchlocking indica. All three tailored to veteran stoner standards. Get ready to make room in the grow op for a Chong's Choice triple threat.
LA AMNESIA
LA Amnesia is a powerful uplifting sativa dominant hybrid that blooms in just 8-9 weeks. This is no ordinary sativa, the very nature of this collaboration between Paradise Seeds and Chong's Choice ensured nothing short of majestic marijuana would suffice. A delight for sativa sybarites everywhere. The LA Amnesia is gonna be your new favourite top shelf cannabis strain.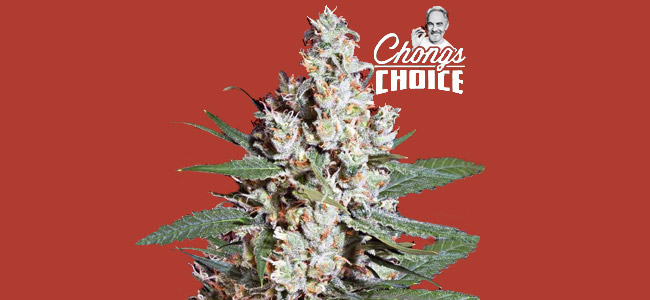 The union of Dutch Coffeeshop favourite Amnesia Haze and a turbo-charged Kush gave rise to the chunkiest most resin dripping sativa hybrid. LA Amnesia retains the hallmark Ammo cerebral high and tropical flavour. While the Kush genetics compliment resin production, reduce flowering time, and encourage dense bud production.
Chong's Choice LA Amnesia is suitable for growers of all levels and is far more compact than most sativa leaning strains. Indoors or outdoors, this sativa can be cultivated without the typical high maintenance diva sativa demands upon the grower. THC levels are phenomenal with 20+% to be taken for granted. If you enjoy a creative and energetic stash, that's easy to crop. Make Chong's Choice LA Amnesia your first choice in the grow op.
MENDOCINO SKUNK
Mendocino Skunk is the definitive transcontinental Skunk hybrid. For this Chong's Choice collaboration, the breeders at Paradise Seeds successfully hybridised the very best US Skunk from the Emerald Triangle of Nor Cal with heirloom Dutch Skunk from Amsterdam. The Mendocino Skunk is perhaps the most refined easy to grow Skunk variety on the market.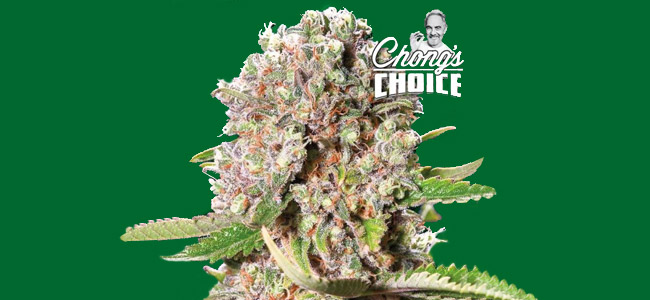 The characteristics of the Mendocino Skunk read like a checklist of every growers dream cannabis strain attributes. Plants are short, stocky and uncomplicated to cultivate. Ideal for beginner growers and a must for veteran Skunk aficionados. Indoors or outdoors, with a little TLC, the Mendocino Skunk is incredibly rewarding to crop. Yields are generous and flowering is fast and furious at just 7-8 weeks.
Mendocino Skunk is a sweet "Back to the Future Bud". The complete head-body high and relaxed sensation are finely tuned for a pleasant long lasting buzz. Fruity sweet skunk flowers covered in orange/red hairs are reminiscent of vintage "Panama Red" with the fire potency of contemporary marijuana. This is a true next-gen Skunk that stays true to its old school roots.
BLUE KUSH BERRY
Blue Kush Berry is the heavy duty fruity indica that completes the Chong's Choice triple threat. This gooey goddess is bursting with sweet berry flavour and aroma. In late bloom, these bushes will blossom in rich lavender and purple tones in cool conditions. Blue Kush Berry has definitely got the looks and the taste plus she produces copious amounts of not merely couchlocking nuggs rather couch magnet buds.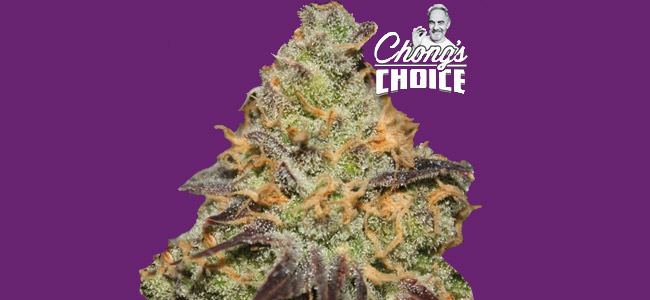 Only the dankest Kush and juiciest Shishkaberry cultivars were chosen to produce this sweet knockout bush. Usually, such exotic cannabis is nuanced and requires some grower finesse. But the Blue Kush Berry is a rare beauty that is as forgiving as she is head-turning. This compact indica is very tolerant of nutrients and performs well both indoors and outdoors.
Few fruity marijuana varieties are as versatile as the Blue Kush Berry. Plants typically keep a low profile and branch prolifically. Naturally, colas are huge and resin dripping. Effects come on fast and are heavily sedating. That delicious sweet berry taste and turn your body to jelly stoned effect will keep you coming back for more of the Chong's Choice Blue Kush Berry. As soon as you get back off the couch.
Written by: Top-Shelf Grower
Veteran cannabis cultivator originally from Dublin, Ireland and currently on the loose in southern Spain. 100% committed to Top-Shelf reporting until captured or killed.

Find out about our writers