Blog
3 min
Introducing Purple Kush By Kannabia
3 min
Kannabia is no ordinary seed bank, they are Master Breeders and pioneering Ganjapreneurs with a genuine "Grower First" ethos when it comes to creating the finest cannabis strains. This year Kannabia unveils the Purple Kush and it might just become the 2017 Queen of all Kush varieties.
Kannabia is perhaps the longest established and least internationally recognised Spanish seed bank. In the domestic Spanish market, Kannabia is synonymous with amazing quality feminized cannabis genetics.
Both indoor and outdoor marijuana cultivators throughout Spain have achieved amazing results with little known strains like "La Blanca" and "Mataro Blue".
Since its very beginning, seed bank Kannabia has wholeheartedly embraced a "grower first" philosophy. Specialisation in feminized seeds puts the entire focus of the seed bank on delivering only the very highest quality sinsemilla for growers.
This doesn't leave much time for advertising and marketing. Real growers are usually too busy, well, growing.
On the plus side, the catalogue is continuously growing as the master breeders at Kannabia endeavour to create the most diverse range of the dankest cannabis strains.
By adopting a grower-focused approach to cannabis breeding, Kannabia strains will deliver both high potency and high yield. No trade-offs, no excuses, straight up dankness in large amounts.
PRESENTING THE PURPLE KUSH

Purple Kush is not your average heavy indica hybrid; in fact, it's the jewel in the crown of the Kush family. Kannabia have blended the legendary Black Domina with the vibrant, vintage Purple Kush.

These days growers are spoiled for choice when it comes to Kush varieties. All too often the grower is left disappointed after fabled magic beans fail to deliver lush resin dripping Kush goodness come harvest. Knock-offs and bunk genetics abound.
The outstanding pedigree of Purple Kush by Kannabia, with its drop-dead gorgeous looks, super chill couchlock effect and generous harvest, is certain to generate the global respect Kannabia deserve and put them on the map in 2017.
WHY GROW PURPLE KUSH THIS YEAR?
Purple Kush is the 21st century elite Kush variety. Fusion of precious old school Black Domina, itself a four-way blend of vintage indica genetics, and a carefully selected sweet resinous purple phenotype of Kush has imbued the Purple Kush by Kannabia with all the stock and traits that make for the dankest weed.
| | |
| --- | --- |
| Brand: | Kannabia |
| Genetics: | 75% indica - 25% sativa |
| Parents: | Black Domina x Purple Kush |
| Flowering Time: | 55-60 days |
| Yield (indoor): | 500 gr/m² |
| Yield (outdoor): | 800 g/plant |
| Height Outdoor: | 180-200cm |
| Harvest Time (Outdoor): | October |
| Available as: | Feminized seeds |
Kannabia selectively develop all their cannabis strains to deliver maximum potency and production for the grower and Purple Kush is no different in this respect. Purple Kush has been carefully bred to flower in 60 days or less with minimal fertilisation requirements.
Furthermore, Purple Kush is ideally suited to both indoor and outdoor cultivation, producing generous harvests of high THC and low CBD marijuana. Indoors 500g/m² is to be expected from medium-sized branchy bushes in optimal conditions and outdoors up to 800g from a 2m tall tree in Mediterranean climates, with a lush dank purple harvest in early October.
Purple strains are notorious for being high maintenance and demanding plants to grow, but Purple Kush doesn't conform to the status quo.
The Purple Kush is not just pretty; it's a tough cookie that doesn't demand much more than a light feed of nutrients and is ideal for a ScrOG or LST. Frosty colas that resemble grape popsicles can be achieved even by beginner growers.
WHAT MAKES PURPLE KUSH TOP-SHELF STASH?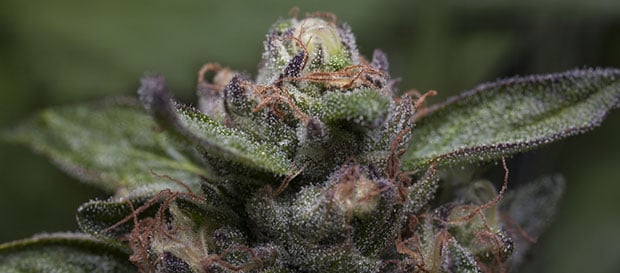 Image is everything these days and with colourful, floral clusters ranging from deep purple to shades of lilac covered with frosty trichomes and orange/red hairs, this strain will dazzle even seasoned connoisseurs.
The aroma of this strain is complex, best described as a diverse sweet and fruity mix. Purple Kush definitely has some stank on it, so take odour control seriously ganja farmers. After a good cure this weed is jump out of the bag loud!
Flavour is just as complex and even more delicious and diverse than the scent. Kush has never tasted this good. Purple Kush really is as tasty as it looks.
Purple Kush is a 75% indica / 25% sativa genetic mix, making for a trippy relaxed long lasting high. Sedative effects come on gradually then suddenly, but you'll definitely enjoy the ride. More couchlock than creative. Purple Kush makes for the best night time smoke and/or box-set-binge companion.
WHAT AN AMAZING DEAL, REALLY IT'S FANTASTIC
Well, it just so happens we at Zamnesia are running an end of month "Make Growing Great Again" promotion to help all you growers beat the January Blues and make a great deal. Okay, get ready to grow some amazing weed in 2017. We've made growing the Purple Kush irresistible.
This tremendous offer is not to be missed as with every purchase of Kannabia seeds, you will receive one free Purple Kush seed. And if that wasn't incentive enough, we're running an additional 10% discount on our entire range of Kannabia seeds.
If you have always lusted after exquisite purple nuggs or have just gotten tired of the same old strains, the Kannabia range has got the strains to make your cannabis garden great again.
Naturally, our promo is completely rigged and totally crooked, because no matter what strain you order you can't lose. Either way we end up giving you some free Purple Kush. Maybe we do and maybe we don't take our orders from the Kremlin, but who cares; we're giving away freaking Purple Kush seeds!