Blog

2 min
Introducing CBD Therapy: A Cannabis Strain Currently Like No Other

2 min
In what is being hailed as a world first, CBD Crew have created a stable cannabis strain with an insane THC/CBD ratio. Safe to say, CBD enthusiasts are going to be happy!
CBD Crew are a seedbank that have dedicated themselves, as the name would suggest, to breeding cannabis strains with a CBD focus. The great majority of the time, this results in strains with an extremely potent CBD content, but also a rather significant, if less, THC content. Well, the breeders of CBD Crew have just set a new precedent, producing a cannabis strain with a 1:20+ THC/CBD ratio. It is the first of its kind to be derived from a high THC recreational cannabis strains, not hemp, and be able to produce such a ratio from seed. It is aptly called CBD Therapy.
Understandably, this is pretty big news for those who want to grow their own CBD rich bud, so we thought we would take a minute to introduce the finer details of the strain.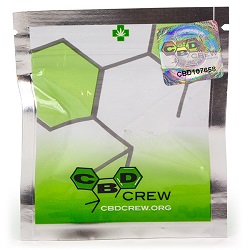 THE REASONING
The aim in producing the CBD Therapy strain was to offer those suffering from such conditions as epilepsy and Dravet syndrome a way to access high doses of CBD without exposing themselves to the more psychoactive effects of THC – which they can be more vulnerable to.
According to CBD Crew, it is a "master piece of scientific breeding that will allow the individual to take back control of his or her life, supplement a person's need for cannabinoids, and generally improve the welfare of those seeking to use it."
While the cannabinoid CBD is only considered a dietary supplement here in Europe, those seeking it are sure to be delighted by the goals of this strain, for whatever reason they want CBD.
CBD THERAPY: A STRAIN OVERVIEW
So what about the CBD Therapy itself? Well, according to CBD Crew, it has taken them four years to perfect and stabilise her. The result is a feminized 50/50 hybrid able to produce yields of roughly 500g/m² (600w light) after 8-9 weeks of flowering.
In terms of actual cannabinoid content, each plant averages a THC content of 0.25-0.5% and a CBD content of 8-10%. This has been verified by independent testing from both an EU lab (Fundación CANNA, Spain) and a US lab (The WercShop).
In terms of flavour and aroma, CBD Therapy is able to produce a variety, ranging from fruity sweet, to dank and earthy. As you would expect from cannabinoids in such ratio, the high is all but non-existent, and very mild if ever felt. The focus is of course a rich CBD content, which by its nature is not psychoactive. It leads to a very functional and therapeutic experience.
It seems the bounds of cannabis breeding are still yet to be reached. The fact that CBD Crew has achieved these results is a credit to their skill. We are understandably excited about CBD Therapy, and hope you are as well – it sets a new benchmark for CBD based strains.
Written by: Josh
Writer, psychonaut and cannabis aficionado, Josh is Zamnesia's in-house expert. He spends his days nestled out in the countryside, delving into the hidden depths of all things psychoactive in nature.

Find out about our writers
---