Blog

3 min
What Is The Difference Between Cannabis Concentrate And Bud?

3 min
Smoking a spliff, ripping a bong hit, or blazing a blunt used to be the go-to methods for the ordinary decent stoner. Today, whether you are a recreational or medical marijuana consumer, you may prefer to vape or dab concentrates. Let's find out why extracts are overtaking old-school herb.
CANNABIS CONCENTRATES: THE CHOICE OF THE NEXT GENERATION
Once upon a time, a well-rolled joint was all the ordinary decent stoner really needed to get high. Today's youthful recreational consumer, however, has a penchant for evermore potent extracts. Often consumed via dab-rig or vaporizer, a blowtorch, fancy glassware, and/or a neat vape pen are common contemporary stoner accessories.
Sticky green and a pack of rolling papers are still the essentials for the majority of cannabis users. However, the 21st century has started a trend of legalization and subsequent segmentation of the cannabis market. These days, cannabis consumers can be broadly divided into two categories, recreational and medical.
Both can be further subdivided into consumers of concentrates and consumers of flower. Neither group is mutually exclusive. However, most tend to favour one or the other.
Flowers still occupy the top spot for the most in-demand cannabis product according to many recent polls and data. At the same time, the rise in popularity of concentrates amongst consumers both medicinal and recreational puts extracts at a close second. In fact, it's not hard to imagine cannabis concentrates outpacing buds in the near future.
THE STICKY SPECIFICS OF CANNABIS CONCENTRATES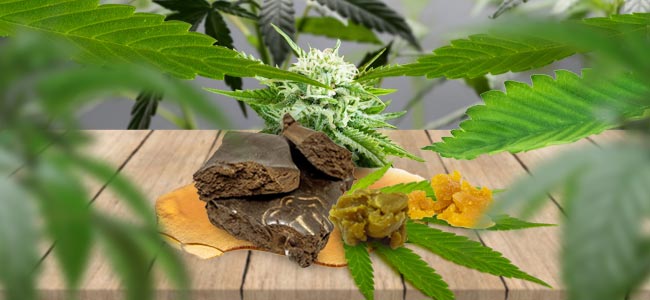 If you are unsure what a concentrate is, let's get that straight now. All cannabis concentrates are extractions of resin from flower and/or cannabis leaf material. The extraction methods, purging processes, and product names are too vast to squeeze into a single blog, so we'll focus on the hottest, most popular concentrates. Think gooey, congealed trichomes and you've got it.
Colours and consistencies can vary widely across concentrates, from clear amber tree sap to brown/black sludge and gunpowder-like grains. Hashish is the original, old-school concentrate and is still popular the world over. Oil, wax, tincture, rosin, shatter, and crystal are the top-shelf concentrates you can expect to find in the best cannabis clubs/dispensaries.
POTENCY
Concentrates trump buds every time when it comes to potency. By refining buds to pure resin, you can't help but hit ridiculously high cannabinoid levels. High-grade shatter or rosin can be anywhere from 50%-75% THC. Similarly, CBD extracts can be near pure CBD or a blend of both CBD & THC.
Recreational consumers can get sky high with just one dab or vape. Patients, on the other hand, can get relief with minimal to no psychoactive effects.
AROMA AND FLAVOUR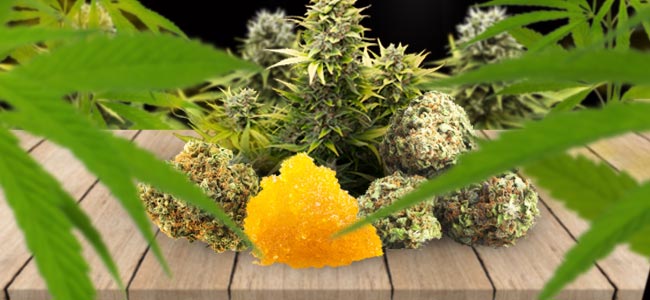 Contrary to the competition, we have yet to discover a concentrate with a bouquet to match the best connoisseur buds. Live extraction techniques show the most promise for preserving the full cannabinoid and terpene profile. The process of extracting rosin directly from fresh, wet flowers is being experimented with stateside. But it's still a niche industry. Plus, the finished product is even more expensive than other concentrates.
Sauce is another new red-hot concentrate made from THCA crystals and reputed to be the "one." Boasting maximum aroma, flavour, and phenomenal potency, it certainly seems promising. But until we try some, we cannot confirm the attributes of this trendy concentrate.
DIFFERENT WAYS TO CONSUME CANNABIS CONCENTRATES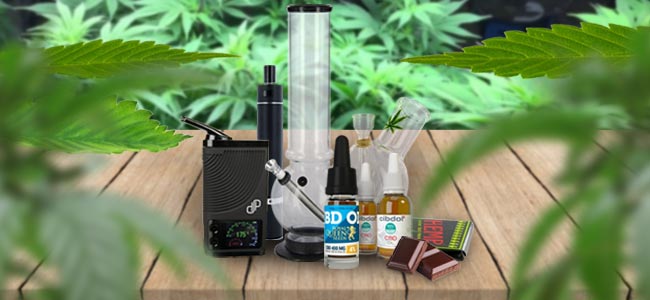 Dabbing and vaping are incredibly popular and need no further explanation. But dropping tinctures and eating edibles are also on the rise, especially amongst medical cannabis consumers. For those that perhaps cannot toke due to illness, edibles and tinctures can be the best option.
Accurate dosing has become much simpler thanks to improvements in labelling. When in doubt, consume a half-dose and wait an hour before consuming more. This is a good rule of thumb. Obviously, we are not talking about homemade "space cakes" here.
NO PLANT MATERIAL
CBD-rich whole plant medicine in "bud form" is not suitable for every patient. Any kind of toking at all is out of the question for some medical cannabis patients. The purity of cannabis concentrates made to professional standard makes a smooth dab or vape a viable treatment for many; not to mention a very tempting one-hit ticket to paradise for the recreational consumer.
Green plant material can be harsh on the lungs. In contrast, concentrates, (provided the dose is not excessive or adulterated with chemicals), are far milder and deliver a far stronger effect than any kind of roll-up with flower.
THE RIGHT CANNABIS CONCENTRATE FOR YOU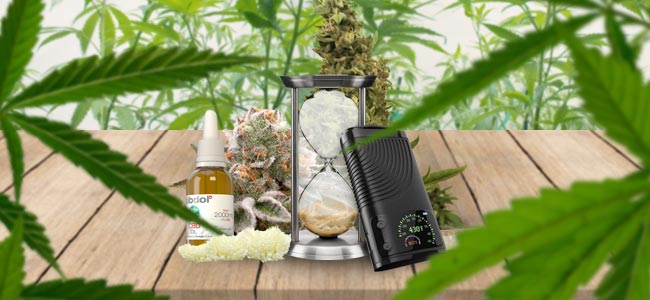 For medical cannabis consumers, it really is a matter of which one works best. Flower or concentrate is not the only dilemma. It's the medicinal effect that counts. Sublingual tincture can be effective in about 20 minutes, while edibles may take an hour or two for the effects to be felt.
Alternatively, a vape of CBD-rich flower can be effective in 5 minutes or less. Moreover, flower is far less costly than concentrates, so price will be less of a limiting factor.
Recreational consumers in good health are much freer to experiment with all kinds of cannabis, from flower to 99% near-pure THCA crystals. It all comes down to your personal preference. Tolerance, or lack thereof, will be a factor. Know your limits. For some, there is no need to bother with concentrates.
Today's dankest strains like Girl Scout Cookies and Gorilla Glue are reaching 25+% THC levels. Or maybe you just really enjoy a nice fat spliff of some good old-fashioned Skunk #1 nugs and don't give a damn.
Do you prefer concentrates or buds?
Written by: Top-Shelf Grower
Veteran cannabis cultivator originally from Dublin, Ireland and currently on the loose in southern Spain. 100% committed to Top-Shelf reporting until captured or killed.

Find out about our writers
---