Blog

4 min
Pollinator: Easy Hash Production At Home
4 min
The Pollinator is the epitome of countless years of experience and passion in making the most out of cannabis. Explore how Mila Jansen and co. revolutionised the hash-making process after years of trials and tribulations.
The cannabis industry is a diverse landscape. What began as a market that only offered the essentials now caters to the many facets of ingenuity throughout the cannabusiness. With products ranging from cannabis seeds and paraphernalia to growing equipment, this decade has seen a sharp rise in cannabis tech innovation.
At Zamnesia, we like to set aside some time to reward the avant-garde entrepreneurs leading the industry fearlessly forward with their groundbreaking products, services, and ideals. In this blog, we're going to explore the history and product range behind the Pollinator.
Smoking weed is one thing. Being a real stoner is another. You can smoke your favourite flower anytime, but you won't get the most out of it if you don't use the right paraphernalia and accessories. Cue the Original Pollinator, a nifty device that accelerates and automates home hash production. Find out more in this episode of our special blog series highlighting the best stand-out players in the vape, smart and cannabis industries. This time around: The Pollinator Company.
THE ORIGINAL POLLINATOR: HISTORY AND COMPANY MISSION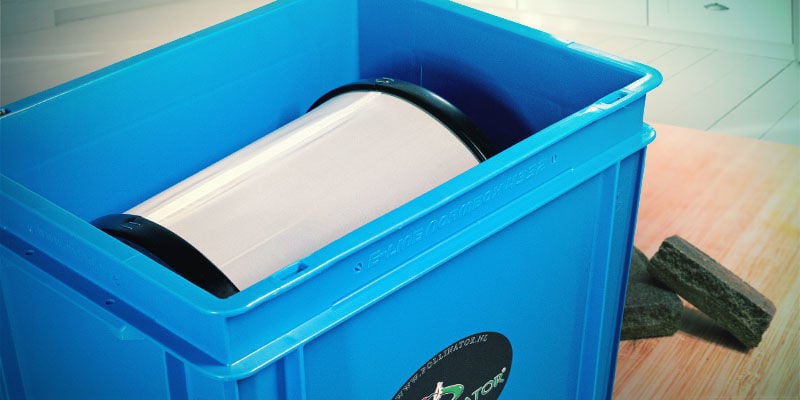 Let's face it; weed isn't widely accepted by mainstream society, even though it has numerous benefits to physical health and mental wellbeing. It's all about heightened senses, better creativity, and happiness at the end of the day, and that's what the guys at Pollinator realised.Getting good hash was easier said than done back in the day, simply because of the negative stereotype surrounding it. While some people might have taken this stigma at face value, the team behind Pollinator refused to take no for an answer.
And so, what they did was decide to make their own hash. What mattered most was that they could do what they loved and that they wouldn't cause any trouble or hurt anyone in the process. Mila Jansen, the founder of Pollinator, was in front of her clothes dryer when the brilliant idea popped up. She realised that the machine was doing the same thing to the clothes that she was doing manually with turning weed into hash. It was a eureka moment for her.
The day after, the very first Pollinator was put together, and surprisingly, it worked. It was the start of something new for Mila and her team, as there was the increasing need to gain financial backing. However, that didn't stop them from achieving what they had always envisioned—a world of creativity, happiness, and pure bliss, with the help of some good 'ol hashish. They threw £2,300 into the investment box to build the first three Pollinators. It was a risky move, but fortunately, it paid off in the long run.
The very first Pollinator was presented to the public at the 1994 High Times Cannabis Cup. It was a huge leap forward, as separating crystals from cannabis matter had been done manually for thousands of years. Since then, things got better as the market saw their product's usefulness and potential. Many hailed it as a game-changer since it made their high lives so much easier. A revolution, so it seems, is what many surprised and awed entrepreneurs remarked of the product.
Many years later, here they are still selling a version of their original device, but made even better thanks to continuous improvements. Their Pollinators have gone through drastic overhauls, yet still retain the original mechanics, durability, and reputation that made it a star product in the first place. In fact, things got better not just for the company, but for all hash consumers out there. Today, people can use the original Pollinator together with other Pollinator products—the Ice-O-Lator that was invented and released in 1998, and the Bubbleator, which came onto the scene in 2005.
It was a revolution waiting to happen, and Mila and co. put their nose to the grindstone. They knew how important it was to make stoners' lives easier and more enjoyable, and that is by automating things up. To this day, Pollinator continues to improve upon what they have. After all, we all deserve to have a relaxing chill sesh, right?
MILA, THE FOUNDER OF THE POLLINATOR COMPANY
Pollinator founder Mila Jansen was born in 1944 in Liverpool. However, she and her family frequently moved, from Indonesia to Amsterdam, The Netherlands, and then back to the UK throughout her childhood.
Mila is a fierce believer in the power of cannabis. The Liverpool native burst onto the scene at a time when the plant was surrounded with heavy stigma. But this didn't stop her. Instead, this just flared up her passion for the flower. Having tasted her first joint in late 1964, Mila knew that cannabis was her thing, and she continues to smoke weed 50 years later.
Mila, upon turning 21, opened her first boutique named Kink 22. It was launched during a time when cannabis use was heavily frowned upon by society. Because of this, they called the boutique a 'tea shop', and the interesting thing here is that they didn't sell anything. The shop was opened just for the patrons to share whatever hash they had - hash that would usually come from Lebanon, Turkey, and Afghanistan.
Unsurprisingly, the authorities soon knew about the operation, and the tea shop was closed. Mila, together with her young daughter, left Europe and settled in India They stayed there for 14 happy years. She prospered there, both personally and financially. Eventually, Mila gained the means to start a knitting company that exported hand-knit sweaters all the way to California and glittery sequined dresses to New York. It was a successful run for her, but change was the only constant thing in her world, and so, they moved back to Amsterdam. She reentered the "green" industry soon after, and the rest is history.
THE POLLINATOR PRODUCT RANGE
POLLINATOR P150
The Pollinator P150 is a user-friendly sifting machine powered by a revolving drum that can take and separate 150 grams of cannabis from crystals in a single cycle. Freeze your stash for two hours in an airtight bag before putting it in. Once placed in the Pollinator, make sure to run it for 2 to 5 minutes on its first run. This allows it to sift the finest crystals, and in the process, create high-quality hash. What's great about the Pollinator P150 is its simplicity, which makes it ideal for novices and veterans alike.
BUBBLEATOR B-QUICK
The Bubbleator B-Quick is a crystal extractor that features a discreet and simple design. This makes it ideal for all cultivators, whether commercial or personal. It has built-in handles, making it easy to transport. It takes around 5 to 10 minutes for it to finish separating the crystals from the plant matter—which is great for a portable gadget.
ICE-O-LATOR SMALL AND TRAVEL
Creating your own crystal balls is made possible thanks to the Ice-O-Lator. It provides a more exciting and delicious smoking experience thanks to the final result's intense flavour, as well as the finer quality of crystals it's comprised of. If you're a cultivator who's always on-the-go, then the Ice-O-Lator Travel is for you. It features a 220-micron screen that goes together with its 70-micron screen, which helps filter out waste sifted from your crystals. And yes, it can take 25 grams of cannabis in a single cycle.