Blog

2 min
100% Pure Terpenes: Brand New In Our Assortment

2 min
100% Pure Terpenes are now available at Zamnesia. Add the terpenes from beloved and well-known strains to intensify the taste, smell and/or effect of your edibles and tokables.
Isolated terpenes are creating quite the stir in cannabis culture as of late. But what do they actually do? Terpenes help comprise and enhance a cannabis strain's aroma and taste, while bolstering the effects of cannabinoids on the mind and body.
It is becoming more widely understood that cannabis' complexity extends past its THC percentage range. There are a number of occurrences where a particular strain may not have as high of a THC percentage, but is preferred for one reason or another. This is often due to the full range of cannabinoids and the terpenes present within the strain.
WHAT CAN TERPENES DO FOR YOU?
Terpenes, like cannabinoids, are found naturally in plants and animals. They are responsible for making a strawberry taste and smell like a strawberry, and for the medicinal potential of some foods. When it comes to cannabis, they give flowers the taste and smell that we all use to describe our ganja: citrus, Skunky or Diesel, to name a few examples. Terpenes are now being associated more with mediating the effects of individual strains, rather than simply being an aromatic compound.
Now, terpenes can be extracted and added to personal products like e-liquids, concentrate extracts and edibles. With terpene concentrates, individuals can add an extra boost of their favourite strain profile to any experience. Products are simple to use and highly concentrated. Just add one small drop and transform the everyday average into delicious complexity. Below, we take a look at some of the best terpene products from Cali Terpenes.
JAMAICAN DREAM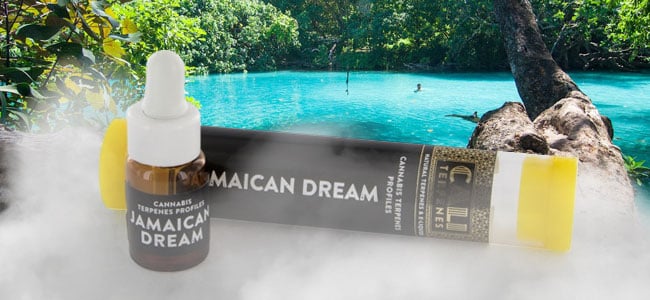 Bring the profile of Jamaican Dream home. The bright, fresh smells of pine and citrus can be added to any smoke or food. The taste is sweet with gentle coffee undertones. Get the inimitable profile of this indica-dominant, hybrid strain. Be reminded of this hard-hitting favourite and get swept away to a place of social cheerfulness that eventually subsides into gentle relaxation.
Jamaican Dream's profile is inspired by one of Eva Seeds' bestselling strains. It is blended with the following terpenes: Myrcene, Alpha and Beta Pinene, Caryophyllene, Limonene, Linalool, Nerolidol and Terpinolene. Just add one drop per gram of product and enjoy this amazing strain all day long.
GORILLA GLUE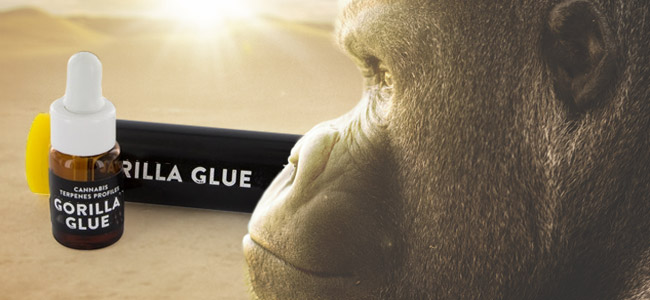 Can't beat Gorilla Glue. A strain so popular, it's a household name in the cannabis community. Get all the euphoria and relaxation anyone needs with these terpenes. The aroma will bring back fond memories by filling the room with classic sour and pine fragrances with just a hint of Diesel. Taste fruity perfection with this great mix of citrus and pine.
Terpenes influence the effects of THC and CBD. Imagine the results of adding a touch of Gorilla Glue to everything. The following terpenes are melded to perfection to capture this classic strain: Caryophyllene, Alpha and Beta Pinene, Linalool, Limonene, Myrcene and Terpinolene.
FURIOUS CANDY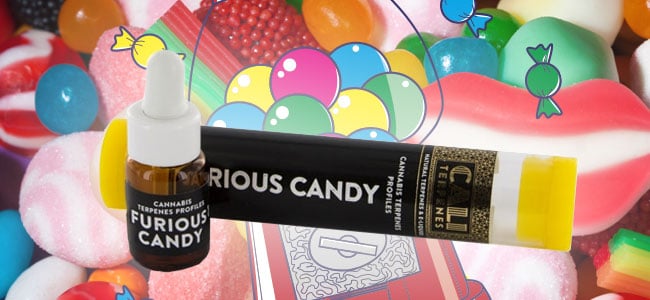 Treat the palate with Furious Candy. These terpenes are relaxing and fun, filling the air with a fruity aroma reminiscent of strawberry gum. The taste is sweet and earthy with floral undertones. If you feel like camping, no matter the location, add these terps to any food or smoke.
This amazing fusion of taste and smell takes quite a number of components. Furious Candy combines the terpene profile: Caryophyllene, Citronellol, Limonene, Myrcene, Nerolidol, Alpha and Beta and D-Alpha Pinene and Terpinolene. Use just a drop per gram and bring the bold flavours and aromas of Furious Candy to life.
100% PURE TERPENES: BOOST YOUR CANNABIS EXPERIENCE
Change the game of your everyday experiences by adding terpenes from these classic strains to liven up aromas and tastes. Take them on the road or keep them close by on a shelf; terpenes can be added to anything. There is no need to ever be without a little extra excitement in your life.
Written by: Zamnesia
Zamnesia has spent years honing its products, ranges, and knowledge of all things psychedelic. Driven by the spirit of Zammi, Zamnesia strives to bring you accurate, factual, and informative content.

Find out about our writers
---